The numbers from the final of each club division at the Pro Championships.
September 13, 2018 by in Recap with

0

comments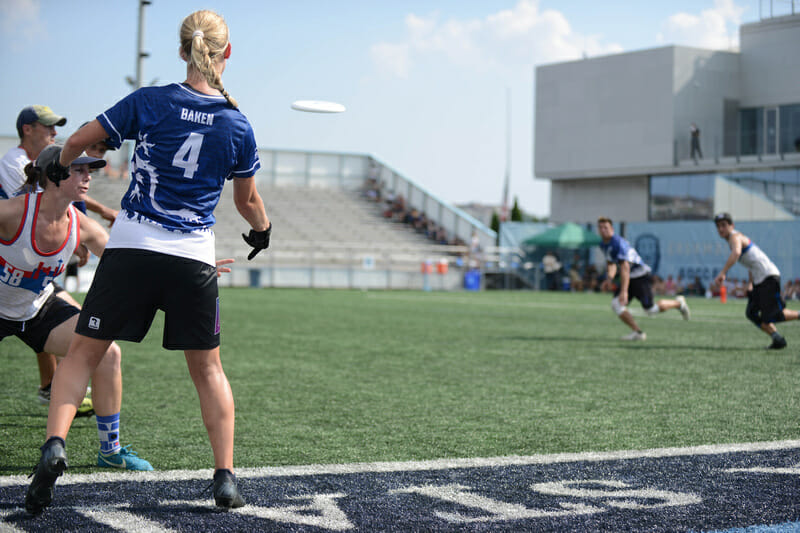 The finals of the Pro Championships provided some surprising results and big time performances, from both teams and individuals. We've collected the stats from the action in New York for each of the six finalists.
Men's
Final Recap: PoNY Upsets Revolver In Front of Home Crowd
San Francisco Revolver
| Player Name | Points Played | Goals | Assists | Blocks | Touches | Throwaways | Drops |
| --- | --- | --- | --- | --- | --- | --- | --- |
| Cocks | 6 | 0 | 0 | 0 | 0 | 0 | 0 |
| Cohen | 8 | 0 | 0 | 0 | 0 | 0 | 0 |
| Dallman | 9 | 0 | 1 | 0 | 1 | 0 | 0 |
| Davis | 11 | 1 | 1 | 0 | 8 | 0 | 0 |
| Friedman | 8 | 1 | 0 | 1 | 11 | 1 | 0 |
| Givol | 6 | 0 | 0 | 0 | 0 | 0 | 0 |
| Higgins | 10 | 1 | 0 | 1 | 13 | 1 | 0 |
| J. Stubbs | 9 | 0 | 1 | 0 | 1 | 0 | 1 |
| Johnson | 9 | 0 | 0 | 1 | 0 | 0 | 0 |
| Joye | 12 | 0 | 2 | 0 | 39 | 3 | 1 |
| Kerns | 6 | 2 | 0 | 0 | 2 | 0 | 0 |
| Lim | 8 | 0 | 1 | 0 | 10 | 2 | 0 |
| Lin | 5 | 0 | 0 | 0 | 0 | 0 | 0 |
| Lindsley | 14 | 1 | 3 | 1 | 23 | 0 | 1 |
| Liu | 9 | 0 | 0 | 1 | 1 | 0 | 0 |
| Marcy | 10 | 0 | 0 | 0 | 25 | 0 | 0 |
| Rasmussen | 9 | 0 | 0 | 0 | 1 | 0 | 0 |
| Sanchez | 8 | 1 | 0 | 0 | 6 | 1 | 0 |
| Schlachet | 9 | 4 | 1 | 1 | 20 | 0 | 0 |
| G. Stubbs | 10 | 1 | 2 | 0 | 17 | 2 | 0 |
| Thompson | 5 | 0 | 0 | 0 | 0 | 0 | 0 |
| White | 8 | 0 | 0 | 0 | 1 | 1 | 0 |
| Averages | 7.88 | 0.5 | 0.5 | 0.25 | 7.46 | 0.46 | 0.13 |
| Revolver | 189 | 12 | 12 | 6 | 179 | 11 | 3 |
New York PoNY
| Player Name | Points Played | Goals | Assists | Blocks | Touches | Throwaways | Drops |
| --- | --- | --- | --- | --- | --- | --- | --- |
| Brenner | 4 | 0 | 0 | 0 | 4 | 1 | 0 |
| Dean | 12 | 1 | 1 | 0 | 4 | 1 | 0 |
| Drost | 10 | 1 | 0 | 1 | 4 | 0 | 0 |
| Garvey | 13 | 1 | 1 | 0 | 23 | 1 | 0 |
| Haskell | 7 | 0 | 0 | 0 | 3 | 0 | 0 |
| Jagt | 13 | 2 | 2 | 1 | 9 | 0 | 0 |
| Katz | 12 | 1 | 0 | 2 | 13 | 1 | 0 |
| Keegan | 13 | 3 | 1 | 0 | 20 | 1 | 0 |
| Kocher | 14 | 2 | 2 | 1 | 18 | 1 | 0 |
| Kuzmowycz | 5 | 1 | 0 | 0 | 5 | 1 | 0 |
| Ladomatos | 10 | 0 | 2 | 0 | 13 | 2 | 0 |
| LeMar | 5 | 0 | 0 | 0 | 11 | 1 | 0 |
| Little | 15 | 2 | 0 | 0 | 7 | 0 | 0 |
| Marsh | 3 | 0 | 1 | 0 | 5 | 0 | 0 |
| Mickle | 14 | 0 | 5 | 0 | 20 | 1 | 0 |
| Norton | 7 | 0 | 0 | 0 | 2 | 0 | 0 |
| Padget | 2 | 0 | 0 | 1 | 3 | 0 | 0 |
| Saul | 2 | 0 | 0 | 0 | 1 | 0 | 0 |
| Schloer | 7 | 0 | 0 | 0 | 2 | 1 | 0 |
| Snyder | 7 | 0 | 0 | 0 | 2 | 0 | 0 |
| Spielman | 5 | 1 | 0 | 0 | 2 | 0 | 0 |
| Stevens-Stein | 3 | 0 | 0 | 0 | 0 | 0 | 0 |
| Wodatch | 7 | 0 | 0 | 1 | 2 | 0 | 0 |
| Averages | 7.31 | 0.58 | 0.58 | 0.27 | 6.65 | 0.46 | 0 |
| PoNY | 190 | 15 | 15 | 7 | 173 | 12 | 0 |
Mixed
Final Recap: Drag'N D-Line Leads Them Past Mixtape
Tournament Recap
Minneapolis Drag'N Thrust
| Player Name | Points Played | Goals | Assists | Blocks | Touches | Throwaways | Drops |
| --- | --- | --- | --- | --- | --- | --- | --- |
| A. Lien | 4 | 0 | 0 | 0 | 5 | 1 | 0 |
| Adams | 4 | 0 | 0 | 0 | 2 | 0 | 0 |
| Baken | 18 | 1 | 2 | 1 | 26 | 1 | 0 |
| Barthen | 5 | 0 | 1 | 0 | 2 | 0 | 1 |
| Carr | 8 | 1 | 0 | 1 | 11 | 1 | 0 |
| Denecour | 13 | 2 | 2 | 1 | 8 | 0 | 0 |
| E. Regan | 8 | 0 | 0 | 0 | 2 | 0 | 0 |
| G. Regan | 3 | 0 | 0 | 0 | 0 | 0 | 0 |
| Glader | 9 | 0 | 0 | 2 | 5 | 1 | 0 |
| Hemmesch | 2 | 0 | 0 | 0 | 0 | 0 | 0 |
| Henke | 10 | 0 | 2 | 0 | 6 | 1 | 0 |
| Hron | 6 | 1 | 0 | 0 | 5 | 1 | 0 |
| J. Lien | 14 | 1 | 1 | 1 | 18 | 3 | 0 |
| Leighton | 11 | 0 | 1 | 1 | 13 | 0 | 0 |
| M. Lien | 4 | 0 | 0 | 0 | 6 | 2 | 0 |
| Maxson | 2 | 0 | 0 | 0 | 0 | 0 | 0 |
| Meckstroth | 18 | 3 | 2 | 2 | 14 | 0 | 0 |
| Niles | 0 | 0 | 0 | 0 | 0 | 0 | 0 |
| Oakley | 6 | 0 | 0 | 0 | 5 | 2 | 0 |
| Ritzmann | 18 | 0 | 0 | 1 | 11 | 0 | 0 |
| Strings | 16 | 3 | 1 | 1 | 10 | 0 | 0 |
| Sullivan | 2 | 0 | 0 | 0 | 1 | 1 | 0 |
| Thomegreene | 8 | 0 | 1 | 0 | 15 | 1 | 0 |
| Trantina | 4 | 0 | 0 | 0 | 0 | 0 | 0 |
| Vohnoutka | 9 | 3 | 1 | 0 | 13 | 1 | 0 |
| Averages | 7.77 | 0.58 | 0.54 | 0.42 | 6.85 | 0.62 | 0.04 |
| Drag'N Thrust | 202 | 15 | 14 | 11 | 178 | 16 | 1 |
Seattle Mixtape
| Player Name | Points Played | Goals | Assists | Blocks | Touches | Throwaways | Drops |
| --- | --- | --- | --- | --- | --- | --- | --- |
| Abbott | 10 | 0 | 0 | 0 | 8 | 1 | 0 |
| Bailey | 8 | 1 | 1 | 0 | 7 | 0 | 0 |
| Bolton | 7 | 0 | 1 | 0 | 7 | 0 | 0 |
| Bruce | 2 | 0 | 0 | 0 | 0 | 0 | 0 |
| Burton | 12 | 1 | 3 | 1 | 22 | 3 | 0 |
| Cavalero | 0 | 0 | 0 | 0 | 0 | 0 | 0 |
| Chen | 5 | 1 | 1 | 0 | 5 | 1 | 0 |
| Dare | 3 | 0 | 0 | 0 | 4 | 1 | 0 |
| Duffel | 3 | 0 | 0 | 0 | 2 | 0 | 0 |
| Fong | 7 | 0 | 0 | 0 | 4 | 1 | 0 |
| Garrity | 16 | 3 | 0 | 1 | 5 | 0 | 0 |
| Goldberg | 13 | 0 | 0 | 0 | 1 | 0 | 0 |
| Hendrick | 10 | 1 | 0 | 0 | 2 | 0 | 0 |
| Houser | 12 | 1 | 3 | 1 | 11 | 3 | 0 |
| Ikeda | 3 | 0 | 0 | 0 | 5 | 0 | 0 |
| Johnson | 3 | 0 | 0 | 0 | 2 | 1 | 0 |
| Kapostasy | 2 | 0 | 0 | 0 | 0 | 0 | 0 |
| Kercher | 12 | 1 | 0 | 0 | 6 | 0 | 0 |
| El-Salaam | 18 | 2 | 1 | 2 | 26 | 3 | 0 |
| Klein | 13 | 1 | 4 | 1 | 14 | 5 | 0 |
| Lozano | 11 | 0 | 0 | 1 | 1 | 0 | 0 |
| Nguyen | 10 | 1 | 0 | 0 | 4 | 0 | 0 |
| Noah | 4 | 0 | 0 | 0 | 2 | 0 | 0 |
| Revere | 10 | 0 | 0 | 0 | 3 | 0 | 0 |
| Smith Wilson | 8 | 1 | 0 | 0 | 3 | 0 | 0 |
| Averages | 7.77 | 0.54 | 0.54 | 0.27 | 5.54 | 0.73 | 0 |
| Mixtape | 202 | 14 | 14 | 7 | 144 | 19 | 0 |
Women's
Final Recap: Groom and Grignon Tomas Shine in Boston Win Over Scandal
Tournament Recap
Washington DC Scandal
| Player Name | Points Played | Goals | Assists | Blocks | Touches | Throwaways | Drops |
| --- | --- | --- | --- | --- | --- | --- | --- |
| Allen | 8 | 1 | 0 | 0 | 3 | 0 | 0 |
| Boone | 4 | 0 | 0 | 0 | 0 | 0 | 0 |
| Carey | 8 | 0 | 2 | 1 | 5 | 0 | 0 |
| Franke | 1 | 0 | 0 | 0 | 0 | 0 | 0 |
| Giglia | 3 | 1 | 0 | 0 | 1 | 0 | 0 |
| Gorman | 11 | 2 | 1 | 0 | 14 | 4 | 0 |
| Itoh | 8 | 0 | 0 | 0 | 2 | 0 | 0 |
| Kowalski | 11 | 1 | 1 | 0 | 9 | 0 | 0 |
| O'Connor | 15 | 0 | 1 | 1 | 28 | 1 | 1 |
| Oldershaw | 10 | 0 | 0 | 0 | 1 | 1 | 0 |
| Petterson | 2 | 0 | 0 | 1 | 0 | 0 | 0 |
| Ratcliff | 13 | 0 | 0 | 0 | 39 | 5 | 0 |
| Ross | 13 | 2 | 0 | 0 | 8 | 0 | 1 |
| Roy | 13 | 0 | 0 | 1 | 5 | 0 | 0 |
| Soo | 11 | 1 | 0 | 0 | 8 | 1 | 1 |
| Strick | 13 | 2 | 2 | 1 | 14 | 1 | 0 |
| Teng | 5 | 0 | 0 | 0 | 1 | 0 | 0 |
| Tornquist | 2 | 0 | 0 | 0 | 0 | 0 | 0 |
| Tramonte | 13 | 0 | 2 | 1 | 14 | 1 | 1 |
| Zhou | 12 | 0 | 1 | 0 | 5 | 0 | 0 |
| Averages | 7.65 | 0.43 | 0.43 | 0.26 | 6.83 | 0.61 | 0.17 |
| Scandal | 176 | 10 | 10 | 6 | 157 | 14 | 4 |
Boston Brute Squad
| Player Name | Points Played | Goals | Assists | Blocks | Touches | Throwaways | Drops |
| --- | --- | --- | --- | --- | --- | --- | --- |
| Canning | 9 | 1 | 0 | 0 | 2 | 0 | 0 |
| Douglas | 9 | 0 | 2 | 1 | 10 | 2 | 0 |
| Emerson | 9 | 0 | 1 | 0 | 10 | 0 | 0 |
| Groom | 10 | 4 | 2 | 1 | 15 | 3 | 0 |
| Heath | 4 | 0 | 0 | 1 | 0 | 0 | 0 |
| Henkin | 1 | 0 | 0 | 0 | 0 | 0 | 1 |
| Hoffmann | 10 | 1 | 1 | 0 | 12 | 1 | 0 |
| Hulbert | 6 | 0 | 0 | 0 | 1 | 0 | 0 |
| Kramer | 2 | 0 | 0 | 0 | 1 | 0 | 0 |
| Lee | 10 | 0 | 0 | 0 | 3 | 0 | 0 |
| Malinowski | 10 | 0 | 1 | 0 | 4 | 0 | 0 |
| Murphy | 8 | 0 | 0 | 0 | 1 | 0 | 0 |
| Negus | 5 | 0 | 0 | 0 | 0 | 0 | 0 |
| O'Connell | 8 | 1 | 0 | 1 | 1 | 0 | 0 |
| Ode | 3 | 0 | 0 | 0 | 0 | 0 | 0 |
| Schwam | 7 | 0 | 1 | 0 | 3 | 0 | 0 |
| Sinicrope | 10 | 2 | 3 | 0 | 25 | 1 | 0 |
| Tajima | 9 | 0 | 1 | 0 | 10 | 0 | 0 |
| Grignon Tomas | 10 | 5 | 0 | 0 | 12 | 0 | 0 |
| Verhaalen | 5 | 0 | 0 | 0 | 0 | 0 | 0 |
| Werfelli | 11 | 0 | 2 | 1 | 17 | 2 | 0 |
| Wilson | 2 | 0 | 0 | 0 | 1 | 1 | 0 |
| Wong | 8 | 0 | 0 | 1 | 4 | 0 | 0 |
| Zhu | 10 | 1 | 1 | 0 | 17 | 3 | 0 |
| Averages | 7 | 0.6 | 0.56 | 0.24 | 5.84 | 0.52 | 0.04 |
| Brute Squad | 175 | 15 | 14 | 6 | 146 | 13 | 1 |