The best of the best in the 2018 club season.
Ultiworld's 2018 Club Awards are presented by Greenbackr, a custom crowdfunding platform from Savage; all opinions are those of the authors. Please support the brands that make Ultiworld possible and utilize Greenbackr!
With Nationals over and the winners crowned, it is time to take a moment to recognize the top performers in the Men's Division this season. While the talent of the division reaches far beyond short lists, the Club Awards are meant to honor those players who put together what we believe to be the best seasons in the Men's game this year.
While we consider both regular season and postseason performance, because of the nature of the Club Division, we weight success in the Series and at Nationals above all else. The Club Awards are selected based on input from Ultiworld reporters, contributors, and editors.
To see the 2018 Club Men's Player of the Year Award, go here.
Offensive Player Of The Year
Matthew "Rowan" McDonnell (Washington DC Truck Stop)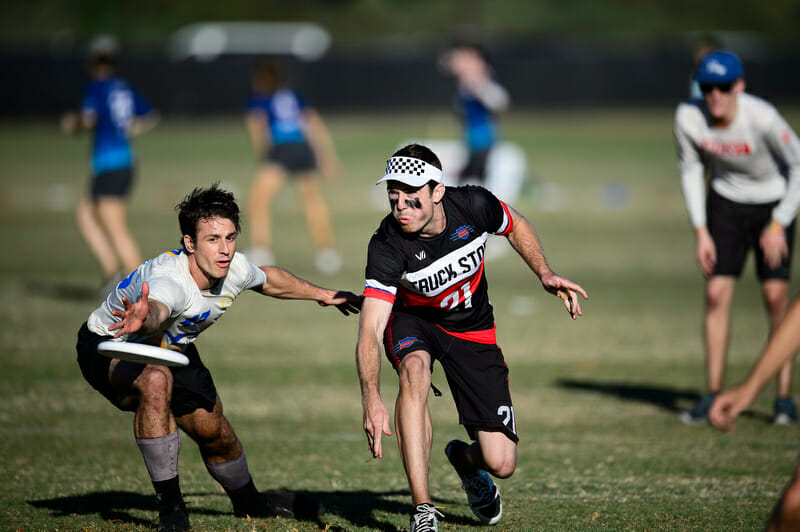 After Alan Kolick and Nicky Spiva left Truck Stop this offseason, it looked like Truck Stop might take a big step back. But after a breakout season and an All-Club 2nd Team selection last year, Matthew "Rowan" McDonnell picked up the baton for the Truck offense and never looked back.
With more load to bear, Rowan didn't waver. He nearly doubled his assist total from last Nationals (12 to 23) and still piled up double digit goals (10). He was the only player in the Men's Division to tally at least 20 assists and 10 goals, and his 33 combined points were good for the highest total at Nationals.
But it's not just the volume. McDonnell has refined his game, pairing creative and skillful throwing with his well-developed cutting skills. He was as adept at launching hucks as he was at streaking downfield for a score.
Rowan embodies the increasing reliance on hybrid players in offensive schemes. A resurgence of handler-set deep cuts and side stack isolation cutting has meant that traditional 'stand and deliver' center handler types are becoming less common; instead, putting versatile players in charge of the offense has become the focus. Rowan is perfect for that. He has built his game from the ground up, first grinding as a defender, adding O-line cutting skills, and finally rounding out his throwing skills. It's not a coincidence that he won the AUDL MVP award this season.
He was the key to the Truck Stop offense all season long, and he took a time that had been written off as a contender and made them a top five team by the end of the season.
1st Runner Up: Jonathan Nethercutt (Raleigh Ring of Fire)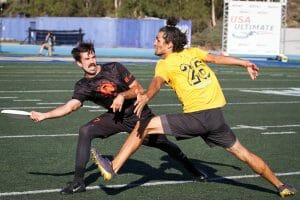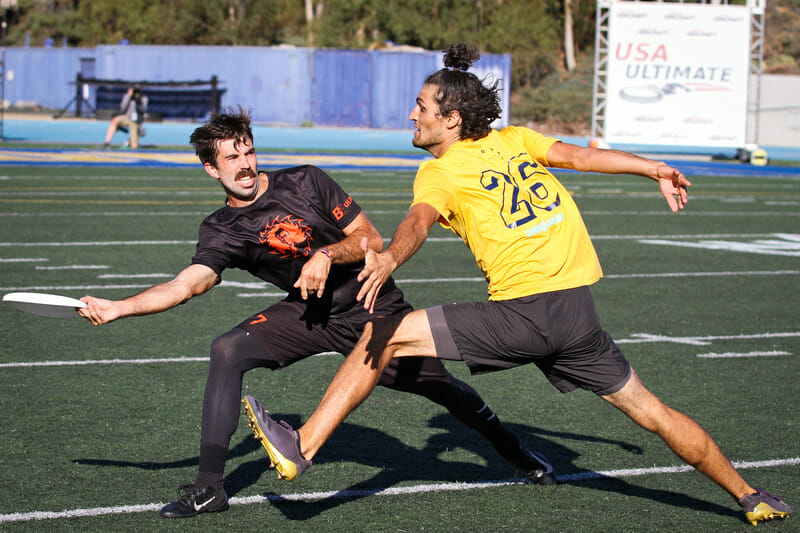 Don't be confused: after a 2017 season in which Jon Nethercutt won the Player of the Year award, he was as good as ever in 2018. Maybe even better.
His turnover numbers were way down at Nationals (from 23 to 10). His assist numbers were up (from 18 to 24, tied for most in the Division). While certainly some of that difference was due to better conditions in San Diego than in Sarasota, he was simply sharper this season.
He improved his ability to get open in the reset space while still carving up defenses with his throws. The power throwing that made his name is matched by his willingness to break the mark and keep the disc moving.
Nutt remains the focal point of a Ring offense packed with talent.
2nd Runner Up: Chris Kocher (New York PoNY)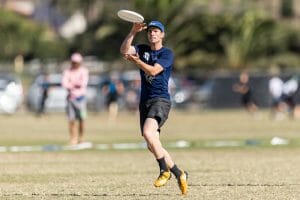 Could there be a better one-two punch in ultimate right now than Jimmy Mickle and Chris Kocher?
Mickle may have won Player of the Year, but Kocher was not far behind, putting up the best Nationals numbers in the Division. 14 goals. 14 assists. 1 turnover.
That is not a typo. 28 points and just a single turnover.
Kocher brought a blend of blistering speed and uncommon consistency to the offensive line this season, while still offering his services as a critical defender when PoNY needed a break. But this was Kocher's best offensive season to date as he thrived as a cutter in a system that played to his strengths.
Given the stats, you could make a case for him to be higher on this list or in the overall Player of the Year conversation. That he is not taking home the OPOTY award is not a knock on him — it's just an indication of the depth of talent that PoNY had this season.
Defensive Player Of The Year
Von Alanguilan (Chicago Machine)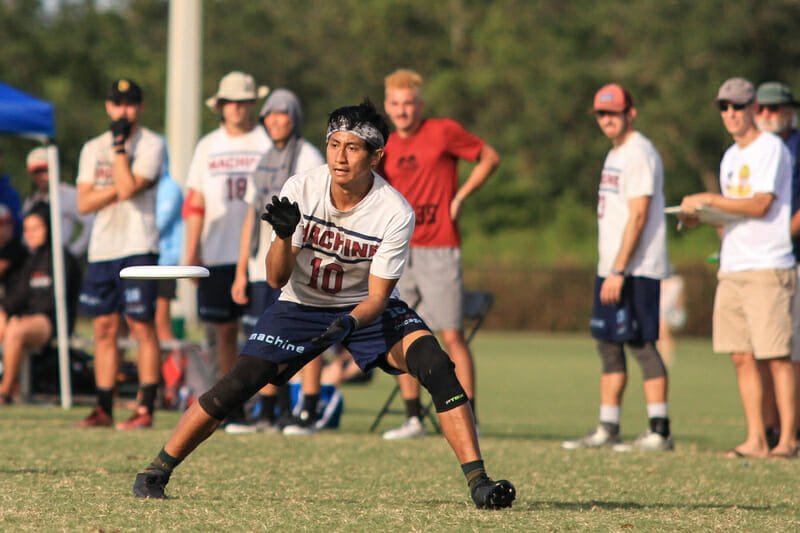 Some defenders lock you down. Others get blocks. There aren't that many that excel at both. Von Alanguilan does.
The Machine defender was an unyielding force on the field this season, combining his elite speed and quickness with a penchant for the ridiculous: his layout blocks are works of art.
Alanguilan had a whopping six recorded blocks at Nationals1 and created pressure in multiple parts of the field. He was a big reason they built a lead on PoNY in quarters.
With both the athleticism to make a big play and the ultimate IQ to anticipate it, Alanguilan was in a class of his own in 2018. He has been a talented defender for a while now, but this was a career year. He had a recorded 13 blocks on the season, almost double that of any other player on Machine. Very few players in the Division had double digit blocks in 2018.
We'll just leave you this Alanguilan play from Machine's game against Ring:
1st Runner Up: Conrad Schloer (New York PoNY)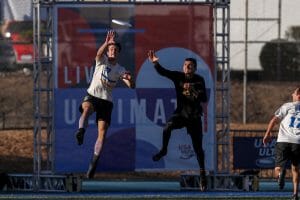 Quick, name the best defender on PoNY! Not an easy task. Maybe you think of Mike Drost. Maybe Ben Spielman.
Like most great defenses, PoNY's featured plenty of depth and two distinct lines. It tends to get a little "faceless."
But Conrad Schloer was one of the biggest reasons it all worked. Schloer took the toughest matchups — Rowan McDonnell, Kurt Gibson, Grant Lindsley — and made them uncomfortable. You're never going to outright stop players of that caliber, but Schloer made sure that nothing came easy, offering teammates the flexibility to flash into a lane or poach off deep. If you don't have that stopper, that 'clamps' defender for the other team's ace, you'll never get away with that.
Schloer isn't usually the guy getting the flashy deep block that imprints in your memory. He's a defender's defender, the guy you can't seem to shake. At the highest levels, defense isn't often about making the improbable layout block, it's about making things harder for the offense and ratcheting up the pressure until they crack. Schloer makes life hard for opposing offenses. He amplifies the pressure. And he does it going up against the best players in the country.
2nd Runner Up: Trent Dillon (Seattle Sockeye)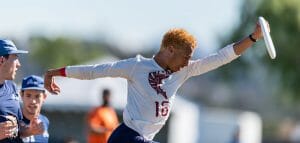 Another lockdown defender rounds out our DPOTY awards this year: Trent Dillon. Dillon stands out on this list for also being a top tier offensive player, but his defense was crucial to the team's success.
After last year's Nationals debacle, it's remarkable that Sockeye was nearly in the title game this season. They played PoNY to a near deadlock in the semifinals. Sockeye's pressure was relentless, led by the play of Trent Dillon on Jimmy Mickle in the handler set.
Dillon was a major reason that Sockeye's defense was top three this season. From denying resets to generating pressure with his mark, Dillon was the best kind of backfield pest.
Breakout Player Of The Year
Antoine Davis (San Francisco Revolver)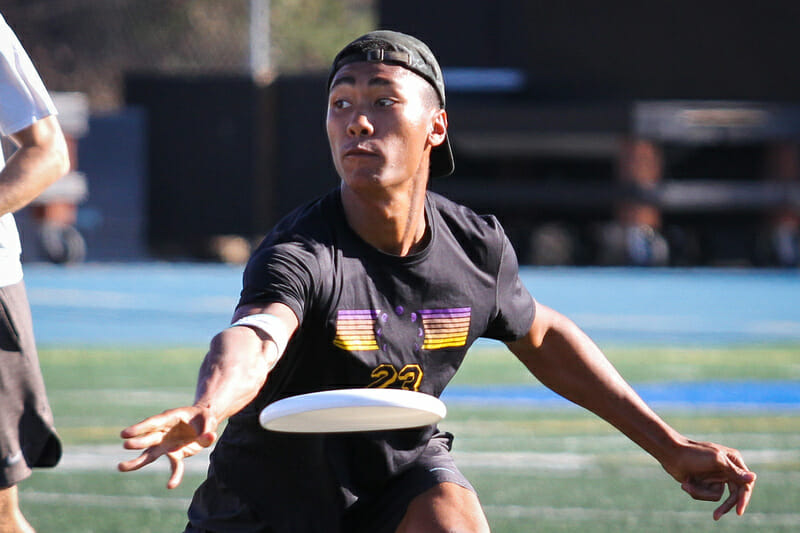 Before this season, Antoine Davis had generated some buzz playing in the AUDL, but this is the first year we saw him really blossom as a club player. An electrifying athlete, Davis brought new explosiveness to the Revolver offensive line, able to both beat opponents in a foot race or leap over taller defenders for a posterizing sky.
He was second on the team in goals this season behind Joel Schlachet, added double digit assists, and, impressively for a primarily offensive player, had seven recorded blocks, tied for second on the team behind D-line stalwart Cassidy Rasmussen (9).
Davis gave you that feeling that he was everywhere when he was on the field. He could roast you deep, but he was happy to take the free under if you backed him. As his role has grown, he's become more confident on the attack and is developing into an increasingly versatile offensive weapon.
It says a lot that Davis, just 25 years old, he has landed on the O-line despite his obvious defensive abilities. If he can continue to improve his throwing, he has the tools to be one of the best in the game.
1st Runner Up: Alex Ladomatos (New York PoNY)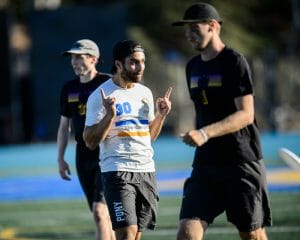 Six players on PoNY finished the season with at least 20 assists. Five were on the O-line: Jimmy Mickle, Chris Kocher, Sean Keegan, Sam Little, and Harper Garvey.
The sixth played almost all defensive points: Alex Ladomatos.
The Australian import, who played with Mickle and Kocher during Sydney Colony's run to the World Ultimate Club Championship final, was a revelation for the PoNY D-line offense. He was the backfield general and frequent break architect.
Lado's selection as a BPOTY runner-up might seem out of place to Australians, who know well of his abilities. He has been a key player for Colony and he made the 2016 Australian Men's National team after many selections to U20 and U24 squads.
But this was his first year competing in the USA Ultimate Club Division. He was a standout on a gold-medal winning team and was an obvious choice for the BPOTY shortlist.
2nd Runner Up: Nate Goff (Chicago Machine)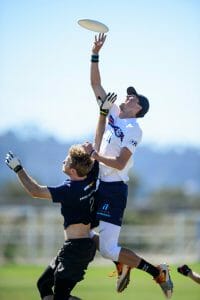 Nate Goff is not a stranger to elite ultimate, having played with Raleigh Ring of Fire in 2017 and multiple seasons in the AUDL, but he stepped into a much bigger role with Machine this season and flourished.
Goff was a defensive stopper, anchoring the back of their zone with his 6'4″ frame and taking tough matchups. But he also brought plenty of offensive firepower after the turn, leading D-line starters in assists at Nationals with six.
He also played great ultimate when it counted most in San Diego, serving as a key playmaker for a Chicago team that nearly shocked the eventual champions in the quarterfinals.
Coach Of The Year
Bryan Jones and Ben Van Heuvelen (New York PoNY)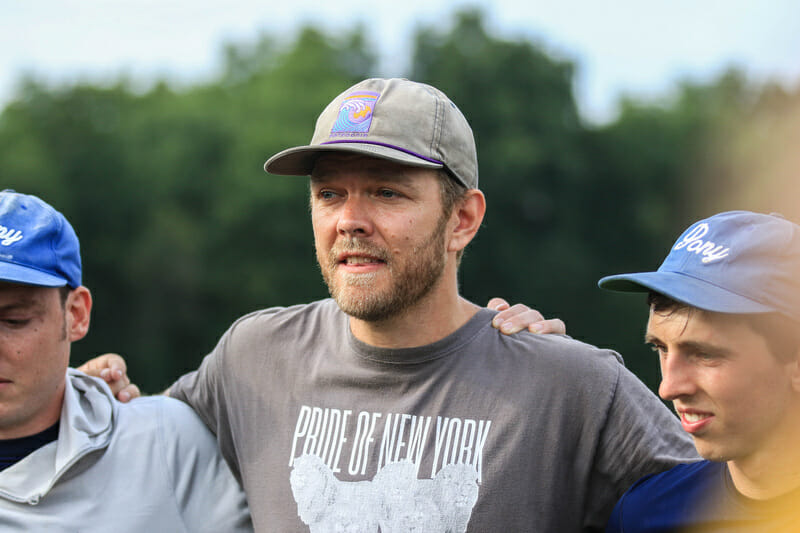 We'll just let Truck Stop head coach Darryl Stanley say it for us: "Good lord that's an immense coaching performance."
Ben van Heuvelen and Bryan Jones co-authored the biggest beatdown of the Division's most dominant team that we've seen since they started winning titles in 2010. The offense was never broken. The defense got turnover after turnover and looked like they got shot out of a cannon to get breaks.
It would be easy enough to just name BVH and BJ the Coaches of the Year thanks to that single game. But it was more than that. They've been building to this point.
They successfully put together a very different looking roster in a single season. They weathered the storm of a pool play loss to Johnny Bravo, a halftime deficit to Machine, a halftime deficit to Sockeye, and the need to win some games with defense and others with offense.
BVH was the offensive rock and the steadying voice in the huddle. Jones was the defensive wizard. Together, they built a team that wasn't predicated on hero ball or mashing the Jimmy Mickle button.
LISTEN: Bryan Jones on the Sideline Talk Podcast
Players were fully bought in. The team won the US Open, Pro Championships, Northeast Regionals, and National Championships to dominate both the regular and postseason. And it was obvious that the team's coaching was a huge part of their success.
It all culminated with a thorough dismantling of Revolver, the measuring stick for the Division for the entire decade. Immense.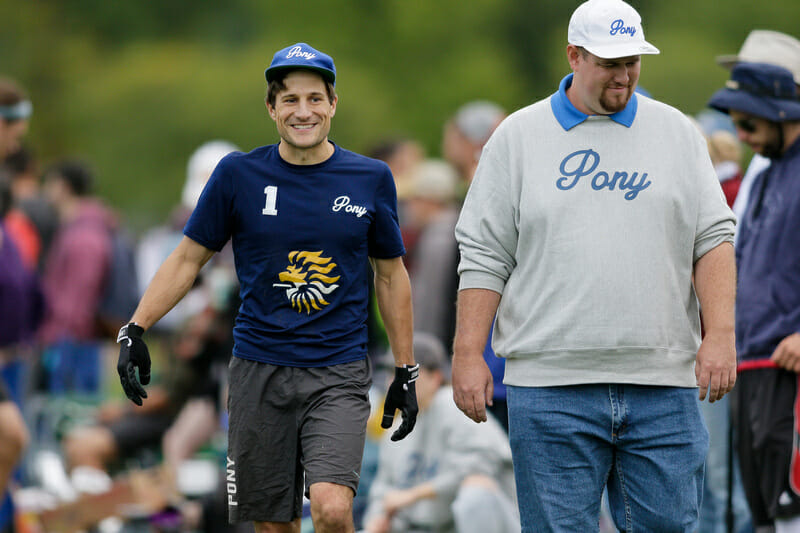 1st Runner Up: Darryl Stanley (Washington DC Truck Stop)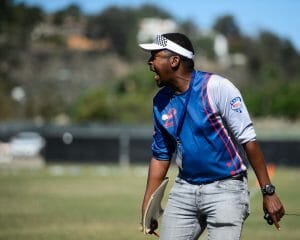 John Agan, Chuck Cantone, Joe Freund, Cody Johnston, Alan Kolick, Allan Laviolette, Jonny Malks, Brian Marshall, Kevin Moldenhauer, Jonathan Neeley, and Nicky Spiva. That's the list of players that Truck Stop lost this past offseason. It was a good run they had — finally made semis in 2017, great season. But the window's closed. Seeya.
And, so, was it that surprising that they came out to start their 2018 season at the Pro-Elite Challenge and looked awful, getting smoked by Patrol and Guerrilla to kick off the tournament? Not really.
But Darryl Stanley wasn't having any of that. Three months later, Truck Stop destroyed all comers at Mid-Atlantic Regionals and then went 5-2 at Nationals, losing only to PoNY and Revolver. And they gave San Francisco a game in quarters. They finished the season ranked #5 in the Ultiworld Power Rankings.
It's not just the little things — like staring through binoculars to pick out matchups — that make Stanley a great coach. He knows how to get the best out of his players. His quick rise through the coaching ranks — from youth competition to the AUDL to College to Club to a spot on the upcoming Under-24 USA Men's coaching staff — is a testament to that.
It's not random that Stanley-coached teams keep exceeding expectations. He was the 1st Runner Up for the College Coach of the Year award just a few months ago after guiding Maryland to a Nationals appearance that no one saw coming.
He'll be winning the award outright soon enough!
2nd Runner Up: Miranda Roth Knowles (Atlanta Chain Lightning)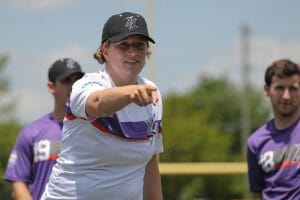 After years of missing out on Nationals, Atlanta Chain Lightning, a storied program that won a title in 2009, made it back to the Show this season after earning a bid and claiming it at Southeast Regionals. Behind that reemergence was the team's new head coach, Miranda Roth Knowles.
Knowles took over coaching duties for both the AUDL's Atlanta Hustle and Chain this season, giving some continuity and structure to the development of both players and schemes.
Implementing an entirely new approach to offense and an excellent zone defense, Knowles helped Chain to not only make it to Nationals, but to win two games and be competitive in almost every game, despite coming in as the 16th seed.
Four of their five losses were by two points or fewer, including to Regional rival and #4 ranked Ring of Fire.
Knowles not only helped Chain get back to on-field success, she helped the team forge a new identity after years of being stuck in the ways of the 2009 team that they no longer resembled. It is her first selection for an Ultiworld Award.
---
blocks are notoriously underreported by USA Ultimate statkeepers ↩