The biggest college fall tournament of the year!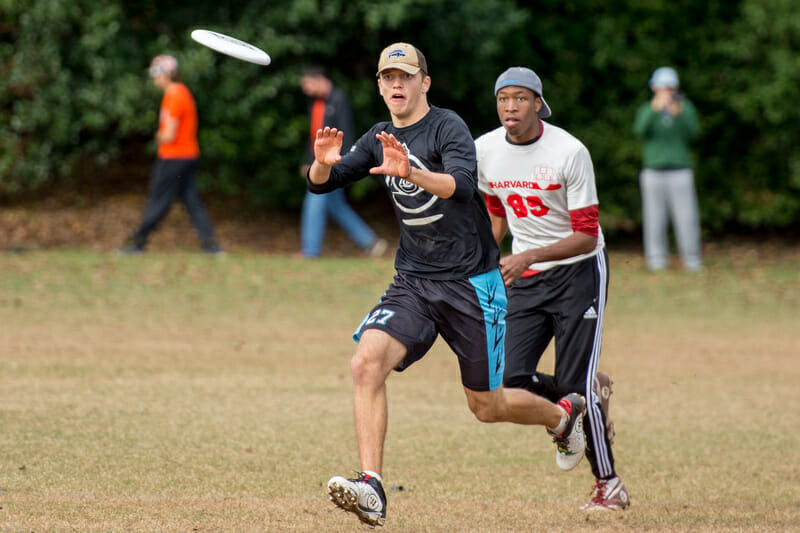 Ultiworld's coverage of the college fall season is presented by Spin Ultimate; all opinions are those of the authors. Please support the brands that make Ultiworld possible and shop at Spin Ultimate!
Sure, it's the fall. Teams are still going through the basics and integrating new players. The feel won't be like that of a major spring tournament. But looking at the field for the 2018 Classic City Classic, it's hard not to get excited. Nine teams that made Nationals last May will be in attendance, as well as six others that earned a strength bid for their region.1 The field is absolutely loaded and will feature a bevy of Nationals caliber talent. It may not be spring yet, but this weekend in Athens should give us a great, final preseason glimpse of many of the teams that will be nationally relevant in 2019.
Tournament Profile
Date: December 1-2
Location: Athens, GA
Weather: Upper 50s with strong chance of rain and thunderstorms on Saturday, record highs in the 70s on Sunday
2018 Nationals Qualifiers: 9
Filming Schedule
These games will be available online next week for Ultiworld Full and Plus subscribers.
Saturday
8:30 AM: Michigan v. Ohio State
9:55 AM: Georgia v. UNC Wilmington
11:20 AM: BYU v. Georgia Tech
12:45 PM: Brown v. Auburn
2:10 PM: Florida v. Kennesaw State
3:30 PM: Maryland v. Cal
Sunday
9:00 AM: Quarterfinal
11:00 AM: Semifinal
1:00 PM: Final
The Favorites
Defending champs North Carolina Darkside will be top tier title contenders once again in 2019. They bring back six of seven O-line starters and their roster boasts some of the most talented players in the country: Matt Gouchoe-Hanas, Elijah Long, Anders Juengst, and Liam Searles-Bohs, to name a few. We already know what UNC will likely be in the spring: a near lock to make semis at Nationals.
But this weekend should give us a glimpse at who some of their new, budding stars and key role players will be. Freshmen Andrew Li and Jon Su were highlighted by the coaching staff as additions that can contribute right away. Suraj Madiraju, John Watters, Ryan Humphrey, and Jeremy Vlacancich all garnered praise for their fall performances and potential to have a larger impact next year as well.
North Carolina is certainly further along in their development than most teams at this stage. Even most of their rookies have vast experience playing the game at a high level. But they too will be working on the basics this weekend and making sure they're prepared for the long haul of the spring. Because of their high base level, they're easily the favorite to win CCC, but it should be fun to see what sort of things they're working on at this stage.
They'll have some fun too.
"Darkside has always been results-oriented," said coach David Allison. :Anything less than the 2018 CCC championship would be considered a failure and a major step backwards for our program. Our season goal will be to stay at the top of Ultiworld's power rankings and go undefeated while riding our top guys into the ground just in time for Nationals."
Tongue firmly in cheek.
***
Brown Brownian Motion was one of the biggest stories of 2018. They evolved from a team that hadn't made Nationals in 11 years to legitimate semifinals contenders. They lose a few seniors — most notably Eli Motycka — but otherwise most of the team is back. They should be major players for a semis spot once again in 2019.
They'll have two Player of the Year candidates on the roster in Mac Hecht and 2018 Rookie of the Year John Randolph. Both were second team All-Americans a season ago. There's plenty of their supporting cast still around, too, with players like Ned Dick and Solomon Rueschemeyer-Bailey still on the team. Brown have a handful of rookies they're excited about in Daniel Cody, Eli Standard, Martin Trouilloud, and Talon Johnson, so it'll be interesting to see how they're worked in this weekend.
Brown should have a vastly improved showing from their CCC performance a year ago. They're hoping to keep the momentum of last season going strong. Brown no doubt has the talent to be one of the top teams in the country again in 2019, but CCC should give us an idea of how they'll cope without Motycka, who was the leader on his line a season ago, as well as how their new players will be used in the rotation.
***
Georgia Jojah was another 2018 surprise. Despite significant departures from the 2017 team, they resoundingly won a competitive Southeast and ended up making quarterfinals at Nationals. Gone are John Langstaff and Sam Batson, but enough of their roster is back that they should have goals of reaching similar heights in 2019.
Jason Jones, Hunter Cutts, and Drew Di Francesco lead the team that will be favored to repeat as Southeast champs and the word is they'll get some help from some emerging stars as well. Now coach Parker Bray identified Mason Cary, who's played with Atlanta Chain Lightning and Atlanta Hustle, as a player ready to break out, and YCC-experienced rookie Hayden Austin-Knab as a newcomer who should be able to contribute.
Like last year, Georgia will be a long, athletic, aggressive side that will present matchup problems for a lot of teams. They also tend to play a fun style of ultimate offensively. They do have eight rookies to blend in with the team, though. Rookies like Di Francesco and Travis Kellogg played big parts in the team's successes last year, so seeing how those new first years integrate should be interesting.
"We will look similar to last year, forged in the fires of Miranda Roth Knowles and the new Atlanta system," said Bray. "Lots of junk and force middle on defense, with a variety of looks on O where possession is key. We won't be as small ball as Chain—it is college and we've got a ton of height and athletes to throw prayers to. We're probably the tallest and most athletic team in the SE again."
Also, perhaps this is the year we really see Sebbi Di Francesco bounce back from multiple knee injuries and contribute after such a promising start to his college career back in 2015.
Elsewhere, Georgia is a 13.5 point underdog to Alabama in the SEC College Football Championship game this weekend. Bray's taking the Dawgs. So are we. Ridiculous line.
***
UNC Wilmington may feel like an odd team to be considered among the favorites to win CCC. They're the only team in this group that didn't make Nationals last year. But they did finish the regular season ranked 17th, earning a bid for the Atlantic Coast despite underperforming for much of the season. They bring most of last year's team back, so expect improvement there. Most critically, though, they get back Matt Ellis, a freshman star on the 2017 team that made it to the national final. Ellis could immediately be their best player and should be a major difference maker for them.
"Last year was a sobering experience, especially coming off of such a successful year before, but that has refocused us for this year," said captain Willie Stewart.
Connor Russell, a fellow member of the recruiting class that brought in Ellis, also had a really strong summer with Philadelphia Patrol and should be one of the top playmakers in the region. They also have two of the most experienced players in the country in Stewart and Rick Hennighausen, and those four make up a truly formidable core.
At times last year, Wilmington looked like a team that was lesser than the sum of its parts. Execution errors and mistakes held them back from being as potent as their roster may have indicated.
But we're already seeing signs that they're back on the right track. At a very competitive Fall Easterns, they lost to UNC in the final, 10-8. Can they improve from there? If so, they're absolutely capable of winning the tournament this weekend.
Others To Watch
It's less likely that any of these teams will win the tournament this weekend. But they also have more question marks, and for that reason may be more fun to follow this weekend than any of the teams already mentioned.
Massachusetts Zoodisc is coming off a disappointing 2018 season. Outside of Easterns, they didn't fare nearly as well as expected in any of their tournaments, including Nationals, where they failed to get beyond prequarters. Tannor Johnson is back and might just be the #1 player in the country heading into 2019, but he didn't always take over games like he probably should have last season.
They also lose Pat Barron, who was arguably their most consistent playmaker of 2018. Chris Bartoli is back, as is Jake Radack, though he's currently studying abroad and won't be in Athens this weekend. So the top end talent is there once again for UMass, but they've got to develop a deeper bench or find a way to just feed the disc to Johnson as much as possible. (Not a bad idea, honestly.)
CCC will be their first tournament of the season and they've lost a lot of practice time due to rain, so they should still be working kinks out. But this should be an opportunity to see what sort of team this mercurial group will be in 2019.
***
Florida loses a lot of talent from last year's disappointing season. Ryan Hiser, Josh Layton, and Brandon Turnage are the only key returners back. Billy O'Bryan is the biggest departure from last year's squad, but this will be a new look team. Hiser and Layton are both dynamic throwers, and Turnage is a threat downfield, but this season has the looks of a rebuilding year for the Florida club.
Florida's regional rival, Auburn Aetos also loses some key players, most notably Martin Newman. But they also bring a fair amount back. Eric Sjostrom will be a preseason favorite to win Southeast Player of the Year, and Michael Strobel, Rocco Magnella, and the twins Luke and Sam Smith are also all returning. They also get a strong freshman in David Perry, who comes to the team from YCC team DEVYL.
Auburn has famously been to Nationals the last four years without earning a bid a single time, but captain Magnella says the team will be ready for a strong regular season and that the team hopes to finish third this weekend. "We believe that this is our most talented team yet," he said.
***
At this point, we should all know what to expect from BYU CHI. They are fed by strong youth programs in Utah, and under Bryce Merrill's tutelage, they'll likely be a tough team year in and year out. They'll be missing about 33% of their roster this weekend, so it will be tough to gauge exactly what they'll be this season, but they do bring back the large majority of their 2018 roster. They'll also be implementing a new offense and new defensive schemes this weekend, per Merrill, so that will be something to keep an eye on.
As usual, BYU will only play on Saturday. Oh, and there are only two Dads on the team this year.
***
Two surprise Nationals attendees out of the Atlantic Coast will be in attendance in William & Mary and Maryland. William & Mary has already suffered some really tough news this campaign, as captain and star Jonny Malks tore his ACL in September and is out for the year. It'll be a tough ask for them to get back to Nationals without him, but it'll be even tougher for them this weekend as they're also without Gus Norrbom, who is out with mono.
Maryland will also likely be without their top player, Johnny Walden, due to illness, though fortunately for them that's on a much more short term basis. Led by the top level coaching of Darryl Stanley, and with plenty of experience back bolstered by a solid recruiting class, Maryland should be nationally competitive once again, even if they aren't going to be at their best this weekend.
Two more AC teams will be at CCC, though Virginia Tech and NC State were two of the teams to have their Nationals bids stolen by the former two. Tech still has Joe Freund, who will once again be one of the top players in the country. But they lose a lot of their other top players from a year ago. As such, they will be one of the more intriguing teams to watch this weekend, as it's tough to predict how strong they will be come the spring. Their earlier fall results weren't exactly inspiring: can Freund be the difference maker?
A lot of buzz is coming out of Raleigh, however. They feel like this is the season they'll finally get over the hump. Their roster got a lot of solid club experience over the summer, and they've registered fall wins over Tech, Wilmington, Pittsburgh, and Maryland already. They also have a promising rookie in Dylan Hawkins, who is one to keep an eye on this weekend.
***
Florida State stunned the Southeast by stealing the third bid last season, then ended up fairing pretty well at Nationals to boot. Jordan Huston, who was an assistant coach last year, is now in charge and has to steer the team through some major departures. Stephen Muir is back, though, as are several other key players, so it's not a totally clean slate. They should have the ability to compete in the Southeast again, and this weekend should let us know if they are on that track.
Emory and Georgia Tech are two teams who would like to be able to follow in Florida State's footsteps. Emory, who earned that third bid for the region a year ago, couldn't quite put it together at Regionals, but still have the talent to be one of the top teams in the region again. Anders Olsen, Daniel Sperling, and Mike Bartell are back (quite the trio), but the team's inability to close the gap with the top teams in the Southeast has been more systemic than talent-based. Can they develop the necessary depth to challenge for Nationals?
Georgia Tech hasn't been as close to Nationals as Emory in recent years, but they have been competitive in the region. Tyler French and Micah Jo are a solid top two, and the team is starting to get recruits in from the strong Atlanta youth scene to help bolster the rest of the roster. They're young, but potentially a team to watch out for in the Southeast. They'll also be working on entirely new offensive systems this weekend.
***
2018 was a brutal year for Michigan. After a strong enough CCC performance to earn them a preseason top five ranking, Michigan missed Nationals entirely last year. It's going to be a rebuilding year for the team, so they too should be one of the more interesting teams to watch this weekend, especially after their struggles last season. Cian Johnson, Eli Weaver, and Theo Shapinsky are three rookies identified by the coaching staff as players to watch out for in particular.
***
UConn did make Nationals out of the Metro East last season but lost 13 seniors from the 2018 team. They added a couple of solid YCC freshmen in Jeremy Bernier of Boston BUDA and Carson Fitzner of Connecticut Harpoon. UConn had their earlier fall tournament rained out and have also missed a lot of practices due to the weather, so this weekend should be key for them in developing a team that can get back to Nationals.
***
Is Cal a legit competitor in the Southwest this year? The fact that they're flying out for CCC says a lot, doesn't it?
They've had a good fall thus far, but we didn't get to see them match up with the most competitive teams at Sean Ryan due to the Sunday cancellation. But all signs point to this being a peak year for the team.
"We are returning six seniors that have been with the program since they were freshmen, strong players that know our system and culture as well as one can," said coach Dan Silverstein. "However, four of those seniors are abroad this fall. Of the 21 players that we are bringing to CCC, a full 17 are first or second year players on the team."
They will have a couple of their star seniors — Tommy Lin and Josh Yuan (a 6'+ handler defender!) — playing this weekend, but clearly this is not the Cal we will expect to see in the spring. Success this weekend would be a very positive sign for the team.
***
There are plenty of other interesting teams taking the field this weekend: Ohio State, Kennesaw State, Harvard, South Carolina, Carnegie Mellon, and LSU. Shout out to South Carolina for filling in for a late drop by Texas State.
Every team at this tournament has potential. Columbus Cocktails breakout star Sion Agami will suit up for a promising Ohio State team. Kennesaw State looks primed for a run at the top end of the Southeast. Harvard will always be in the mix in New England. South Carolina has been steadily improving. Carnegie Mellon looks poised to turn into a perennially competitive program in the Ohio Valley. LSU has a fantastic young core and lots of room to grow.
College ultimate is back!
---