It was a another big D-III weekend, but every division featured top 25 competition.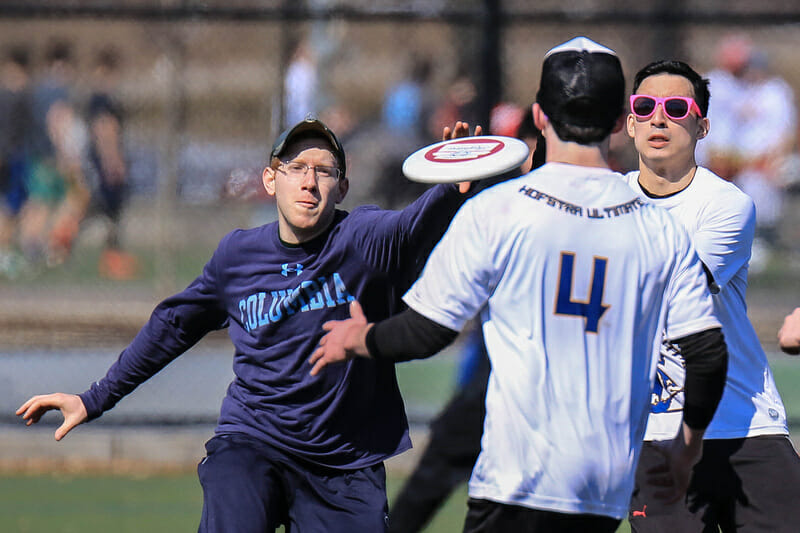 College Update during the 2019 season is presented by Spin Ultimate. Please support the brands that make Ultiworld possible and shop at Spin Ultimate!
During the spring season, we will publish a bite-sized weekly recap of the action across the College Division. This will serve as a supplement to our standard tournament reporting and will offer a high-level look at the latest happenings and the biggest stories of the week.
Want your tournament listed here? Submit a recap of what happened right here.
Men's
UMass Goes Undefeated at Parity-Filled Classic City Invite
#3 Massachusetts was the lone team to emerge from the first Classic City Invite with only wins in tow. Zoodisc bested Pittsburgh, who would go on to the win the rest of their games, on double game point in their first game of the tournament, making it the de facto final. Their defense was aggressive while their offense continued to rely on athleticism and playmaking.
Elsewhere, there were constantly tight matches, with lots of games decided down the stretch. It was a successful weekend for UNC Wilmington, who compiled a 5-1 record including a 9-8 win over NC State. On the other side of things, Georgia struggled, with thin margins of victory, a Sunday loss to South Carolina, and a blowout loss to Pittsburgh.
For more on Classic City Invite, check out our Tournament Recap.
Columbia Wins No Sleep 'Till Brooklyn
Columbia and Marist were the surprise teams of the nine team men's division of No Sleep 'Till Brooklyn. Each went 7-1, with Columbia capturing the top spot based on Saturday's double game point win over the D-III school from Poughkeepsie. NYU, who finished 6-2 to take third place, was the only team to defeat Uptown Local during the tournament. SUNY Binghamton and SUNY Stony Brook rounded out the top five finishers.
Marist looked very strong all tournament en route to defeating five D-I squads, plus two B teams. They are led by Oliver and Noah Fay, two brothers who played at Amherst High School. They should certainly be considered early favorites to make it to the big show.
Submitted by Andy Borinstein
D-III: D-III Midwestern Invite, Dust Bowl, and more
Despite less than ideal conditions, 16 D-III teams from six different regions converged on Fair Oaks, Indiana this past weekend at D-III Midwestern Invite. Steady 20-25 mph winds led to low scores on the weekend, and a Saturday afternoon storm necessitated a format change. #16 St. Olaf Berzerkers emerged as champions over Portland UPrise in a windy 8-6; check out the tournament recap for more in-depth coverage of the results on the weekend.
Further south in Tulsa, Oklahoma, #8 John Brown Ironfist and Colorado College Wasabi competed in Dust Bowl. The tournament was condensed to a one-day bracket after being rained out on Saturday. Both teams made it to the semifinals before losing 15-8 to Oklahoma and Oklahoma State, respectively. In the third place game, Ironfist solidifed their superiority over Wasabi with a 15-10 win.
At Atlantic City 9 in New Jersey, #23 Bates College O-Whip cruised all the way to the final before losing 11-8 to the Colby Dazzlin' Asses, who were dominant in their own right on their way to an undefeated weekend. Marist Red Fox also had a strong weekend at No Sleep 'Till Brooklyn, going 7-1 and showing potential to be a challenger in the Metro East.
Quick Hits
Women's
No major D-I action, so let's turn to D-III!
D-III: #1 vs. #2 at No Sleep 'Till Brooklyn, and more
More teams saw action this past weekend, including several teams at the top of the D-III Women's Power Rankings, and others travelling a distance to match up against out of region opponents.
On the East Coast, #1 Bates Cold Front and #2 Williams La WUFA faced off in the final of No Sleep 'Till Brooklyn, after each dominating pool play against D-III and D-I competition. Bates emerged with a 7-4 win in a time-capped 65-minute contest, shortened due to Sunday's revised weather schedule. Williams jumped out to an early 3-0 lead, but Bates regrouped after a timeout to hold and then break Williams on the next three consecutive possession by playing a swarming zone. Bates took half 6-4 and broke Williams again right after the horn sounded to seal a well earned 7-4 win. Undoubtedly, these two teams will be renewing their rivalry again at Nationals in May. Bates was led by the usual stars, with Josie Gillett and Grace Warder tallying massive stat totals.1
Long Island Classic featured more New England teams getting games under their belts; while Sunday was cancelled, #4 Mount Holyoke Daisy Chain went 3-0 against Colby, Wellesley, and SUNY-Geneseo. Colby and Wellesley each went 2-1, and SUNY-Geneseo took home a lone win.
In Virginia, Without Limits' Mash-Up 2019 had pool play between D-I and D-III teams, before breaking into divisional brackets. #14 Georgia College Lynx Rufus went 2-1 in pool play and winning their two rounds of bracket play to end at the top of the bracket. #25 Smith Luna Disc came in second after losing 12-6 in the final. Elon Wild Rumpus took fourth place after a loss in the third place game to Vermont B.
Out West, #19 John Brown Savage Skies had a perfect weekend, winning Dust Bowl 2019 after 3-0 pool play and a nail-biting 13-12 final win over Oklahoma.
In the Midwest, the winter-bound teams the Twin Cities area got together for Forever Winter 2019. #6 Carleton Eclipse came out victorious over defending national champions #7 St. Olaf Vortex twice with a 10-7 pool play score, and a 10-9 final match. In Indiana, weather was likewise at the front of the mind for D-III Midwestern Invite; #5 Oberlin took the top place after winning the D-III pool and defeating Minnesota-Duluth in the final. You can read more about the weekend in the Tournament Recap.
Quick Hits
Looking Ahead
We are officially in bidwatch territory. Nationally, that means that every goal counts for bubble teams. Regionally, that means keeping an eye on who gets to 10 games and who can win crucial bids for their conference.
---
Thank you to Andy Borinstein for the submission. ↩

Sic. ↩