It's time for Mini-Nationals.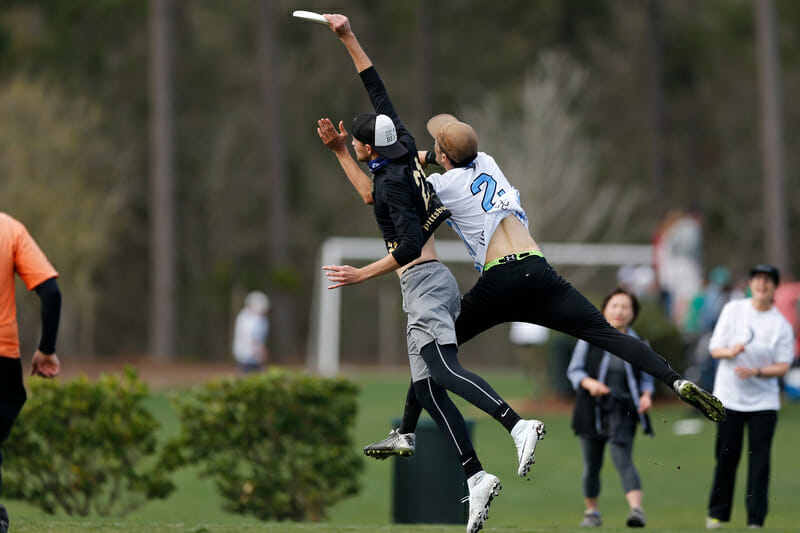 Ultiworld's 2019 college coverage is presented by Spin Ultimate; all opinions are those of the authors. Please support the brands that make Ultiworld possible and shop at Spin Ultimate!
The last weekend of the 2019 regular season is packed with intrigue. A suite of top-tier teams look for one last tune-up and the chance to scout each other at this "mini-Nationals" event, especially those lucky enough to get a shot at no. 1 seed (and prohibitive favorite) UNC Darkside. Meanwhile, a slew of teams on the bubble are looking to ride a hot streak and find themselves inside the bid cutoff. Bid allocations for several regions are in play.
Don't miss our livestreaming coverage this weekend, starting at 11 AM Eastern on Saturday, 3/30!
Tournament Profile
Date: March 30-31, 2019
Location: North Myrtle Beach, SC
Weather: Highs near 70 degrees; 10 mph wind; chance of rain Sunday afternoon
Top 25 Teams: 11
The Ones
There was a point during last week's AC Showcase game against NC State when #1 North Carolina Darkside started moving the disc in small spaces so fast that the usually deft JinxCam could not keep up. The resulting on-screen confusion offered viewers a dizzying glimpse of what it must feel like for defenders attempting to contain the array of straight resets, cutbacks, stutter steps, stops, and counter switches that Darkside employs on nearly every possession. Part of it is a function of talent: Matt Gouchoe-Hanas and Anders Juengst are devastating as individuals in the system, and the pair of them working together is virtually impossible. But more than that, UNC seems, across the whole roster, to have a good option ready by stall three for any look a defense throws at them on stall 1. That quintessential "you-zig-I-zag" movement is the riddle any hopeful will have to solve in order to get the better of the reigning champs when it counts. So far, nobody is close.
But UNC is not invincible either. The D-line may be ruthless after a turn, but it isn't out of the question for a good offense to give them too few opportunities to do much damage, even with notable disruptors Seth Lee, Colin Smith, and Elijah Long gumming up the works. If, in addition, Darkside strays from its bread-and-butter on offense and starts to rely too heavily on their deep game, opposing defenses come much closer to being on equal footing. Mix in a couple of timely errors, and voila: you get a game like the unsanctioned 12-11 loss they took from NC State in the aforementioned showcase.
Don't bet on it, though. Expect UNC to arrive at Easterns focused and looking every inch the best team in the country. Their biggest challenge may just be history: UNC has never won Easterns, despite entering the tournament as the favorite on multiple occasions. Last year, they came into Easterns undefeated but fell to Pittsburgh in the semifinals.
So who could knock them off this year?
There probably isn't a better 1-2 punch in the Men's Division than Mac Hecht and John Randolph for #2 Brown. Hecht has polished his game — gorgeous throws, strong initiating cuts, and a thorough understanding of the reset space — to a level something like the final revision of a prize-winning capstone thesis. Randolph, meanwhile, does everything his team could ask of him and more as one of the country's elite power cutters and defenders with, by the way, a remarkable degree of finesse as a thrower. Brownian Motion find themselves in the division's top tier largely because of the play of those two.
But this team is no Harvard Stubbs-Vandenberg rerun. Far from simply relying on the isolation plays they showcased in the fall, they have built a complete offensive system and trained all the regulars to feature in it. Ken Noh and Henry Laseter are just as likely to play keep-away in the backfield as Hecht and Randolph; Dylan Villeneuve and Ned Dick are as apt to exploit a small break-side window or a big space look on the force side; Alex Liu and Griffin Kao regularly finish points. The hang-up with Brown's particular take on vert stack offense is that, when operating at full tilt, it requires a lot of high-skill throws. If the wind is tricky or a couple of players are having an off-game, the team can stumble, which is just what happened in the final of the Stanford Invite. Focus, then, is key. Easterns will be a great test for the team's mental endurance, as the bracket figures to be an absolute gauntlet.
#3 Massachusetts Zoodisc and #4 Pittsburgh En Sabah Nur, both coming off of very impressive weekends at the Classic City Invite earlier this month, each look to position themselves as the top challenger to steal the championship from UNC. They'll have to tangle with a number of other heavies to do it, true enough, but they look ready. UMass has built a balanced offense around superstar Tannor Johnson. As one of the game's premier cutters and throwers, he has a planetary presence on the field: defenses must align themselves according to his position. When he hangs around in the stack, the attention frees up a number of other weapons. They aren't quite as dominant, but Jake Radack, Eddie Scott, and Phil Joyce have been reliably dangerous for Zoodisc. Furthermore, the team has cultivated an extremely gritty mentality this season that gives them an edge in close games.
Pittsburgh, by contrast, trades balance on offense for a repeatable merciless blitz. The cutters yield a vast portion of the field for handlers Leo Warren and Andrew Lehmberg to carve up with big strike cuts. Opportunities to attack deep from the duo's movement usually arrive early in the point, and the Pitt offense does not shy away from them. Considering that gamebreaking receiver Mike Ing is on the other end of so many of the shots, you can't fault the aggressive play. Pittsburgh's defense brings, in addition to the imposing frames of players like Henry Ing and Will Helenski, a goon squad mentality that can demoralize opponents. They do not get tired of piling on breaks; you can hear them boil over from two fields away when they're on a run.
The Twos
Crashing the East Coast party is #7 Oregon Ego, who has yet to play any of the top four. That will change in pool play when they square off against UMass. Easterns should give us a good look at the ceiling of this highly-touted team. Ego have played four games so far against top 10 opponents: they've lost all of them.
That trend doesn't seem likely to continue. In the first place, miscommunications on offense that have hurt them at times should be minimal now that they've had more time to build chemistry. More importantly, the Ego defense, built to take advantage of the team's quickness to play an extremely adaptable junk set or flash into lanes as the offense cycles through options, is good enough to keep them close with any team. Colby Chuck and company will force turns against the best offenses. The final argument in Ego's favor is the play of cutter Xander Cuizon-Tice, who is (somewhat quietly) having a spectacular season. They still need to find a way to close out tight games, but Oregon has the tools. All of this comes with the unfortunate caveat that they'll have to do it sans senior Will Lohre, one of the more fearsome deeps in the Division, out for the season with an injury.
Is this the tournament where we finally see #15 Carleton CUT play to their potential? The last weekend of the regular season still finds the blue-blood program searching for an identity. The offense seems to lack direction, despite Dillon Lanier playing some of the best ultimate in country. With Stan Birdsong, Chris Padilla, and Harry Wolff Landau around Lanier, CUT should have no trouble ending points quickly and cleanly. But they struggled to find a rhythm at Florida Warm-Up and Stanford Invite. There's no question that Carleton will be extremely dangerous at Nationals in any given game, but it's hard to believe the team we've seen so far is a title contender. A dominant run through the bottom three teams in their pool and a respectable performance against Darkside would go a long way toward countering that impression.
After a disappointing end to their 2018 season, #11 UNC Wilmington Seamen have bounced back. The 2019 iteration plays like an homage to the 2017 one: the default setting seems to be Jack Williams-style hero-ball. It isn't just a passing resemblance either, as Connor Russell and Matt Ellis have proved more than capable of taking over games (whether necessary or not). The Seamen trust their playmakers — a group that also includes Rick Hennighausen, Willie Stewart, and Owen Maskelony — to perform, and the upshot is one of the most entertaining brands of ultimate in the division. Their (classic) pool play matchup against Pittsburgh should be a hoot, with UNCW challenging Pitt's best athletes all over the field.
Did you hear? #11 NC State Alpha beat UNC Darkside last week in a one-off showcase game. The game may have been unsanctioned, and UNC might not drop a couple of open passes the next time they meet, but the 12-11 result was no fluke. Alpha have amassed perhaps the deepest stable of talent outside of Chapel Hill or Northfield. Austin Von Alten has had a breakout season as a takeover cutter, and very few players have the defensive chops to equal Rhys Gretsch or Trevor Lynch. What's more, O-line centerpiece and Callahan nominee Bailey Laberteaux returns to the field after having missed all of their last tournament. With the team's roster finally approaching full-strength, you can bet they're excited to take a shot at Brown on Saturday.
The Rest
There's a lot on the line this weekend for #19 Georgia and #22 Auburn. Depending on how they play, the Southeast Region could end up with as many as three bids (it's a stretch, but it's possible) or as few as one. According to Cody Mills' latest model, Auburn is currently the last team inside the cutoff. If they can't hang on and Georgia doesn't play well enough to catch up, the daunting task of having to defeat Central Florida for a ticket to Nationals looms — and neither team has quite looked up to the challenge so far. In a best-case scenario, however, this weekend not only secures a multi-bid region, but also functions as a sort of crucible from which these two hopefuls emerge in altered states.
If the odds are long for Georgia or Auburn to get past Central Florida at Southeast Regionals, they're nothing compared to what #25 Tufts or Northeastern are looking at to make it to Austin out of a two-bid New England Region: Brown and UMass are simply too good. However, Tufts is still in range of adding a third bid. If they can stave off William & Mary and Northeastern and score an upset against Pitt or Wilmington — and if events elsewhere in the tournament start to make their February win over Carleton more valuable — it might be enough to force open a door that seemed jammed shut.
The bid situation is somewhat less dire for Minnesota Grey Duck, who, as things stand, would only need to get past Carleton or Wisconsin, both of whom have looked vulnerable at times this season. While a stellar performance by Grey Duck still might net the North Central a third bid, a good one would do wonders to restore their image as a Nationals-level team. Minnesota have underwhelmed by the lofty standards of recent seasons. But considering the timing and the level of the competition, a good Easterns is more important than a lackluster Warm-Up or Stanford Invite. We'll see if Grey Duck can end the regular season healthy and on a high note.
Finally, Easterns offers a preview of what has the potential to be another wild Atlantic Coast Regionals. Virginia, William & Mary, and Maryland are solid enough to be spoiler threats for the three North Carolina schools, and Virginia Tech still has Joe Freund. Maybe this is the weekend one of them shows the first glimmer of the makings of a big postseason upset.