Can anyone unseat UC San Diego?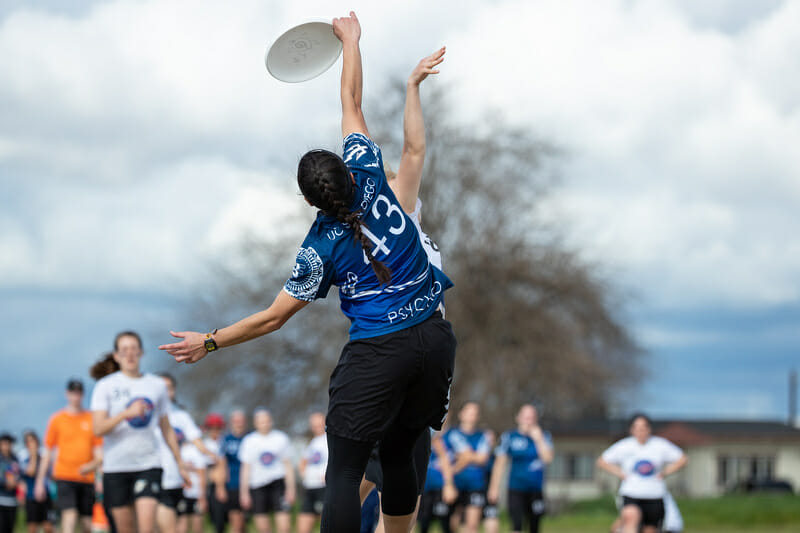 Ultiworld's 2019 coverage of D-I Women's Division is presented in by VC Ultimate, the official gear provider of the Premier Ultimate League.
They say wind is the great equalizer in ultimate, but this weekend, count on the heat dragging the best and worst teams to a punishing median. But the Texas weather won't be the only thing bringing some thunder and heat this weekend: Pool C will feature the West Coast champion, two triumphant '13 Nationals teams returning, and several teams hungry to prove their programs in the unrelenting Austin weather. With very little regular season overlap, the board is set for upsets from deep teams who can outlast opponents. It'll take the heart (and heat endurance) of a champion to survive pool play.
Count on UC San Diego closing out Pool C and Western Washington holding their second seed, but behind them the field is wide open, and likely 10 degrees hotter because it's turf.
Let's dig deeper into how these teams could fare in pool play.
UC San Diego Psychos
Seeding: C1, Overall No. 3
Power Ranking: #2
Overall Record: 35-3
Against the Nationals Field: 18-2
Against the Pool: 2-0 vs. WWU, 1-0 vs. Northwestern
UC San Diego acted as benevolent overlords of the west coast for most of the regular season, tucking teams away with almost polite dominance. They won the "Southwest Triple Crown" of Santa Barbara Invite, Presidents' Day Invite, and Stanford Invite without seeming to break a sweat. Their composure kept games so drama-free that we began to crave the drama of their fall: would they stumble? And who would trip them?
They faltered at Northwest Challenge when playing without star Dena Elimelech, but the Psychos of 2019 are still playing tougher and deeper than the 2018 team that choked in prequarters. Now they're back for their third Nationals in a row. But they're not focused on the opponents they'll face. The Psychos know they'll win or lose by their own game.
"Preparing mentally for the big weekend has been a huge focal point at our practices," UCSD's Stacy Tran said. The Psychos have been training their defensive systems hard since Regionals and practicing zone offense in unusually windy San Diego weather.
Handlers Kelli Iwamoto and Rebecca Ellis are the linchpins in the Psychos handler core, with newer faces like Alexandra Diaz and Marissa Hing stepping into bigger roles. Diaz has had a banner year downfield for the Psychos, and she's an agile defender, too. And then there's Elimelech, a Player of the Year frontrunner, who will be a big target this weekend and whose big plays push UCSD from good to great on defense.
UC San Diego will have to make it past Western Washington in pool play, a team who played them closely in their final game at Northwest Challenge. Western has big throws and very fast cutters, and they'll challenge UCSD to take control over the game.
Beyond pool play, the Psychos have nothing but vengeance to dole out. They could potentially face Dartmouth in quarters, and they're hoping to face Ohio State or UNC, the only teams at Nationals who have beat the Psychos this season. The ceiling for the Psychos, however, has always been mental. They're bringing more depth and more experience into the Texas heat, and they're praying to escape prequarters.
Western Washington Chaos
Seeding: C2, Overall No. 6
Power Ranking: #5
Overall Record: 16-7
Against the Nationals Field: 7-4
Against the Pool: 0-1 vs. UC San Diego, 1-0 vs. Northwestern
Watch: vs. Tufts, Friday 11:00 AM; vs. Georgia, Saturday 3:00 PM
Western Washington spent the regular season playing close games against the division's best teams, losing by a total of six points at Presidents' Day Invite and giving North Carolina one of their toughest games at Northwest Challenge, losing 12-10. Those long points paid off once they reached Northwest Regionals: they won the region handily with 15-5 wins in the semifinal and final (against Utah and Washington). Their hard work also earns them a no. 6 seed this weekend, their highest seeding ever.
WWU has spent several seasons developing a cohort of fast cutters who thrive on person defense. We use the term 'smart defense' often, but when you watch a team like Western, the term gets redefined. Their easy switches, bracketing, and efficient footwork keep them close with other fast, deep teams like North Carolina. The names Maddie Gilbert and Samiya Ismail are well-known by now for WWU, but it's players like Nellie Joselyn, Vail Dark, and Tova Breen who push this team in close games. Add Ruby Cassidy's buttery throws, and this team is hard to shut down.
Chaos has played both UC San Diego and Northwestern already this season, losing to UC San Diego 14-10 and besting Northwestern 9-6. Their depth will benefit them in the Texas heat if their handlers avoid the high-risk deep shots and tight throwing windows they sometimes fixate on. But WWU has spent the last three seasons building something bigger than a flash in a pan. Their team is fast, smart, and deeper than their name brand stars. If they can overcome their own offensive demons, look for Western Washington to surprise opponents in pool play.
Georgia Athena
Seeding: C3, Overall No. 10
Power Ranking: #24
Overall Record: 22-8
Against the Nationals Field: 0-5
Against the Pool: 0-0
Watch: vs. Western Washington, Saturday 3:00 PM
Georgia Athena is the biggest unknown in Pool C, having not played any of the teams in their pool, and returning to Nationals for the first time since 2013. Georgia opened their regular season with a promising Florida Winter Classic performance where their only losses were to Dartmouth and Ohio State and they bested their regional rival Florida.
Florida took a win back on them at Queen City Tune-Up, but after February, Georgia has only lost one game, by one point. While the competition level during their run was lower than what they'll see this weekend, Georgia has been flexing the takeover muscle in games.
Their biggest takeover player is Marie Perivier, a freshman with a long resume and a lot of talent. Perivier joined Georgia after competing with Atlanta Ozone and the U20 National Team, and her experience has been a boon to Georgia's program and their backfield. Her name litters the UGA Twitter feed, and her throws are jaw-dropping in game footage. Look for Perivier to take the pool's toughest matchups on defense. On offense, Perivier is joined by sophomore Josie Veal, Amy Strozinsky, and Alex Fairley, who are all major contributors around and in the end zone.
Georgia's leadership is excited for the bump in competition that this weekend brings. The team has been training hard, sometimes running two a days, and they're ready for the challenge:
"We've never played any of these teams, but we're looking forward to the challenge of Nationals-level competition," Georgia's leadership said. "Our goals are to show up and play the game our way. We've worked very hard to get here and we just want to demonstrate what a great team we are. Whether we win or lose, we always have a great team atmosphere and spirit."
Tufts Ewo
Seeding: C4, Overall No. 15
Power Ranking: #9
Overall Record: 19-11
Against the Nationals Field: 2-8
Against the Pool: 0-0
Watch: vs. Western Washington, Friday 11:00 AM
Tufts delivered mixed results during the regular season as they recovered from heavy offensive turnover, and that transition resulted in the closest win-loss record into the pool. Yet those mixed results brought them to a thrilling regional final, where they challenged Dartmouth point for point before losing 15-14. They're still finding their offensive footing in the post-Crowley era, but they've proven they can go toe-to-toe with the division's elite. Tufts hopes to bring that same "Ewo fire" into a pool of opponents they have yet to face this season. Ewo's remaining offensive chess pieces are all Nationals veterans by now, and they'll be ready to apply pressure to teams like Georgia and Western Washington.
Margo Urheim, Claire Dunn, and April Weintraub are the standouts on this team, and their skill and trust deliver Tufts a lot of their points. Urheim's height and nose for the end zone make her a favorite target for Tufts handlers, but she's just as dangerous on defense, where she's heads up and assertive in the lanes. Dunn is a vintage utility player for Tufts who commands space downfield but isn't afraid to pick up the disc outside the end zone, either.
"We are so excited for the opportunity to play completely new teams in pool play!" the Tufts captains said. "As with every tournament, our main goal for Nationals is to continue playing the ultimate that defines Ewo…We want to leave Nationals feeling proud of our play, our spirit, and our culture, and if a run into the bracket comes along with that, then we'll take it!"

Northwestern Gungho
Seeding: C5, Overall No. 19
Power Ranking: Unranked
Overall Record: 15-7
Against the Nationals Field: 0-4
Against the Pool: 0-1 vs. WWU, 0-1 vs. UC San Diego
Northwestern Gungho also returns to Nationals for the first time since 2013. This Great Lakes squad has spent the intervening years developing their program, relying on veteran chemistry and defensive fundamentals. Their chemistry and fundamentals helped them beat Michigan 8-7 in the semifinal and University of Chicago 9-5 in the final to claim the Great Lakes title.
Gungho is led this year by a strong senior class of players who run both sides of the disc. Senior Sarah Kim is the most recognizable name on the list, with several Nemesis seasons, a Callahan nomination, and a U24 spot under her belt. Kim's cutting is mesmerizing to watch. Her sharp angles and explosive speed will draw opponents' best defenders, leaving room for fellow seniors Grace Young and Hindeke "Ducky" Tewodros to run the field. Young is tall, quick, and willing to throw her body down for the disc. Tewodros uses tricky footwork to stay in step with opponents and then beat them into the endzone. Grad student and STF All-Star Sara Gnolek has been out for the season with an injury, but she was returning to form at Regionals, and Gungho will rely on Gnolek's big, fluffy hucks and slicing throws this weekend.
Gungho has a 0-4 record against the Nationals field, and they'll have the steepest road to the bracket. They've only played the pool's top two seeds in February, and they'll have to rely on their full roster to win long, tough games. To prepare, Gungho has been getting down to business by scrimmaging local club players, crushing tape, and fine-tuning offensive sets. They may be underdogs, but they know if you spin a wheel 20 times, it only takes one (or two) wins to make the difference. Gungho isn't at Nationals for the good swag alone: "Our goal is to make the bracket," the Gungho captains said. "We're coming to win some games!"