How will a lack of Nationals experience on Pool B's rosters affect it's standing?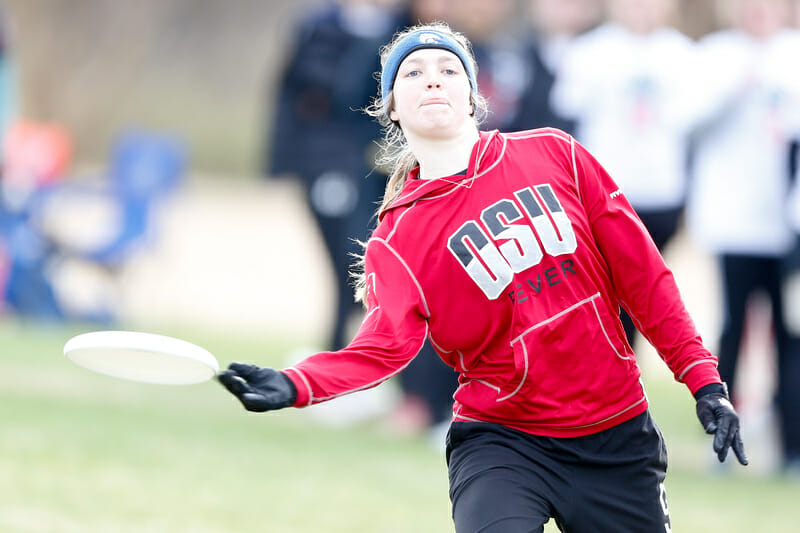 Ultiworld's 2019 coverage of D-I Women's Division is presented in by VC Ultimate, the official gear provider of the Premier Ultimate League.
It's always a little more fun when a Nationals pool features teams that haven't already played each other a ton. Ohio State, UC Santa Barbara, Northeastern, Minnesota, and Washington have played a combined three games against each other this season, so we'll get plenty of matchups that will be new and fresh to the 2019 season. When you add a team with title hopes out for revenge, another team with two of the biggest individual talents in the division, and a few teams returning to Nationals after multiyear absences, you get an exciting and hard to predict pool.
Several teams in the pool feel like quarters contenders, and there's definitely at least one championship contender in the group. There's also plenty of individual team narratives to go around that should set up for four enthralling rounds of pool play. So here's the lowdown on each team's season so far, and their potential Nationals outlooks.
Ohio State Fever
Seeding: B1, Overall No. 2
Power Ranking: #1
Overall Record: 32-3
Against the Nationals Field: 7-31
Against the Pool: 0-0
Watch: vs. UCSB, Friday 1:00 PM; vs. Northeastern, Saturday 11:00 AM
2019 has been widely touted as a redemption season for Fever star Sadie Jezierski, but this season has been a redemption story for the whole Ohio State team. Last year, Fever was the no. 9 overall seed in Milwaukee, but went 2-2 in pool play and missed bracket play on a tiebreaker. It was a heartbreaking finish for a team that was considered to be legitimate quarters contenders.
But Fever brought almost all of last year's roster back, and, fueled by last year's disappointing finish, they've been one of the top teams in the country this year. They haven't lost since February and have two major tournament wins on the season, including the premier women's tournament of the season, Northwest Challenge. According to head coach DeAnna Ball, last year's Nationals letdown has played a big role in the team's 2019 success. "I think the core of Fever came out of last year fully understanding that we underperformed. I think that understanding has allowed them to really make sense of how to approach and attack season goals via performance in every moment of a game," she said. "And in games when things haven't gone quite right this season, I think deep down this core knows that they don't want to feel like they did at the end of last year. That bubbles up enough for them to dig deep and fight through adversity."
Boasting a roster filled with experience and playmaking ability, Fever has put together an impressive campaign. They suffered a couple of speed bumps at Queen City Tune Up, where they lost 8-7 to Tufts and 14-10 to North Carolina, but they've otherwise made the final of every tournament they've played in.
Jezierski has claimed a lot of the headlines, and for good reason – she's been tearing up the division. But she's gotten star-quality support from many of her teammates. Emily Barrett has been one of the most dangerous downfield cutters in the division, Cara Sieber has shown off one of the best, all-around skillsets in the country, and role players like Annelise Peters, Funing Zhang, and Stephany Stumphauzer have been dependable all season long.
With the memories of last year's shortcoming, and the confidence built over the course of such a successful regular season, Ohio State comes into Nationals as serious contenders to win their first national championship since 2014.
UC Santa Barbara Burning Skirts
Seeding: B2, Overall No. 7
Power Ranking: #7
Overall Record: 26-7
Against the Nationals Field: 6-6
Against the Pool: 1-0 vs. Washington
Watch: vs. Minnesota, Friday 9:00 AM; vs. Ohio State, Saturday 1:00 PM
The Burning Skirts ended a three season Nationals absence last year, but struggled in Milwaukee and didn't win a game. But unlike last year, when Santa Barbara was a team just looking to make the return to the Nationals field, they've been one of the best teams in the division this season. They had back to back finals appearances at the Santa Barbara Invite and Presidents' Day Invite, and made semis at the Stanford Invite. Their 6-6 record against the Nationals field may not seem all that impressive, but when you consider that half of those losses came to UC San Diego, it becomes a mark much more representative of their impressive season.
High impact players from last year's team like Julia Kwasnick, Audrey Brown, Kaitlyn Weaver, and Leah Forester all returned with the experience of last year's Nationals journey, but this is a different team this year. "We have a super young team this year, so we have focused mostly on fundamentals this year. And that has not changed leading up to Nationals. We are continuing to focus on the fundamentals of throwing and catching and focusing on ourselves," said head coach Ronnie Eder. "Since the team is so young, we are not really thinking about last season. This is another year and a fresh start for the team. We feel lucky that we get to play another tournament as a team. Each tournament is an opportunity to grow and learn, and we have one more opportunity to do that as a team."
While young, UCSB has clearly taken another step this season, and that's largely been on the back of the performances from those star players. Kwasnick and Brown, in particular, have been stellar and are the type of players that can power their way to a deep run this weekend. With plenty of experience gained from this season's big tournaments, as well as their Nationals games last year, UCSB is primed to continue their strong season in Round Rock.
Northeastern Valkyries
Seeding: B3, Overall No. 11
Power Ranking: #11
Overall Record: 24-7
Against the Nationals Field: 4-6
Against the Pool: 1-1 vs. Minnesota
Watch: vs. Ohio State, Saturday 11:00 AM
One of three teams in the pool making their first appearance back at Nationals after a multiyear absence, Northeastern put together a fantastic regular season. They only attended two tournaments, and suffered a handful of close losses at Presidents' Day Invite, but they won Centex over a field that featured eight eventual Nationals qualifiers. They have true star power in junior Ari Nelson, who's been one of the most impressive handlers in the division this season, as well as a solid supporting cast with the likes of freshman handler Clara Stewart and Temple grad transfer Emma Palacio. Don't let their record against the Nationals field fool you, either. Three of those six losses2 came in February when they didn't have Nelson or Stewart.
While the team's lack of Nationals experience could be a worry (none of the players on the roster have played at college Nationals before), being in a pool with other teams who are similarly lacking in experience should help to nullify that impact. They are led by coach Jason Adams, who has coached the Valkyries to Nationals four different times in the past, and have dozens of combined years of club experience on the coaching staff and with Nelson, who's played with Boston Slow White at Nationals each of the past two club seasons.
Adams feels confident that experience can be a valuable asset for Northeastern this weekend, and in a tournament where over 25% of the field wasn't at Nationals last season, he's probably right. "As a coaching staff we've already made a lot of the mistakes that can be made at a tournament like Nationals with regards to logistics, travel planning, nutrition, hydration, etc. and we will be prepared to take this tournament on," he said. "We're focusing on planning ahead as best we can to remove the decision making stress where possible and keeping the players as healthy as possible with good food choices and proper hydration and attire. The team knows this is a unique event, but I think we are all viewing that as a positive and not something to fear. In the end I think their excitement to show who they are will outweigh the additional elements of a Nationals experience that might typically trip up a quote-unquote young team."
Minnesota Ninjas
Seeding: B4, Overall No. 14
Power Ranking: #12
Overall Record: 18-8
Against the Nationals Field: 6-8
Against the Pool:  1-1 vs. Northeastern
Watch: vs. UCSB, Friday 9:00 AM
Minnesota, like Northeastern, is also making their first trip to Nationals after a lengthy absence, having not made it since 2013. The parallels with Northeastern don't end there either, as they also boast an impressive Centex showing on their resume, losing to the Valkyries in the final, and also having some Nationals experience via their coaching staff.
Seniors Kayla Blanek and Louise Beck have had great individual seasons: Blanek as an athletic enforcer in the offensive and defensive deep space who also has great hucks,3 and Beck as a rock steady handler. And they've shown off an impressive defense capable of earning turnovers, led by block machines Rachel Elbing and Sadie Reding.
They do already have a win over Northeastern, who they'll likely need to beat in order to make the bracket, but that win did come when Northeastern was without arguably their two best players. But Minnesota also played Northeastern very close in the Centex final, and it feels like the rubber match could go either way.
If things go right for Minnesota, and their players aren't too overwhelmed by the unknown and pressure that comes with a first Nationals trip, they feel like a team very capable of giving a higher seed or two a real surprise.
Coach Sarah Meckstroth, who was on the Ninjas the last time they made Nationals in 2013, is counting on that belief. "This team has all the skills, and when they have been playing at their best they are impressive and tough to stop. So, I think how far we go is all within our control and if we play the way we know we can at the right times, we will definitely surprise some teams," she said. "While we don't have any players with college Nationals experience on the team, we do have a strong core of leaders and upperclassmen who have been working towards this goal all their years in the program. A handful of whom have experienced either a club Nationals or worlds tournament. I think their years in the program and other ultimate experiences will be enough to pull on and provide some of that stability for the team that you might otherwise get from previous experience throughout the tournament."
Washington Element
Seeding: B5, Overall No. 18
Power Ranking: #18
Overall Record: 16-14
Against the Nationals Field: 3-12
Against the Pool:  0-1 vs. UCSB
Washington made a coaching change in the offseason and now return to Nationals after missing out in 2017 and 2018. They also brought in an impressive recruiting class, led by the likes of freshmen Stephanie Phillips and PX Rong and grad transfer Haley Lescinsky, and the new influences throughout the program seemed to have made a big difference. The new blood paid off in a big way, as Element put together a solid enough regular season before putting together a great run in the series.
The question for Washington now is if they are truly back. Was their 8-11 pre-Series a more accurate reflection of where the program falls in the division's current power structure or were those merely growing pains for a young team in a transitional period? Their regionals performance could be a flash in the pan or the first step for a budding return to power, and we should get a better idea of which it is this weekend.
Washington could go winless in pool play and still have a positive weekend. The real measure of success for them will be how competitive they are against the top teams. Can they push the best teams in the country late into games, or will they be outclassed by the division's best rosters? A win or two in consolation play would be nice, too, but as long as Washington competes well enough to take away real lessons from their Nationals games, they should be able to lay down a solid weekend that will help the future of the program.
---
8-3, if you include their forfeit win over Dartmouth in the Commonwealth Cup final ↩

and four of their seven overall ↩

Blanek vs. UCSB's Kwasnick is one of the most fun potential matchups in all of pool play. ↩