Pool A has the makings of a thriller.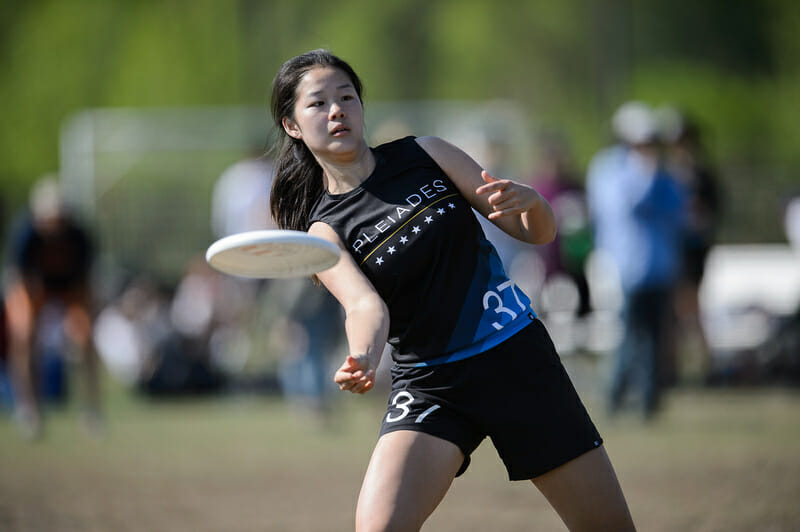 Ultiworld's 2019 coverage of D-I Women's Division is presented in by VC Ultimate, the official gear provider of the Premier Ultimate League.
The contradiction between Ultiworld Power Rankings and the USAU results are showcased in Pool A. Pool A is historically rife with exciting finishes, and you can expect that this pool will end with ties and point differentials or upsets in pre-tournament seeding. Even the regular season results between these teams are untidy: Oregon has notched close victories against Pitt, UCLA, Colorado, splitting two games with Kali. Regardless of the chaos elsewhere in the pool, North Carolina should avoid any excitement in pool play from the lower seeds. Pleiades have a commanding record against the Nationals field and a depth of roster that most teams gearing up for Round Rock – particularly those in their pool – will have little answer for.
North Carolina Pleiades
Seeding: A1, Overall No. 1
Power Ranking: #3
Overall Record: 27-3
Against the Nationals Field: 9-1
Against the Pool: 1-0 against Pittsburgh, 1-0 against Oregon
North Carolina has recorded strong victories against many of their competitors in the 2019 Nationals field. In fact, Pleiades has suffered a lone loss to a team in attendance: an early season nailbiter in Commonwealth Cup semis to Ohio State Fever. UNC has shown consistently this season that they can maintain their composure at the highest level of competition and are eager to out-grind opponents on either side of the disc. Given that this Pleiades team is rife with highlight generators, it will be tall order for the teams in this pool to limit enough UNC players to find success. UNC has found success with wins against the five teams seeded below them in the overall seeding, they have clearly set themselves up to be the favorite.
If I listed every key contributor on offense or defense, it would be a long list. Count on Anne Worth and Elisabeth Parker to anchor Pleiades with effective offense and be on the lookout for big highlights from Rebecca Fagan, Bridget Mizener, and Mary Rippe. One of the keys to UNC's game is that no one player has to consistently shoulder key offensive or defensive playmaking pressure. Players like freshmen Ella Juengst and Dawn Culton can take over portions of games, as Juengst did at Atlantic Coast Regionals. Handlers Tyler Smith and Sydney Rehder are capable of handling large workloads. Like the constellations UNC is named after, they're composed of many entities that can shine brightly.
The Queen City Tune Up final rematch vs. Pittsburgh Danger could be the most treacherous stretch of their pool play journey. Danger hasn't seen UNC since early this spring, and has shown flashes of a high ceiling through the course of 2019. The QCTU game was not particularly close, but if Pittsburgh has tightened up their offense to eliminate unforced turns, they may push UNC to a more exciting pool play game. That all said, there are two outlier results on their otherwise strong showing this season – two losses to teams that won't be making the trip to Texas for Nationals.
Those lapses, however, are cause for concern on the otherwise championship caliber North Carolina resume. They struggled in high pressure games at Conferences, Regionals, and at Northwest Challenge. After ripping through the elite field in Seattle, they came undone late against British Columbia in the tournament semifinals. More pressure awaits them in Texas.
If– and this is a big if– UNC strays from their system, or is on their heels early in the game, they may find themselves in danger of dropping a game to a hungry lower seed. But if they can stay focused, they have demonstrated they can beat the best teams by dictating the game in a way few other clubs in the division can.
Pittsburgh Danger
Seeding: A2, Overall No. 8
Power Ranking: #17
Overall Record: 24-7
Against the Nationals Field: 3-6
Against the Pool: 0-1 against North Carolina, 0-1 against Oregon
Watch:  vs. Colorado, Friday 3:00 pm;  vs. Oregon, Saturday 9:00 am
Pittsburgh Danger comes out of the Ohio Valley with the second bid and arguably the most to lose in the fray of Pool A as the second seed. Danger has shown a high ceiling for potential, and has kept games against the top teams close, even in defeat. Combined with the variety of their schedule, Pitt has put themselves in all the right situations to grow as a program over the course of the season. In fact, they have largely coasted through this season, with their only tests coming from top teams.
Pittsburgh's emphasis on development this season will need to bear timely fruit in order to hold off perennial contenders. To maintain their seed through pool play, they'll be looking to clean up deficiencies their offense has struggled with this season and convert on the defensive turns they are sure to generate. Danger has proven that they love a good break run, and the key to their success will be an ability to maintain pace at Nationals.
Defensively, watch out for strong showings from rookie Beth Manturuk and junior Jessie Sun to generate turns and anchor a Danger D-line on the possession change. On the other side of the disc, Miranda Kosowsky and Lakshmi Ilango will likely be two of the most efficient players on the field. Following a tremendous rookie campaign, Kosowsky has become an offensive mainstay, the team's guiding force from the backfield. Veteran handler Hannah Blizzard is a shot-taker that can generate quick goals for Danger.
Keep an eye on their contest against UCLA BLU. This game will be between two teams that have not previously matched up this season, but have had similar results across competition through the region. Both teams thrive on great defense, with size and athleticism. Each knows they could finish second in the pool or miss the bracket.
UCLA BLU
Seeding: A3, Overall No. 12
Power Ranking: #14
Overall Record: 25-17
Against the Nationals Field: 5-10
Against the Pool: 0-1 vs Oregon
It's been a wild ride for UCLA BLU this season, back and forth over the bid cutoff line while competing in a region deep with talent. While their results this season have varied widely, BLU is moving to Nationals on a high note. BLU seems to have ditched the issues plaguing the D-line offense, limiting their ability to convert breaks, with a focus on developing composure in first and second year players.
UCLA will be fighting the effects of an overall lack of experience, as over 75% of the roster has joined the team since their last Nationals appearance in 2017. The youth of the roster gained crucial postseason experience at Southwest Regionals with games against top level talent in UCSB and UCSD.
BLU will look to expand on a successful Regionals showing by demonstrating their grit and resilience to out-gun and outlast opponents with contributions for each role coming from all positions on the roster. Any team hoping to outlast the onslaught will have to attempt to keep UCLA from reaching their stride.
With Emily Beck potentially sidelined due to a broken hand, we may see additional touches from Athena Lynch and Cameron Jewett, contributors who have proven that they can step up to the plate to carry a larger weight for BLU. Katherine Jordak and Erin Doyle provide the team a spark with big time playmaking ability, and Malia Smith will be in the thick of their offensive action. UCLA has cultivated some depth, but the rehearsals are over, and the spotlights are hot.
What BLU has in spades is resolve. Many teams aim, and claim, to be gritty armies that will win any war of attrition. But ask UCLA's opponents, and they'll tell you that they will give you a relentlessly hard fought, physical contest where inches are earned, not given. In a tough and deep pool, that could be the edge they need to secure an upset.
Colorado Kali
Seeding: A4, Overall No. 13
Power Ranking: #13
Overall Record: 23-9
Against the Nationals Field: 6-5
Against the Pool: 1-1 vs Oregon
Watch: vs. Pittsburgh, Friday 3:00 PM
Colorado is returning to Nationals following an incredible run to the final in 2018. While this season has been a restructure for the team in many ways, Kali seems to have left behind the season's mixed results in time for sectionals and Regionals. Excusing a hard fought game against Colorado College, a performance that Kali redeemed in their last regional game, the team is peaking for a Nationals performance.
If this Kali team has grown comfortable enough with the new systems they are utilizing for this year, count them in again as a darkhorse for success in 2019. At this point, everyone has had the opportunity to develop those throws that may have stymied success earlier in the season. Colorado will have the opportunity to rematch with Oregon – the teams are tied in their season series. Given that this pool will likely have upheaval in the 2-5 positions, this game may have additional meaning for bracket play.
While Colorado lost many of last year's big names, they've been recruiting and building new ones. Meg Henderson will likely be duplicating her results from last season as a leading goal scorer for Kali. Emma Capra and Kate Macri reprise roles as feisty defenders, along with Katiana Hutchinson and Saioa Lostra. Freshman Bailey Shigley is the tip of the offensive spear, a do-it-all threat that seems built for stardom.
But Kali is at their best when their role players are heavily involved. When Jordan Stockdale, Britta Bergstrom, and Riley Swift, to name a few, are clicking, Colorado starts looking like a lot more an elite team. Their defense can be tremendous, and that gives them the ability to drag games down into the dirt. In those scenarios, the extra depth makes a big difference. That makes their game with a similarly built UCLA club particularly intriguing. After last year, they'll be considered one of most likely low seeds to outperform their regular season resume.
Oregon Fugue
Seeding: A5, Overall No. 17
Power Ranking: #19
Overall Record: 19-15
Against the Nationals Field: 4-10
Against the Pool: 0-1 vs. North Carolina, 1-0 vs. UCLA, 1-1 vs. Kali
Watch: vs. Pittsburgh, Saturday 9:00 AM
Oregon earned and maintained a bid – but this season has shown several gaps in their ability to contend at a National level. Injuries and low overall roster numbers have hindered play by Fugue at many of their tournaments this season. The format of the College Championships could potentially assist a shorthanded Fugue, given that they can optimize rest time and can get prepared for Texas weather. Oregon made the bracket last year by causing chaos in their pool, emerging atop a three-way tie; if Fugue can pull off a critical upset, they may be able to ride the wave as they did last year.
The ceiling is definitely high for this Oregon team, as they've shown occasionally this season that they can hang with the top talent. The disconnect here may be the ability for Oregon to string together multiple showings of this level of play. The key for Fugue will be to maintain their intensity and margins of victory as they grow tired during game play as we've seen.
Ella Hansen, Maddy Boyle, and Rachel Hess are core members of this team – if these three can stay healthy and use their reps wisely, Oregon will not be easily dispatched. Cutter Morgan Caldwell is a sparkplug and Emily Fagan offers a proven presence. But with a small roster, Fugue asks for contributions from just about everyone, right down to their first years.
What Oregon has lacked, and it's shocking to say, is an identity; a playstyle to impose upon a game. The heights of the Fugue dynasty were dominating because of their ability to make the opponent play their game. But this iteration isn't quite as polished, making it tough to play at the breakneck speed they were once known for. Have they discovered just who they want to be at the right time? Their postseason victories over British Columbia should not be ignored, lest other more reputable teams suffer the same fate. But Oregon's inconsistency has stemmed from their inability to dictate games, and their small roster might have trouble doing that in a pool against this much solid and well-coached competition.