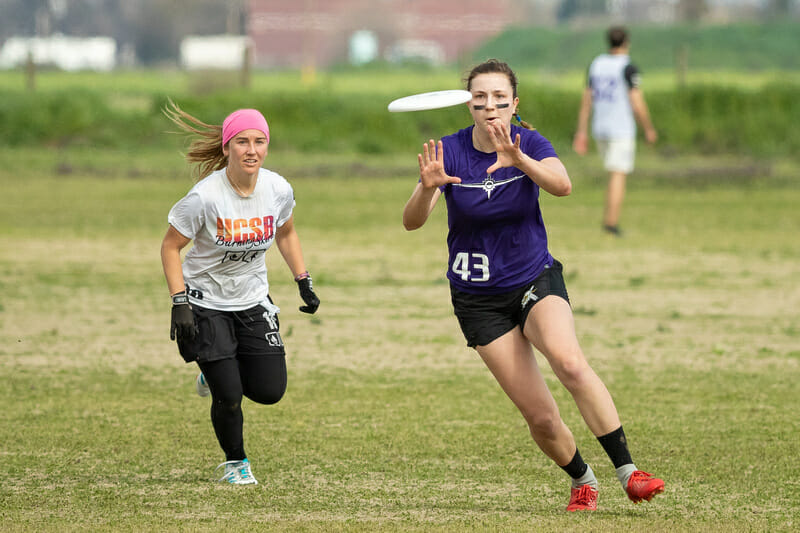 Ultiworld's 2019 coverage of D-I Women's Division is presented in by VC Ultimate, the official gear provider of the Premier Ultimate League.
There's nothing quite like the modern Pool D of the D-I College Championships, where the no. 4, 5, and 9 seeds clash, each feeling like they could win the pool and earn the coveted bye into quarterfinals. This year's pool, which also holds a competitive fourth club and mysterious fifth, has a lot of intrigue. With both the reigning two-time national champion and a couple of elite programs, there's a lot of confidence heading in and even more pride on the line.
All of this, backdropped by the potentially impactful conditions of Texas, makes for one heck of a pool.
Carleton Syzygy
Seeding: D1, Overall No. 4
Power Ranking: #4
Overall Record: 26-5
Against the Nationals Field: 11-4
Against the Pool: 1-0 vs. Dartmouth, 1-0 vs. Wisconsin
Watch: vs. Dartmouth, Friday 4:00 pm
The sun, moon, and stars aligned this year for Syzygy, landing them their first top seed in a Nationals pool since 2013. Despite their relative youth, Carleton has been stunning teams all year, and have a handful of season-defining victories that have cemented their status as an elite team. They'll need all of the brilliance they've shown all year to remain atop Pool D, as they have no shortage of competition in their pool.
If this season is any indication, Carleton remains the favorite to retain their spot heading into bracket play. Dartmouth is a tough matchup to get in pool play, but when the two teams met during the regular season, Carleton had a decisive 15-11 victory. The women from Northfield outwitted, outplayed, and outlasted last year's national champions with only three seniors on their roster.
Carleton's youth has been one of the major storylines surrounding the team, and with good reason. Despite having an impressive 26-5 record this year, it's almost a guarantee that we haven't seen them at their best yet.
Trying to name Carleton's best player is an exercise in futility, too. Nariah-Belle Sims, Maya Powell, Karen Ehrhardt, Isabel Arevalo, Kate Lanier, and Carly Campana all have legitimate claims to the throne while playing wildly different roles and performing them all excellently. In any given game, one of these players can step up and lead the team to victory. The fact that almost none of them have hit their 21st birthday has to be discouraging for teams like Wisconsin, which as a roster predominantly made up of seniors and grad students.
The flip side to this coin is that Carleton's youth could come to haunt them on the biggest stage. The level of competition at Nationals is different, and teams are playing at a higher level than they have all season. Teams like Texas and Dartmouth have plenty of veteran players with Nationals experience who understand the costs of the tournament. If Carleton gets rocked early on and can't steady themselves, we could see a repeat of UCSD in 2018, where a young but highly talented one seed failed to win their pool and fell out in prequarters.
Before anyone pulls the panic cord, it's important to remember that Carleton's players may be young, but they have had no shortage of experience playing in high stakes games. When your team is made almost entirely of YCC and team USA u20 players, it's hard to believe that they won't rally when needed. No matter how bright the lights in Austin, Carleton's stars, and their future, are brighter.
Dartmouth Womxn's Ultimate1
Seeding: D2, Overall No. 5
Power Ranking: #6
Overall Record: 27-5
Against the Nationals Field: 6-4
Against the Pool: 0-1 vs. Carleton
Watch: vs. Carleton, Friday 4:00 PM; vs. Texas, Saturday 12:00 PM
No matter how confident you are in Carleton, there's nothing more intimidating than having a two-time national champion as the second seed in your pool. Their pedigree aside, Dartmouth still had a very successful season, and while their stumble at Northwest Challenge does raise some red flags, it should not be used to count them out.
For many, Dartmouth is still the favorite to win the tournament. The team is chasing their third consecutive national title and have all the pieces to make it happen. Jack Verzuh remains one the best college athletes to ever play the game, but could potentially be overtaken by their own teammate, as Claire Trop is carving out a name for herself, too. Caitlyn Lee and Caroline Tornquist are spoken about with similar reverence. Their top talent can trade pound for pound with any team in the nation, and often will land the knockout punch way before their opponent has time to ready themselves.
The concern with Dartmouth centers entirely around depth. Sure, their best players are unequivocally the best, but they don't have as many reliable role players as other top teams. Losing Julianna Werffeli and Lily Eisner has visibly hurt Dartmouth, especially on defense. Those two players accounted for almost 40% of Dartmouth's assists at Nationals in 2018, and were responsible for about the same amount of the team's blocks on defense. Dartmouth has yet to fill those shoes, especially Werffeli's. The team has trouble matching up with elite teams person to person, and may have to be reliant on zones.
Texas is going to be hot, and teams will not have the luxury of playing their stars every point. At some point, Verzuh, Lee, and Trop will have to rest, which is when Dartmouth will need the rest of their roster to step up. This is especially integral in their games against Wisconsin and Carleton, both of whom have deep teams and have plenty of playmakers. Texas also holds an advantage, as they're accustomed to the heat and humidity. In all of these games, Dartmouth will have to grind out wins.
Even with the odds stacked against them, there's still something wrong with betting against Dartmouth. They're like the US Women's soccer team, no matter what the rankings tell you, consider them the favorites until someone actually beats them in a World Cup.
Texas Melee
Seeding: D3, overall No. 9
Power Ranking: #8
Overall Record: 23-7
Against the Nationals Field: 9-5
Against the Pool: 0-0
Watch: vs. Dartmouth, Saturday 12:00 PM
As far as third seeds go, Texas Melee is about as tough as they get. It wasn't that long ago that this team was in the final at Nationals, and there are still players from that squad itching for another chance at the title. They couldn't ask for better circumstances, either. The tournament is in their backyard, giving them an advantage with the weather conditions and the home crowd.
Before Texas can have a hope at winning Nationals, they first have to make it out of their pool. Melee hasn't had a chance to pit themselves against any of the teams in Pool D, and there's a lot left to the imagination with these games. As a whole, Texas' track record against Nationals caliber teams is spotty. They have solid wins over nine Nationals teams, but none of those were against opponents at the level of Dartmouth or Carleton. Along with their wins comes a handful of perplexing losses, too. Close games against Colorado, Northeastern, and Minnesota don't inspire confidence that Texas could win outright against their higher ranked opponents.
The largest knock against Texas is their streaky style of play. Melee is unafraid to shoot the disc, for better or worse. This had led them to a win more often than not, but has provided too many close games for them to rest easy. They may be able to win a battle of attrition once or twice, but they should know better than to rest their laurels on the success of that system.
In the case of Texas, it may be too late to change their style of play for Nationals. If that's the case, they really should lean into their gameplan. Domenica Sutherland and Caroline O'Connell are a backfield built for war. They aren't a surgical handler core by any means, but they are the type of players that can force a disc past a defense through sheer force of will. Ivy Harrison and Cameron Bryan remain reliable two-way players who can helped mitigate when their handlers are missing on their shots, and they're joined by Summer Wilson and the other Texas rookies who have improved in leaps and bounds this year. With their roster at full strength, they're a mean third seed.
There's one more reason to like Texas' odds at Nationals this year. If you take a stroll down memory lane, way back to 2017, you'd remember that Texas also started in Pool D. That also happened to be the year they made the final. It may be superstition, or the beginning of a pattern.
Wisconsin Bella Donna
Seeding: D4, overall No. 16
Power Ranking: #10
Overall Record: 18-6
Against the Nationals Field: 4-6
It's not a true Pool of Death without a menacing four seed, and Wisconsin's about as threatening as they come. The Bella Donna roster is loaded with seniors and grad students who have the ability to pull off a big upset in pool play. With the Texas heat wearing down on teams, that extra level of experience and grit could be the difference-maker in tight games.
Wisconsin may have everything they need to make the bracket at Nationals, but they were far from dominant in the few regular season tournaments they played. With their chance at a bid on the line, Wisconsin smartly chose to attend only two regular season tournaments, and did exactly what they needed to earn a third bid for the North Central, but not much more. Good wins over UCLA and Northeastern were tempered by sharp losses to Colorado, UCSD, and UCSB. Wisconsin clearly has the talent to be a threat at Nationals, but it's fair to be concerned over their lack of competitive games this season. Aside from Northeastern, Bella Donna has played the fewest games out of any team to qualify for Nationals. Fewer games means fewer reps against elite talent, which is concerning for a team that gets comparatively fewer practices in a season thanks to the colder northern weather.
Underestimating Wisconsin is the first mistake, though. The team has a tenacity that has helped cap off a strong postseason where they beat in-region rivals Minnesota at Regionals to set up their bid-claiming second place finish. By their own admission, it was that mental toughness that has been the catalyst for their season.
"Our team is very talented athletically, and already has a lot of veteran players with a great knowledge of the game. But even for teams with a lot of skill and talent, if the mental strength and toughness isn't there, it can be hard to capitalize on those characteristics during difficult points or games," said the Wisconsin captains. "It's the kind of thing that allowed us to overcome a 0-4 point deficit during our pool play game with Minnesota at Regionals to come back and win."
Wisconsin also credits their growth-oriented focus and local community for their success this year. Even though half their rostered players are seniors or grad students, Bella Donna made a point of prioritizing their youthful talent and placing them in positions to succeed. They were also bolstered by the community in Madison, which has helped fund the team and provide training or scrimmaging opponents when the team needed it. "We've had the support of our program and the huge ultimate scene in Madison the whole season, and they are a big part of why we've gotten back to Nationals this year," noted the captains.
It's easy to throw a laundry list of names when it comes to the talent on Wisconsin, but there are a few players that are responsible for their success. Margaret Walker is an all star sophomore that has continued to grow into her role on offense, and can punt a disc from anywhere on the field if needed. She generally can work the unders, as Sarah Mondschein, Camila Flowerman, and Jackie Welsch work tirelessly downfield to give Wisconsin's handlers easy options.
On defense, Sabrina Hoffman and Brittney Kokinos are the team's ice and fire. Hoffman's composure and resilience is only matched by her ability to make smart plays under pressure. Kokinos is the opposite. A firecracker who's equally likely to make a gaudy layout block and a screwball blady flick around the defense. Wisconsin is a deep team, but it's these players that make them a threat to the teams seeded above them in pool D.
Cornell Wild Roses
Seeding: D5, overall No. 20
Power Ranking: Unranked
Overall Record: 19-11
Against the Nationals Field: 0-3
Against the Pool: 0-0
This is Cornell's second year in a row as the no. 20 seed at Nationals, a feat that is mostly impressive due to the contentious nature of the Metro East. Last year's Nationals experience clearly paid off for the team and they are looking to continuing growing from this year's tournament, too. And hopefully reach new heights.
"We'll prove to be a real test for some of the teams we play for sure," said the Wild Roses leadership. "While we're not a collegiate ultimate powerhouse, we do have a deep, talented roster that has grown exponentially throughout the season, from QCTU to the final game of Regionals. I think our various defenses and dynamic offense will help us surprise the competition at Nationals."
Surprise may be the one element they truly have in their favor. No opponent they'll face in Pool D has had a chance to play Cornell this year, and the Wild Roses don't have any of their games on film for public consumption, either. If Cornell can come out swinging and catch an opponent off-guard, they could be a real shock in their pool.
They'll first have to overcome the heat in Austin. Cornell is a small team, with only 18 players on their roster. This means they'll be playing deep into their bench by necessity, but that's also exactly how the team is hoping to compete. "Given our small roster and the expected heat conditions, we expect all of our players to show up and contribute, on the field and off," said the captains.
The entire team will have a chance to prove themselves this weekend, but there are a few players that have been the driving force behind Cornell so far, and will still be premier viewing at Nationals. Raina Kamrat and Sami Smalling are a brilliant one-two combination when on the field together. They rarely make mistakes and constantly outplay bigger defenders with smart cuts and clinical throws. Audrey Fox has also impressed this season, and her unending energy will be needed in Texas when the weather starts bearing down on Cornell.
The Wild Roses have a tough road ahead of them, but they are embracing the challenge and the experience that comes with playing the best teams in the nation. This year may only be their second consecutive Nationals appearance, but if they continue to grow and learn from their competition, it could have the makings of a Metro East dynasty.
---
Dartmouth has dropped their 'Princess Layout' team name. You can read more about it in their team bio on the College Championships page. ↩