Honoring the division's top coaches.
Ultiworld's 2019 Women's College Awards are presented in part by VC Ultimate, a leading supporter of women in ultimate. They are also presented in part by the National Ultimate Training Camp, who can help prepare you to be an All-Star. All opinions are those of the authors. Thanks for supporting the brands that make Ultiworld possible!
Ultiworld is pleased to announced our sixth annual D-I College Awards. The criteria for each award can be found here — we consider both regular season and postseason performance in our selection of awards. As the overall top performers of the year, players selected as top three in Player of the Year voting are removed from consideration for other individual awards.
Links to all of the 2019 D-I Women's Division awards will be added as awards are announced:
Player of the Year Award
Offensive Player of the Year Award
Defensive Player of the Year Award
Breakout Player of the Year Award
Rookie of the Year Award
Coach of the Year Award
All American 1st Team (will be announced later this week!)
All American 2nd Team (will be announced later this week!)
D-I Women's 2019 Coach Of The Year
Carlo Mosca and Alisha Stoun (UC San Diego)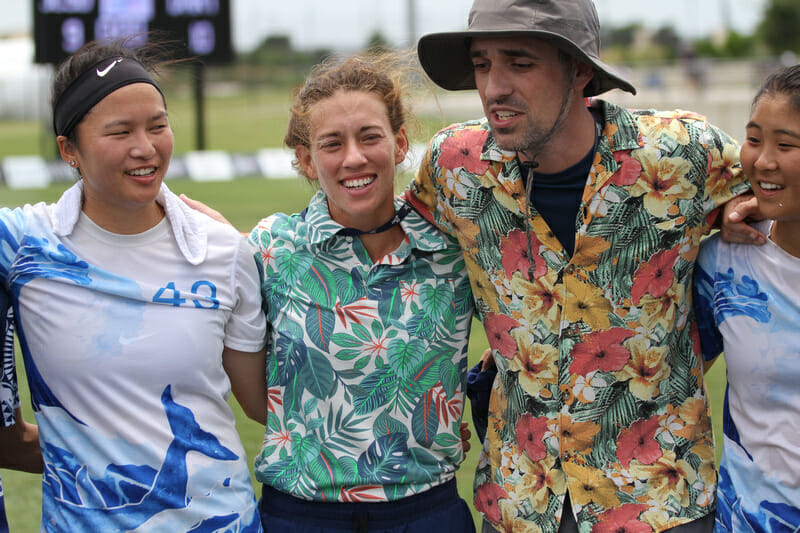 Looking at the talent on UCSD's roster this year, it's easy to forget how few of them joined the Psychos with any ultimate experience. UCSD may be the last of its kind, too. It's all too common now for the best teams in the nation to be led by a host of high school standouts. Instead, UCSD build a program out of eager disciples and an unconquerable system implemented by their coaches. For Carlo Mosca and Alisha Stoun, this award is 4+ years in the making.
Not only was UCSD the best regular season team, they were the most principled. Even with the incomparable Dena Elimelech on the team, UCSD won most of their games with a full cast of characters that played their role to perfection, and worked within UCSD's system. There's no other team in the nation as talented as UCSD in the handler space. No other team can run a weave quite like they can. No other team won as many games as they did, either. There's a direct correlation between those statements.
With all the work Mosca and Stoun did to establish a beautiful offense, it was their defense that won them most of their games. Mosca, Stoun, and assistant coach Sheliemae Reyes were constantly watching their competitors at tournaments. They took turns taking notes, planning defensive assignments, and ensuring that UCSD held every advantage against every opponent.
Many teams and coaches in the college season tend to 'focus internally', trusting that if their team plays their own game at their best, they can pull out a victory. UCSD's coaches went above and beyond that approach in the way they guided their team. Thanks to their hard work studying their opposition, they were the most prepared team on the field in each game that they played, and it showed — it won them a national title, after all.
1st Runner up: Sarah Meckstroth and Carlos Lopez (Minnesota)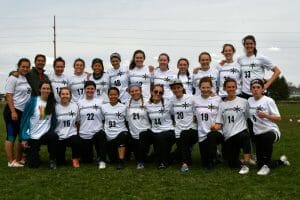 After several consecutive seasons of entering Regionals as one of the top contenders in the North Central only to come up short, Minnesota made a coaching change in 2019. Sarah Meckstroth, who had been an assistant previously, was promoted to head coach, and Carlos Lopez joined her as co-head coach. The pair earned instant results.
Minnesota put together its strongest regular season in years, and despite attending just two tournaments and having very limited outdoor practice time, they were well-prepared for the postseason as well. They easily claimed one of the North Central's three bids and broke seed at Nationals. Their trip to Round Rock was, in fact, the first time the Ninjas made it to the big dance since Meckstroth was a player on the team back in 2013.
A big cause for Minnesota's success this season was their well-structured offense that used their role players to perfection, always the sign of great coaching. With Meckstroth and Lopez at the helm, Minnesota's improved offense and mental strength in the toughest moments of the season led them to one of the strongest seasons they've had in the program's history, and greatly exceeded external preseason expectations in doing so.
2nd Runner up: Ronnie Eder, Sam Fontaine, and Hani Pajela (UC Santa Barbara)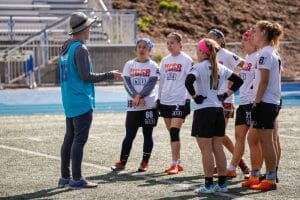 Even though UCSB made Nationals in 2018, a double game point win in the game-to-go and exiting Nationals in the bottom tier of teams made it all but impossible to predict the success they had in 2019. This year, thanks to the hard work of their coaching staff, UCSB discarded their huck & hope offense for a regimented sidestack to complement their aggressive style of play. Ronnie Eder, Sam Fontaine, and Hani Pajela were the driving force behind UCSB's renewed patience on offense and overpowering person defense. As a team, UCSB's defense displayed some of the highest ultimate IQ of any unit, taking away every option from the opposition's handlers and forcing them into tough shots.
If you watch UCSB's coaches on the field, they're constantly explaining the principles of good positioning and heads-up defense to their players. It's this dedication to sound defensive principles that almost bought them upsets over UNC and OSU at Nationals this year. For the 'defense wins games' truthers, UCSB's coaches should be the latest inductees into your Hall of Fame.