Rounding out our college awards for 2019.
Ultiworld's 2019 Men's College Awards are presented in part by VC Ultimate, outfitting the world's best players since 1998. They are also presented in part by the National Ultimate Training Camp, who can help prepare you to be an All-Star. All opinions are those of the authors. Thanks for supporting the brands that make Ultiworld possible!
Ultiworld is pleased to announced our third annual D-III All-America teams. These players were selected for their overall performance in the 2019 college season, looking at both the regular season and the full college Series, including Nationals. Please join us in honoring the best college players of this season
Links to all of the 2019 D-III Men's Division awards will be added as awards are announced:
Player of the Year Award
Offensive Player of the Year Award
Defensive Player of the Year Award
Breakout Player of the Year Award
Rookie of the Year Award
Coach of the Year Award
All American 1st Team
All American 2nd Team
D-III Men's 2019 2nd Team All Americans
Leo Sovell-Fernandez (Middlebury)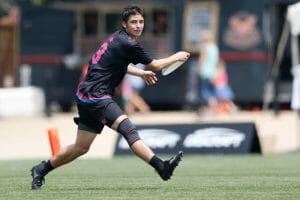 It isn't often that we see a freshman make an All-American team, but this year's Rookie of the Year was that damn good. Leo Sovell-Fernandez was the second most important player on the best team in the division, filling a variety of roles over the course of the season. The freshman star started the season on offense, showing composure and fearlessness with the disc in big games, and he ended the year as a starting defender, guarding the best opposing player. It will be exciting to see how a summer with Drag'n Thrust improves Middlebury's star for a title defense next season.
Dom Schuster (Franciscan)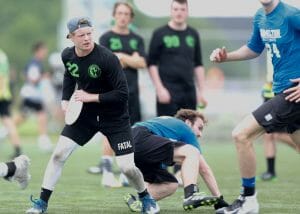 The outlook and expectations for Franciscan's season changed drastically when we found out Dom Schuster was returning for his fifth year. The former OPOTY and his team did not disappoint, making a return to Nationals after winning the Ohio Valley. Schuster was his same electric self on offense all season, throwing hammers and hucks to all parts of the field. With 12 goals and 18 assists in College Station, Schuster was the only player at Nationals in the top ten of both categories, and he did it all in just five games.
Asher Lantz (Middlebury)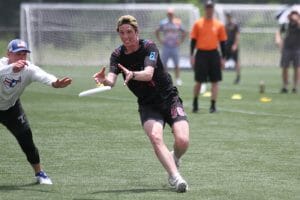 One of the more underrated players on Middlebury, senior captain Asher Lantz quietly had a monster season for the national champions. Lantz was an excellent deep threat last season, but he really rounded out his game this season, becoming a much better defender and adding solid throws to his athletic prowess. While Lantz doesn't fill up the box score offensively, he was second on Middlebury in blocks at Nationals and neutralized any deep threat the Pranksters faced this season; his incredible catch radius saved many a possession after the turn. It was exactly the kind of performance the Pranksters needed from Lantz to deliver them a title.
Matthew Moshea (Air Force)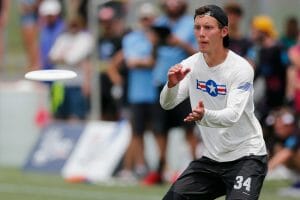 When you're on a team with the Player of the Year and Defensive Player of the Year, there's not much spotlight left to be had. However, anybody on Air Force will tell you that Matthew Moshea is more than deserving of his own recognition. The most frequent recipient of Villanueva's deep shots, Moshea is an absolute monster in the air. Moshea missed a stretch of the season with an arm injury, and it's no coincidence that Afterburn started playing their best ultimate once he was back. Moshea led Nationals in goals scored with 19, and that number could have been even higher if not for some warning track hucks leaving him just outside the end zone. A third star in Air Force's best ever class, his absence next year will be felt just as much as Villanueva's and Chun-Moy's.
Chris Selwood (Richmond)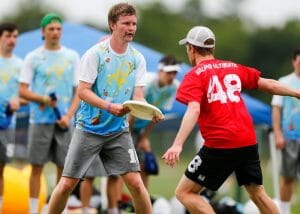 If these teams were strictly decided by how players performed at Nationals, Chris Selwood would have been a unanimous selection for the first team. The quick senior handler was all over the place, leading a Richmond in both goals and assists on the weekend while playing with a seemingly endless supply of energy in the Texas heat on a run to the semifinals. A broken finger on his throwing hand forced Selwood to play left-handed for most of the regular season, which limited his production and kept him from earning a spot on the first team. Instead, he'll have to settle for a second 2nd Team selection after earning the same distinction during the Spidermonkeys' title-winning 2017 campaign.
Mitchell Zimmermann (Missouri S&T)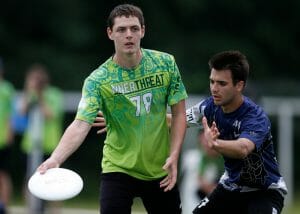 Coming into this season, we were unsure how Missouri S&T would fare after qualifying for Nationals in 2018. The return of Mitchell Zimmermann for a fifth year gave us belief that Miner Threat would have the top-end talent to earn a trip to College Station, and the athletic cutter lived up to those expectations. Zimmermann was Miner Threat's best player all season, and he continued his solid play at Nationals. His 12 goals were good for second on the team, and he consistently found big unders in S&T's horizontal offense to keep the disc moving downfield.
Justin Kunkel (Bryant)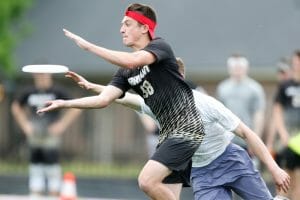 With the loss of two first team All-Americans from 2018's championship team, Bryant needed someone to step up into a star role in 2019. Justin Kunkel answered that call and led Craze back to the bracket at Nationals. Kunkel was a menace in the middle of Bryant's vaunted zone, and after a turn he would often go every other throw to march it down the field. After throwing just 7 assists at Nationals in 2018, Kunkel exploded for 21 in College Station this year, good for fourth at the tournament. Many of Bryant's other players struggled to throw in the wind at Nationals, and without Kunkel, Craze wouldn't have come close to making the bracket.