Rounding out our college awards for 2019.
Ultiworld's 2019 Women's College Awards are presented in part by VC Ultimate, a leading supporter of women in ultimate. They are also presented in part by the National Ultimate Training Camp, who can help prepare you to be an All-Star. All opinions are those of the authors. Thanks for supporting the brands that make Ultiworld possible!
Ultiworld is pleased to announce our sixth annual D-I All-America teams. These players were selected for their overall performance in the 2019 college season, looking at both the regular season and the full college Series, including Nationals. Please join us in honoring the best college players of this season.
Links to all of the 2019 D-I Women's Division awards will be added as awards are announced:
Player of the Year Award
Offensive Player of the Year Award
Defensive Player of the Year Award
Breakout Player of the Year Award
Rookie of the Year Award
Coach of the Year Award
All American 1st Team
All American 2nd Team
D-I Women's 2019 2nd Team All Americans
Audrey Brown (UC Santa Barbara)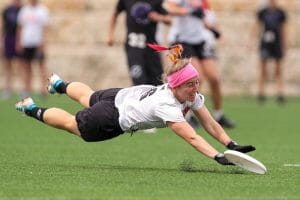 Brown is like a bundle of TNT. You wouldn't expect her to pack as much firepower as she does just by looking at her, but whenever the opportunity came about, she absolutely exploded. Brown was more than just firey layout grabs, though. Brown anchored the high-powered UCSB offense, and was one of the most consistent offensive players in the division this year, hence her spot as the second OPOTY runner up. Brown brought the fireworks as well as the metronomic steadiness needed to run an offense capable of consistently punching in holds. It's not often that you can find both of those things in one player, but then, that's why she's an All American.
Margo Urheim (Tufts)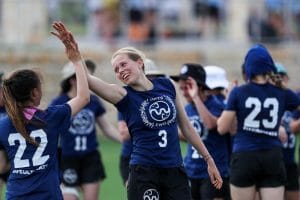 The only player to earn All American honors while playing on a team that did not make the bracket at Nationals, Urheim was a one-woman wrecking crew this season. A strong thrower and downfield menace, Urheim also showed off an impressive will to win, never shying away from any opponent or moment, always trying to lead her team to a win. At Nationals, She was one of just eight players to record a triple double (10 goals, 15 assists, 16 blocks), and with just 30 turnovers, she was one of the most efficient of that group, despite arguably shouldering the biggest offensive load of any of them.
Cara Sieber (Ohio State)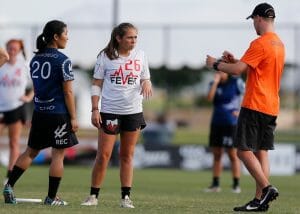 Sieber really took a big step this season and became one of the brightest young stars of the division. Sieber's the total package offensively: a player capable of beating teams at every level of the field. Her even split of 14 goals and 14 assists at Nationals bears that out. Sieber was the epitome of a midfield player for the Fever offense, capable of beating players downfield with her athleticism, but just as dangerous as the glue player connecting Fever's handlers with their more natural deep cutters. Sieber was a true swiss army knife, and arguably Fever's second most important player. With her complete offensive arsenal, she was also arguably one of the most important players in the entire division this season.
Kelli Iwamoto (UC San Diego)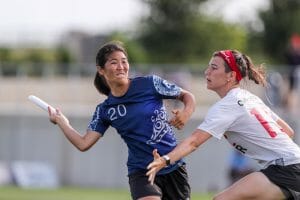 If there's a limit to how many times a defender can get broken before faking an injury, Iwamoto will be the one to find it. UCSD's central handler spent the entire season making defenses look foolish for even trying to slow her down. The deliberate and yet creative throws that she lets off in any given game are closer to artwork than sport. The field is her tapestry and a handler weave is her brushstrokes. No matter her mark, Iwamoto will continue to needle away at their force before finding her opening. Smart footwork, tactical fakes, and a signature off-hand throw are all she needs to break down a defense. Perhaps the most underrated part of her game is her defense. While not the largest or most overpowering defender, Iwamoto will always sell-out for a disc. Don't let her unassuming stature fool you, Iwamoto is a shark among minnows.
Karen Ehrhardt (Carleton)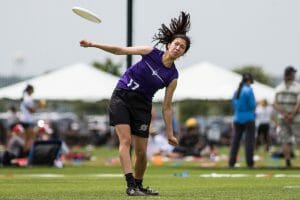 On a team as excessively talented as Carleton, Ehrhardt distinguishes herself by being the most explosive and responsive cutter on the field — a feat she matched across the entire division. Every time Ehrhardt got a step of separation on her defender, it may as well have been a mile. Her blend of thunderous acceleration and silky soft catches allowed Carleton's throwers to put the disc anywhere in the field, knowing Ehrhardt would be there to chase it down. She frequently took on the toughest defensive assignments and plagued them with her uncompromising mark and in-step downfield defense. Carleton had plenty of players that were lethal with the disc in-hand. Ehrhardt excelled because of all that she could do without the disc.
Emily Barrett (Ohio State)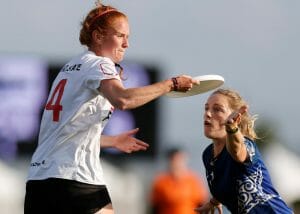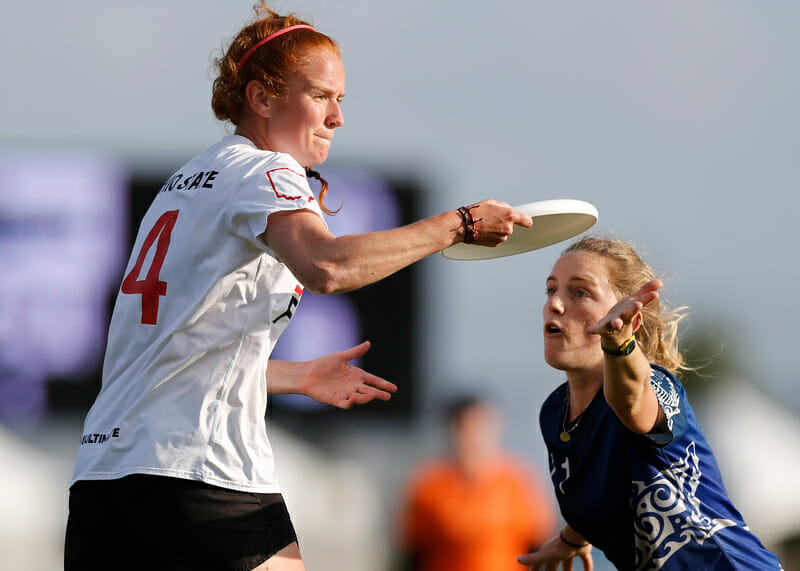 Barrett did one thing all season: get buckets. Barrett expertly used her height and athleticism advantages downfield and made herself the perfect target for the team's collection of talented throwers. She led the division with 23 goals at Nationals, despite always drawing tough downfield matchups. But that's what Barrett did all season. She went up for big skies in the endzone, or timed cuts perfectly to punctuate redzone possessions. The Fever senior was a goal-scoring machine all year, and showed the versatility to score them in multiple ways. That level of potency offensively was impossible to ignore.
Maddie Gilbert (Western Washington)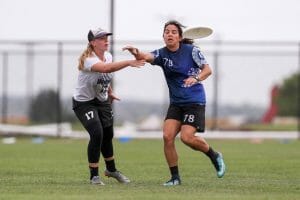 Gilbert is smart, fast, and physical. She is a great defender who picks the right moment to poach in the lane, taking advantage of offenses that aren't 100% dialed in. She will hit the turf to punish those who don't run through their cut. She will outrun you on a deep look, then sky the pants off you if it hangs in the air. Gilbert is also dangerous on the other side of the disc; a strong thrower as well as a huge threat in the deep space. She demonstrated her offensive prowess at Nationals, finishing with 17 goals, the most on Western Washington. She has been somewhat hindered by chronic injuries, but when she's healthy, she is a huge asset to any team.