An update on the major preseason results!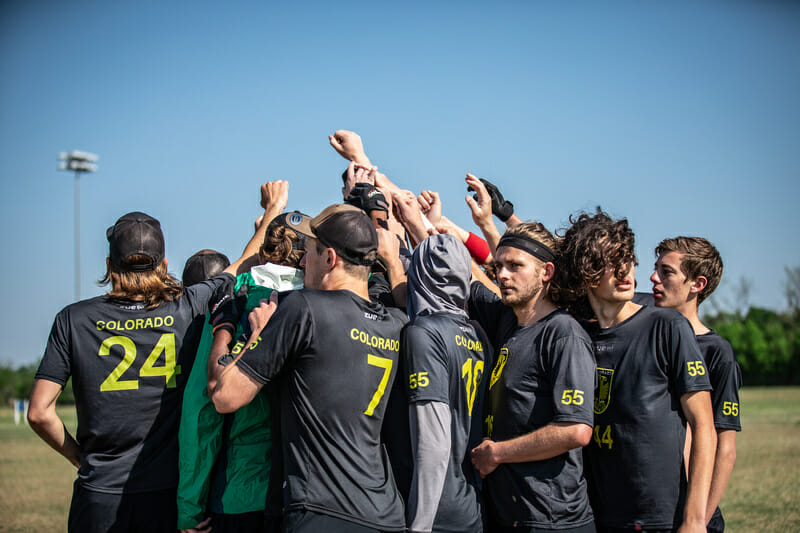 College Update is presented by Spin Ultimate. Please support the brands that make Ultiworld possible and shop at Spin Ultimate!
During the spring season, we will publish a bite-sized weekly recap of the action across the college division. Since this is just the fall preseason, we'll do the best we can to get the key information. This will serve as a supplement to our standard tournament reporting and will offer a high-level look at the latest happenings and the biggest stories of the week.
Want your tournament listed here? Submit a recap of what happened right here.
Men's
UNC Tops Ohio State At Fall Easterns
No surprise to see North Carolina Darkside earning tournament victories. They return a talented team and added a great recruiting class, and that group got by Ohio State by a solid margin in the final of Fall Easterns. It was an undefeated showing for Darkside, who got wins along the way over William & Mary, Tennessee, Penn State, and Utah. UNC met rival and host, UNC Wilmington, in the semifinal, while Ohio State faced off with NC State. The Seamen claimed third place.
Brown Looks Reloaded After Lobster Pot Win
Don't look now, but the reigning champions, Brown Brownian Motion added one of the best recruits in the country. Leo Gordon seems to be fitting in well with John Randolph, Solomon Rueschmeyer-Bailey, and the rest of B-Mo, as they took down Lobster Pot. But their journey wasn't without strife: they needed to break Tufts E-Men on double game point to earn the victory. That Tufts team could be in for a strong season, returning some key fifth years along with sophomore Caleb Seamon, who was All-Region 2nd Team as a freshman.
Colorado Closes Preseason With MLC Win Over Carleton
We touched on last year's finalists already, so how about the 2018 National semifinalists? Colorado Mamabird outscored Carleton 13-9 in the Missouri Loves Company final. That capped off an undefeated run through the tournament, including W's against Texas in semifinals, and Wisconsin, Minnesota, and Iowa State in pool play. Their team should look a bit different this year following some key losses, but a great recruiting class joining Alex Atkins and Cole Besser should keep them in the top 10 conversation.
Cal Poly SLO Earns Win At Regional K-Fall
And the final of the four 2018 semifinalists, Cal Poly SLO SLOCORE, also won one of their major fall events, the Kendra Fallon Memorial Tournament (AKA K-Fall). Their opponent in the final, UCLA, fell 11-7 in the final, after both clubs went undefeated in pool play before moving through the bracket. It was the reigning Southwest champion's only close match, particularly in a contested first half. Outside of that four-point win, SLO trampled over the rest of the competition.
Women's
Vermont Takes Down Lobster Pot
Want to get ahead of the rush and grab some Vermont Ruckus stock before the price jumps? Better act fast, as their value is bound to climb after winning Lobster Pot in late October. The New England club has designs on reaching the big show, and a win over a field that included Northeastern and Dartmouth has to boost their confidence. Recently named women's division Club Breakout Player of the Year, Kennedy McCarthy, was a monster in her first college preseason, and she and Sarah Rose led Ruckus over Dartmouth in semifinals and Northeastern in the final, both by large margins.
Utah Earns Notable K-Fall Crown
Another potential preseason buzz team is Utah Spiral Jetty. They took the top spot at the Kendra Fallon Memorial Tournament (AKA K-Fall), defeating UC Santa Barbara in the final, 8-7. The game was close the entire way, with 8-6 being the first and only two-goal lead in the game. Hard cap went off, rendering UCSB's final score meaningless to the outcome. Utah's combination of quality returners and solid additions from the local ultimate scene could push them into the Nationals conversation in the competitive Northwest. Worth noting that BYU went 4-0 in pool play before bowing out, although neither Utah nor UCSB were in their pool.
Ohio State Top Finishing College Club At Blue Ridge Finale Despite Loss In Final
At Blue Ridge Finale, going the furthest of the college clubs wasn't enough to win it. Those "pesky teenagers"1 from Triangle Tourists sent yet another field of college clubs home empty handed. They defeated OSU in the final, 13-11.
However, the Tourists didn't go undefeated, getting run over in crossover play by some former teammates on North Carolina by a count of 13-4. That might have made UNC the top dog, but they dropped a game to Virginia in quarterfinals, 12-8. OSU beat UVA 12-9 in the subsequent semifinal, while Tourists notched a win over Pittsburgh in the other semi. For their part, Pitt beat Ohio State in their crossover game to finish Saturday, though they lost to UNC in pool play. Have fun untangling that fall web!
Looking Ahead
Classic City Classic (M/W) caps off most of the fall action, and we will be there to capture the action on film for our subscribers. Georgia and South Carolina top the women's pools, while Brown, UNC, Pittsburgh, and Michigan lead a men's field with six 2018 Nationals attendees.
We also have Sean Ryan coming up on the west coast right around the Thanksgiving break.
---
A quote of myself, I think, that was used to describe the team and now is their Twitter profile. ↩