Three days of top quality games in sunny Florida.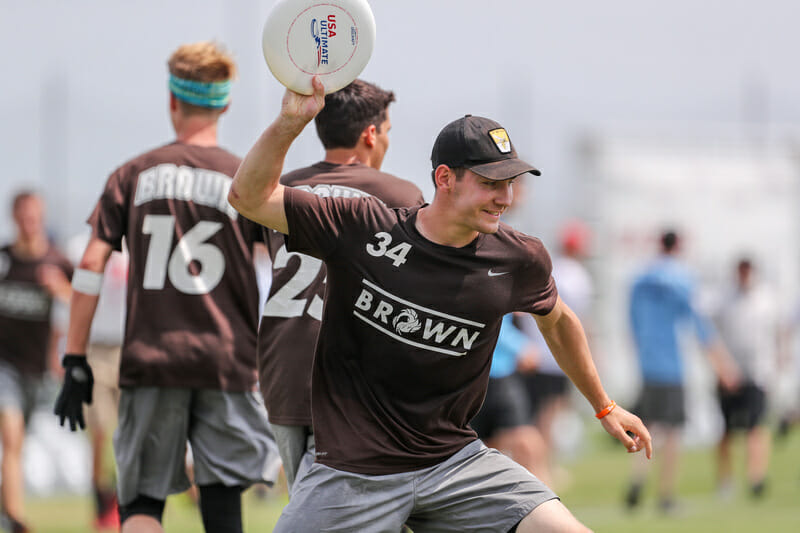 Our 2020 college coverage is presented by Spin Ultimate. Please support the brands that make Ultiworld possible and shop at Spin Ultimate!
Florida Warm Up is the eternal promise of spring. Of rebirth. Of life, finding a way and spreading its wings. It's a flock of ducklings, molting their baby feathers and clumsily, awkwardly, but oh so endearingly taking flight. It's dudes in cut off cotton t-shirts from Minnesota or Massachusetts who haven't even dreamed of sunshine in three months exploring what the human body can do when it's not vacuum sealed under three layers of cold weather compression gear.
Friend, it's a sight to behold.
Florida Warm Up Highlights 2019
The competition at Warm Up is stronger than ever this year. You'll find 12 of the top 20 teams in the country at Warm Up, including three of the top four. With this much quality present, there are plenty of algorithm points up for grabs that could have a big impact on the bid picture in a couple months' time.
But before we turn our collective attention towards postseason implications, the games this weekend will provide compelling thrills of their own. We get to see BYU go through a murderers' row of opponents as they make their case to be the #1 team in the country. We'll bear witness to the relitigation of class rivalry matchups like Wisconsin v. Florida and Pitt v. Whoever Pitt is playing. College ultimate is here, and life springs back into the world.
Tournament Profile
Date: February 14-16
Location: Tampa, FL
Weather: Highs near 80, chance of rain Friday, sunny and beautiful over the weekend.
Top 25 teams: 12
Filming Schedule
These games will be available online next week for Ultiworld Full and Plus subscribers.
Friday
9 AM: Florida State v. LSU
11 AM: #17 UMass v. #18 Minnesota
1 PM: #14 Michigan v. #20 Wisconsin
3 PM: Auburn v. #20 Wisconsin
5:30 PM: #19 Northeastern v. UT-Dallas
7:30 PM: #4 Carleton v. UCF
Saturday
9 AM: #13 Texas v. #16 Tufts
11 AM: Cincinnati v. Harvard
1 PM: Georgia Tech v. Northwestern
3 PM: #1 Brown v. #2 BYU
6:00 PM: Quarterfinal
8:00 PM: Quarterfinal
Sunday
10:00 AM: Semifinal
12:00 PM: Final
Tournament Format
Warm Up eschews traditional pool play for a match play format. Each team will play six games against a curated group of opponents.1
This year, Warm Up returns to a win/loss record determining who makes the bracket. In the likely case of ties for the final spots in the quarters, Warm Up will again use the USA Ultimate ranking algorithm on the match play results. A team with an easier schedule again has a chance to make the bracket, but strong teams will win tiebreakers — assuming they win enough games to get in.
The Top Tier
#1 Brown Brownian Motion and #2 BYU CHI arrive in Tampa as the top billed teams in the country, and we'll get to see them go head to head in the late game on Saturday afternoon.
The #1 ranking will be up for grabs when these two clash, but that's not the only thing on the table. The defending National champs Brown have the chance to prove that their winning ways didn't leave campus with Mac Hecht last year. A dominant Warm Up from B-Mo will cement their status as the favorite this season, not just a throne warmer for their successor. For CHI, who have repeatedly expressed their goal of reaching the top spot in the ranking, this will be their best shot at making a clear case that they belong alone atop the heap come season's end, no matter what happens at Nationals.
Brown's strong rookie class and bevy of returning starters give them plenty of options on how to deploy their personnel. A handful of good options is better than just a few bad ones, but it could hinder Brown in the short term as they tinker with the balance between experience and talent, offensive potential and defensive solidity. Several of Brown's D-line mainstays like Dylan Villeneuve or Sol Rueschmeyer-Bailey may best serve the team on offense this year, but would their absence leave Brown's defense undermanned? Should the coaches plug talented rookies Jacques Nissen and Leo Gordon into the O-line right away, or give them lower pressure assignments on the D-line? The various combinations all make sense depending how you look at them, but it may take Brown some time to get comfortable as they move pieces around.
Brown won't have much time to get comfortable when they play BYU on Saturday because CHI are already in the peak of their form. This is the meat of BYU's competitive schedule, and while other teams have been slowly getting pieces together for May, BYU has been rolling out nothing but wins at CCC and then in late January at Santa Barbara Invite. No one on the west coast got within three points of them at SBI, and they'll likely be the most polished team this weekend.
Their defense, in particular, is light years ahead of most competing units. It's not just the headliners like Taylor Barton; it's the depth of sheer competency (a rarer commodity than you'd expect) that lets them run teams off the field. They can go 10-12 guys deep on defense with players who can guard multiple positions and then consistently score off the turn. It's a teamwide level of execution that can be overwhelming for other teams early in the season.
They are going to need all of that depth given the absolutely brutal schedule they have lined up in front of them. Aiming to get as much quality competition in before Sunday as possible, BYU will face, in this order, #20 Wisconsin, #14 Michigan, Auburn, #18 Minnesota, #4 Carleton, #5 Pitt, #17 UMass, and #1 Brown. If they can navigate that schedule unscathed, there will be no way to deny that BYU is currently the best team in the nation.
Redemption Tour Begins for Carleton & UMass
Top ten rankings, the two best offensive threats in the country, and three bid regions weren't enough to save #4 Carleton CUT and #17 Massachusetts Zoodisc from fumbling their seasons away at Regionals last year. Looking to turn a fresh page in the new decade, both programs kick off their seasons in Florida. A strong start here could go a long way towards burying the memories of 2019 in the past.
Carleton should have their eye on a tournament title given how many key pieces they return this season. Joe White, Dillon Lanier, Stanley Birdsong, and Harry Wolff Landau will be the main cogs in the offense, all experts at stretching the field and bludgeoning opponents with vertical attacks.
But while Carleton's offense has plenty of straight line giddy-up, it faltered last season when forced to operate laterally. Chris Padilla and Andrew Roy are both back in the CUT handling core, and they could be the key to Carleton's fortunes this weekend. If they can provide enough width to complement the rest of the O-line's power, Carleton should have the best offense at the tournament.
This season marks Tannor Johnson's final ride for Massachusetts, but his and UMass's first appearance at Florida Warm Up. Usually part of the Queen City crowd, the team has elected to stretch their southern sojourn further south this season. They offer a nice addition to the field, as Johnson gets to test himself against Cole Jurek and Joe White in match play, and a team known for its zone may be able to add some wrinkles to the usually smooth matchup defenses we typically see at Warm Up. If they can clog up some of the high flying offenses that usually feast at early season tournaments like this, they could find their first trip down to Florida a very rewarding one.
Strong Presence from the North's Nationals Qualifiers
While Carleton and UMass are hoping to rectify the mistakes of 2019, the teams that actually made Nationals from their regions will be hoping to solidify the gains of the previous year as they begin their seasons.
The North Central sends #18 Minnesota Grey Duck and #20 Wisconsin Hodags, who both have some interesting pieces but also notable holes. Minnesota has a trio of Sub Zero players to rely on in Cole Jurek, Wystan Duhn, and Trevor Graham. Jurek is the big focus here, literally and figuratively, as the beefy cutter will aim to knock folks around in the deep space. After a few years of handler oriented approaches, Grey Duck now finds themselves deprived of elite options in the backfield beyond Duhn. Minnesota will hope that chemistry built at the club level will help them out here in the college season; a majority of their roster played together on Minneapolis Mallard over the summer: built-in chemistry can be a big plus at an early season tournament.
Wisconsin's outlook at Warm Up is a familiar story: big question marks on offense, but holy hell do they have some bodies to throw at you defensively. It could be a tougher fight than usual for Wisco to keep its Nationals streak alive this season, but don't expect them to get run off the field this weekend. They bring in some nice freshman help in the form of Nico Ranabhat, Paul McAllester, and the rest of their five-player rookie class. Those freshman could be getting important reps in big games against BYU, Michigan, and Texas, and while Wisconsin may not yet have the pieces for consistent excellence, it seems like they just might pull off at least one upset when the young guys are clicking.
#16 Tufts E-Men and #19 Northeastern Huskies come down from the Northeast, in addition to Brown, UMass, and Harvard. Neither squad did particularly well at this tournament last year; both failed to make the championship bracket despite Tufts notching a nice win over Carleton. In fact, neither team seemingly put all the pieces together until the postseason, with each upsetting UMass to secure a trip to Nationals. That postseason experience may have emboldened the programs and accelerated their preparation heading into Warm Up this year. If either can pick up more wins like that upset over CUT last season, it could go a long way towards earning the Northeast a third strength bid that it desperately needs.
National Quarterfinalists Looking For Strong Start To Season
#5 Pittsburgh En Sabah Nur comes down to Florida with high expectations but some real work to do against a tough slate of opponents. Every year, it seems like a top team gets shut out of bracket play after the eccentricities of the schedule give them a steeper mountain to climb. This weekend, Pitt has to play Brown, BYU, and Minnesota while holding off upset bids from feisty Central Florida and Texas A&M squads, which is a tough draw. If they can get through that gauntlet unscathed or with a single loss, then we'll know that Pitt is really back in championship mode this season.
There is a lot to like about Pittsburgh's roster this season, despite the oddity of them having zero rostered seniors (having six 5th years helps, though). Their junior class is deep and at least one of Kevin Tsui, Will Hoffenkamp, and Harry McNamara is liable to go off this weekend. If Pitt puts themselves in a good position for the bracket on Sunday, they should have the depth to stay fresh even in the 8th or 9th game of the tournament.
#14 Michigan's schedule is comparatively lighter. Dodging Brown, Pitt, Texas, and Minnesota, Magnum has BYU and Wisconsin to deal with and then mostly walkovers. With most of the core of their quarters team from 2019 returning, Michigan should be able to bank on getting into the bracket. From there, we will get a chance to see if Raymond Lu, Jeff Gao, and company are ready to take a step forward this year or if they are still just a bit outside of the elite tier.
Southern Teams Looking to Turn Heads in Crowded Pack
Other than #13 Texas TUFF, none of the South Central or Southeast teams are ranked in the top 25, but that could change after this weekend. LSU and UT-Dallas are on the bubble of the rankings, and it would be surprising if one of them didn't break away from the thick middle of the bell curve to make the bracket. Central Florida kicked off their successful regular season last year with a rollicking run to the finals, and they return Adam Vinson from his breakout 2019. A deeply disappointing start to the season at T-Town Throwdown depresses some enthusiasm for the Dogs of War, but a trip to the finals of Warm Up last season warrants that they stay on your radar.
Every year seems like it should be the one that Texas A&M Dozen falls off a cliff, but they made a strong push to finish third at Regionals last season. They still have the swaggering athleticism that makes them a threat at Warm Up, which can often be played in track meet conditions and rewards big vertical offense. Same goes for Texas quite frankly, as the aggressive offensive talents of the Chambers brothers alongside Matthew Armour should give TUFF an outside shot at breaking up the Brown/Carleton headlock at the end of the bracket.
Pour one out for Auburn, who has pretty clearly the toughest schedule this weekend, and maybe ever in the history of this tournament. They get to tangle with Brown, CUT, BYU, UMass, Pitt, and Wisconsin during match play. For those keeping track at home, that's four of the top five teams in the country, Tannor Johnson, and one the most consistently competitive teams in the history of the sport. Enjoy the trip to Tampa, fellas!
---
Note that BYU is not in a pool and plays eight matches. Regardless of their results, they will be excluded from the bracket due to their Sunday play policy. ↩