Club ultimate is back!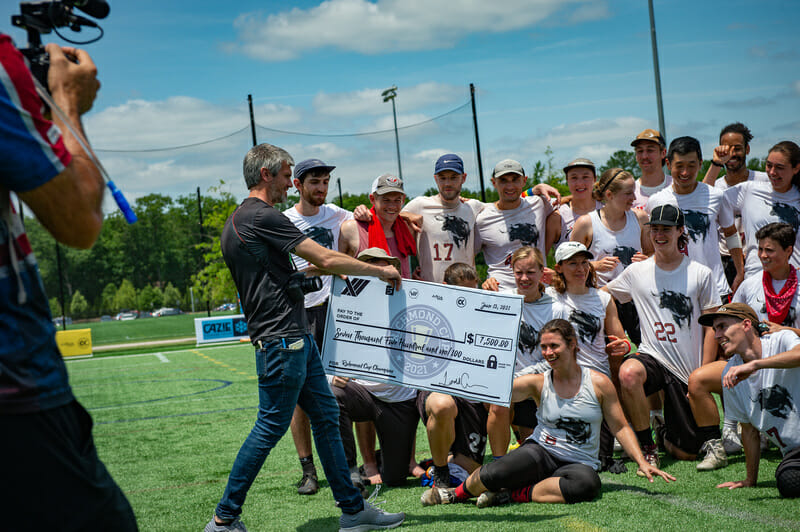 Welcome (back) to Opening Pull! Ultiworld's Monday wrap-up of the previous week in ultimate has returned, now available both in this space and as an email newsletter. As always, we've gathered the news you need to know and highlights you need to see. Check back weekly or subscribe now to receive Opening Pull in your inbox along with a rundown of the previous week's content on Ultiworld.
Vengeance Sweet For Toro, $7,500 Richer After Inaugural Richmond Cup
Even as many teams are still in the tryouts phase and players are shaking off the dust of a long quarantine, club ultimate made a splashy return with this weekend's Richmond Cup, the unsanctioned tournament sponsored by XII Brands that turned heads earlier this year with the announcement of its $10,000 prize purse. The final saw an early-season Durham Toro squad and Sweet Cat — a D.C. superteam of players most recently seen with Scandal, Space Heater, and Truck Stop — meet again after their Saturday pool play matchup ended 13-6 in Sweet Cat's favor. Boosted by Sunday additions Allan Laviolette and Grayson Sanner, however, Toro ran away with the bracket, defeating Sweet Cat 13-9 and taking home the giant check for $7,500.
You can read the tournament recap here, with Ultiworld-produced taped games coming soon to our YouTube channel!
Ben Feng Joins USA Ultimate As Manager Of Competition And National Teams For College Division
USA Ultimate has hired Ben Feng as its new manager of competition and national team programs for the college division, where he will manage competitive structure, major events, and registration and rostering for USAU's D-I and D-III college programs as well as the U24 National Teams. Among other credentials, Feng brings sports management experience from the National Women's Soccer League, where he directed safety protocols and logistics for the 2020 Challenge Cup; he also served as an event director for Color of Ultimate's west coast programming and has coached nationally competitive youth and adult club teams. He replaces Tom Manewitz, who held the position for five years before leaving USAU this summer.
Austin Stuns Dallas In Major Early Shakeup For AUDL's West Division
Austin Sol toppled Dallas Roughnecks — 18th and 1st respectively in Ultiworld's Preseason Power Rankings for the league — in a 24-23 home win on Saturday. Austin's home opener places the Sol at the top of the West Division going into the league's third week; effects on Ultiworld's AUDL survivor pool have yet to be assessed but could be equally seismic. See the AUDL's game highlights here:
USA Ultimate Announces Assistant Coaches For 2022 Beach Worlds
Assistant coaches have been named for the US National Teams at the WFDF World Beach Ultimate Championships, now set to be held in spring 2022 after a planned 2021 event in Los Angeles was postponed. The men's team adds Tyler Kinley, the mixed team Ken Porter, and the women's team Sean McCall as assistants to respective head coaches Bryan Jones, John Groess, and Samantha Broaddus. Tryout information for potential players is still forthcoming.
If held outside Los Angeles as anticipated, WBUC will be one of three international ultimate events hosted in the US next year, joining the World Ultimate Club Championships in Cincinnati, OH (already scheduled for 2022 as part of WUCC's normal four-year cycle, but moved to Cincinnati after UK organizers withdrew their bid) and the World Games in Birmingham, AL (already set to be held in Birmingham, but postponed from 2021 to avoid conflict with the rescheduled Summer Olympics).
Poultry Days Ultimate Lives On In Small-Scale Event
The village of Versailles, OH held its annual Poultry Days town festival this year in its usual early-June place on the calendar, with its storied ultimate tournament back for one day only with a small number of invited teams. While the frisbee element of the proceedings was undoubtedly toned down from its typical weekend camping format, TD Rodger Oakes of Oshadega found time to take part in an essential ritual for many longtime attendees:
---
Coming Up
Preview content for the 2021 USAU club season is coming soon! See our new club season tracker for a continuously-updated overview of top teams' plans for the year.