What's holding you back at tryouts?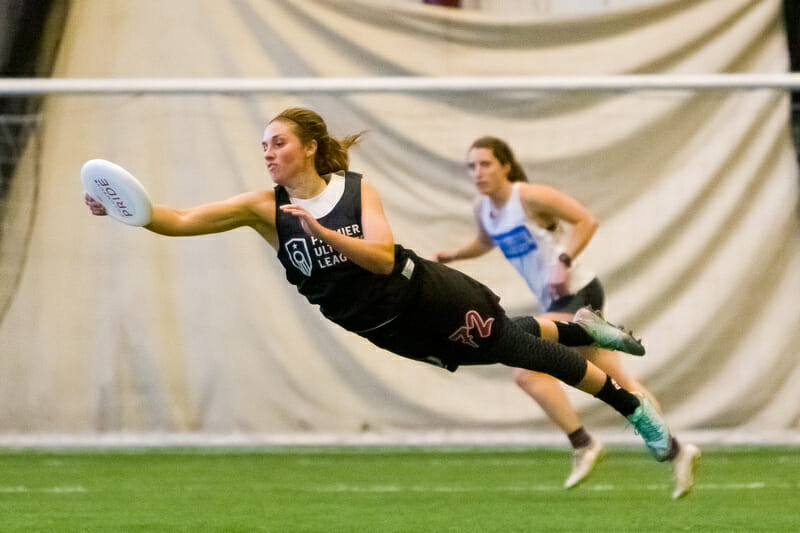 Last year I helped several ultimate players to prepare for and thrive in the tryout process. One athlete made a Nationals-level team, and two more became practice players on teams that went to Nationals and are well positioned for next year. One athlete changed the team they were trying out for to be a better match for bringing out the best in themselves. Another athlete got invited to try out for the USA Worlds beach national team. Most importantly, these athletes performed with confidence during tryouts and left feeling satisfied in their performance.
For all of these players, I helped them avoid some common mistakes in the tryout process.
Mistake 1: Waiting to be Discovered
It is a mistake to put all of the responsibility on figuring out why you belong on a team on the selection committee and no responsibility on yourself.
While it is true that the final decision of the selection committee is out of your control, you can do a lot to help yourself. Put yourself in the shoes of the selection committee. Why should they choose you? If you don't have a solid answer for this, then don't expect the selection committee to know either.
Putting some time into thinking about what role you want to fill on a team, or how your skills fit neatly into their preferred style of play, can help you to further focus on what you need to do between now and tryout time.
Going through this process will also help you to execute with intention and show the skills you want to show during the tryout process.
Mistake 2: Going In With No Plan
If you go through the process above thoroughly, then you'll uncover a few key skills or areas of game IQ improvement that you'll want to work on between now and tryouts.
These areas aren't going to improve themselves if you just aimlessly train. You'll need a plan for improving those skills or areas of game IQ.
Sometimes players get a bit stuck here because they aren't exactly sure what to do. Or they aren't willing to put in the effort of gathering friends and teammates to help them when necessary. The potential inconvenience is worth it.
Mistake 3: Over-investing in Fitness and Under-investing in Skills and Game IQ
This is related to the first two.
As the creator of The Ultimate Athlete Project S&C program, I hope it is obvious that I care about your athleticism. It might seem like I'm the last person who should or would tell you to direct your focus elsewhere.
But sometimes athletes get stuck in a loop of trying to eke out one more inch of vertical or chasing a split second improvement on their sprint times. In reality, they'd be more efficient with their time if they honed their throwing skills or developed a better understanding of defensive positioning or spacing of their cuts.
If you've been on an organized, periodized athletic performance program for two years or more, odds are that your easiest gains in athleticism have already been achieved.
When an athlete first gets on an athletic performance program, the gains are noticeable. It's highly motivating! And you may fear that if you step off the gas to work on other parts of your game, you'll lose everything you've worked for.
First, it's important to understand and trust that maintenance takes less time than acquiring your athletic adaptations.
Secondly, you need to be willing to prioritize what matters most in your performance on the field.
If you're not getting the results you want on the field after two years of athletic performance training, it's quite possible that your athleticism is not the primary obstacle in the way of your goals.
Working on fitness is straightforward and measurable. Progress isn't always linear, but it's mostly logical and understandable. And when you work on your fitness, it's clear that you are putting in "work."
But when working on skills and your understanding of the game's strategic and technical aspects, progress is less measurable and more meandering. It's not as visible or tangible as work you do in the gym. But that does not mean it's less important.
Are you willing to work on what's most important over what's easiest to measure? Give yourself the tools to apply your enhanced athleticism to the field.
Fixing Your Mistakes is Part of Your Mental Game
Lately I've been writing about various aspects of the mental side of ultimate training. What I've described above may not seem like what you typically think of as mental training. I believe it falls into the category of mental training because the work above is all about making decisions and committing fully to those decisions.
There's also an element of confidence involved. If we don't create goals we truly believe in, we'll have difficulty executing on our plans, or only execute when it is easy or convenient, or when we're in the mood.
Discovering your goals, having the confidence you can achieve them, and then creating a plan you can believe in and staying committed to it — these are things that happen as the result of doing foundational mental training work.
Getting Help
If you want help with this kind of thing, you should know that we've just launched our Mental Training for Ultimate program that will walk you through the process of making your plans. It will help you put the mental training foundations in place that will help you execute on those plans to achieve your goals. This is an especially good fit for those of you looking to try out for higher level teams. Or if you've historically had difficulty performing well under pressure.
We also have a group program and a one-on-one coaching option for those of you who want more hands-on support as you navigate your tryout season.
If you'd like to discuss your options, please fill out these questions and schedule yourself for a consultation here.