Celebrating the best offensive performances of the fall season.
Ultiworld's 2021 College Awards are presented by the National Ultimate Training Camp; all opinions are those of the author(s). NUTC helps young players become better athletes and community members.
Each year, Ultiworld presents our annual College Awards. While the 2021 college season certainly wasn't typical with its quick course through a fall Series to a first-ever December College Championships, we still want to celebrate and honor the tremendous performances we saw.
The next of our awards is the Offensive Player of the Year, highlighting the elite offensive threats the division has to offer. This winner, as well as each of their runners-up, was a consistent and overwhelming offensive presence that dominated the season.
Offensive Player of the Year Award
---
D-III Men's 2021 Offensive Player Of The Year
Walker Frankenberg (Middlebury)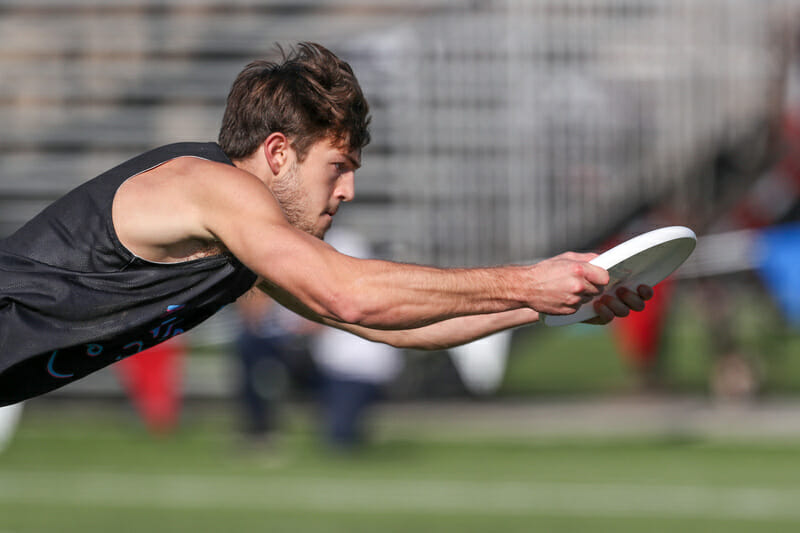 Add another accomplishment to Walker Frankenberg's growing resume. Already a 2019 National Champion, 2019 Rookie of the Year 1st Runner-up, and this season's Player of the Year 2nd Runner-up, Frankenberg is also the Fall 2021 Offensive Player of the Year.
Quite often, standout offensive players are exceptionally athletic cutters or creative, incisive handlers. It's rare to find the exceptionally athletic handler with creative, incisive throws. Frankenberg kept the Middlebury offense flowing, using a variety of release points and angles to hit resets and using his speed to constantly make himself available for his teammates. As soon as Frankenberg got a step on his defender, his matchup was at his mercy. Whether using that step to blast up the line, or stopping on a dime as the defender blew past trying to catch up, Frankenberg's feel for and manipulation of momentum meant he always had his opponent in the palm of his hands.
Frankenberg's numbers in the final sound like a video game box score. Two goals and six assists against just one turnover is impressive, but the advanced numbers show just how much the Pranksters relied on his brilliance. Frankenberg had 66 touches; his next closest teammate had 25. Frankenberg threw for 580 yards; his next closest teammate threw for just 160. It's not traditional sports hyperbole to say that the Middlebury offense would have been lost without Frankenberg.
Coming back this spring for the second semester of his senior season, Frankenberg's offensive excellence should be on display again in 2022. This time, he'll be hoping it results in a championship.
1st Runner-Up
Elliott Moore (Oklahoma Christian)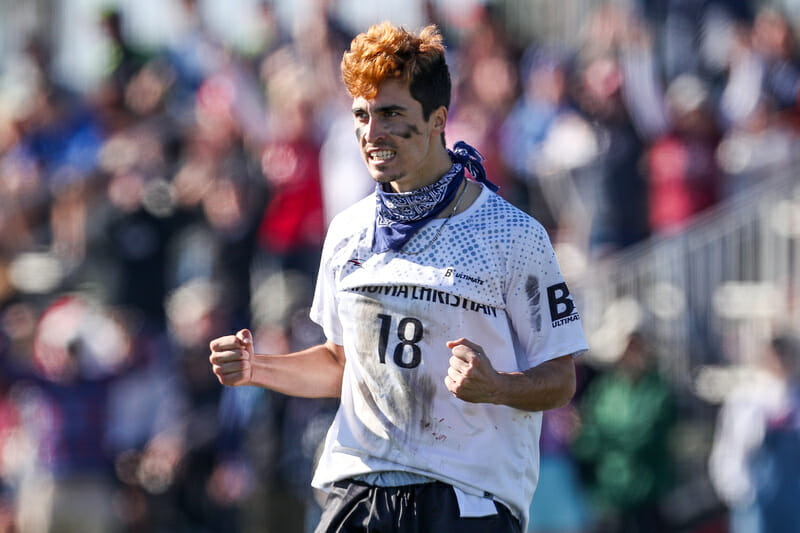 We covered the brilliance of Oklahoma Christian's Kyle Henke in the POTY write-up, but one player can't win alone. The overqualified Robin to Henke's Batman was Elliott Moore, and his dynamism was enough to land him the 1st runner-up spot for OPOTY.
Moore was one of the most exciting throwers at Nationals. He showed an imagination with the disc matched only by his courage to try the throws his brain conjured up. Sure, Moore's audacity occasionally led to turnovers or his teammates making great grabs to bail him out, but more often than not, his throwing prowess opened up the defense and set his teammates up for success. Moore led the Eagles in assists in the bracket with 17 and in throwing yards in the final with 399.
The first big recruit to take advantage of the Oklahoma Christian scholarship program, Moore is just a junior with two spring seasons still ahead of him. It'll be exciting to see how he continues to lead and build the Eagles program — a Robin now out from under Batman's shadow.
2nd Runner-Up
Caleb Enright (Berry)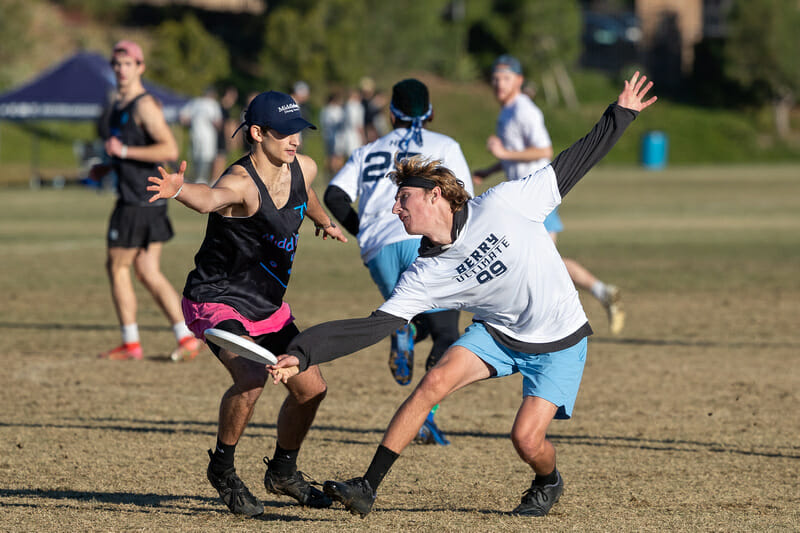 The leader of one of the most surprising teams of the season, Caleb Enright was an offensive monster all weekend, leading the Berry Bucks to a surprising quarterfinal run and earning the 2nd runner-up spot for OPOTY.
While the two players above him for this award played primarily as handlers, Enright filled more of a hybrid role for the Bucks. The "hybrid" label can be used liberally in ultimate, but Enright truly fit the description, differentiating his role on the Berry offense from point to point. While he would typically find himself starting the point downfield in the cutter space, it was common for Enright to flow smoothly into the handler space. Equally comfortable chasing down a huck or operating in small spaces, Enright's blend of athleticism and throwing ability made him a nightmare matchup for defenders. On top of all that, Enright showed a knack for finding himself in the right place at the right time, a nod to his intelligence and awareness.
There's more to come about Enright's brilliance this season. As one of the leaders of a Berry team that featured no graduated players, the stock price for Enright and his fellow Bucks should only continue to rise going into the spring.