Highlighting players who made impressive college ultimate debuts this fall, whether they joined their teams in 2020 or just this academic year.
Ultiworld's 2021 College Awards are presented by the National Ultimate Training Camp; all opinions are those of the author(s). NUTC helps young players become better athletes and community members.
Each year, Ultiworld presents our annual College Awards. While the 2021 college season certainly wasn't typical with its quick course through a fall Series to a first-ever December College Championships, we still want to celebrate and honor the tremendous performances we saw.
The Rookie of the Year award recognizes players who impressed in their first college ultimate seasons. Typically reserved for freshmen (or the occasional first-year ultimate player who joined the sport later in their college career), we have temporarily expanded the eligibility for this award due to the lack of an intercollegiate competitive season during the 2020-2021 academic year. Consequently, this year's "rookie" class includes players who joined their teams before the fall 2021 semester, but haven't been seen in competition before, as well as players in their first-ever year of college ultimate. As in any year, whether they come to the college game from years of youth experience, a background in other sports, or none of the above, these players made debuts to remember in high-level college play.
---
D-III Men's 2021 Rookie Of The Year
Will Brandt (St. Olaf)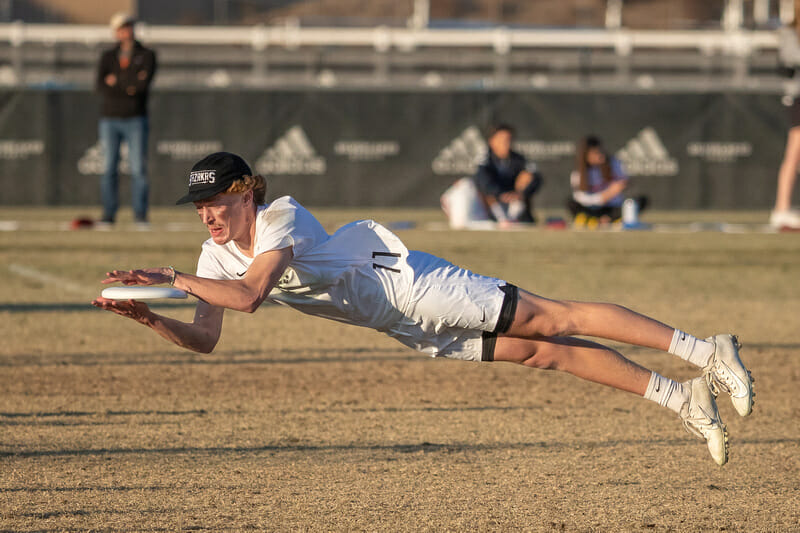 It feels very weird to refer to a sophomore with YCC, Club Nationals, and AUDL experience as a rookie, but such is the reality of this pandemic-stricken world in which we live. Will Brandt was one of the best players we saw in the division this fall, regardless of age, and is the winner of the Fall 2021 Rookie of the Year.
Brandt is every offensive coach's dream and the prototype for the ideal cutter. Functioning as the initiating cutter on St. Olaf's O-line, Brandt must be respected in every segment of the field. His speed, height, and athleticism make Brandt a threat in the deep space, but he's equally dangerous catching an under and hitting a deep cutter with a continuation throw. The Berzerkers utilized Brandt well, starting him from various places in their offensive sets to keep defenses guessing, and Brandt showed IQ and patience beyond his years to read and react to how defenses were guarding each point.
While providing plenty of big plays and highlights in Norco, perhaps the things that stuck out most from Brandt are the plays that don't show up in a box score. Whenever St. Olaf found themselves in a high stall situation, it was Brandt getting open as a bailout. When the Berzerkers' offense stagnated, it was often Brandt hitting the difficult break throw to open up the field.
St. Olaf will have major pieces to replace this spring, but Brandt is the kind of talent who will be in POTY discussions for the next few years. The Berzerkers are in good hands.
1st Runner-Up
Evan Card (Oklahoma Christian)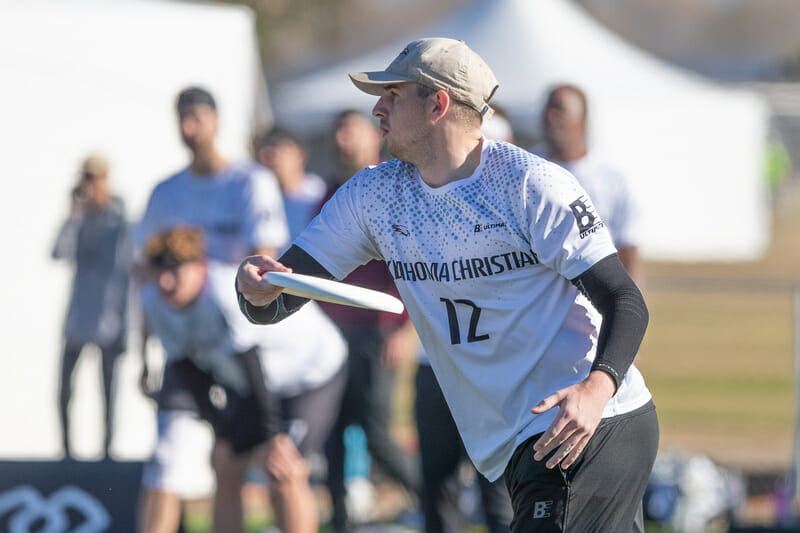 The 2019-20 Lakers had a team mantra that was repeated constantly on their way to a championship: "Be a star in your role." As much as championship teams rely on superstars, they also rely on role players excelling in what they're asked to do. Evan Card was a star in his role for the champion Oklahoma Christian Eagles this fall and is our 1st runner-up for ROTY.
Knowing that opponents were going to focus on trying to stop the big names on OC's roster, Card demonstrated an excellent feel for timing and spacing throughout the season, finding openings at the right moment to punish defenses when their attention was elsewhere. This isn't to sell Card's big-play abilities short; he turned in his fair share of big grabs in Norco, coming down with many contested discs in the air.
Just in his freshman season of college ultimate, Card has loads of potential and plenty of time to realize it.
2nd Runner-Up
Collin Hill (Berry Bucks)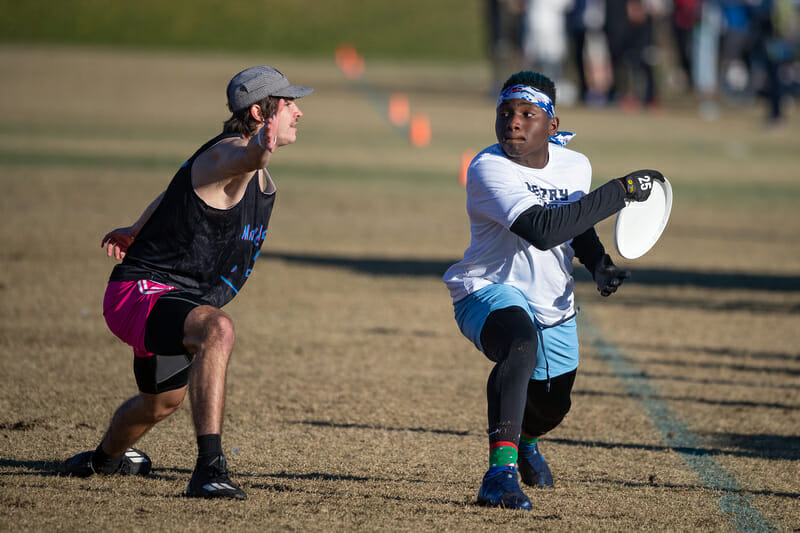 Fresh off a summer as a practice player for Atlanta Chain Lightning, Berry's Collin Hill was one of the elite up-and-comers we saw this fall and is our 2nd runner-up for ROTY.
While awards tend to go to players who catch attention with big plays and flashiness, it's Hill's consistency that makes him stand out from other players his age. Hill is a heady handler — calm, patient, and poised with the disc at all times. As the primary reset for the Bucks' offense, Hill showcased an ability to seemingly always be open, helping the offense to reset the disc when needed. When Hill left the backfield, he showcased athleticism to bring in just about any disc thrown his way.
Berry were a three-headed monster in Norco, relying heavily on Caleb Enright, Walter Ellard, and Hill. With the first two being seniors, Hill's role on the Bucks will only continue to grow. He's shown he's more than ready for the challenge.