The top seven all-around players from the fall season.
Ultiworld's 2021 College Awards are presented by the National Ultimate Training Camp; all opinions are those of the author(s). NUTC helps young players become better athletes and community members.
Each year, Ultiworld presents our annual College Awards. While the 2021 college season certainly wasn't typical with its quick course through a fall Series to a first-ever December College Championships, we still want to celebrate and honor the tremendous performances we saw.
Ultiworld is pleased to announce our annual D-III All-American Teams. These players were selected for their overall performance in the 2021 college season. Please join us in honoring the best college players of the year.
---
D-III Men's 2021 All-American First Team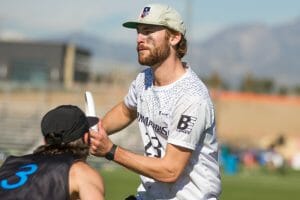 Kyle Henke (Oklahoma Christian)
Our unanimous selection for Player of the Year is also an obvious choice for first team All-American. Kyle Henke's one semester of D-III ultimate was a memorable one, leading the upstart Oklahoma Christian Eagles to a national championship and a near-perfect record. Henke looked like he was playing the game at a different speed from everyone else, effortlessly maneuvering around the field and commanding the OC offense. On defense, he always felt in control of his matchup, often daring opponents to throw to his person and eating up any throw that wasn't perfect. Henke isn't expected back in the spring, but his one season will go down as one of the best in the division's history.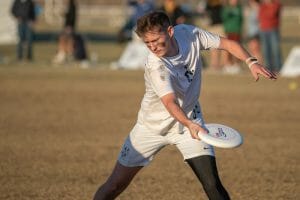 Drew Otterlei (St. Olaf)
This year's Player of the Year runner-up showed up to Norco and played perhaps the best tournament of his career. A playmaker on both offense and defense, Otterlei started most points by launching a towering pull. On defense, he snagged his fair share of layout blocks. After a turn, he was the fixture that ran the St Olaf offense, which set the tone for a quartet of comfortable wins before the Bezerker's double game point loss in the semifinal. Though it didn't end in a title, Otterlei capped his college career with a bang.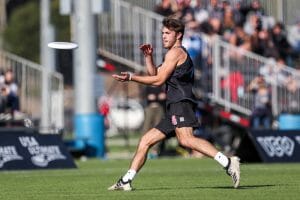 Walker Frankenberg (Middlebury)
The ultimate coaching adage of "win with your legs" has become something of a cliche, but Frankenberg makes it look like a combat discipline. He sets the gold standard for churning out yards from the backfield, setting Middlebury's offensive pace with a decisive blend of slashes, curls, and bursts. He's a confident thrower who can break a defense while minimizing risk. A wonderful example of how being a center handler does not have to mean being sedentary and letting others make the plays, Frankenberg powers his offense by enhancing his teammates' effectiveness.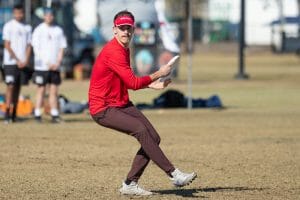 Hunter Lang (Richmond)
It's a testament to the rest of the talent in the division that this is the first mention of Hunter Lang in our awards. The do-it-all graduate was incredible for the Richmond Spidermonkeys this fall, leading their efficient side stack offense and crossing over when necessary for crucial defensive points. Whether making the big throw or running it down, it felt like Lang was always involved for the Richmond offense, and everything he did looked smooth and easy. Having just missed out on the POTY podium, Lang was a unanimous choice for the 1st Team.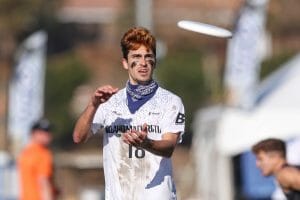 Elliott Moore (Oklahoma Christian)
The second strike of the Eagles' 1-2 punch, Moore was clearly one of the season's most dangerous offensive weapons. He was just as capable of delivering the knockout blow of a blazing deep strike as he was the quick setup jabs that weakened his opponent's defense.
His bold style of play made him hard to miss and one of the division's most entertaining entities and his usage will only go up in 2022.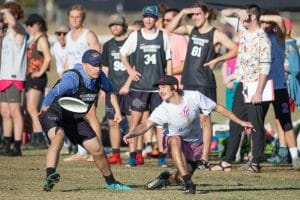 Leo Sovell-Fernandez (Middlebury)
What Walker Frankenberg was for the Middlebury offense, Leo Sovell-Fernandez was for their defense. The versatile defender did everything for their D-line, from pulling, to taking the toughest matchup, to then leading their offense after forcing a turnover. While never short on highlight reel blocks, Sovell-Fernandez is also the consummate team defender, constantly playing with his head on a swivel and seeking opportunities to help his teammates. Sovell-Fernandez won our Defensive Player of the Year; factoring in his excellence on offense makes him a no-brainer for our All-American first team.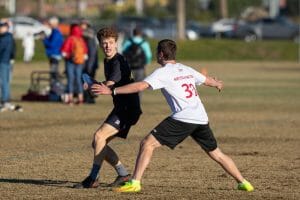 Corbin Atack (Whitman)
The only losing team to score double digit points in the quarterfinal round, Whitman only lost to the eventual finalists in Norco and impressed opponents and onlookers with its fast paced, remarkably effective offense. At the center of it: a lefty initiating cutter just as likely to sky his outmatched mark as he is to launch a backbreaking away shot to break open the opponents defense. Every scouting report on Whitman featured Corbin Atack's name at the top and bolded, and yet he still dominated through matchup and zone defenses, downfield, and in the backfield. With Whitman's impending switch to D-I, this may be the senior's last tournament in the spotlight; he certainly didn't waste the opportunity.