Highlighting players who took a leap toward stardom in the division this fall.
Ultiworld's 2021 College Awards are presented by the National Ultimate Training Camp; all opinions are those of the author(s). NUTC helps young players become better athletes and community members.
Each year, Ultiworld presents our annual College Awards. While the 2021 college season certainly wasn't typical with its quick course through a fall Series to a first-ever December College Championships, we still want to celebrate and honor the tremendous performances we saw.
The Breakout Player of the Year recognizes players who made themselves known in a new light this season. Typically reserved for rising juniors and seniors, we have temporarily expanded the eligibility for this award due to the unusual nature of the fall Series and multi-season pandemic hiatus. While our nebulous definition of "breakout" reflects an evolving set of criteria, rather than celebrating the improvement of those from whom big things were already expected, we aim to use this award to celebrate the emergence of those who previously have not been on the national radar. Whether it be through growth in ability, role, or both, the Breakout Player of the Year and runners-up honor those who rose to the occasion with improved and high-impact performance on a new level this fall — putting them squarely in the spotlight moving forward.
Breakout Player of the Year Award
---
D-III Men's 2021 Breakout Player Of The Year
Caleb Enright (Berry)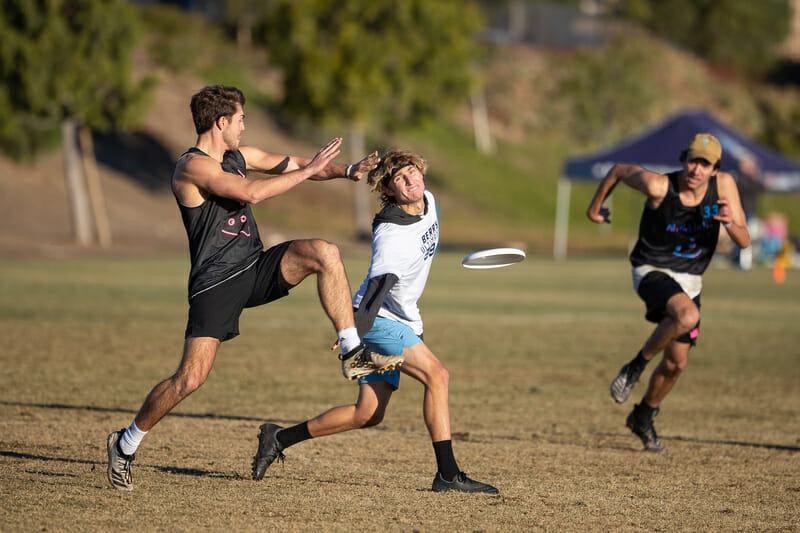 Similar to Most Improved in the NBA, there are multiple ways to qualify BPOTY. Is it the player we've never heard of that breaks onto the scene as a contributor to their team? Or is it the player that takes the leap from role player to star? Both are viable options; Caleb Enright is the latter and our Fall 2021 Breakout Player of the Year.
The last time we got a look at Enright was at the 2019 D-III College Championships, where he produced 4 goals and 5 assists throughout the weekend — nothing that would lead us to believe he was in line to be a standout player. At the 2021 D-III College Championships, we saw Enright eclipse these numbers in just a single game — an electric outburst in their prequarter matchup with Colorado College, which saw him go for 4 goals and 8 assists. Enright put on a performance in which he was far and away the best player on the field. This was the case all weekend for Berry — Enright was able to push the Berry offense to great heights and was able to compete with the top-end talent across the division.
Entering the D-III College Championships, Berry was one of the tournament's great unknowns, bringing back barely any production from their 2019 team. It was hard to see how they would be competitive, and it was tough to know which player was going to step into the star role every team needs. It is clear that over the last two years, Caleb Enright has put in the work to become one of the division's elite matchups, and has filled that role for the Berry Bucks.
1st Runner-Up
Max Hanscom (Middlebury)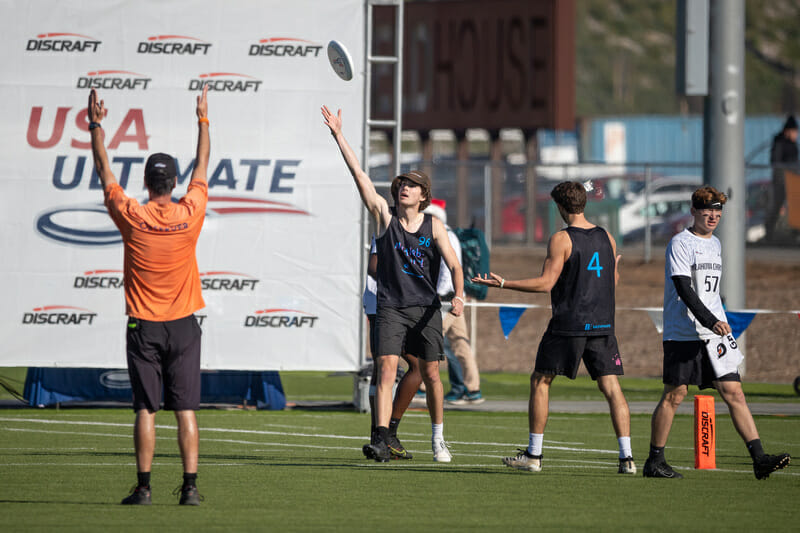 For whatever reason, there appears to be a pipeline of youth talent from the Seattle area to the Middlebury campus. The latest star product of this coast-to-coast connection is Max Hanscom, whose tremendous production on the Pranksters' O-line this fall earns him the 1st runner-up spot on our BPOTY podium.
A tall and athletic cutter, Hanscom's appearance is one of a deep threat. While certainly capable of stretching the field, Hanscom was just as, if not more, comfortable working in the small spaces with OPOTY Walker Frankenberg to form one of the best red-zone partnerships in the division. The star junior led the Pranksters in goals in bracket play with 10, including a 7-goal performance in the championship game.
In the first competitive action of his college career, Hanscom looked extremely comfortable carrying a heavy load for the Middlebury O-line and got better as Nationals progressed. Should his development continue on this trajectory, he could be the difference in putting Middlebury over the top this spring.
2nd Runner-Up
Lincoln Grench (Colorado College)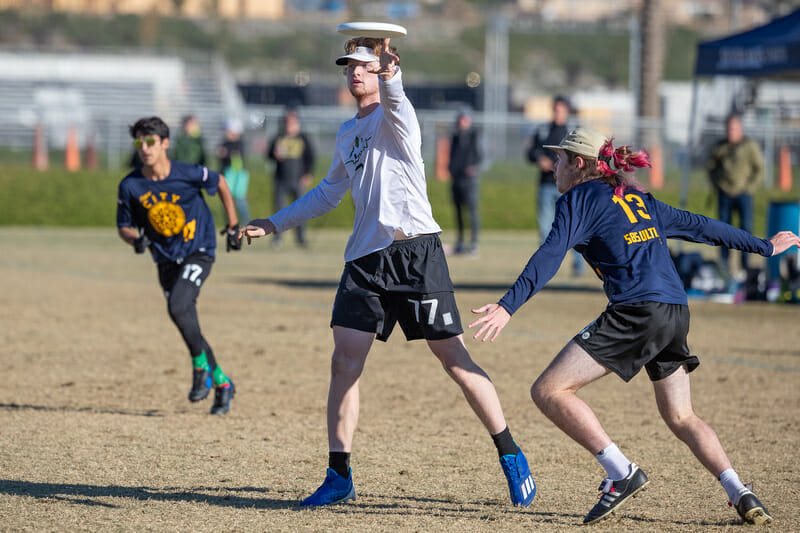 For as much as Colorado College has been praised as a faceless army and a team where all members are contributing, Lincoln Grench stood above his teammates as a primary reason for this team being competitve. In the backfield, Grench showcased an array of throws — around breaks, offhand backhands, and more — that kept the Colorado College offense flowing. A tall and lanky handler, Grench proved to be a tough matchup for any defender that came his way this season. His size and length allowed him to break marks almost at will and made him a threat in the deep space as well.
Wasabi had a disappointing finish in Norco, losing on double game point in prequarters, but the team's ceiling is much higher than that finish reflects. Expect to see them return to Nationals this spring, with Grench as one of the keys to their success.