The best signal-callers and program builders in the college game this season.
Ultiworld's 2021 College Awards are presented by the National Ultimate Training Camp; all opinions are those of the author(s). NUTC helps young players become better athletes and community members.
Each year, Ultiworld presents our annual College Awards. While the 2021 college season certainly wasn't typical with its abbreviated regular season and the first to host a fall Championship Series, we still want to celebrate and honor the tremendous performances we saw.
Our final D-I award podium is for the Coach of the Year. While the award goes to the head coach, we recognize that could just as easily represent "Coaching Staff of the Year" as so many teams have added more and more sideline-savvy consultants to their roster. Coaches can impact the game in so many ways — tactics, motivation, communication, personnel management, program development, skill-building, etc. — and it can be hard to divine what exactly each has contributed to their team. But good coaching is something that we feel that 'we know it when we see it.'
---
D-I Men's 2021 Coach Of The Year
Liz Leon (Georgia)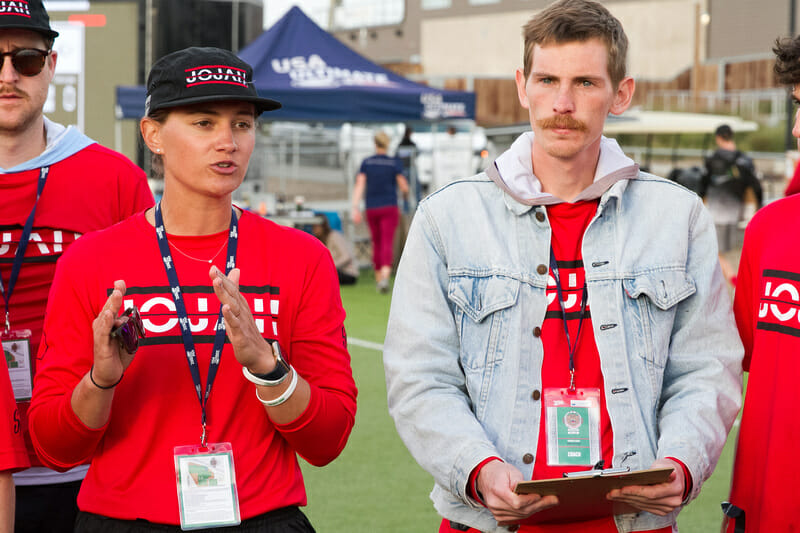 Nearly every team that competed in Norco featured a combination of alumni and current players, a unique one-time opportunity extended by USAU for the strange fall Series, though not all universities afforded the same dispensation. One team that featured zero alumni among their ranks was Georgia Jojah. Yet despite that seeming disadvantage, the Liz Leon and Sam Batson led team rolled through the early stages of the Series and entered Nationals without a blemish on their resume. The Southeast champs kept rolling in Norco, arriving in the season's final game still undefeated to most everyone's surprise. While Georgia was unable to halt the inevitability of North Carolina's victory march, they did present a stiffer challenge to the Chapel Hill juggernaut than any other team all tournament.
It was a stunning weekend performance that few saw coming from the no.11 seed. Along the way to the program's first national final after nearly 40 years in existence, Georgia beat Colorado Mamabird on double game point, Cal Poly SLO 15-10, Texas TUFF 15-13, and won their semifinal matchup against Michigan Magnum 15-9. Jojah managed to outlast, outexecute, and outperform their opponents in a number of ways, mainly through their fiery defense, energetic play, and strong execution.
Georgia's offense consistently took high-quality deep shots, ran their system,1 and moved the disc down the field with ease. On defense, Georgia played a physical game, bodying up opposing teams and making them uncomfortable, all while coming down in a huge variety of looks. Off the turn, their defense was lethal, punching in break after break.
Georgia's execution and gameplan throughout the weekend can be largely attributed to Leon. Leon's coaching put Georgia in a place to succeed game after game, neutralizing the best threat on the opposing team, always keeping Georgia's energy high, and running an encyclopedia of different looks. Even more than that, she has instilled a culture of professionalism and accountability — and found a way to get a couple dozen college guys to buy into it. Expect to see more of Leon and Georgia Jojah in the spring; with a team this well-coached and talented, it is hard to imagine them not making another deep run.
1st Runner-Up
James Highsmith & Parker Howard (Michigan)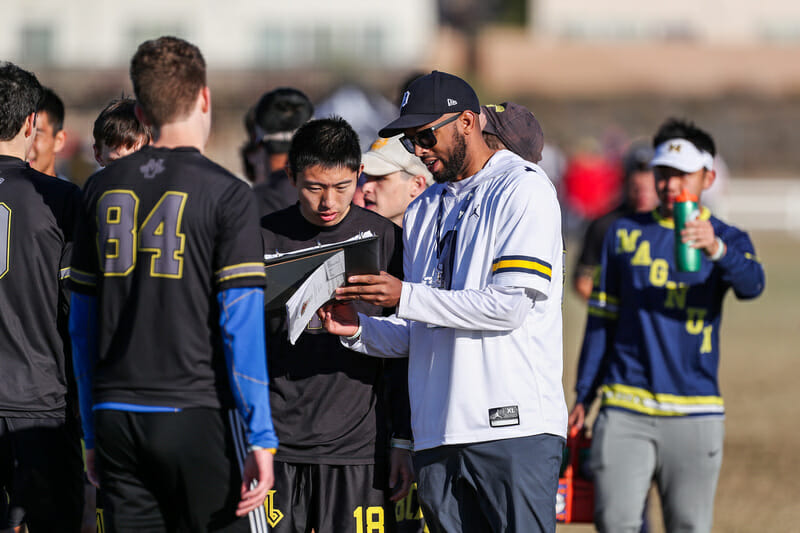 Through the first two days of Nationals, nothing about Michigan's resume stood out. They earned a spot in the bracket by finishing third in their pool, losing to the teams seeded ahead of them, not playing particularly close to either Texas or North Carolina. Even in their prequarter matchup, they avoided a matchup with a top-eight seed thanks to upsets in other pools, and were able to pick up a nice two-point upset of no.9 NC State to advance. Then, after receiving the disc on the first point of the quarterfinal, Washington's Martin Le blew up MagnUM's first upfield throw with a layout block. It looked like Michigan could be in for a long game, but no shame in crashing out of contention in the quarters as a no.12 seed to a superior opponent — nice playing, thanks for coming, enjoy your view of the showcase games from the stands. Instead, Michigan got the disc back, worked it 70 yards up the field, called a timeout in the red zone to regroup, punched in their opening hold on the second effort, and sent a fired-up defense out on the field. A few minutes later, they were up 3-0 — a lead they would never surrender.
The fact that this is the first mention on any awards podium for a semifinalist side is evidence that Michigan was not reliant on individual stars to create the kind of magic that wins games at Nationals. Each game was played as a full team. In their quarterfinal win, eight different players tallied multiple goal/assist totals; in their prequarter, it was seven. They had different goal scoring and assist throwing leaders in each of their three bracket games. That the team has cultivated trust in such a deep cast of contributors says a lot about the culture created by coaches James Highsmith and Parker Howard. Beyond just the interchange of individual pieces, the team was also versatile on a system level, keeping Washington on the back foot with a variety of defensive looks and offensive strategies. Those things don't just work in a national quarterfinal without planning and practice. There is a sense of belief and resilience evident up and down this roster, and it starts with the coaches.
It's been quite a year for ultimate in Michigan, and Highsmith has been at the heart of a lot of it. He and Howard have pushed the Magnum program to new heights over the past few years and there's no reason to believe they're done yet.
2nd Runner-Up
Cody Mills (Cal Poly SLO)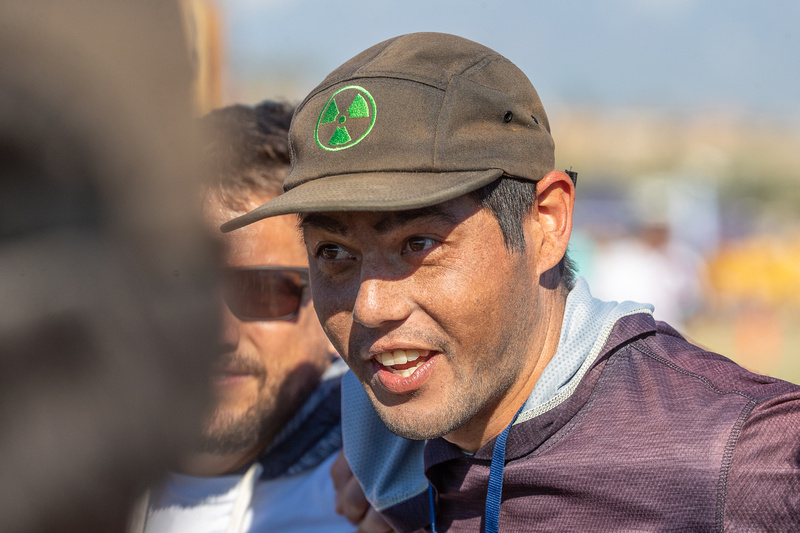 It's objectively been a pretty heartbreaking on-field 2021 for Cody Mills. Coaching Revolver at Club Nationals, he suffered two gut-wrenching universe point losses to Ring of Fire and Machine despite receiving the pull both times. Then just a couple months later at College Nationals, his Cal Poly SLO team suffered the same fate, a point away from major upsets of Colorado and Brown that both fell agonizingly short. For society at large, much of the past year has felt like a dour cycle, and you'd forgive Mills for feeling a sense of despair-ja vu when SLO turned the disc on the doorstep of victory in their quarterfinal defeat.
But peel back the painful layers, and it's clear that Mills' success in elevating teams above their mere talent is what has put them in a position to endure such meaningful losses. Despite a largely renovated roster with few familiar names and a mid-tournament injury to key handler Calvin Brown, SLO looked up to challenging the best teams in the country in Norco. In a quarterfinal against an absolutely loaded Brown team, SLO found the balance between composure and unpredictability that allowed them to take the game all the way to the very last point, with the disc on the goalline, inches from victory. The rest of that point was another in a string of tragedies for Mills in 2021, but with the success he has had in guiding this program, you have to imagine that more triumphs are not far off.
---
Which largely featured Matt Cook being unguardable deep. ↩