The top overall performers from an abbreviated fall season.
Ultiworld's 2021 College Awards are presented by the National Ultimate Training Camp; all opinions are those of the author(s). NUTC helps young players become better athletes and community members.
Each year, Ultiworld presents our annual College Awards. While the 2021 college season certainly wasn't typical with its abbreviated regular season and the first to host a fall Championship Series, we still want to celebrate and honor the tremendous performances we saw.
We begin our awards presentation with Player of the Year, our most prestigious award. Our Player of the Year winner and runners-up are the three best performers of the 2021 College season and the POTY podium represents our highest individual award. The winner is not eligible for consideration in any of our other individual awards.
---
D-I Men's 2021 Player Of The Year
Hayden Austin-Knab (Georgia)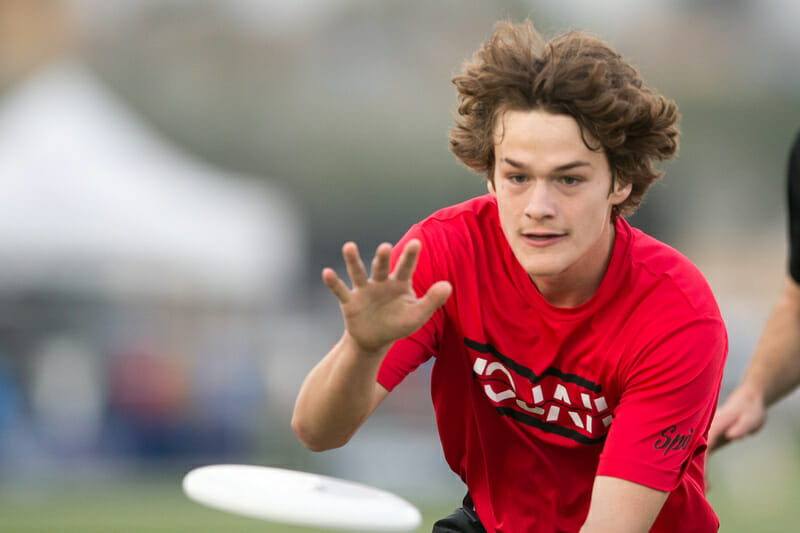 Few players did more to power their teams than Hayden Austin-Knab did for Georgia. That is not to take away from his teammates or coaches, who all deserve a ton of credit for Jojah's run to the national final. It was very telling, though, that after their win over Texas in the quarters, I went to interview Aidan Downey, who had scored four goals in the game. He told me to go talk to Austin-Knab, because he had a better game.
It was hard to argue with Downey, as Austin-Knab tallied four goals and four assists with just one turnover in the game. Austin-Knab was the central focus of everything Jojah did offensively all weekend long. The senior led the team in goals and assists on the whole of bracket play, which are the only stats available for teams from the tournament. Even in the final, where Georgia struggled to keep up with UNC, Austin-Knab had two goals, a pair of assists, and a block. That one turnover against Texas in the quarters was the only one recorded for bracket play, which means he did not turn the disc over in the semi or final. That is outrageously efficient for a college player that touches the disc as much as Austin-Knab does for this offense. They weren't always short, easy throws either, as he made defenses play all weekend long with his rangy flicks and beautiful backhands.
Watching his game was a joy throughout the tournament. He uncorked crossfield flicks, left defenders in his dust with perfectly timed cuts, and played smart, consistent ultimate. He took the shots when they were there and worked underneath when he needed to. Georgia's offense was clearly at its best when it ran through him.
Austin-Knab played a role we have become accustomed to seeing from top players across the sport as a hybrid cutter and handler. He often started out downfield to initiate the offensive play on a slash cut, setting up a potential deep look to Downey or Matt Cook. If Jojah earned the disc back, Austin-Knab dropped back more into a traditional handler role but was still a threat to take off downfield if his defender was caught sleeping.
That is not to take away from his defensive contributions either. He played the back of Jojah's zone following a turn and crossed over for key points when needed. He drew important matchups as well, guarding players like Colorado's Alex Atkins and Texas' Shane Heath.
All in all, Norco proved to be the stage for a stunning coming-out party for Austin-Knab. He dazzled in big moments and operated as the catalyst to take down top teams like Cal-Poly SLO and Colorado en route to Georgia's first finals appearance in program history. That proved to be enough to come out on top in a very tight POTY race this season; he was listed as the winner on just a single ballot, but was the only player to appear in every voter's top 5.
1st Runner-Up
Elijah Long (North Carolina)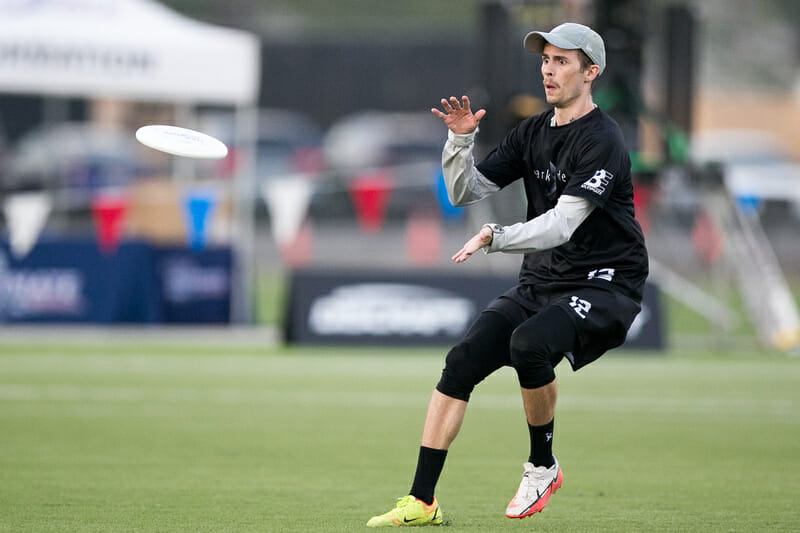 After winning the national championship, Elijah Long said in his postgame interview that he was "happy to take a back seat" in their title run, which is an outlandish quote when you realize it was said by the POTY runner-up. However, that is just how spectacular of a player Elijah Long is, and a testament to how strong North Carolina Darkside's roster was this year.
Despite playing on one of the most talented rosters in the history of the division, Elijah Long was the standout player,1 a superstar among a team of stars. Throughout the tournament, Long consistently did everything asked of him, from sending beautiful downfield hucks to breaking the mark at will to even threatening the deep space. Long is the perfect centerpiece of any team, a complete player who serves as a leader on and off the field. Finishing bracket play alone with 3 goals, 9 assists (including 6 in the semifinals), and a handful of blocks, Long demonstrated clearly that he is an all-around force.
Long was a stud of a nearly unbreakable Darkside O-line, while also showing the ability to cross over and play lockdown defense or get a much-needed block when necessary (which was seldom necessary). Elijah Long ended his college career with a bang, and was the best player on the field at almost all moments of the tournament.
2nd Runner-Up
Alex Davis (North Carolina)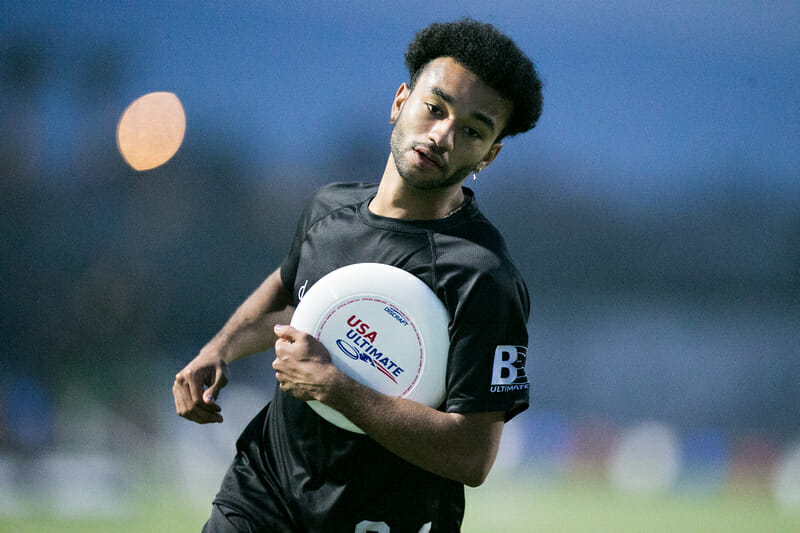 Alex Davis is fast. The fastest player in the division — if not the sport — according to pretty much everyone outside of Evan Lepler. That speed — and associated swagger — was on full display in Norco, as Davis roasted teammates and opponents alike up and down the field, scoring goals by the bucketload, often with nary a stray limb from competitors in frame as the camera tracked his deep cuts. It was impressive to say the least.
But pace alone is not why Alex Davis has landed among the most lauded players of the 2021 fall college season. The 24-year-old graduate student has become an all-around offensive monster, picking opponents apart while playing seamlessly inside the Darkside system, taking the opportunities that came to him in the flow of the offense rather than utilizing his considerable athletic gifts to override it.
Every team has a "fast guy" or a "tall guy" they throw vaguely in the direction of come stall 9 in hopes that they can marginally improve the odds of a desperation 50/50 shot. This was not how Davis impacted games in 2021. He was not hanging idly in a stack and then busting straight-line toward the end zone when things got dicey for the Darkside offense.2 He was an integral part of the plan in all parts of the field, working just as hard to give his throwers easy options under as away. Davis is an intelligent enough cutter to not just read and react to open spaces created by his teammates, but to anticipate those spaces several throws ahead and set himself up to ensure his team had a positive continuation option even when he wasn't given primacy in the cutting scheme. That he paired that spacing and movement with calm decision-making and consistently excellent throwing execution was almost flaunting: "sure, I could embarrass you deep while barely breaking a sweat, but I can also carve you up elsewhere on the field, do my bit to keep the machinery humming, and allow other teammates the opportunity to shine at the end of our irresistible flow."
With the depth of talent on the North Carolina roster,3 it seems this is part of the Darkside ethos, one to which Davis fully committed. That commitment to team success was evident in Davis' play at Nationals and what made him so fun to watch. For purists, there is a different flavor of joy reserved for watching supremely talented individuals excel in defined roles that enhance their team rather than subsume it with rule-breaking singular takeovers. With as many stars as UNC had in their arsenal, maybe no one individual could have dominated in that way; but maybe it's precisely because they didn't that we saw one of the greatest college teams of all time. Thanks, Alex Davis, for allowing us that privilege.
---
At least in the opinion of most of our staff voters. ↩

Not that they ever did. ↩

Or rosters, considering an even more pronounced dominance from their women's program. ↩