Celebrating the best defensive performances of the fall season.
Ultiworld's 2021 College Awards are presented by the National Ultimate Training Camp; all opinions are those of the author(s). NUTC helps young players become better athletes and community members.
Each year, Ultiworld presents our annual College Awards. While the 2021 college season certainly wasn't typical with its abbreviated regular season and the first to host a fall Championship Series, we still want to celebrate and honor the tremendous performances we saw.
Our awards continue with the Defensive Player of the Year, recognizing the individual, and two runners-up, who we felt were the top defensive performers this spring. Whether through generating blocks, shutting down options, helping out teammates, or all of the above, these defenders stood out doing the tough work that too often go unrecognized.
Defensive Player of the Year Award
---
D-I Men's 2021 Defensive Player Of The Year
Suraj Madiraju (North Carolina)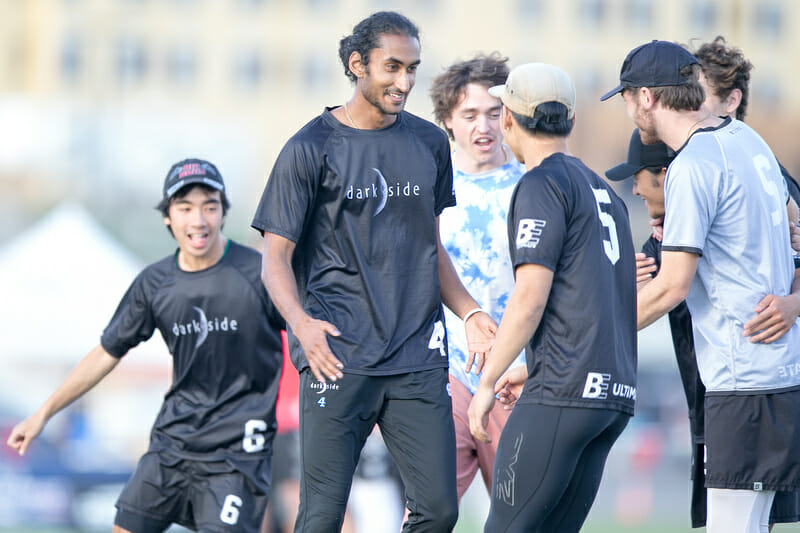 At long last, we have traded in flashy layout blocks for fundamentally sound defensive domination. There is no question that blocks are valuable: generating turnovers is an important part of playing defense. However, we don't have a good way to quantify lockdown defense that simply denies the disc.
That is exactly the brand of defense Suraj Madiraju plays — and he plays it better than anyone else in the college game. It won't stand out on the stat sheet, but it will stand out if you zero in on him on the field. He regularly took some of the top handler and hybrid matchups that North Carolina faced and made them work harder for space than anyone else at the tournament. He didn't win every time, but that is never going to happen when you're matched up with players like Jacques Nissen and Quinn Finer.
What makes Madiraju such a headache is his short-area quickness and field awareness. His length also allows him to disrupt throwing lanes. He was a menace in UNC's junk zone look, pressuring throws and shutting down resets. He also seemingly never gets tired.
If you want a lesson on defensive fundamentals, pop on some UNC film and watch Madiraju go to work. He was one of the few runaway winners in our awards voting this year, landing first or second on every ballot we received.
1st Runner-Up
Tony Venneri (Washington)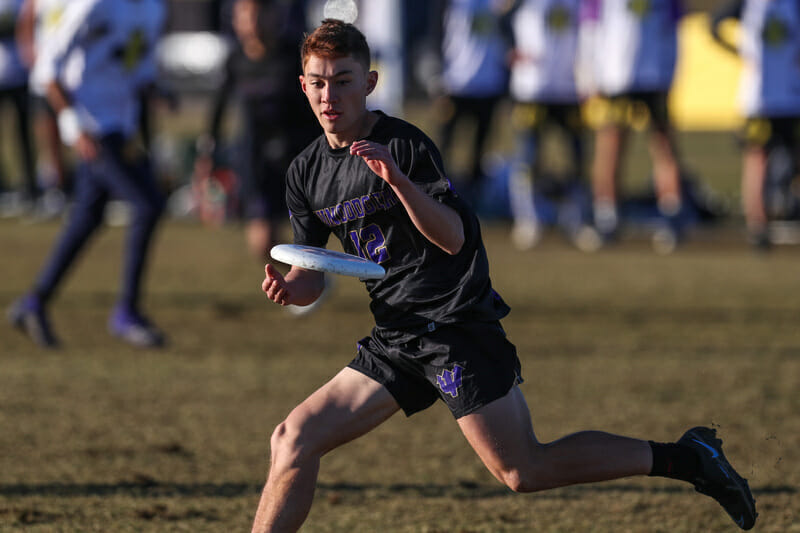 Since bursting onto the national scene late in high school, Tony Venneri has never lacked for confidence. His slinking movement style is a conduit of his self-assuredness. The attitude is also imbued into his play: he's comfortable making bold choices, whether it be with the disc, without it, or in pursuit of it.
And like many charismatic defensively-oriented players across sports, that sense of pride can act as his source of power, a rugged on-field bravado that lets him ably go toe-to-toe with the best offensive matchups he can find. The Washington junior plays as if each time his assignment touches the disc is a personal affront, a slanderous attack on his character. He defends fervently, but with the type of aggressive playmaking usually reserved for the offense — he is just as commonly slamming the door shut on an entire reset system as he is flying in for a "where did he come from?" poach block.
Those same traits saw him breakout at the club level this fall, so it should have caught no one by surprise that he carried the same fire into this December college nationals. While Washington's run may have come up disappointingly short in Norco considering all the talent on their roster, none of the opponents who got eaten up by Venneri's defending will adjudge him of failing to impress.
2nd Runner-Up
Drew Di Francesco (Georgia)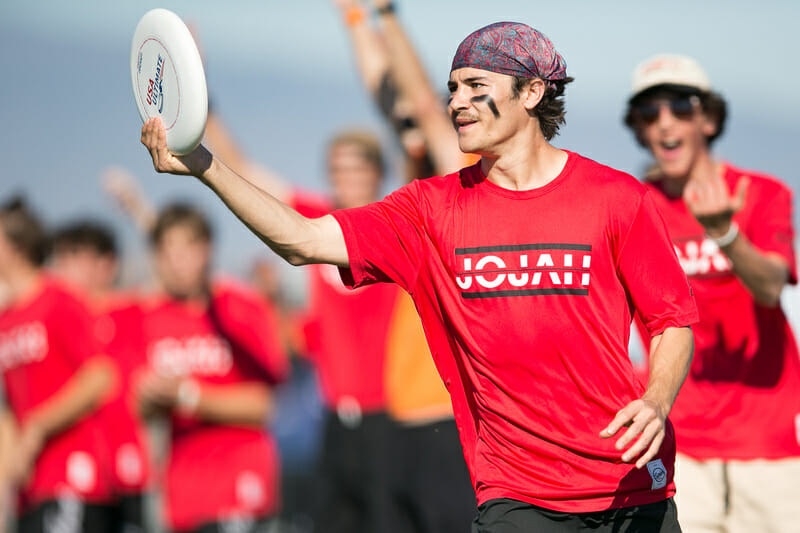 Although they fell just short of a national championship, Georgia put together stellar performance after stellar performance at Nationals, often highlighted by their fiery, physical, and explosive defense. No player epitomized Jojah's defensive scheme and intensity better than Drew Di Francesco. With lightning quickness and top-level footwork allowing him to produce smothering person defense, Di Francesco regularly guarded the opposing team's biggest weapon, including taking on the matchup with Ultiworld's Offensive Player of the Year, Alex Davis, in the title game.
Di Francesco was a powerful weapon for Jojah's D-line all weekend in Norco, allowing them to place any opposing player into a nightmare matchup. The grad student's seemingly endless energy was enough to contain or lockdown every matchup — even those who weren't completely taken out of the game were worn down from the exceptional effort required to break free of his presence. His relentlessness paid off in big moments; he was almost solely responsible for one of only two breaks all game against Texas, generating the bookends of a layout block and goal that gave Georgia their first lead against TUFF late in the first half of an exceptionally close quarterfinal. Even with a near-perfect offensive performance in that game, Jojah's bracket run may have come to an end a couple rounds earlier without the heroics of Di Francesco.
A product of the re-emerging Atlanta youth scene, Di Francesco exemplifies everything Georgia title run was about this year. Like everyone else on the fall roster, Di Francesco will be returning in the spring, where he will look to climb further up the DPOTY podium.