Rounding out the last of our fall college awards.
Ultiworld's 2021 College Awards are presented by the National Ultimate Training Camp; all opinions are those of the author(s). NUTC helps young players become better athletes and community members.
Each year, Ultiworld presents our annual College Awards. While the 2021 college season certainly wasn't typical with its abbreviated regular season and the first to host a fall Championship Series, we still want to celebrate and honor the tremendous performances we saw.
Ultiworld is pleased to announce our annual D-I All-American Teams. These players were selected for their overall performance in the 2021 college season. Please join us in honoring the best college players of the year.
---
D-I Men's 2021
All-American Second Team

Raymond Lu (Michigan)
Some center handlers are the flashy big huck, big break types that ooze charisma and make up for their aggressive mistakes with highlight-reel plays. Lu is the other type of valuable center handler: he mostly just doesn't make the mistakes to begin with. An efficient, disc-controlling backfield presence, Lu's combination of patience and pace made him the driving force of a strong Michigan Magnum offensive unit. Perhaps not the most explosive round in the chamber, he was certainly the most accurate, and his ability to march the disc forward could often look as carefree and effortless as an afternoon throwing session.

Anders Juengst (North Carolina)
Meet him at the front cone. The Juengst siblings have become two of the most lethal scoring threats in the sport over the past year or so. Anders has unbelievable short-area quickness and such a high-level understanding of offensive movement that he is nearly impossible to cover in the red zone. He is certainly effective as a handler in the middle of the field as well, but down near the goal line is where he shines. Him being on the Second Team this year could certainly be viewed as a step backward considering he won Offensive Player of the Year and was a first-team All-American in 2020, but it just speaks to the talent in the division and how difficult it was to stand out as a member of North Carolina this season. It would have been a lot to have four Darkside players all make the first team, but as it is they are the only team with more than two players on either All-American team.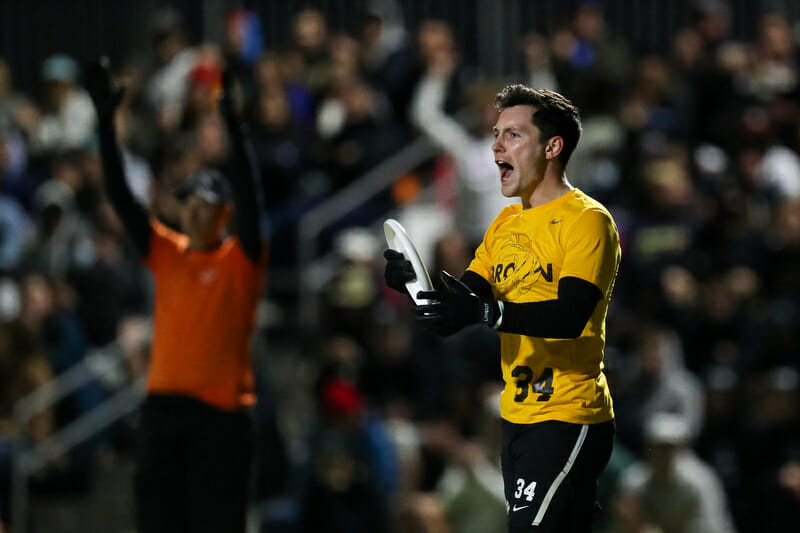 John Randolph (Brown)
Perhaps no player in our awards garnered such disparate assessments from our voting pool, appearing in one ballot's POTY podium and being left off another's All-American ballot entirely. Such is the burden of impossibly high expectations. But it's a testament to the incredible track record and potential John Randolph possesses that a Second Team spot could be considered by some as a disappointment. While having to operate as a primary thrower for Brown is not an optimization of Randolph's skill set, there were certainly benefits to be reaped from slotting him into the backfield and it's clear that Brown felt it was their best strategy for their title defense. He's simply too quick to keep him out of the reset equation, too strong to body up in the red zone, and more touches for him is generally better. It wasn't his most efficient work, but the production for the price of the workload is too good to ignore. The senior unsurprisingly put up big stat lines in an incredibly high-volume role for the defending champs, leading Brownian Motion back to the semifinals in the first College Championships since they won it all in 2019.

Connor Russell (UNC Wilmington)
In 2021, UNC Wilmington made their first return to the national stage since their Jack Williams-led second-place finish at 2017 College Nationals. This time around, the Seamen once again had no lack of superstar talent, headlined by Connor Russell, who was a freshman for UNCW during their 2017 run. A lengthy, huge player, Russell can do it all at ease, firing pinpoint 50-yard blades over the top of the defense, taking his defender deep, and roofing everybody on the field. Russell has the elite ability to do everything asked of him, willing UNCW to a bracket appearance. Fresh off of a national championship with Ring of Fire in the club division, Russell displayed all the makings of an All-American, and would possibly have made the First Team had Wilmington made a deeper run into the bracket.

Jacques Nissen (Brown)
After giving us a taste in the teaser of a freshman season, Jaques Nissen emerged back on the college scene as far more than the promising freshman learning the ropes on O-line in the spring of 2020. Operating as perhaps the second most essential player on Brown behind John Randolph, Nissen was the can-opener of more than one defense from the handler space with his quick, rangy break throws and decisive off-disc movement. A somewhat chastening defeat at the hands of North Carolina in the semifinals shows that Nissen still has some room to grow in the Brown backfield against swarming, lanky handler covers, but Brown can only feel excited at the prospect of this young talent finding even higher levels of excellence in the coming years.

Manny Eckert (Washington)
The Washington Sundodger veteran has gained some notoriety over his career for his daring with the disc, with no qualms of going into his bag of tricks and choosing one of the many options from within it: hammers, scoobers, blades, push passes, you name it. But perhaps that flash has overshadowed how opportunistic Eckert is with and without the disc. He uses those creative throws to hit spaces other throwers often leave unapproached, and Eckert's years of doing so has expanded his field vision past the first or second reads his peers rely on. It extends to his cutting and defense, where he's economical and surprisingly agile for a player of his length. Even in Washington's disappointing quarterfinal exit against Michigan, he underlined his all-around impact for the Sundodgers by pouring in a 2G/4A/1D line — a positive statistical output bettered by only three players in that round, all of whom appear higher up our All-American list.

Drew Di Francesco (Georgia)
How about a little love for the defensive stars on the All-American teams? Drew Di Francesco was Jojah's top cover for the opposing team's downfield initiator. He certainly made his mark there — earning DPOTY podium honors — but he really stood out facilitating Georgia's offense after the turn. He punched in four bracket goals — including a pair in the final — as an almost exclusively defensive starter. His relentless energy made him a headache to get open against all weekend. Di Francesco and Breakout Player of the Year Adam Miller deserve a lot of credit for powering the defensive unit in Norco and both will be crucial to future Georgia success.