Highlighting players who made impressive college ultimate debuts this fall, whether they joined their teams in 2020 or just this academic year.
Ultiworld's 2021 College Awards are presented by the National Ultimate Training Camp; all opinions are those of the author(s). NUTC helps young players become better athletes and community members.
Each year, Ultiworld presents our annual College Awards. While the 2021 college season certainly wasn't typical with its abbreviated regular season and the first to host a fall Championship Series, we still want to celebrate and honor the tremendous performances we saw.
The Rookie of the Year award recognizes players who impressed in their first college ultimate seasons. Typically reserved for freshmen (or the occasional first-year ultimate player who joined the sport later in their college career), we have temporarily expanded the eligibility for this award due to the lack of an intercollegiate competitive season during the 2020-2021 academic year. Consequently, this year's "rookie" class includes players who joined their teams before the fall 2021 semester, but haven't been seen in competition before, as well as players in their first-ever year of college ultimate. As in any year, whether they come to the college game from years of youth experience, a background in other sports, or none of the above, these players made debuts to remember in high-level college play.
---
D-I Men's 2021 Rookie Of The Year
Eli Artemakis (Illinois)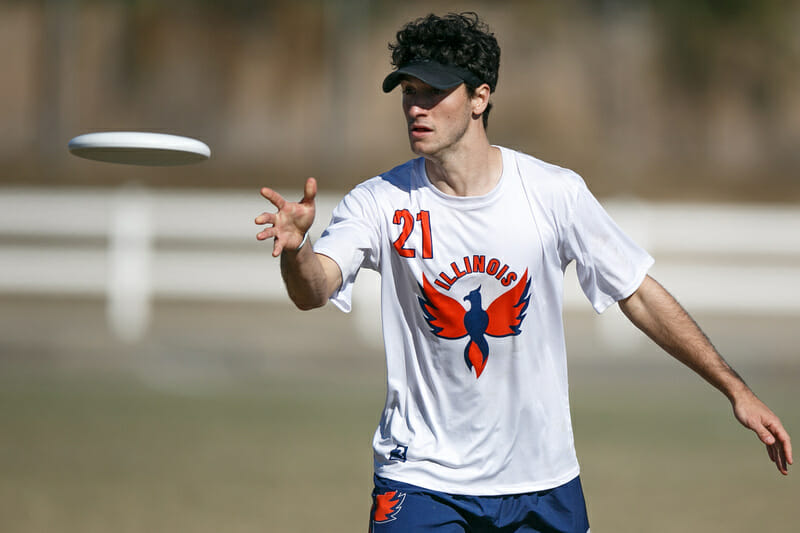 While Illinois only won one consolation game at Nationals, that was through no fault of Eli Artemakis. In fact, Rise very well might not have even made it to Norco without their rookie sensation. The sophomore, playing in his first season of college ultimate due to the pandemic, was the engine for Illinois' offense all weekend, giving some of the best defenders at the tournament headaches.
Artemakis was at the center of everything Illinois did offensively. He often started out as a cutter for a potential deep look from Reid Martin or Joey Kennedy. If that did not work out, he would drop back into a more disc-dominant role. Beyond his clear throwing ability, Artemakis was a menace in the air, roofing a number of defenders in jump disc situations. His stat line is what you would expect from a player commanding such massive usage for his team: he put up 11 assists, five goals, four blocks, and six turnovers in the limited games in which stats were taken.
It is pretty remarkable just how much Artemakis stood out from a loaded field of candidates, with multiple classes worth of young players eligible for Rookie of the Year honors for the fall season. When the ballots were tallied, he received more first-place votes than all other rookies combined.
Artemakis is going to continue to be a problem for the Great Lakes region to deal with for years to come. It will be interesting to see if Illinois can continue to build around him enough to sustain the success required to qualify for nationals on a regular basis.
1st Runner-Up
Charlie Smith (Tulane)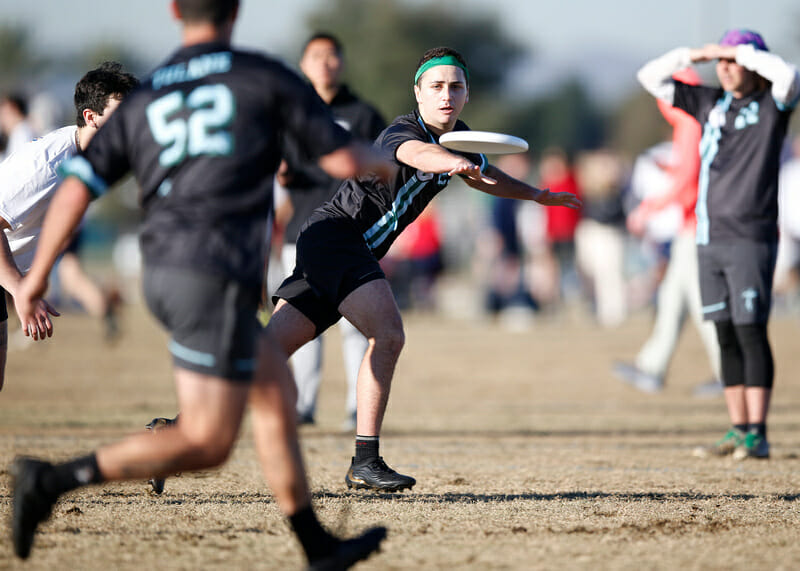 Few young players were as disc-dominant as Charlie Smith was for Tulane. If you are a fan of hammers, he is a player you want to start watching on a regular basis. He was launching them with impressive accuracy throughout the weekend in Norco. Smith made some incredibly diving grabs as well to save possession for the Tucks. Overall, he was just a super fun player to watch.
While the highlight plays were exciting, he really stood out with his reliability in the backfield for Tulane's offense. He and Charles Lieberman facilitated just about everything the Tucks did when they had the disc. He was certainly the more efficient player of the pair as well. He threw 10 assists and only one turnover across Tulane's final two games of the weekend.
Tulane was one of the feel-good stories of the tournament, beating Pittsburgh, nearly knocking off NC State, and reaching the bracket, where they ultimately fell in prequarters. Smith was one of the brightest spots for a team full of them. It is nice to see him get some recognition for his great play.
2nd Runner-Up
Josh Singleton (North Carolina)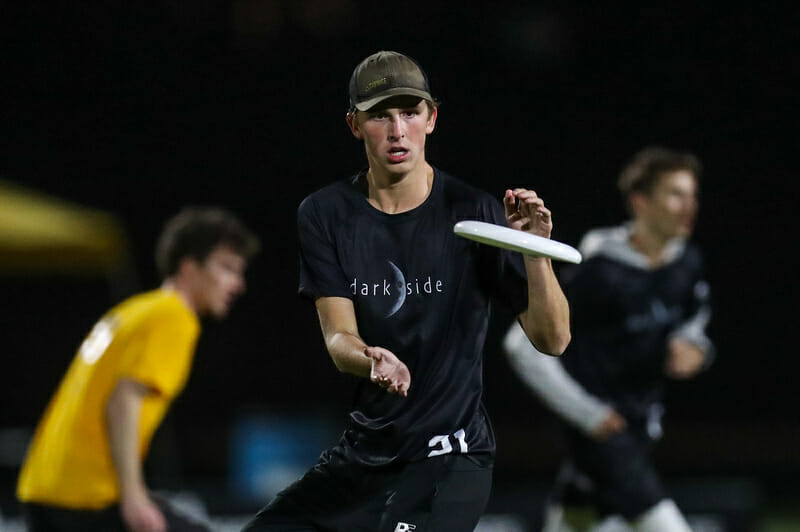 Playing for a team as deep and talented as North Carolina can be both a blessing and a curse come awards time. Playing deep into Nationals provides ample visibility and is critical to proving that you can shine in the biggest games against the toughest opponents. Yet you're sharing that spotlight with teammates who both decrease the pressure and reliance on any one individual and get a share of the credit. So while Darkside has gotten plenty of recognition on our awards podiums for this fall, the team lost out on Player of the Year with too many candidates splitting the vote. The team had a similar issue in ROTY voting, where a pair of freshmen splitting votes nearly ensured both were left of the podium. Thankfully, we get the space to celebrate the impact of Josh Singleton — though shoutout to Eli Fried, who narrowly missed the podium himself and definitely deserves a shoutout for his impressive performance during North Carolina's title run.
Singleton is the next in the production line of tall lefty handlers that seem to be slowly taking over the sport. He is a creative thrower with great range and the potential to develop into one of the best in the sport. You can see how much Darkside trusts him already with him cycling into the offensive backfield that is usually commanded by All-Americans like Elijah Long, Liam Searles-Bohs, and Anders Juengst.
As a strategic philosophy, North Carolina ensures that at least one freshman has a big role on their O-line each season. In doing so, they create systematic continuity and allow their next-generation superstars to learn from and operate alongside older role models. This season, it was Singleton who was selected for this role, and like so many before him, he made the most of it. With UNC turning over a big portion of its roster heading into 2022, don't be surprised if Singleton becomes an offensive focal point very quickly.