The top seven all-around players from the fall season.
Ultiworld's 2021 College Awards are presented by the National Ultimate Training Camp; all opinions are those of the author(s). NUTC helps young players become better athletes and community members.
Each year, Ultiworld presents our annual College Awards. While the 2021 college season certainly wasn't typical with its abbreviated regular season and the first to host a fall Championship Series, we still want to celebrate and honor the tremendous performances we saw.
Ultiworld is pleased to announce our annual D-I All-American Teams. These players were selected for their overall performance in the 2021 college season. Please join us in honoring the best college players of the year.
---
D-I Men's 2021
All-American First Team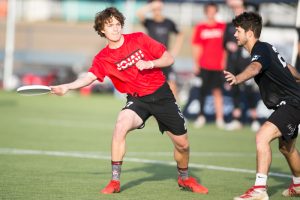 Hayden Austin-Knab (Georgia)
Unsurprisingly, the All-American first team is headlined by 2021 Ultiworld Player of the Year Hayden Austin-Knab. Not enough can be said about Austin-Knab to show his brilliance in the shortened fall season. At Nationals, Austin-Knab's stellar performances led Georgia Jojah to the doorstep of a national championship. Cutting with speed and precision and getting disc whenever he felt like it, Austin-Knab was even more lethal with the disc in his hand, able to send a 60+ yard forehand or backhand huck at any moment, consistently hitting receivers perfectly in stride. The senior was instrumental in everything Georgia did throughout the weekend, and it is entirely unsurprising to see him top this list as well as a unanimous first-team selection. Austin-Knab's game should only improve over time, and it is scary to imagine what he will be capable of this spring season for Jojah.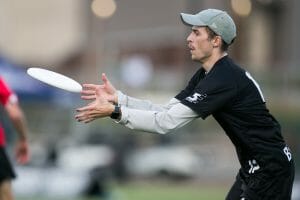 Elijah Long (North Carolina)
Is there any one player who did more with the extended eligibility rule than Elijah Long? 2021 marks the PoTY runner-up's fourth(!) appearance on a college All-American team1 — the first-ever player to earn that distinction with our awards — and was arguably his best performance yet. The long-time handler made use of every throw in his huge arsenal to keep the field big and opposing defenses honest, and he perfectly executed the North Carolina reset and endzone sets that have become his calling card. That is, of course, when he wasn't sticking like a burr to a top player on virtually every Darkside defensive point of the tournament. All told, 2021 was quite an encore from the UNC legend.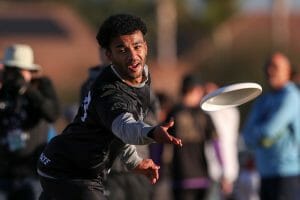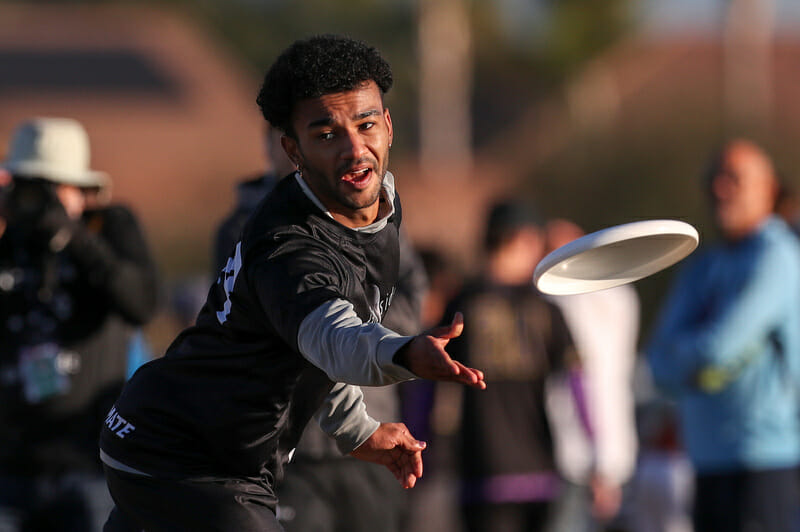 Alex Davis (North Carolina)
It was a next-level season for Alex Davis, who went from highly effective role player to a major driver of offense for North Carolina and one of only two unanimous First-Team selections. He was a constant threat to defenses that put pressure on them to play mistake-free. No surprise: most college defenses are not up to that task. That helped Davis rack up a staggering total of the streaking goals he's known for, but also guide the offense with steady yardage progression. Emblematic of his offensive growth was his ever-increasing appearances in Darkside's dominator sets. Faster than fast, and more than fast.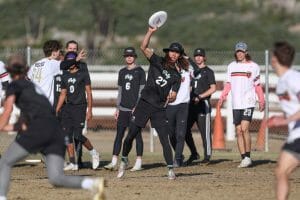 KJ Koo (Cal Poly SLO)
Much has been made of Koo stepping up to fill the void for Cal Poly SLO after star handler Calvin Brown went down at Nationals, but Koo is much more than just an understudy, and was well on the way to carving out an All-American season even before he stepped up and took on an extra burden. Koo was the driving force for SLO's offense while also being the safety valve, pushing the action with fearless hammers and blades while also getting them out of tight spots time and time again with precise handler cuts and tough yards downfield. You got a sense of his importance not from any stat line or even from the splashy plays, but from the way every one of his teammates seemed to turn towards him when the stall count rose. Much was asked of Koo this season, and to an astonishing degree, he delivered.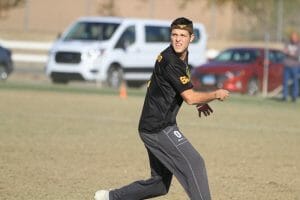 Alex Atkins (Colorado)
It was not unusual to watch Alex Atkins on a given point in 2021 and think to yourself, "That's the best college player in the country." No one in the division had a greater penchant for the devastating throw – or showed off better technique in executing it; few could match his athleticism and timing on defense; and his field sense was among the sharpest on display at Nationals. He could easily have cracked the Player of the Year podium were it not for Colorado Mamabird's premature tournament exit in quarters. Nevertheless, the last two-and-a-half college seasons have been pure ascendancy for Atkins: runner-up for Breakout Player of the Year in 2019, 2nd Team All-American in 2020, and the complete package in 2021 to land him among the best of the best.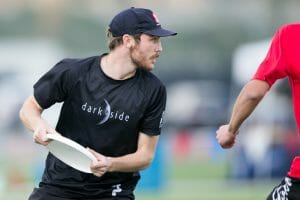 Liam Searles-Bohs (North Carolina)
While it wasn't the final or semifinal, there's a line of thought that UNC viewed their quarterfinal opponent Colorado as the most crucial game of the weekend. Why? Because it's the game they let LSB off the chain. For much of the season, Searles-Bohs was serenely floating around the edges of Darkside's whirring machine, stepping in to jumpstart the D-line offense, get the O-line out of a rut, or take a particularly tricky matchup on defense. He was like a video game boss, you needed to carve through hordes of minions just to deserve his best shot. Colorado got it. The spectacular, nail-in-the-coffin-even-though-it-was-in-the-first-half layout Callahan gets deserved plaudits, but his laser-guided back shoulder flick hucks and outrageous field-shifting isolation cuts were equally devastating to the #2 ranked team in the nation. Had the tournament ended right there, it's entirely conceivable that LSB runs away with Player of the Year honors. Instead, he once again receded back into his role, allowing his teammates and the Darkside system to take center stage. North Carolina seemingly won the National title without having to get out of second gear, but when pushed, Searles-Bohs showed just how high the ceiling was for this Darkside team.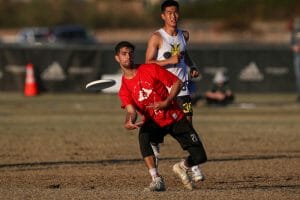 Trevor Lynch (North Carolina State)
It doesn't get much more high-volume than Trevor Lynch in 2021. The NC State star soaked up touches on Alpha's offensive points in Norco at a rate virtually unmatched in the division. The reason why became clear with every dime forehand he uncorked and every defender he out-maneuvered and out-muscled for space on a give-and-go: his production was simply off-the-charts. Lynch's four-goal, four-assist line against Michigan in prequarters – albeit in a losing effort – is a useful shorthand for the colossal workload he carried throughout the weekend. There aren't any stats from pool play to back it up, but he seemingly did that much every game for Alpha.
---
He was 1st team in 2018 and 2nd team in both 2019 and 2020 ↩