Dissecting the wild results from a windy but competitive SMI.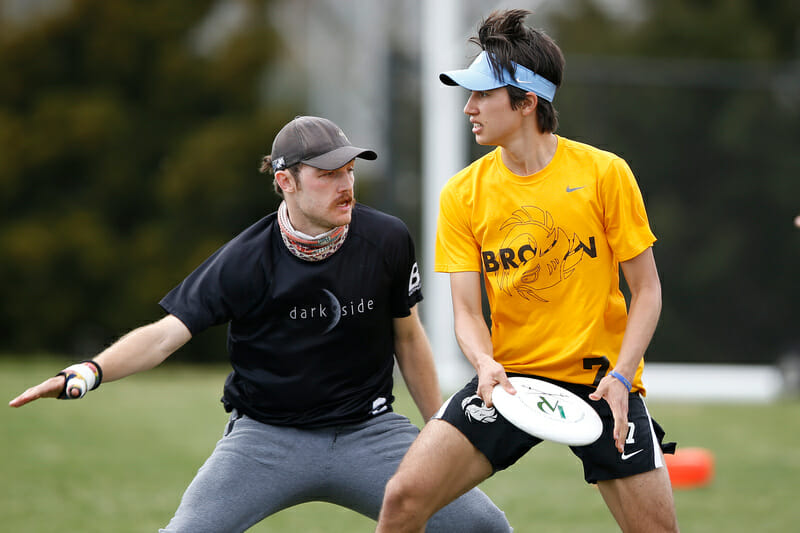 Our coverage of the 2022 college season is presented by Spin Ultimate. You can get 15% off all college uniforms and swag right now at Spin Ultimate!
KNOXVILLE — In some ways, the 2022 Smoky Mountain Invite delivered everything we could have wanted. We got surprise results to spice up the season, clashes between elite title contenders, and star performances. Unfortunately, some of that came while harassed by gusting winds that altered the quality of play. But the level of competition rarely wavered and the meaty results gives us plenty to chew on.
Final Results


Brown Outlast Colorado in a Wild Final
"I think we're pretty resilient… What I liked out of my guys is that they make those mistakes, they have plays go against them, and they just keep shooting, keep taking shots." – Brown head coach Jake Smart.
"I thought we were super-resilient. We adapted and adjusted." – Colorado head coach Bob Krier
Resilience was the theme with which both of them kicked off their remarks in post-tournament interviews, and for good reason. Both finalists — #4 Brown Brownian Motion and #3 Colorado Mamabird — endured horrendous wind conditions, played without key defensive starters, took knocks from a murderer's row of talented opponents on their way through two strenuous days of play, and strung together multi-break second half deficits to reach the final undefeated. Both would need to draw on that store of resilience one more time for what proved to be a grueling final.
Colorado's path to get to that point was an uncertain one. They stumbled against Indiana Hoosier Mama's in pool play before righting the ship late to scratch out a 13-11 win, just managed to get through a universe point against Minnesota in the windiest round of the day, faced a furious effort from Georgia – more on their struggles below – in the first round of elimination play, and fell behind an immensely talented Texas side by multiple breaks to open Sunday morning. The fact that they engineered so many late-game stops and comebacks without D-line fixtures Walt Johnson and Saeed Semrin, neither of whom traveled with the team for the tournament, speaks volumes about their character. With the sterling play of Alex Atkins and Calvin Stoughton as an example, the team never lost the will to compete to their fullest potential: not late, not close, not down.
Brown's journey to the final was just as harrowing. Their first major test came against Texas as a vicious wind pounded the fields early Saturday afternoon – they escaped on universe. Then, only a bad error on universe point by NC State allowed B-Mo to break upwind to squeak through quarters. Their reward? A semifinal showdown against title favorites UNC. North Carolina put Brown through the wringer for most of the game, pinning them against the low sideline and refusing to give them many good looks at a block. On top of it all, Brown lost Dylan Villeneuve to injury in the first half – his airborne prowess on defense is exactly what they would like to have used to steal a few possessions from Darkside as throws routinely popped up in the wind.
Down two breaks in the second half, though, Brown managed to claw their way back and take the lead against the defending national champions. Rotating through two full lines of defenders for much of the game seems to have paid off in the way the entire team were able to keep grinding and bidding late into the game, when the Darkside offense finally started to misfire. Ian Layzer, Elliott Rosenberg, and Jackson De Campos earned blocks on successive points, all of them breaks, to propel Brown to a late-game lead.
Down 14-11, Darkside refused to go down quietly. The defense was stifling. Kevin Pignone completely locked up John Randolph in isolation in the middle of the field, and UNC earned a break to bring the score to 14-13. On the next possession, Liam Searles-Bohs – playing, I learned later, with a broken hand – launched himself for an enormous block. Darkside squandered the opportunity on the first throw, however, and Brown managed to steady themselves for the hold and the win.
All of the grittiness and resolve that B-Mo and Mamabird had showed up to that point was like a rehearsal for the game they played against each other to end the weekend.
Both teams announced their offensive priorities at the start. For Colorado, that meant letting the dynamic duo of Atkins and Stoughton get to work, with the pair connecting on a tricky Atkins throw to cap off an otherwise uneventful series for the score. Brown's first possession was even more to the point: Leo Gordon started running deep, never looked back, and received an easy huck from Jacques Nissen. The four of them – Atkins, Stoughton, Gordon, and Nissen – had been the stand-out offensive players on the weekend up to that point, and remained so during the final.
The other factor that defined each offensive possession was a strong afternoon wind that blew roughly on a diagonal across the field, creating both high-side/low-side and upwind-downwind axes of play. Each team had a chance to break early in the first half but, struggling to center the disc upwind, could not complete the first pass. Later in the half, Colorado dropped an easy pass on the high side. Brown had crossed over their two strongest throwers, Nissen and Randolph, for just such an opportunity, and they worked it up the field for the game's first break.
Unfortunately for them, Colorado held on the next point (courtesy of a beautiful backhand huck from Atkins to Dexter Luecke from the low sideline), putting pressure on the Brown offense to work upwind for the first time in the game. A massive Conor Tabor pull gave Brown poor field position to start; a skyscraping Tabor shot to Seth Wells gave Colorado the break to put the game back on serve, 6-5.
A very strange play followed a couple of points later during another Brown break chance. De Campos and Cal Nightingale had been moving the disc between each other quickly and earned solid position on the high side. De Campos passed once more to Nightingale to progress almost to the red zone; Nightingale bobbled the disc once in the wind but managed to hang on. At that point, one of the Colorado defenders downfield told Nightingale that he had thrown the disc to himself – a violation that, had it actually happened, would result in a turnover. After a brief discussion with the player who called the violation, and without consulting any of the game's three observers, Nightingale agreed to the turnover. A stunned Brown sideline looked on as Colorado held to bring the game to 7-6. In spite of the oddity, Brown held on the ensuing point and (once again crossing over Nissen and Randolph) managed to break upwind to take the first half.
The second half began much like the first: a pair of clean holds almost entirely through Nissen, Gordon, Stoughton, and Atkins. Unwilling to let Gordon get a free deep cut for a third easy score, however, Colorado brought Danny Landesman over from the O-line to guard him. The move worked exactly as planned, as Landesman stuck to Gordon all the way to the end zone and blocked the huck. He, Atkins, Wells, and Jace Pivonka stubbornly advanced the length of the field against the wind to tie the game at 9-9.
Colorado, however, faltered after that big break. Two turnovers later, they found themselves down 12-9 and staring down the daunting prospect of an upwind hold to stay in the game. Atkins led a steady, plodding, ultimately successful attack against Brown's cup zone to put the pressure back on the B-Mo offense. That's when the Mamabird's use of depth during their first six games began to pay big dividends. "We played pretty deep in our roster throughout the tournament… So when we needed to tighten it up, we were able to bring our top players on," said Krier. "Over time we were able to wear [Brown] down a little bit, and we were able to get some of that pressure that we needed to get that disc."
Another fantastic pull gave Brown the disc on the coffin corner, leading to an immediate turnover and Colorado score to draw within one goal. Two points later, Levi Tapper, who had shown a flair for opportunistic catch blocks all tournament, stepped in to grab a pass near the attacking goal line when Randolph turned away from a multi-throw dribble before de Campos registered that he no longer had a dribbling partner. Atkins put up a huck on the high side near midfield that held its edge splendidly against the wind, although it slowed long enough to let Nissen catch up to the play. Nissen and Ben Harris both went up to high point the disc, and they both fell to the ground holding onto it. It was as close as a play like that can get, but the observers confirmed – and from my vantage point, I believe they got the call right – that Harris had possession first to even the score at 13-13.
Brown stumbled again on the next point, as a pass popped up in the wind. This time it was Nathan Buchholz who controlled the point for Colorado: he caught the floaty pass and, two throws later, held on to an upline pass despite drawing contact on a borderline-reckless bid from behind by Randolph before coolly moving the disc forward to set up an easy score, Stoughton to Landesman, for the lead.
Having turned a multi-break advantage to a one-break deficit and a point away from defeat, Brown then nearly gave away the game with a first throw turnover. Only a heroic (and likely very painful) effort from Randolph kept Colorado from a game-winning third consecutive break. Atkins caught the disc with steps on Randolph to the high side and mustered all of his strength to muscle a forehand the remaining 30 yards upwind to the end zone; Randolph raced to cut off the angle and threw his whole body in front of the throw three yards ahead of the release. Brown scored on their second possession to force universe. Needing to break Mamabird upwind, they faced long odds.
And then karma intervened. Mamabird had worked the disc past midfield when Landesman turned upwind to look for a reset. He didn't quite put enough mustard on the throw, and it rose well above both the dump and the defender and started to carry back toward the attacking end zone. Landesman leapt up and caught it adroitly. It was a fine catch on its own merits, but considering he had been the person who threw the pass, it was turnover; a real version of the violation called against Brown in the first half that had only existed in some players' imaginations. All of Brown's strongest offensive players – de Campos, Randolph, Gordon, and, of course, Nissen – were on the field for universe point, and they bounced it between each other until Randolph finally scored, standing still near the goal line in the middle of the end zone.
Brown earned the win, but Colorado join them atop the list of the weekend's success stories. Two great teams, two improbable comebacks, ferocious defense, and stalwart offensive play in poor – horrible, really – conditions at the end of a taxing weekend: the final stood as a testament to the depth, preparedness, and endurance (physical and mental) of both finalists. The stars will receive (and deserve) much of the credit. Nissen was the most effective player at the tournament; Atkins more or less equaled him in the ability and drive to take over a game; Gordon and Stoughton cut relentlessly and made almost every play asked of them. It is also notable, however, that both teams used deep rotations throughout the tournament, spreading playing time much more generously than the great majority of the other competitors. Working from depth was integral to their resilience, and will likely continue to provide value at the margins against elite opponents in Milwaukee on Memorial Day weekend.
Broad Second-Tier of Success
Each of the other six quarterfinalists can lay claim to a measure of success, so much so that it is difficult to assess their performances relative to each other.
#1 North Carolina Darkside came into the tournament as the favorites, but they lost not only their semifinal against Brown, but also in pool play to UMass Zoodisc (although that loss can almost be written off, coming as it did in the windiest round of the weekend on a field oriented along a strict upwind/downwind line) . A two-loss weekend could perhaps be read as a major disappointment for a team with so much recent success.
The stronger aspects of Darkside's play stood out more than the pair of unfavorable results, though, starting with their 'McHandlers.'1 John McDonnell was masterful in the wind, both throwing and catching difficult passes. "John McDonnell, man. He's the best center handler in the division," gushed captain Andrew Li, and it's difficult to argue with him. Matthew McKnight, meanwhile, continues to show more and more ability to completely dominate a game; it is more likely than not that he irons out most of his errors before Nationals. Ben Dameron, Josh Singleton, Jayden Feagans, and Rutledge Smith all presented matchup problems on their own. It is difficult to imagine other teams taking the disc away from UNC with anything like the frequency of this weekend without the aid of the wind.
#10 Minnesota Grey Duck, the other semifinalist, is a curious case. On one hand, they took hard universe point losses against NC State and Colorado in pool play and needed a late comeback to hang on for a universe point victory against a surprising UCLA Smaug unit to reach quarters. Tipping the balance the other way, Grey Duck controlled their quarterfinal against UMass to hand ZooDisc their only loss of the tournament.
When the Grey Duck offense starts rolling, it can be hard to stop, as their cutters possess a wonderful practical understanding of spacing. "Generally [in the past] Minnesota has been a vert-style offense because we've had really good handlers who can distribute on the 45s [angles], and this year we have a really deep cutter team, so we just want to get the ball to our cutters. That's why we've been working in the spread a lot, because we're really dangerous when we're working with isolation space," said coach Kristian Johnson. Paul Krenik, Ian Mccoskey, Cole Jurek, Sebastian Brauer, and Kenji Her took turns collecting big unders and long-yardage away shots. Jurek often took over in the red zone when they needed to slow down. AJ Larson, meanwhile, played the role of deep stopper, getting the better of Orion Cable on several plays, essentially securing Grey Duck's spot in semis.
Speaking of Cable, his college debut was as advertised: he was large, athletic, and amazingly polished. Of those qualities, all of them immensely valuable for #8 Massachusetts, it was the polish that was the most astounding. He was the team's most reliable thrower in the wind, and, crucially, a force in the red zone sets. "He did a good job working the disc in the short field," said captain Gabe Franklin in a comment that was surely the understatement of the weekend. Once Cable decided to take the front cone, that was that, and it didn't seem like any of ZooDisc's opponents could do anything about it.
UMass, to their credit, do not make a crutch of their superstar. Noel Sierra does a lot of the big-yardage legwork and throwing for the offense, with players like Yucheng Mo and Caelen McSweeney soaking up a lot of touches near or in the end zone. On defense, Phil Joyce patrols the deep area or takes the opposition's top cutter, and Luca Harwood is ready to hit a quick strike after the turn. It was refreshing to watch ZooDisc's team-wide positive, steady-as-she-goes attitude, which was on display even as they struggled to slow down Minnesota's offense in quarters. It was that quality, no doubt, that helped them endure the windstorm that plagued their game against UNC: the way they responded mentally to the adversity was the key to the big win. They'll need to keep it up in a stacked New England region, but UMass are in great shape.
#9 Pittsburgh simply marauded through Saturday. The combination of Henry Ing, Scott Heyman, and Marcel Oliart was simply too potent for UCLA, Maryland, Georgia, or Indiana to slow down on offense. With Myles Cooper hounding unders and Will Helenski taking care of any deep shots that hung even a little bit, the D-line relentlessly pressed their advantages. They cleared the four games by a combined 22 goals, and in doing so made it amply clear that they have put December's struggles behind them.
It was a different story on Sunday, though, as the level of competition ratcheted up. UNC did a good job of adjusting on defense to keep the disc out of Ing's hands, and by the time En Sabah Nur figured out other consistent attack approaches – which, I emphasize, they definitely did – they had fallen behind three breaks. "Any great offense has to balance executing what they know they can do with what the defense is taking away; UNC pushes us to fight for that balance throughout the whole game," said coach Christie Lawry. What's clear is that when Pittsburgh are able to establish their priorities early, they are a hard unit to handle.
#16 NC State lost on universe point in consecutive rounds on Sunday, first to Brown, then to Pitt. The bitter taste of those two losses should not cloud over what was essentially a very good weekend for Alpha. Trevor Lynch remains the leader of the offense, usually initiating as a cutter before sliding into the backfield alongside one or both of Dylan Hawkins and Daniel Ferriter as the team works toward the goal. When they are clicking, horizontal movement generates lots of continue opportunities for other downfield players like Zac Kuelz and Hiatt von Alten. A couple of basic offensive mistakes to bracket the game spiked their chances of upsetting Brown, but those should be more of a transient phenomenon than an indictment of Alpha. The team struggled with D-line efficiency after the turn – some of their points were truly maddening – but Suhas Madiraju and Paul James have the chops to pilot them to breaks much more easily than they came this weekend, and Jacob Levine, a grad transfer from Duke, has shown highlight-reel playmaking ability. After an uneven start to the 2022 spring, NC State are back on track.
#12 Texas TUFF made a strong spring debut at SMI, with the minor caveat that they seemed to run out of gas on Sunday. That is a somewhat inevitable down side of carrying a smaller roster. Up until that point – let's locate it somewhere in the second half of their quarterfinal against regional rivals Colorado – you could argue that Texas was the strongest team at the tournament. (They lost a pool play game against Brown on universe when B-Mo huck-and-zone'd them to close out the last point of an incredibly windy round.) The offensive chemistry between Jacob Sames, Saaketh Palchuru, Matt Chambers, Gavin Babbitt, Jake Radack, and Zach Slayton was simply electric. John Clyde leads a threatening defensive unit, both with his play in the deep space and (especially) as a gunner in transition.
A winless Sunday did not seem to upset Palchuru. "We're happy with the tournament as a whole… Tournaments are the time you get to adapt to your opponents. We definitely adapted really well," he said, also acknowledging the team's struggles to maintain the same high level of play at the end of the weekend. It will be interesting to see how they play Colorado again in what seems like an inescapable South Central regional final. Texas led by two breaks at the half before they lost their head of steam. The difference between the rivals' seasons is stark: Texas began their regular season at SMI and will appear at Centex and (probably) Easterns, whereas Colorado are now essentially finished2 until the Series. "Competition molds us as a team," said Palchuru. "Playing these high-level teams, this is where real teams are made." The runway for development is still long for TUFF, and before this season is out we may find that there are two South Central juggernauts in 2022.
Subscribe to read more about Smoky Mountain Invite, including the the All-Tournament line, notes on the top individual defender, and thoughts on some of the tournament's other attendees, including on #2 Georgia's disappointing performance.
---
Is this the stupidest word I've ever coined? Probably. ↩

apart from an unsanctioned scrimmage scheduled against BYU ↩
Bonus Content for Smoky Mountain Invite 2022: Tournament Recap is only available to Ultiworld Subscribers
Already have a subscription? Log in
Whether you visit Ultiworld for our reporting, our podcasts, or our video coverage, you can help us continue to provide high quality content with a subscription. By becoming a subscriber, not only do you receive benefits like bonus content and full article RSS feeds, you also help fund all of Ultiworld's coverage in general. We appreciate your support!