It's three tournament wins in three efforts for Brownian Motion this spring.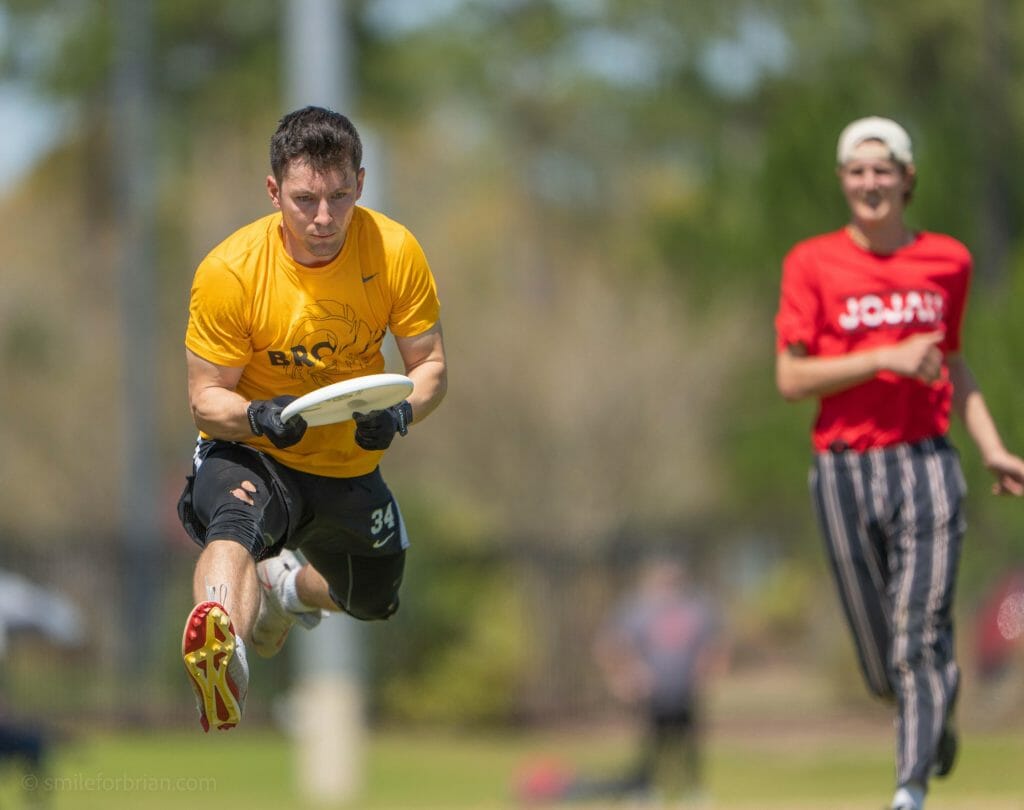 Our coverage of the 2022 college season is presented by Spin Ultimate. You can get 15% off all college uniforms and swag right now at Spin Ultimate!
LITTLE RIVER, SC — Taking up its conventional spot as the regular-season finale even in an unconventional spring, Easterns once again delivered a meaningful snapshot of the division's elite. Brown captured yet another 2022 victory, capping off an incredible run through the regular season, while we learned plenty about the other contenders from across the country heading into the Series.
Pool Play and Bracket Results

Brown Win Third Regular Season Tournament
#1 Brown Brownian Motion can add another trophy to their crowded case. B-Mo bested a resurgent #20 Georgia Jojah 15-13 in the final to cap off an undefeated Easterns.
Brown have won 21 consecutive games en route to titles at all three regular-season tournaments in which they have competed in 2022, a feat unmatched even by their National Championship unit from 2019. Given the somewhat fluky conditions of Florida Warm-Up (where two teams forfeited in the bracket) and Smoky Mountain Invite (where ferocious winds helped Brown earn turnovers on universe point in both their quarterfinal and final wins), however, Easterns stands easily as their most impressive weekend of the season.
In the run-up to the final, Brown proved that they were a team defined not only by stars John Randolph, Jacques Nissen, and Dylan Villeneuve – all of whom were outstanding throughout the weekend – but by their unswerving reliance on depth. Cam Curney, Elliott Rosenberg, Luca Duclos-Orsello, William Steinfeld, Martin Trouillard, and Talon Johnson were among the many less familiar – one hesitates to use the phrase 'down-roster' or 'bench' to describe them – players to find moments to excel as B-Mo cruised through pool play and kept firm control of quarter- and semifinals against Maryland and Pittsburgh.
Part of their success came from a zone defense look that has been giving opponents trouble all season. With Trouillard on the mark to lead a cup trapping to both sidelines, Rosenberg or Jackson de Campos ready for hair-trigger bids to stop any low throws passing through the secondary, and a pair of rangy stoppers in Villeneuve and Curney protecting the deeper spaces, often there was no clear way to make progress. Only dumps and dishes were available as consistent looks, and Brown frequently pressured those, too. The upshot was a cascade of flustered or impatient mistakes out of otherwise steady O-lines.
Meanwhile, Brown's offense refused to give any ground. Between Nissen's repertoire of throws that could put a D-line on its back foot, a cadre of highly skilled downfield spot cutters in Leo Gordon, Duclos-Orsello, and Johnson, and their signature three-player weave, they had a ready-made response for any defensive look. According to the team's stat-keeper for the weekend,1 they did not give up a break in four games on Saturday. A short-field turnover late in the quarterfinal against Maryland and a dropped pull in semis against Pittsburgh produced the only punished mistakes for the first six rounds of play.
The final against Georgia began in much the same fashion as the rest of the weekend. After a relatively untroubled hold and a huge Villeneuve pull, the stalled Jojah offense punted to set up a break. Brown stuck with the double-trap zone for the next three defensive points: all eventual Georgia holds, but with enough consternation built-in that B-Mo could feel that they were still on the right track. Jojah took advantage of a rash of poor B-Mo throwing to even up the breaks, but they could not build any momentum before their own O-line were broken, and then broken once more. Brown enjoyed an 8-5 lead at the break and appeared to be on track for another commanding victory.
But it was Georgia who came out stronger in the second half. Having leaned on a patience-first principle that yielded mixed results in the first half, Hayden Austin-Knab and Aidan Downey started to air out more of the kinds of deep throws that took them to the 2021 national final. Not every huck was on target, but on average they could press their advantages much more reliably against Brown's deep defenders than they could upfront. As a result, Jojah's offense stopped sputtering and started humming. They would not give up a break the rest of the way as they looked for a chance to mount a comeback.
Georgia's first big chance came on a Jared Bennett handblock, down 11-9. Bennett has built a reputation as a savvy defender who trades more in opportunism than athleticism. He and Adam Miller combined to cash in the break to draw within one, and there was a glimmer of hope for more.
Having budged once, though, Brown stood firm for the duration. The final stretch of points were a masterpiece of tension as both B-Mo and Jojah tried not to blink. Brown re-tightened the zone look that had initially given them the lead only to have Coleman Tappero and Austin-Knab find the end zone with some truly resourceful throwing. Jojah found some success in locking Nissen up in the reset space and throwing help defenders after deep cuts, but not enough to upset the B-Mo O-line again. In the end, the key was the weave, that old Brown standby, being executed to perfection at a blistering pace point after point. Like everyone else at the tournament – like everyone else so far this season – Jojah were helpless before the dizzying three-man dance.
"They've built a ton of chemistry… you often see the same people playing together, and you kind of imagine that when they dream they think of each other cutting. It's subconscious, at this point, how they play together," said Brown coach Jake Smart about the success of his team's dominator set. "It comes down to committing to work incredibly hard [in the moment]," he added. "Like, no matter how hard it is, you must find a way to make it happen, right? And when you don't have to make the choice anymore, it's easier to do."
In many ways, that weave mentality – committing to win first and foremost, and then doing whatever is necessary to make that happen as new situations arise – functions as a microcosm of the team as a whole. They grind when they need to grind, soar when they need to soar, and tinker when they need to tinker. And much like their trademark offensive standby, B-Mo look untouchable at the end of the regular season.
Jojah Avenge National Final Loss Against Darkside
Though it was bracketed with a pair of two-point losses,2,Georgia's weekend will be remembered for their four wins, none of them bigger than a 15-12 semifinal victory over #3 North Carolina Darkside: revenge for the 2021 national final, February's Queen City Tune-Up final, and many more games over the last several years.
"I haven't beaten North Carolina in nine years," said Jojah coach (and former player) Sam Batson after the tournament. "And I think that every team has that monkey on their back that they need to shake off to know that they can go the distance."
The result will certainly raise eyebrows, given the history of the matchup and Georgia's woes earlier in the year, but the real revelation here is the way in which Georgia changed their mindset and gameplan to earn the victory. At their catastrophic Smoky Mountain Invite, Jojah regularly forced looks to cutters who weren't open and played anxiously after a bad point, compounding small mistakes into insurmountable deficits. The difference at Easterns was stark, and all for the better.
Jojah made the semifinal's first real mistake, dropping the pull. Darkside's Andrew Li promptly took advantage of it and scored a break. But Georgia bounced back with gritty holds on their next two possessions to ensure that the initial break would not snowball into two or three. Darkside brought intense pressure, to which Jojah responded with a kind of discipline rarely on display for them earlier this season. Downey, Austin-Knab, Tappero, Jake Powell, and Ryan Flick have all been quick to shoot deep or to keep pushing the disc up the force sideline this spring. They recognized, however, that UNC were baiting both kinds of throws, and they made a visible team-wide adjustment to look off those sorts of options. The payoff for their patience was that the game did not get out of hand, giving the formidable Jojah defense a chance to even the score: they obliged, and then some, putting Georgia ahead by a break at the end of the first half.
It is worth an aside here to describe how this 2022 iteration of UNC, though they remain quite strong, is very different in composition from the one that took home the National Championship in December. In the first place, they feature their team size much more prominently than they did in 2021: beyond the obvious in Liam Searles-Bohs, they can trot out Ben Dameron, Josh Singleton, Jayden Feagans, and Bailey Roberts – and rely on all of them to make plays against the other team's best athletes in the deep space or on high discs. Handlers Matthew McKnight, John McDonnell, and Rutledge Smith bring up the team's average height, as well.
But they don't win games with pure brawn. Their true gift as a team is quickness, both of feet and of mind. It is evident both in the way they continually cross up defenses in the red zone, as well as in how effectively D-line players like Li and Kevin Pignone respond to the changing landscape on the field as offenses breach new spaces against them.
For all of their strengths, however, Darkside are clearly still adjusting to life without Alex Davis, Elijah Long, and Anders Juengst, all of whom dictated the flow of games at a level rarely seen in college. UNC have a level of talent close (or even equal) to what they featured in December, and they are perhaps a more balanced team on both sides of the disc. But it is fair to wonder, at this point, who among them is going to demonstrate the same level of personal responsibility for each point that was shown by their recent graduates.
The advantage in the second half seesawed between Jojah and Darkside. They combined for three breaks in the first four points as UNC brought the game back on serve. Li, Searles-Bohs, and Pignone stood out playing both ways for Darkside. Pignone, in particular, has been showing more and more polish throughout the season, and will be a key figure for them in the Series.
But it was Georgia's stars who ramped up to the higher levels as the contest approached its end. "We spent a lot of time the last two weeks putting them in really tough situations that they had to break out of," said Batson. Downey's clever throwing helped them to stay ahead of the Darkside defense. Austin-Knab and Miller made spectacular contested catches as if to emphasize, in dramatic fashion, that they refused to fade this time around. They finished the game on a pair of breaks for a decisive – and redemptive – 15-12 win.
Georgia are now back on the scene as title contenders after a shaky start to the spring. "They took it upon themselves, after feeling the way they felt at our last tournament, to not be in that same boat again," said coach Liz Leon. "They decided that they wanted to turn it around."
The defeat is not necessarily a grim signal for UNC, who broke on universe point to win a gritty 3rd-place game against Pittsburgh. They remain one of the best teams in the division, and it will not be a surprise if they manage to repeat as National Champions in May. The late-game slip against Georgia, so similar to their other two losses on the season (against Brown and Massachusetts), will serve as a reminder of what they must improve in order actually to do it. Bearing down at the end of tight games and closing them out is the number one item on the bulletin board heading into the postseason.
Pittsburgh Building Toward a Peak
The last semifinalist, #8 Pittsburgh En Sabah Nur, have plenty of reason to smile. Despite consecutive losses to Brown and UNC to finish the weekend, Easterns stands as the best performance of the year for the rising team. They downed eventual finalist Georgia in pool play, completely dismantled a surging Carleton in quarters by a score of 15-6, and came within a point of Darkside – a vast improvement on their meeting with the defending champs at SMI.
On offense, they have become less reliant on superstar Henry Ing. While he remains the team's ace-in-the-hole, that line has made major strides to stretch the field in other ways. Scott Heyman, Aiden Landis, and Peter Kotz all stepped into larger roles as downfield targets and red zone options. Handlers Dan Nichols and Harry McNamara, in turn, seem to have found their rhythm distributing across a bounty of options rather than just to Ing and each other. That consistent and balanced attack kept them in firm control against Georgia on Saturday: Jojah gave up a couple of first-half breaks, and could not see their way back into the game.
The more formidable unit for Pitt, however, is the defense. They have an answer at every position: Chris Ng to smother the handlers, Myles Cooper and Will Helenski to challenge the lanes, Tristan Yarter and Will Hoffenkamp available to bring down deep throws. Cooper, Yarter, and Hoffenkamp look extremely comfortable together on offense after a turnover. The result is a line that – with the notable exception of the semifinal against Brown – would dependably notch three or more breaks per game.
"We've built a lot of confidence," said Cooper of the D-line's success. "Coach [Nick] Kaczmarek has really pushed us to find our edge and stay gritty, and that's been our mantra for the season. Find your edge, and stay tougher as the games get tougher."
Brown's zone and blistering pace of play on offense in semis were both very different looks than Pittsburgh had encountered up to that point in the tournament, and they did not adjust to either quickly enough to make a game of it. That is a note that Pitt will have to carry with them into the postseason.
In every other respect, they appear to be ramping up toward a significant peak. "We're a confident team. We think we can hang with anyone," said Cooper. All of the evidence on the field for Pittsburgh at Easterns supports that assertion.
The Replacements: Maryland Take Fifth Place
It wasn't a sure thing that the #19 Maryland Space Bastards would take the spot at Easterns offered to them when Massachusetts dropped out of the tournament last Monday. Outside of last-minute travel logistics, they were on the cusp of not quite having enough players to feel comfortable with a full tournament. Among those missing? DC Breeze players Fred Farah and David Zimmerman. To enter the most difficult event of the regular season at the last minute without two of your best veterans is not the way the team would have drawn it up in an ideal world. But it could be done. What convinced the team it was going to be worth it?
"It wasn't easy," said coach Darryl Stanley of the decision. He cited the sudden opportunity to work COVID-affected sophomores and juniors into the system for development before the Series as a major consideration. But what pushed them to accept the slot in the end? "Honestly… I looked at the weather. I saw that it wouldn't be so windy, like at SMI. I thought, 'The weather's good enough that I won't be subjecting my players to long points.'"3
Isn't it interesting, in retrospect, which decisions end up looking fantastic?
Maryland proved not only that they deserved the invitation, but that they were one of the best teams in the field. This weekend, it started on the D-line. Taking their cues from the inimitable lockdown defender Jeremy Hess, that unit pushed both Tufts and Texas away from their strengths, setting up upsets. Long recognized as one of the potential pre-eminent defensive talents in the division on the basis of the good work he has done on the club and semi-pro circuits, Hess has kicked his game into high gear this season. "It's a different mentality [in college]. You have to have a different efficiency," said Stanley. Because so many teams in college concentrate touches in one or two players, it forces whoever guards those players to work that much harder as the offense constantly looks toward them. Hess rose to the challenge in pool play, minimizing the impact of Caleb Seamon and Matt Chambers en route to a surprise Maryland run to the bracket.
The Space Bastards' strong work continued on Sunday, where they posted the most respectable score line (15-11) that Brown would face before the final and took down a hot Carleton CUT team before accepting a forfeit from in-region rivals NC State to close the tournament. Final tournament result: 5th place. Not bad for a team who weren't supposed to be there. But if you have been paying attention to the arc of Maryland's season, it isn't so surprising after all; they have been bubbling up consistently. The spark they showed to endure the wind in a difficult Sunday consolation bracket at SMI seems to have carried forward to Easterns, and it is likely to stay with them for the Series.
"This team has been really special in that any challenge I put in front of them, they see it one time, you give them the solution, they just do it, and it becomes the thing. They are learning at an exceptional rate," gushed Stanley.
Before we move on, a word of praise for Dan Friedman-Brown, Maryland's center handler. Lacking the veteran leadership of Farah and Zimmerman for the weekend, the responsibility of the O-line fell squarely onto his shoulders. He exuded a calmness and a resolute adherence to team systems that set the tone for the line game after game to ensure that the defense's hard-earned breaks stood up. That kind of performance in the backfield bodes well for Maryland's chances to return to Nationals in May.
Best of the Rest: Michigan, NC State, Carleton
Outside of Maryland, #22 Carleton CUT were the surprise of the tournament, beating both Cal Poly SLO and Northeastern by multiple breaks in pool play on Saturday to earn a place in the winner's bracket. It has been a somewhat tortuous process to watch CUT grow into themselves this season. Veterans Ben Preiss, Noah Hanson, Eric Wright, and Eddie Driver were responsible for a lot of the workload earlier in the season. Now, however, the younger players seem to be rounding into form. The team's freshman center handler Cullen Baker is blooming into a top-of-the-division distributor. Mauricio Badillo Moorman, shifting between the O- and D-lines alongside Preiss, is starting to settle into a flex role very comfortably, as well.
There are some concerns about consistency. CUT played well below their peak level against NC State on Saturday, and they looked downright hapless in a Sunday morning quarterfinal blowout at the hands of Pittsburgh. It will come down to North Central Regionals to say for certain whether the team will have what it takes to clear the bar and make Nationals. Regardless, they are at an encouraging place in their spring development.
By contrast, #11 Michigan Magnum for the most part have been playing near their potential throughout the season. They brought a smaller roster than usual to South Carolina and had to overlap their O- and D-lines more often than usual. Nevertheless, they won their first three games in pool play before running into trouble: a Saturday afternoon loss to Brown, and another one in quarters against UNC.
"We were resilient in our games. I think our energy was pretty consistent through all moments, whether they were getting a break on us or we were making a big play. A lot of the guys are mentally tough," said coach James Highsmith in praise of Magnum's effort.
Some notable performances include more great work across all facets of play from the versatile Theo Shapinsky, top-shelf physical matchup defense from James Hill, and some truly brilliant throwing to break the mark by Aaron Bartlett. Highsmith noted areas of improvement – more along the lines of tactical adjustments – from both of their losses: more intentionality about playing on the high side of the field and out of the defense's traps (against UNC) and a quicker recognition and response to a team able to beat their zone over the top (against Brown). With only 13 healthy players left, Magnum elected to forfeit the remainder of their Sunday games after their quarterfinal exit.
#13 NC State Alpha leapfrogged both Cal Poly SLO and Northeastern to win Pool C on Saturday. Suhas Madiraju, Jacob Levine, and Sean Wiles applied the most consistent defensive pressure the team has seen all year. "I felt like we applied person defense principles better than we had in the past, and we were able to get blocks rather than waiting for teams to give us the disc," said coach Michael Lee. Madiraju and Paul James kept them steady on counters, and Alpha were able to convert breaks at a much higher rate than earlier this spring.
The takeaways for the offense were mixed. On one hand, Dylan Hawkins, Zac Kuelz, and Hiatt von Alten looked quite comfortable switching the field to either sideline to set up more downfield cuts in the center. As a result, the team had a consistent second mode of attack alongside Trevor Lynch's barrage of hucks from motion. A few ill-timed reset miscommunications, on the other hand, slightly spoil the picture. The handling chemistry between Hawkins, Lynch, and Daniel Ferriter could still use a little more time in the oven.
A forgettable quarterfinal against Georgia – Alpha lost 15-8 and threw a Callahan on the final point – was their only sub-par performance on the weekend. Given that loss and some of the others they have suffered against top teams earlier in the season, it is fair to wonder how much higher their ceiling can be than, say, pre-quarters at Nationals. But they have more than proved themselves as near-locks to make the tournament, and continued improvement between now and Atlantic Coast Regionals could very well raise the bar.
Subscribe to read more about Easterns, including thoughts on other squads in the field and the All-Tournament Team.

---
read: unofficial, but I saw no evidence to the contrary. ↩

In addition to coming up short in the final, Georgia lost 11-9 to Pittsburgh in pool play ↩

Author's note: that is totally brilliant. ↩
Bonus Content for Easterns 2022: Tournament Recap (Men's) is only available to Ultiworld Subscribers
Already have a subscription? Log in
Whether you visit Ultiworld for our reporting, our podcasts, or our video coverage, you can help us continue to provide high quality content with a subscription. By becoming a subscriber, not only do you receive benefits like bonus content and full article RSS feeds, you also help fund all of Ultiworld's coverage in general. We appreciate your support!