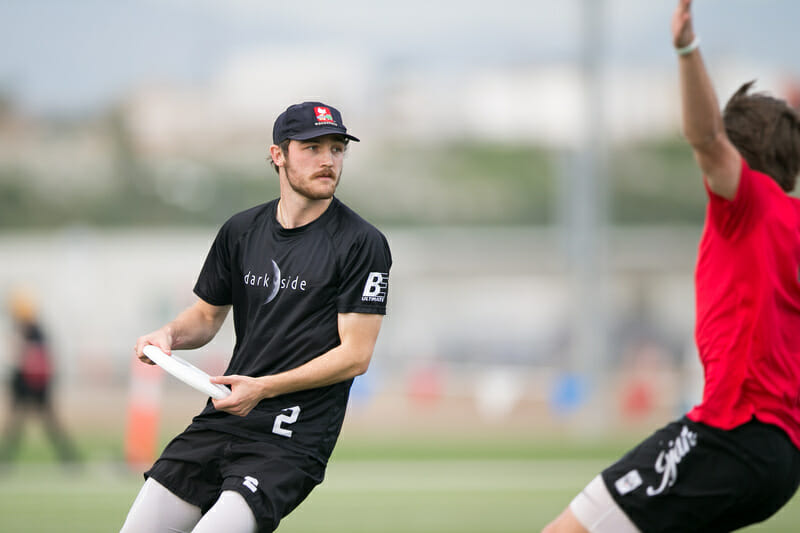 Our coverage of the 2022 College Series is presented by Spin Ultimate. You can get 15% off all college uniforms and swag right now at Spin Ultimate!
The 2022 D-I College Championships return to Milwaukee, though they are partially back to a traditional Nationals. While the Fall championships felt wholly unique, this turn has some oddities — namely, the lack of a rankings-based regular season — but in many other ways is business as usual. Once teams hit the field, expect a lot of what you've come to know and love about Nationals: drama, surprises, and the memorable moments that make legends. From John Stubbs to Dena Elimelech, the legacy of college stars is built around what happens over these four days.
We will be there to bring you all of the action, with cameras pointed at more games than ever and a reporting team that will take you inside the huddle. In these previews, we'll offer a snapshot of each team and the competition they'll face when play begins on Friday, May 26. Watch ultiworld.com/live then for updates in both college divisions!
Pool A  |  Pool B  |  Pool C  |  Pool D
Seeding: C1, no.3 overall
Power Ranking: #4
Path to Nationals: Def. NC State 15-12 in Atlantic Coast final
Roster & Schedule
A perennial semifinalist at this tournament, Darkside finds itself in a comfortable position as the top seed in Pool C. The 2021 champions will also be comfortable in Milwaukee, the site of their 2015 and 2018 championships. 
"Internal focus has been a key to our success this season," Darkside leadership wrote to Ultiworld. "We've been consistently focused on the growth of our team, and our process for improvement." UNC only took losses to UMass, Brown, and Georgia on the season and reached another level throughout an undefeated series. 
While they enter the tournament knowing they'll likely need to face one or both of those teams1 in a bracket game in order to win another title, the deep UNC coaching staff should be prepared with all of the adjustments needed to disrupt what worked for Brown and Georgia earlier this season. 
D-line handlers and co-captains Seth Lee, Andrew Li, and Kevin Pignone will be crucial to Darkside's break conversion rate and the overall Darkside strategy. The quicker the team can convert break opportunities, the more time it has to rest between games and the healthier the team will be for its inevitable deep bracket push.  
Darkside's captains acknowledged that this season was different from past seasons given the Fall 2021 series, the unique additions of graduated players, and the attempt to double peak in the fall and spring. Their championship run just a few months ago did allow rookies like Rutledge Smith and Josh Singleton to gain valuable high level experience as UNC now looks to make its second title push of the school year, but must do so without 2021 stars Elijah Long, Anders Juengst, and Alex Davis. Notably, Matt McKnight is not rostered for the team for Nationals. He's been a key piece for them this season and his absence will hurt.
Liam Searles-Bohs is the team's Callahan nominee and is one of the best players in the division. Though he was hampered by injuries during the regular season season, LSB should be one of the most important players at the entire tournament now that he's back at full health. 
Seeding: C2, no.6 overall
Power Ranking: #7
Path to Nationals: Lost to Brown 15-9 in New England final; def. Northeastern 15-8 in second place final
Roster & Schedule
Coming out of the toughest region the college division has seen in years, Vermont's qualification at Nationals was years in the making. With a defense that matches the division's best, Vermont is a tough matchup for the other four teams in Pool C. Top of mind for Chill is likely a rematch with pool top seed UNC, one of just five teams to defeat Vermont this season. 
With a deep bench of steady defenders and star players in Turner Allen, Reed Browning, Kuochuan Ponzio, and Declan Kervick, Vermont makes opponents work for every yard up the field. On offense, look for Walden Ng to take the reins as center handler. The veteran field general has largely played mistake-free ultimate this season, and his steady play behind the disc will help Vermont keep possessions alive even against the tough defenses the rest of this pool will display.
Compared to the other teams here, Vermont has a legitimate claim to be among the most feared teams here. The ultimate community spent months agonizing over which two New England teams, out of the six who would qualify in a typical year where rankings impacted bid allocation, would escape out of Regionals unscathed. Vermont did so without so much as allowing double digit goals to any team save for title favorite Brown. 
Nationals will likely produce even more challenges for this Vermont team, but they've already proven that they won't back down from something that seems hard or unfair. Instead, they'll simply play their best game with the confidence that it will be enough to carry them to deserved victories. 
Seeding: C3, no.10 overall
Power Ranking: #13
Path to Nationals: Lost to Cal Poly SLO 13-7 in Southwest final; def. UCLA 13-10 in second place final
Roster & Schedule
Barely on the national radar after an abysmal showing at 2021 Regionals, Cal came back with a vengeance in 2022 and has the tools needed to be a threatening team by the time the bracket rolls around. 
The headline addition to Cal's offseason was former Carleton and Davidson handler Andrew Roy. With the sudden option to hit even contested deep looks, and the newfound ability to keep possession easily, Cal's offense has looked among the best in the division. Paired with the growth of Evan Magsig as Roy's running mate, the Cal offense can give opponents headaches. 
"I think Evan is one of the finest home-grown talent stories in the Cal program in a long time," head coach Dan Silverstein said. Magsig worked his way up from an athletic D-line presence back in 2019 when Cal last made Nationals to a vital member of the Cal offense this time around. 
Compared to 2019 when the team was simply happy to qualify for The Show, this year Cal is amped up to win as many games as it can to prove that it is a top 10 team in the country. 
The headline addition aside, this year's Cal was a story of growth. Ursa Major had 15 rookies and no returning handlers. Roy and Magsig cover up a lot of the growing pains, but emerging stars have all had their moments to shine. Twin towers Gavin May and Max Williams are both effective at initiating the offense out of the cutter set and receiving hucks from continuation passes. Cal will often need to cross over some of those four players in order to convert breaks, but May and William's throwing abilities take some of the pressure off of Roy and Magsig to do all of the lifting in the backfield. 
Rookie Dexter Clyburn is a bit of an x-factor for Cal. His switch to the d line proved helpful for a Cal D-line that can stifle opponents but once struggled to convert breaks. With Clyburn on the line as another high level thrower, Roy and Magsig do not need to cross over as much and can focus on their offense. 
When they do need to play their stars, Cal often throws out a diamond zone that allows star players to hang out in the wings and bait floaty, blockable throws while conserving energy. Putting Roy or Magsig on to convert a break can be a death sentence for opposing offenses. 

Seeding: C4, no.15 overall
Power Ranking: #17
Path to Nationals: Lost to Pittsburgh 13-7 in the Ohio Valley final; def. Case Western 13-8 in Ohio Valley second-place final
Roster & Schedule
An up-and-down season that saw losses to non-Nationals qualifiers UNC Charlotte and Maryland also saw wins over NC State, Wisconsin, Carleton, and Texas among Nationals level teams. And, of course, Leadbelly returns to Nationals for the third consecutive season. While they do not appear to be as talented as poolmates Vermont or Cal, prior Nationals experience could help Ohio State steal a win or team and sneak its way into the bracket. 
A key for Leadbelly this season was investing in its younger players on and off the field. "Some of the major keys to our success was trying to develop a lot of younger players and expanding the depth of the roster," said captain Noah Krumme. "Whenever possible we tried to stay relatively open with line calling and getting all of our players the high level reps from Queen City, Smoky Mountain, and Easterns. Another huge help to the season was trying to ramp up our sideline energy. Constantly holding every member of the team regardless of years on Lead to the same standard."
Previous iterations of Leadbelly teams relied on returners and veterans to lead the way. While Axel Agami and Eric Coglianese will certainly have more than their fair share of impact, younger players like Max Devine, David Snead and Avery Gleeson will take important roles this weekend. The play of the younger Ohio State players could be the difference between a bracket appearance and an early exit. 
"One of the things I'm most excited about is for all the younger players to get that first experience at Nationals," Krumme said. "It felt like all season we talked about this goal of getting here, but a lot of the players just didn't really understand what Nationals was and what it means to be here." 
Though inexperienced, Ohio State has played one of the toughest schedules in the nation, attending QCTU, SMI, and Easterns this season. While they weren't dominant in any appearance, the team knows the level it needs to get to to earn Nationals wins and has proven that it can reach those heights when firing on all cylinders. 
Seeding: C5, no.19 overall
Power Ranking: #23
Path to Nationals: Def. Carleton 13-8 in the North Central second place final
Roster & Schedule
The Wisconsin Hodags are perhaps the biggest mystery in the Nationals field. Earning just a single sanctioned win before the series (a consolation win over Virginia Tech), the Hodags managed to do what they have for the past 20+ years and pulled everything together at Regionals to continue their record streak of qualification for the College Championships. 
"This was certainly a challenging season, with us having to miss both Florida warm up and MLC due to COVID," said captain Ted Schewe. "Without a ton of external competition, the team really had to focus on pushing each other harder in practices, and that has paid off down the line." 
The Hodags are a well-rounded team, with everyone contributing serious minutes in all their games. Joe Leibforth played tremendous defense against Carleton in the North Central game-to-go. Opposite him, Saul Diaz has quickly become an anchor on the O-line. 
Henry Goldenberg, Nico Ranabat, Matt Grinde, and Ted Schewe all have high level experience playing with area club and semi-pro teams and are sure to be relied on heavily as Wisconsin tries to navigate its way out of the pool from the bottom seed. 
The Hodags have reason to believe they can do it. Their first game of the season was a universe point loss to poolmates Ohio State, a result the team hopes to reverse this time around. At Lake Superior Conferences, the Hodags beat Wisconsin-Whitewater 15-10, but a few weeks later at North Central regionals, the Hodags took them down with a 13-1 final score. That level of ruthlessness and improvement will need to show up in Milwaukee if Wisconsin is going to pull off the necessary on-paper upsets to advance out of pool play. 
---
Excluding UMass who did not qualify out of the tough New England region ↩