Can UNC go back-to-back?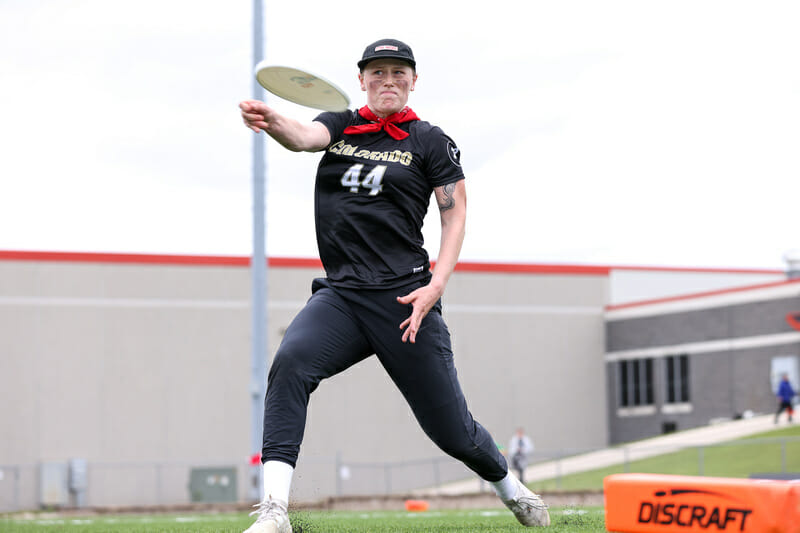 MILWAUKEE, Wisc. — #1 vs. #2. Tiki-taka small ball takes on aggressive long ball. Two Callahan winners face off against an Olympian. It's Carolina versus Colorado, and it's gonna be fun.
The UNC Pleiades come into their matchup with Colorado Quandary as reigning champions, the program picking up their first-ever title with a dominant run in the bracket in 2021 punctuated by a 15-6 final win over Washington Element. Although their wins haven't been as comprehensive this season, the top seeded team from the Triangle remains unbeaten and showed off their incredible ceiling in a comfortable 15-8 semifinal win against the UCSB Burning Skirts. With this year's Callahan winner Dawn Culton leading a UNC defense that is one of the best in the business and 2020 Callahan winner Anne Worth returning from an ACL tear to supplement a stacked Pleiades offensive line, there's no shortage of reasons to think UNC will join Dartmouth and Stanford to go back-to-back since the turn of the century.
What's the case for Colorado, then? Who, or what, will propel Quandary to follow Pleiades in earning the storied program's first title? Let's start with their aforementioned Olympian, Stacy Gaskill, who has put up a monster 8G/17A/10B statline in Milwaukee, proving pivotal to Colorado's success with her size and throwing ability. Gaskill will be a matchup problem for whoever has to mark up on her, even Culton, and if Quandary are to pull off the upset they'll need Gaskill to come up big. Of course, this isn't a one-person team, and Gaskill's downfield targets include Kristen Reed and Emma Cortright, both recent experienced additions that have enabled Colorado to air the disc out, a key part of their dynamic offense.
While Quandary's path to the championship game wasn't nearly as clean as UNC's, they've shown remarkable growth throughout the season. They took some unexpected losses early in the season at Presidents' Day Invite and Stanford Invite out in California, but then put together a solid performance at Northwest Challenge, their only losses up in Seattle coming to UNC. They followed that up by rolling through the South Central region in the series. Over the course of this weekend, Quandary topped a tough Pool B before roaring back with a 10-0 run against Vermont after being down 8-5 in the quarterfinal and beat out Carleton in the semifinals 15-11. Colorado has been tested this weekend, there's no doubt about that, and if they're going to pull off the win over UNC on the third try this season, they'll need to lean on that resilience they've shown throughout these Nationals.
As for Pleiades, the plan will be to just keep on keepin' on: their disciplined approach makes most offensive possessions all but assured of ending in a UNC score, while Culton, Grace Conerly, and Sydney Rehder marshal a defensive line whose offensive execution at times rivals their O-line counterparts. Those O-line players are no slouches, though. Alex Barnett, who has a team leading 14 assists; Ella Juengst, who leads the Pleiades with 11 goals; and Theresa Yu, with eight assists of her own, direct a dominator offensive set which is able to cruise calmly up the field regardless of whether they face a person or zone defense. That combination of offensive efficiency and defensive intensity has kept UNC in control and undefeated throughout their first full season in three years, including tight wins against Stanford and UBC in the first game of pool play and the quarterfinal round, respectively. Ask the Pleiades coaches, though, what the key to their success has been, and they'll more than likely point to the team's depth, with the robust Triangle youth scene continuing to add to UNC's treasure trove of talent.
Colorado's roster is likewise filled with outstanding players, both newcomers and long-time team leaders, including Rookie of the Year candidate Abbie Gillach, who's thrown 16 assists over the course of the weekend, and veteran Rachel Wilmoth, whose all-around excellence has resulted in a 8G/8A/11B stat line. The aforementioned Reed and Cortright have caught 29 goals between them, 16 for Reed and 13 for Cortright, and they hope to be joined downfield by Megan Kenny, who sustained a concussion in Colorado's semifinal vs. Carleton and may be unavailable against UNC. With Clil Phillips (7G/13A/3B) and Saioa Lostra (5G/6A/6B) among others making crucial contributions throughout the weekend, there's no doubt that Colorado has the capability to challenge UNC, but the question remains whether they can break through or if the Pleiades will complete the season triple over Quandary.
With the difference in offensive styles–UNC's patient approach contrasting sharply with Colorado's inclination to shoot it deep–and the lengthy list of star players for both teams, this title game should make for a fantastic watch. If you're in Milwaukee be sure to catch it live at 3pm CT, and if not, you can find it live on ESPNU and ESPN3.