Ending the regular season with some real excitement.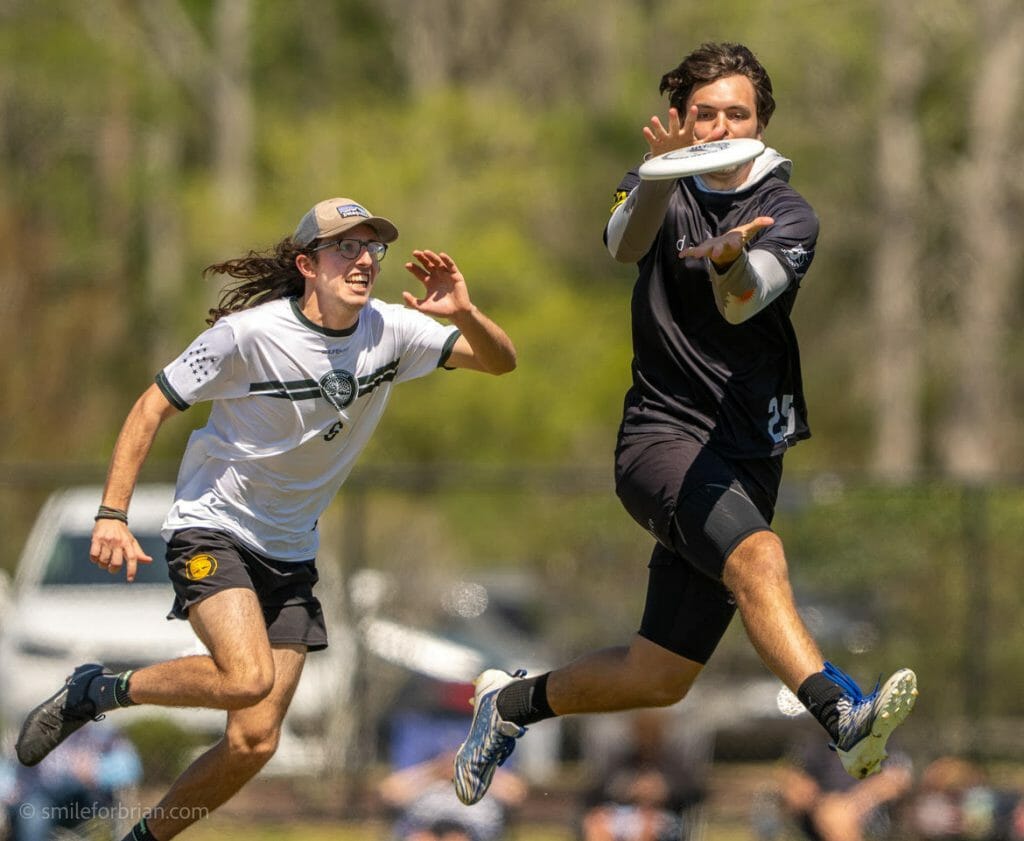 College Update, presented by Spin Ultimate, is back! Throughout the spring season, we will publish a bite-sized weekly recap of all the action across the college division. This will serve as a supplement to our standard tournament reporting and will offer a high-level look at the latest happenings and the biggest stories of the week. Please support the brands that make Ultiworld possible and shop at Spin Ultimate!
Want your tournament listed here? Submit a recap of what happened right here.
D-I Men's
Easterns: Bid Madness and The Curse That Never Was
It's a central pillar of the Darkside legend: the program that hasn't missed a National semifinal since Flappy Bird was a thing has never in its history won Easterns. #2 North Carolina Darkside knocked that pillar down with a dominant performance this weekend, running away with the Easterns title 15-10 against #4 Vermont Chill. The UNC defensive unit, featuring clamps by Kevin Pignone and Lucien Noel, was a force to be reckoned with, catapulting their squad out to 4-0 leads in both the quarterfinal and final.
The glow of their victory might have dimmed ever so slightly in the aftermath, when it was discovered that Darkside have in fact won Easterns once before, in 2004. Commentator Eric Taylor also noted that it's relatively rare for the team that wins Easterns to win Nationals (exceptions include Brown in 2019 and Pitt in 2012). What this means for the fate of UNC's title aspirations is, as of yet, karmically unclear.
What seemed about as clear as crystal1 was the post-tournament bid picture. After USA Ultimate went through their accounting of rosters and eligible games, however, the college division was caught off guard by the new results. Check out Edward Stephens' Saturday recap for a thorough analysis of what we expected going into the postseason, and the full recap as well. Here are the quick hits:
The Atlantic Coast seemingly dropped both of its strength bids after #24 NC State Alpha and South Carolina each went 1-3 on Saturday. Alpha's head-to-head loss against Cal, another bubble team, in ninals was perhaps the coup de grace for their bid hopes. The Ohio Valley took a similar hit after #20 Ohio State Leadbelly's hard-to-swallow performance. Both the AC and the OV seem set to be one-bid regions, pending the final official rankings from USAU.
All those lost bids have to go somewhere. #21 Cal Ursa Major's great weekend did just enough to edge them into what was expected to be bid-earning position and effectively lock in the Southwest as a four-bid region — so long as BYU does indeed decline to play Conferences. #14 Brown Brownian Motion's wins over Oregon and UMass also vaulted them up the chart, securing a fourth bid for New England.
One last item of note: there are no more undefeated teams in the division after #1 Massachusetts Zoodisc's stumble(s). #12 Pittsburgh En Sabah Nur got the better of them on universe in pool play, as did UNC and Brown in the bracket.
Elsewhere in the Division
Northwest Challenge: Those of you doing the math at home will notice one lost bid unaccounted for among the Easterns field. That's because #19 UBC and #16 Washington did just enough at NWC — the Thunderbirds beat Utah 13-8 in the final, while the Sundogers lost a close quarterfinal 11-10 to Western Washington but won the fifth place bracket — to claim it.
Atlantic Coast Open: Duke were victorious, beating Virginia Tech 13-12 in the final. It might have been the last shred of Atlantic Coast excitement we get this year, as Brimstone and their compatriots are staring down a one-bid region.
Northwest Salvage: the Metro East got together for a one day round robin, with RIT coming out on top after sweeping their pool and beating other pool winner SUNY-Geneseo in a crossover game 12-5.
April Fools Showdown: Oklahoma Apes of Wrath took down April Fools Showdown in Texas, topping their pool with a head-to-head win over Texas-San Antonio and avenging their pool play loss to Tarleton State in the tournament final with a 9-8 win.
Looking Ahead
Next up: the Series! Conferences come first, which take place this weekend, April 15-16, and 22-23. Here's this weekend's list.
Great Lakes: Lake Superior, Illinois, East Plains, Michigan
Metro East: Metro New York, Hudson Valley, Western New York
New England: Metro Boston, Greater New England
North Central: Northwoods, West Plains
Northwest: Big Sky, Cascadia
Ohio Valley: East Penn, Ohio
Southeast: Florida
South Central: North Texas, Ozarks, Rocky Mountain, South Texas
Southwest: Desert
D-I Women's
The final weekend of the regular season a big weekend for top 25 competition (sanctioned, anyway), so the bid picture only had one shift and it didn't involve on-field play — UT Dallas moved up into the bid-earning range for the South Central, at the cost of one for the Northwest, when USA Ultimate did their annual run-through of game eligibility. Active teams mostly sought one last polish before the postseason.
Elsewhere in the Division
Looking Ahead
Next up: the Series! Conferences come first, which take place this weekend, April 15-16, and 22-23. Here's this weekend's list.
Great Lakes: Laker Superior, Illinois, Eastern Great Lakes
Metro East: Eastern Metro East, Western New York
North Central: Iowa, Western North Central
Northwest: Big Sky, Cascadia
Ohio Valley: East Penn, Ohio
Southeast: Florida
South Central: Ozarks, Texas, Rocky Mountain
Southwest: Desert
D-III Women's
Shady Encounters played host to Mount Holyoke, Lehigh, Wesleyan, and Messiah as part of a 10-team field with two pools of five. It was Mount Holyoke who emerged with a strong performance, going undefeated in pool play and losing to eventual champion Penn State by just an 8-7 score in the semifinal round. 8-5 wins over Wesleyan and NYU in pool play, plus against Lehigh in quarters, all speak to Daisy Chain's ability to compete. They clearly took some of the lessons from New England Open and put them into practice. They will be a dangerous team in the crowded New England race for spots at Nationals.
Elsewhere in the Division
D-III Men's
Atlantic Coast Open lived up to the name as far as D-III is concerned, pitting Richmond and Navy against one another. It was the Naval Academy students who got the W, 10-8, in their pool play matchup. Both teams finished with 2-2 pool play records, with Richmond winning the aggregate to reach the championship bracket and sending Navy to consolation. That's notable because they went 3-4 against tougher competition than Navy, who went 4-3, saw. Certainly it looks like it'll be a fierce fight in the title of best in the Atlantic Coast.
St. Olaf emerged as the top placing D-III side at Huck Finn, punctuated by a an 11-8 win over Emory and an eighth place finish. But did they? While they won their pool and Missouri S&T finished in fourth, Miner Threat defeated the Bezerkers 9-8 in their head to head matchup. In addition to St. Olaf, Grinnell placed near the top of their own pool to reach the championship bracket and also beat Emory, albeit in ninth place consolation play. Meanwhile, John Brown struggled a bit, losing 6-5 to Grinnell and taking some sizable losses to midrange D-I clubs.
Elsewhere in the Division
Looking Ahead in D-III
The first bids to any division of Nationals will be handed out in D-III women's this weekend! We've taken to calling these events "Confregionals" and there are a few among the traditional Conference championships taking place.
Women's
South Central has some great narratives, but only one bid. Trinity is the top seed, but everyone has to be looking at Colorado College, moving from D-I to D-III. They've consistently been a D-I darkhorse in the region. All of Rice, Truman State, and John Brown have had highlights in their histories to get you excited.
Despite holding three bids, the North Central is intriguing. Carleton Eclipse looks like a lock, but St. Olaf, Winona State, and Michigan Tech are all set to battle it out.
A pair of bids are up for grabs in the Northwest, with Portland and Whitman as the favorites, but Lewis & Clark, Puget Sound, and PLU chasing.
Knox is the no. 1 seed headed in the Great Lakes, with Wheaton next up.
The Southwest is a grudge match between Claremont and Occidental. At least they get to play this year instead of the Nationals bid going to the higher ranked team!
The Atlantic Coast's one bid is favored to go to Catholic, who blitzed no.2 seed Mary Washington twice less than a month ago. Now they have to hold up under the pressure.
Conference Championships: Pennsylvania, Metro Boston, Ohio, Eastern Metro East, Western NY
Men's
Conference Championships: West Penn, Rocky Mountain, Texas, Ozarks, South New England, Northwoods, Lake Superior, Illinois, Eastern Great Lakes, Metro NY, Western NY, Hudson Valley, East Penn, Ohio
---
Courtesy of Cody Mills, rankings guru ↩

They had played a U20 team at their first tournament and had the second day of a second tournament canceled. ↩