Recognizing the top seven performers of the 2023 season.
Each year, Ultiworld presents our annual College Awards. Our staff evaluates the individual performances of players from throughout the season, talking to folks around college ultimate, watching film, and look at statistics, voting upon the awards to decide those to be honored. The regular season and the college Series are both considered, with extra emphasis for performances in the competitive and high-stakes environment at Nationals.
Our All-American teams recognize the top performers across the division. While previously we have closed our Awards with our First Team and Second Team, displaying the top seven and next seven players who had the best seasons, they have been moved up in the schedule. As our voting process is ordered, the top two vote-getters for All-American honors, excluding the Player of the Year, will be recognized as our Player of the Year runner-ups. As such, those three players are listed in order, with the runners-up identified; the other four players are listed in alphabetical order.
All-American First Team
Coaches of the Year Award
---
D-III Men's All-American First Team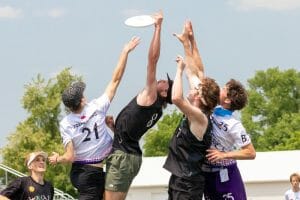 Oliver Kraft (Colorado College)
Player of the Year, Donovan winner, National champion… go ahead and add First Team All-American to the resume for Oliver Kraft. We've already written at length about Kraft: check out his POTY writeup and this breakdown for more about his exceptional season.
Will Brandt (St. Olaf) Player of the Year First Runner-up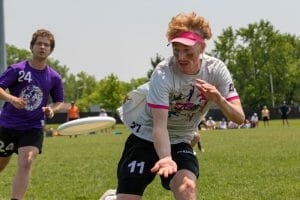 Fresh off a 2022 season that ended in a runner-up finish at Nationals and winning our Offensive Player of the Year award, there were high expectations for Will Brandt this year. The incredibly talented junior didn't disappoint, leading St. Olaf to another semifinal appearance at Nationals and finishing as our first runner-up for POTY.
Brandt was as impressive as ever this year. One of those players that makes the game look easy, Brandt was in total command of the Berzerkers offense. Replicating his role from last year, Brandt was once again a Swiss Army knife for St. Olaf, fluidly moving into whatever space best helped the offense.
The area of Brandt's game that saw the most improvement this year was his defense. The Berzerkers asked Brandt to cross over to defense more this year, and he looked right at home on that side of the disc, leading the team with 10 blocks at Nationals. Sure, some of those blocks also came from getting the disc back on offense, but the point remains: when Brandt was locked in on defense, he was elite.
After finishing as second runner-up for POTY last year, Brandt moves up a spot this year. Needless to say, he'll be the favorite to win the award next year.
Michael Lahmeyer (Missouri S&T) Player of the Year Second Runner-up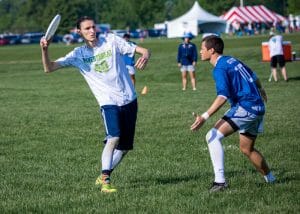 On Saturday night of Nationals, we wrote a piece giving a reason why each prequarters team could make a run to semis. For Missouri S&T, we simplified their success into an old sports cliche: you can't teach height. Their poster child for that cliche was Michael Lahmeyer, and his excellence this season earned him POTY Second Runner-up and a spot on our All-American First Team.
Standing at 6'6″ with arms longer than the last hour of work on a Friday, Lahmeyer's physique immediately commands respect from his matchup. Every game started with Lahmeyer's defender giving him a five yard cushion, which he would happily punish with free under after free under. While it's reasonable for a defender to assume that Lahmeyer's height is his best weapon, his throws are what really make him great. His length makes a mark effectively irrelevant, and Lahmeyer used an array of touch and angles en route to 29 assists at Nationals, third most in the whole tournament.
Let's be clear: Lahmeyer's height is still a damn good weapon. There were plenty of times where his teammates floated something to him when there were no other options, and it usually worked out. Lahmeyer's size was also instrumental on defense, whether it was being used for a block or just deterring opposing throwers from even attempting the deep space.
Miner Threat came up just short of a spot in semis. Lahmeyer was superb in their quarterfinal game against Middlebury, throwing 9 assists and saving his best for last in what was an incredible season.
Jacob Cowan (Grinnell)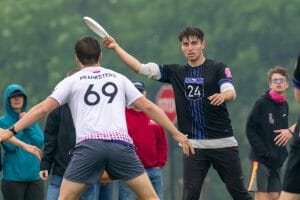 Cowan made a name for himself at D-III Nationals last year in Milwaukee, and earned Breakout Player of the Year for his performance with the Grinnellephants. This year, Cowan was on our radar entering the postseason – he was the only current player in the D-III Men's division to earn a spot on the Team USA U24 roster. Cowan cemented himself as one of the best players in the division in 2023. An integral part of the Grinnellephants offense, he scored 37 (12 goals, 25 assists) of Grinnell's points in Columbus. Cowan also had six blocks, and was +28 on the weekend. This is Cowan's last season with the Grinnellephants and in D-III, but he leaves the division as one of the most dominant players in the country (outright), and his team with two consecutive runs to pre-quarters at Nationals.
Lincoln Grench (Colorado College)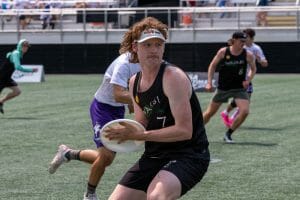 Grench was the standout player coming into D-III Nationals this year. If not for his teammate Oliver Kraft's stellar performance in Columbus, there's a good chance Grench would be in the POTY conversation. Grench was the main cog in the Wasabi offense, and picked up five goals and 21 assists on Colorado College's road to the championship. In Wasabi's offensive system, Gench used his frame to challenge the deep space before securing a wide open in-cut to initiate the offense. If disorder looked imminent for the O-line, Grench could drop back into the handler space and take command. It was clear, too, that Grench was an integral leader for this iteration of Wasabi. He had good chemistry with many of his teammates, and shouldered the pressure necessary to help lead his team to a national title.
Malachi Raymond (Middlebury)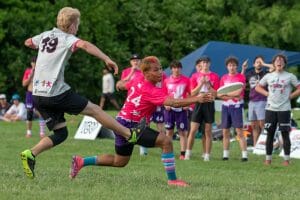 Raymond was one of the most talked-about recruits entering the 2022 season. But unfortunately, injuries sidelined him and the division would have to wait. At the end of the 2023 season, it is now clear that the hype was, indeed, justified. Raymond was an essential cog in the Middlebury defense on their run to the national finals. He occupied spaces on the field to stifle downfield movement, and could help run the offense on a turnover. Raymond had an engine that seldom looked to run out, which meant he could crossover as needed to help with must-score points. If there was a Comeback Player of the Year award, it would certainly go to Raymond. He has cemented himself as a name to watch in D-III Men's, and is going to be an issue for any team matching up against the Pranksters in future seasons.
Owen Hevly (Kenyon)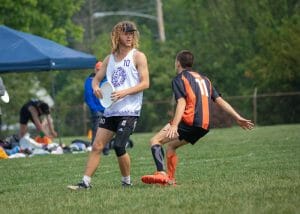 One of the best games at D-III Nationals this year was an unstreamed quarterfinal matchup between St. Olaf Berzerkers and Kenyon SERF. At one point the game was 7-3 St. Olaf, and a certain Ultiworld reporter started to pack up and move to another field. But all of the sudden the winds changed; at halftime it was 8-7, SERF. St. Olaf would not score another point until 10-7, and leading this massive comeback was Owen Helvy; he has a rightful place as a First Team All American. In that game, Hevly had four goals, five assists, and a single turnover; St. Olaf had no real answer for Hevly. On the weekend, Hevly had 10 goals, 21 assists, and two blocks on nine turnovers. He was a standout performer on a top-heavy Kenyon team, and really demonstrated what it meant to "play like there's nothing to lose."