Warm Up is the first truly elite tournament of the year in the Men's Division. Who's gonna win it?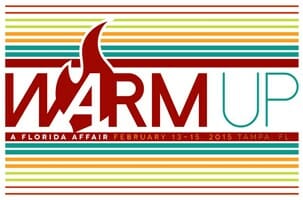 Warm Up marks the official start of the middle of the regular season, and it gives us a close look at many of the country's top programs. Heavy hitters like Pittsburgh, Carleton, Wisconsin, and Florida will all be in attendance, alongside regional hopefuls and a wide assortment of interesting teams.
We take a look at the field in our Warm Up Preview.
Pool A
Heading up Pool A are two perennial powerhouses in #5 Florida and #11 Carleton. While similar in their historic dominance, the programs are extremely different, especially at this time of year. At last years warm up, CUT coach Phil Bowen told Ultiworld that this was their teams first "real" experience as a team together due to winter weather — that's likely to be the case again this season. Meanwhile, Florida has been able to practice for weeks.
Florida coach Cyle van Auken runs his team unlike most college coaches, placing an enormous amount of weight — and playing time — on the team's top players. Because of that, this team can go deep into tournaments early in the year, when other teams are focused more on developing chemistry. Last year in Tampa, they reached the finals of Warm Up, knocking off in-state rival FSU before falling to a strong Texas team in the final. Look for the Gators to again thrive on what might as well be their home turf.
Carleton, though, is a different story. The classic example of a "rebuild and reload" type of program, they are always strong in May, but not necessarily in February. We can be sure, however, that there will be a playmaker for this team we haven't met yet. And of course, Jesse Bolton. After his first two tumultuous seasons — one cut short by academic issues, the other with injury — with CUT, 2015 could be the year of Bolton. If Carleton gets off to a good start this season, that could be a sign of just how high their ceiling can be.
#23 Cornell is always in the hunt for Nationals hailing from the Metro East, but after missing the cut in 2014 for the first time in years we'll be able to see how much of a "rebuilding" year 2014 really was. Franklin Li and Joe Thompson are still cleating up for the Buds, and they may have more upside this year than in recent memory.
#22 Northwestern had an extremely successful 2014 Warm Up — those results alone propelled them to earning a bid for the Great Lakes region. But they couldn't translate it into post season success as they fell at Regionals in the game-to-go. After only losing to the future champion Texas in their previous Warm Up campaign, they'll try to match that with a few upsets in Pool A. They're not quite the team they were last season, but there appears to be a legitimate program building up, and they'll be eager to earn a bid again this season now that EMU may be out of the national picture.
Georgetown will be the clear underdog in the pool. Steven Wartinbee and Nico Lake will pace the team this weekend as they look to prove that the Atlantic Coast has depth beyond the Carolina teams.
Pool B
#12 Florida State and #9 Wisconsin return to 2015 Warm Up after both making very successful runs in the tournament last year. Chris LaRocque is the obvious leader of Florida State, and on the shortlist of Player of the Year candidates. But as he said in a profile last year, he doesn't like the spotlight. This team relies on its depth to take them deep into tournaments, so they'll be testing out some younger players. Unlike Florida, expect FSU to struggle as they attempt to get some new players developed in their system. They have plenty of top end talent again this season, but more work to do on the middle part of the roster.
Wisconsin is experiencing heavy roster turnover in 2015, but as always look for them to take full advantage of the Florida sunshine. Wisconsin had nine seniors or graduate students in their 2014 campaign, including standout Colin Camp. Look for 6'6'' Craig Cox to be an emotional leader for this team, who, after his teammates were grounded in the 2014 snowstorm, led Wisconsin to a strong early performance with only eight players. Avery Johnson was a bright spot at handler in the fall and the team looks poised for a big season. 
#18 Arizona State is coming off of a strong Santa Barbara Invite, with wins over UCSB and Dartmouth and a finals appearance. A .500 weekend for this team at Warm Up could mean the world come the Series. Danny Bellissimo will get a chance to gain some national prominence playing against the country's best programs, and Nate Bridges won't be far behind.
Georgia Tech was not looking like a Southeast contender, let alone a National one, six moths ago. Throw in grad student Nathan White (Revolver, UC Davis) and these guys becomes a legitimate threat in the region. Enough of the "he's just a role player" talk. Take it from an eyewitness; he's the real deal. They struggled at Carolina Kickoff — this weekend will be a litmus test.
Virginia Tech has been under the radar lately on the Atlantic Coast, what could soon be one of the nation's best regions. Tech will have to rely on playmakers like Ring of Fire's Hunter Taylor to get them in position for a possible upset. They've long been athletic, but unpolished. They'll get their shot at the big teams this weekend.
Pool C
After a disappointing Nationals performance in 2014, coupled with the loss of Callahan nominee Mike Ogren and stud handler John Best, the #6 Central Florida Dogs of War didn't start the season on everyone's radar.
Now, a month into the spring semester and having already stacked some impressive wins over Pittsburgh, North Carolina, and Wilmington en route to an undefeated Carolina Kickoff victory, the Dogs are back in the hunt.
The big athletes and big dudes — Jeremy Langdon, Brawley Adams, Michael Fairley, Kyle Reedy, Stuart Little — are all still in uniform for UCF.
This team will lack size in at least one department however: the roster. Central Florida is going with a smaller than previous years (21-22 compared to 27-28). Old school. If you're a fan of college Ultimate, you've got to love that move. The best players are going to play. The guys mentioned above? They're going to play a lot.
Teams with smaller rosters often ride the emotional highs of a game more than most. UCF will likely be no different.
"It really just takes a small flame to burn over the entire team. We literally are one layout D from ending a game," head coach Andrew Roca said of the Dogs' defensive grit. "I always tell [the team] before the game 'If we're the first team to hit the ground, then we're going to be the first team to dictate the game.'"
It's still early. With that abridged roster Central Florida will have the challenge of staying healthy over the three day contest and has to beat lesser opponents efficiently. But expect this team to be playing meaningful games on Sunday.
***
"We took a lot from Nationals," #10 Texas A&M head coach Jose Cespedes reflected. "I feel like [the team] just learned so much as far as the commitment that it takes to be one of the best teams. Carrying that forward this year is one of the first things we brought up at the early team meetings."
They've been there. In a South Central that doesn't look as strong as it did last year – can they get back?
One strange note from their trip to Nationals… Dozen was missing four starters at due to "prior commitments."
That left more on the plate of handler Matt Bennett, who quickly rinsed the plate off and threw it for a goal. Bennett has every throw. He put on a laser light show in Columbus last year, including an 11 assist performance in a win over Dartmouth.
Though highly entertaining and, in a way, a capsule of everything that's great about college ultimate, that style is not the vehicle to make a run at the final tournament of the season.
Along with Bennett, A&M returns Dalton Smith, who has been nagged by injury, and a cast of characters with that high level experience. Warm Up will be a good test of where Dozen is and where they need to be in May.
***
What an interesting situation. Brigham Young is, by all accounts, a good team. They have what looks to be the most well-maintained college Ultimate website of all time (videos complete with headshots of the players who tallied the goal and the assist).
Thing is, BYU don't swag on Sundays.
College ultimate may not know exactly how good BYU is for a long time since they can't be measured in bracket play. Until then, opponents are on notice; these guys are going to bring it Every. Single. Game. While you're subbing to survive a crossover on Saturday, they're playing the Super Bowl. Even without their impressive results, their ability to sub harder than the opposition makes them dangerous.
This should be a treat for east coast Ultimate fans. Two whole days of BYU Ultimate. Make a note to check these guys out. We'll have them on film (subscription required).
***
If Penn State wants to go to Nationals they're going to need some statement games and earn the Ohio Valley an extra bid. Can they do it in Florida? This is as good a chance as any — the top teams are still tuning up, and every year an unknown team makes a run at Warm Up. Northwestern earned a bid for their region thanks to a great 2014 Warm Up — could Penn State do the same?
***
A steady contender to make Nationals with three trips in the last five years, Illinois watched on as Cinderella Eastern Michigan punched their ticket to the dance. Now it appears EMU is out of the equation. Continued improvement through the spring – against quality competition like they'll face this weekend – will be paramount for Illinois.
Pool D
No Will Driscoll, no Mitch Bennett, and a prequarters exit put a bow on the fall at Missouri Loves Company. Still, it's hard to write #25 Texas off. Their roster has a ton of big game experience. Can guys step up and make up the points left behind by last year's Callahan finalist? You'll probably be able to tell pretty quickly this weekend. Texas opens with South Florida, Tufts, and Florida State. Those games should be a good gauge of where Texas is in 2015.
***
At Carolina Kickoff, #1 Pittsburgh lost to North Carolina and Central Florida (who went on to win the tournament). Both were one point games. Pitt had some starters getting light rest but we should see the hit parade of stars at Warm Up. Is this the weekend Pitt shows the country why they're the top ranked team? Or could they be further from the greatness that we expect to see?
Whatever you do, pay attention to their 7 PM game against Central Florida on Friday. Should be a doozy.
***
Wisconsin-Milwaukee already went to Queen City Tune Up last weekend. Milwaukee is not close to Charlotte. Or Tampa, for that matter.
But… if you wanna be the man, you gotta beat the man. It looks like Milwaukee knows this. Making moves, traveling to play the best teams – that shows commitment to getting better.
Wisconsin-Milwaukee finished 10th at North Central Regionals last year. Safe money says that finish is better this year.
***
The New England Region is a bit of a question mark with Dartmouth looking weak and Harvard simply OK. UMass had a hell of a Queen City, though. Can #14 Tufts keep pace and work to secure an additional bid? They'll get their start at Warm Up.
Tufts returns several players that received end of the year awards — tack on a year of Nationals experience for the veterans and you have a team that is more than capable of letting regional foes that they're for real. Tyler Chan is the real deal and gets a lot of buzz out of New England as a possible Player of the Year candidate.
An interesting cross country matchup between Tufts and BYU will be filmed by Ultiworld at 9 AM Saturday morning.
***
These will be home games for South Florida, quite literally playing on their campus. Can they harness the magic of sleeping in their own beds and spoil someone's weekend?
Ultiworld will be filming games at Warm Up. Here is the filming schedule; here are details about college subscriptions.