A full wrap of CCC, the fall's cornerstone Men's tournament.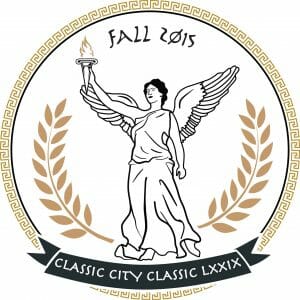 ATHENS — It was an engrossing weekend in Georgia for the 2015 Classic City Classic. UMass emerged undefeated and as the clear top team at the tournament, landing themselves a #1 ranking heading into the spring. But many other storylines have begun to unfold in the extremely young 2016 college season. Here's a look at some of those stories.
UMass Adds Depth To Vicious Top End
We could argue for hours about who the top team in the country will be come May 2016. But what is not in question is that UMass is not only in that conversation, but they're the first team that should come to mind.
UMass dismantled almost every team they faced in Athens, GA, this past weekend and solidified themselves as a clear title threat in the upcoming season. Consider this: the team's offense was not broken once on Sunday, despite the fact that they played the best other two teams at the tournament — Harvard and Texas A&M — in back-to-back games in the semis and finals. The final scores of those games: 15-10 and 15-7. Crushing.
As I mentioned in the game recap, Jeff Babbitt — one of the country's most dominant players — did not play a single O point on Sunday. He played just one on Saturday. They also played without their star sophomore handler, Brett Gramann, who is sidelined with an injury.
That set of facts highlights the strides that UMass has taken in the fall. Last year, the team was quite good — they finished as a quarterfinalist at Nationals — but really lacked depth. The team's top 10 players played almost all of the meaningful points at Nationals.
At CCC, we saw what some of the team's new pickups brought to the table. Freshman Tannor Johnson was an instant sparkplug, showing off strong skills on both sides of the disc. "He's great," said UMass coach Tiina Booth. "He told me wanted to handle. I was a little leery about it. But he's a big target, he takes care of the disc, he knows the throws that he has. I'm 100% confident in him."
They also expect to add Eric Biggs, one of the captains that helped lead Maryland to Nationals last season out of the Atlantic Coast. Biggs was a rock on defense and as a handler after the turn.
They also have a stock of quality role players who cut hard and get open. That allows the team's top players to really flourish. Conor Kline was a nightmare for defenses, piling up stats in every game. In the semifinals, he had six goals and two assists. In the final, he had five and two. Simply put, he was the fastest player at the tournament. He frequently ran right past his defenders that were giving him a 10 yard deep cushion. His aerial skills, which we saw on display last season, make him even harder to deal with.
When Babbitt crosses over to the offense in big spots in the spring, it's not really clear what opposing defenses will do. Where do you put your #1 defender? Babbitt is more physical than Kline and is probably even more dominant in the air. Kline might be the fastest player in college this season. It is going to be a tall task for the defense.
A lot of opposing teams were quick to praise UMass' form at this point in the year, but there was also a sense that Zoodisc might have displayed too much of their strategy, particularly the 1-3-3 zone that ate teams alive.
"If I'm being honest, I think they're showing cards pretty early," said Central Florida coach Andrew Roca. UCF played UMass in the quarterfinals; UMass won 15-7.
"For the sake of competitiveness, I hope they evolve past [the 1-3-3 zone]," he continued. "Because if that's all they rely on, they won't be able to challenge teams past that. Because, to be honest, in some points of that game when they went to man, they couldn't stick with us. We had too much speed and too much open space."
Team leadership wasn't really worried about any advanced scouting. "We weren't really nervous about showing our zone," said Babbitt. "We run a couple different sets of our zone, plus a junk. So if teams prepare for one, we'll just run another."
That said, they do see areas where they can improve. It was obvious that the team's man defense was not on par with its zone. Booth said that they need to work on shutting down open side cuts in man D. She added that around break throws needed to be sharpened across the roster.
Babbitt said that, despite a lot of blowout wins, the team's defense didn't convert on their chances as well as they will need to in the spring. "We got a lot of Ds and forced a lot of turns, but we couldn't work it up the field," he said. "But I think that's going to come when we get Brett [Gramann] back and a couple of our other guys who weren't here."
The team's ceiling is extremely high. Babbitt, the 2015 College Defensive Player of the Year, anchors a D line that gets turns with a zone in completely still conditions. Kline looks like he has the talent to be an All-America selection and one of the country's best deep cutters, on par with UNCW's Jack Williams and Oregon's Connor Matthews.
If they can add some more defensive looks and continue to run deep lines all season, they will be in the elite tier throughout 2016.
Harvard Was The Second Best Team In Athens
It's a big up year for Harvard Red Line, which brings back one of the best duos in the country in John Stubbs and Mark Vandenberg. Teammates on Ironside this season, Stubbs and Vandenberg were dominant in Athens, leading the team to excellent wins over Texas A&M, Florida, and Florida State.
"We haven't flown to a tournament in the fall ever as a program," said Harvard coach Mike Mackenzie. "And we really thought this year was a good year to get that early test and really have something to build to towards the end of the fall."
Last year, Harvard was clearly in the midst of a rebuilding year with a lot of inexperienced players operating in outsized roles. Now, those players have a year of college experience, perhaps some club over the summer, and look much more comfortable in their places on the field.
This team, though, will thrive under the improved play of Stubbs, who looks poised to take the leap to become the truly dominant player we've been waiting to see since he enrolled at Harvard as a freshman.
Red Line still has work to do. Like most teams, they struggled against UMass' zone. Their defense, though it got turns, still needs a lot of offensive tuning.
The system looks strong as always and the team is committed to growth this season. Individual players, like standout sophomore John Rahill, have been putting in tons of work to improve.
Harvard moved into the top 10 in the Power Rankings after their performance this weekend. They could stick there all year.
Texas A&M Brings Back Elite Offense
You might have expected Matt Bennett's departure from Texas A&M Dozen to cause some bumps in the team's exciting offense from a year ago. Not so. Dalton Smith and Ben Lewis led a potent O line through CCC to a second place finish with their signature huck-heavy style.
Smith sliced up defense after defense with a quick handler attack, pinpoint throws, and long bomb hucks. Turnovers — a nagging problem for the team last season — were down from the O line. They look like they have the tools to put one of the country's best offenses on the field this year.
The problem? The defense just cannot match that. Even when the team did get turns, particularly on deep shots, where they excel, Dozen's less experienced players struggled to move the disc on offense. Depth will likely be a concern in the spring.
"We clearly haven't taught everything, but given the limited strategies we had we executed well," said captain Bob Lewis. "The offense is progressing; we have a lot of concepts we like. The key is moving into the junk looks and zone looks."
A&M is chock-full of athletes and they should be able to build a good defense like they had a year ago. But can their younger players' offensive skill improve enough by Nationals?
I asked the team what they learned at Nationals last year. "We need height," they quipped, laughing. But Bob Lewis had some follow up. "If you want to take the next step, you have to up the commitment," he said. "You have to train, you can't just practice." We'll see if they can redouble that commitment in the next few months.
Coach-less Pitt Looks Strong Despite Missing Thorne, Earles
After two seasons of coming into Nationals as the favorite and exiting the tournament in the quarterfinal round, Pittsburgh is changing things up.
"We just needed more fun," said captain Pat Earles. "It helps to have fun when you're playing. That's the sole reason we all started playing anyways, because it's fun. So we wanted to get back to that."
Having more fun has been a heavy focus this fall, which has involved no coaching from Nick Kaczmarek. The captains have led practices and tournaments throughout the semester.
"Initially it was planned just for the first part of the fall," said Earles. "But we said, 'We have a really good thing going here. Let's just keep it simple and give you [Kaczmarek] more and more time so you're even more hungry to come back.' He talked with us and said he was ready to come back for CCC, and we said, 'Let's just see what happens.' We're trying the whole lighter mentality this season. It's not so much win Nationals or bust.
"Our goal is to win Nationals still, but we're not going to pound it into people's heads."
It's obviously too early to say how that mindset change will affect the team at full strength. Max Thorne was not in attendance this weekend. Earles is recovering from hip surgery and isn't expected back until at least March. Sam Van Dusen is currently abroad.
Still, despite missing many of the team's top players, Pitt played well at CCC, rolling through pool play on Saturday before falling on double game point to Texas A&M in the quarterfinals in a wild, run-filled game.
"We came out cold, just like we came out yesterday," said Earles. "We came out flat. As soon as we matched their energy, we took over the game. But it was too little, too late."
Pitt dispatched UCF and Tulane en route to a fifth place finish and a 7-1 weekend. They had some strong performances from Oregon transfer Jack Slevin, Jonah Wisch, and rookie standout Mike Ing.
"He's our best freshman and definitely one of the best freshmen in the country," said Earles. "Top five for sure, maybe top two, behind [UMass' Tannor Johnson]."
The 6'1" Ing brings a much-needed dose of athleticism to the Pitt D line. He had a sizable batch of layout blocks this weekend. He is one of a number of strong rookies in this year's Pitt class, including Noah Robinson.
Pitt may not be the regular season world beater we saw a year ago, especially since Earles won't return until midway through the season at the earliest. But perhaps that's a welcome change in a fun-focused year.
What To Make Of JMU's Third Place Finish?
Think about this: JMU did not make it out of their Conference last season. Then they show up as the 21st seed at CCC and finish third after wins over Harvard, Georgia, and Tulane.
That's the kind of turnaround you simply don't see often in college. Even JMU captain Cam Barnhardt was taken aback. "Coming into the tournament seeded 21st, we're pretty surprised to be here honestly," he said after their semis loss to Texas A&M.
That said, he thinks last year's rough Series performance was more of a fluke (the injury bug bit them hard) than their play at CCC. They only graduated one player this year. "We have the talent," he said.
The conversation about their talent begins with the big lefty Barnhardt, who did damage as a cutter and a hard thrower. Garrett Braun was impressive as a deep cutter.
It's clear that they have some real talent, but JMU always has. Two years ago, they had a high water year featuring Lloyd Blake and Ben Fleming, but still couldn't quite make the push towards Nationals.
Could they this year? The Atlantic Coast looks extremely deep this year, with Virginia Tech, VCU, Maryland, and JMU all looking impressive behind the big two in UNC and UNC Wilmington.
If they can continue to hone the offensive rhythm they found at CCC, there's definitely a chance. But inconsistency seems to be an issue for the program generally. They've also operated in the shadow of the Blake/Fleming years. Barnhardt thinks that's behind them now.
There was clearly good chemistry between the Hellfish and they have lots of athletes. Like many teams, they were a bit raw with their D-line offense. It's worth noting that they were missing defensive beast Ben Greene, who Barnhardt called the team's "#1 athlete."
I don't know if I'd start buying up lots of JMU stock, but they are a team to keep an eye on in the early spring.
UCF Looks Like Typical Fall UCF
Central Florida came to CCC still very much in the midst of their tryout process. They still need to trim 6-8 players before setting their spring roster. As you might expect, they weren't exactly dominating.
But have no doubt: they will be an extremely tough out later this year. With Florida State struggling a bit and Georgia not matching the production we expected to see, UCF should be the favorite to win the Southeast this season.
Rookies Zach Goode and Austin Gaines were impressive, with the former scoring a lot for the offense and the latter piling up blocks. "They set the bar really high," said UCF coach Andrew Roca.
The team clearly missed its graduated handlers Alex Bullock and Brawley Adams against the 1-3-3 of UMass in the quarterfinals. The Dogs kept getting impatient and trying to force a hammer: their over-the-tops more often than not were blocked by swarming UMass defenders.
Bullock and Adams carved up zones last year. That kind of pinpoint throwing has yet to develop for this year's team.
Florida Solid Despite Missing Some Stars
It was a solid weekend for the Gators, who finished 5-2 with losses to Pitt in pool play and Harvard in quarters. The team is adjusting to shifting roles after the graduation of offensive stalwart James Dahl and the departure of a number of older players.
"We were an old team last year, age-wise," said Florida coach Cyle van Auken. "Now we're 20 and 21."
Florida played well despite playing with star cutter Tanner Repasky and defensive stalwart Jacob Dummeldinger. "As a tight a rotation as we generally run, [missing] two of our top four makes a difference," said van Auken. "So I'm pleased with the results over all."
Fifth year Bobby Ley played well alongside junior Billy O'Bryan, who fills into Dahl's role on the O line. "He's next in the line of Florida players who do what you do," said van Auken.
Missing their #1 defender in Dummeldinger caused problems in their losses — Harvard's John Stubbs feasted in their quarters matchup. Dummeldinger would have taken that matchup.
It's early to say where Florida will end up this season after a disappointing Regionals exit last year. Ley is the best thrower in the Southeast and will keep their offense competitive all season. Can the super-tight rotation that Florida runs function with this crop better than last year's? We'll find out in the spring.
Bounceback Year For Tulane?
What a brutal season 2015 was for Tulane. After coming on strong late in the regular season and ultimately earning a spot at Nationals with a brilliant performance at Regionals, Tulane watched their season come to an abrupt end when they were found to have played with an ineligible player.
"Obviously last year was crushing for the entire team," said Tulane captain David Mondschein. "That's not something that we've sort of just shaken of, but it's not something we can focus on either. It's motivation, but it's something we can't dwell on. We feel really good about where the team is and where the program is heading. We're coming out this year — clean slate."
That slate got some quality material this weekend in Athens. They opened the weekend with a big 11-6 upset over UCF and held on to win the pool despite a loss to Brown. They fell in an extremely even quarterfinals match against JMU.
What is clear is that they will be in the mix again for a spot at Nationals out of the Southeast. Mondschein, Jack Baba, and Ben Lamport offer up plenty of veteran experience. Sophomore Chance Cochran had a great weekend.
Tulane was a bubble top 25 team after this weekend. With some work on their depth and offensive consistency, they could easily move into the rankings in early 2016.
Georgia Takes Injury Lumps
We have to start here: although there has yet to be official confirmation, Georgia sophomore captain Sebbi Di Francesco is believed to have torn his ACL in the game against JMU in pool play.
Georgia, who had just come off of a very nice win over Stanford, was spooked and went on to lose that game and ultimately miss the bracket. They lost to Michigan to open up Sunday, then beat Florida State, then lost to Georgia Tech. It was an emotional, up-and-down weekend for a team that has real potential.
"We played well, but we're not where we were at this time last year," said veteran Sam Little.
The team is still adjusting to losing major contributors like Elliott Erickson, Mike Peters, Tyler Haskell, and Shawn Paul. New roles for younger players are still getting figured out.
"This entire semester we're working only on horizontal offense to make it more of a team dynamic instead of bailouts," said Little.
Watching your captain go down to a potentially season-ending injury is, of course, terrible. Little thinks a lot of their fluctuating performance this weekend "was less about the on-field product and more about what was going on in [their] heads." It's hard to argue with that.
Expect some more tweaking from Georgia. They've got a very stout defense and some excellent playmakers in Little, Parker Bray, and freshman Mason Cary, but they have lots more role-defining to do before the Series.
Stanford Shows Growth And Potential
Stanford was a bit sluggish to start the tournament, but turned it on late to finish with a 3-0 Sunday and some real momentum heading towards the spring.
"I think in general we came out really slowly on Saturday," said coach Ryan Thompson. "We were not executing the defensive game plan."
Stanford traditionally prides itself on its defense and expects to be a defensive team again this season. "If we can get blocks, that sets the table for everything else we're trying to do," said Thompson.
The team's 17th place finish does not really indicate how good they were or will be in the spring. They have excellent continuity and should be competitive all season. Their decision to fly cross-country for a fall tournament suggests how committed they are to putting their chips into the middle this season.
"We expect to be making noise at Nationals this year," said Thompson. "That's our goal this year and that's what we're shooting for. Whether it's one team out of the Southwest or multiple teams out of the Southwest, we're going to be at Nationals this year."
Quick Hits
– Michigan had a great Sunday, notching wins over Georgia, Auburn, and VCU to take ninth. They play with great energy and never throw in the towel. They don't look, at first glance, like they have the talent we've seen from them in the past two seasons, however.
– VCU is very athletic again this season. They gave Pitt a heck of a game on Saturday morning and beat Georgia Tech and Ohio State on Sunday. They'll be a fun team to watch develop in the spring.
– Emory played some great games on Saturday (including wins over Michigan and Brown) but really ran out of steam later in the weekend. Conditioning will be important. There is real potential here in the next couple of seasons.
– I did not get a chance to watch a minute of Florida State this weekend, but a look at their results is a bit concerning. They lost back to back games to Auburn and Georgia on Sunday after falling to Texas A&M and Harvard on Saturday. They pulled out a tight 11-9 win over Emory to close out the weekend. Connor Holcombe seems to be the dominant force we expected, but there will be lots of work to do around him. It's far too early to worry about them, but they've clearly taken a sizable step back after their big season last year.
Notes
…Athens is an awesome place for a tournament, especially during college football season…Thanks to Jojah and Sam Little for all their help…The weather was lovely; cool fall temperatures, sunshine, and little to no wind…Extremely early Player of the Year watchlist from teams I saw at this tournament: Jeff Babbitt, Conor Kline, John Stubbs, Dalton Smith, Bobby Ley…