Our shot at the tricky 2016 seeding.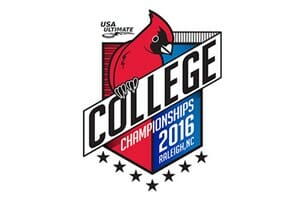 This is the first year in the College Division that regional finish does not bind the seeding at Nationals. That means that we will get some very good insight into how USA Ultimate will seed going forward.
With a number of upsets (notably Carleton's big win at North Central Regionals), seeding is not trivial this year. We would love to see your take in the comments. Please note that we do our best to follow USA Ultimate's guidelines for seeding: USAU's end-of-season rankings are heavily involved, head-to-head wins matter at the margin, and historic success is considered. We do not explicitly try to avoid regional matchups.
Let's kick things off right away with the pools generated by my predicted seeding.
| POOL A | POOL B | POOL C | POOL D |
| --- | --- | --- | --- |
| Massachusetts (1) | Oregon (2) | Wisconsin (3) | Minnesota (4) |
| Harvard (8) | North Carolina (7) | Pittsburgh (6) | UNC Wilmington (5) |
| Colorado (12) | Washington (11) | Carleton (10) | Georgia (9) |
| Texas A&M (13) | Florida State (14) | Michigan (15) | Auburn (16) |
| Cal Poly SLO (17) | Connecticut (18) | Case Western Reserve (19) | Utah (20) |
1. Massachusetts
UMass ended the season ranked #1, convincingly won Easterns against a strong field, and dominated in the postseason. There's no doubt about their #1 overall seed.
2. Oregon
The west coast powerhouse should slide up to #2 after Wisconsin and Minnesota lost games at Regionals. Oregon's only blemish this season is a two point loss to Harvard.
3. Wisconsin
Yes, they got shellacked by Carleton at Regionals and lost to them again in the NC final. But Wisconsin was the #2 finisher at the end of the regular season. They have wins over Minnesota, Pittsburgh, and Harvard. There's also some historic precedent for this seeding: Seattle Sockeye was #2 in the club rankings last year and lost to Rhino at Regionals. Sockeye got the #3 seed overall; Rhino got the #7. The new regionals finish rule is in place just for a situation like this one.
4. Minnesota
#3 in the end of season rankings. Fabulous results this year. Lost to Wisconsin at Regionals. Beat UNC Wilmington at Easterns. Pretty clear #4 seed.

5. UNC Wilmington
A regular season win over Pittsburgh and a 3-0 record against UNC lands UNCW in the five hole.
6. Pittsburgh
Pitt got a strong win over UNC during the season and finished ranked #6.
7. North Carolina
A #5 USAU ranking doesn't overcome big losses to the two teams seeded ahead of them.
8. Harvard
Harvard finished with a 1-1 record against Georgia, with the win coming late in the season at Easterns.
9. Georgia

The Southeast champions feel like they should get a two seed instead of a three, but their inconsistency lands them at a pretty sure #9.
10. Carleton
Carleton gets a small bump past Washington after winning the North Central with authority, but their rough regular season doesn't justify much more. In the past, Wisconsin and Minnesota would be #11 and #12, but the new rule makes it much more likely we will see high seeds for those teams and a middle seed for CUT.
11. Washington
A head-to-head win over Colorado lands Washington at #11. They could end up ahead of Carleton as well at #10, but no higher.
12. Colorado

A South Central Regionals win means Colorado is almost certain to end up at #12.
13. Texas A&M
A&M will slot right behind Colorado.
14. Florida State
These final seedings are fairly straightforward, as the USAU rankings are not contraindicated by many results. FSU finished 19th in the USAU rankings, ahead of Michigan and everyone beneath them.
15. Michigan
Not many relevant head to head results. Michigan's ranking will hold up here.
16. Auburn
Auburn got a win over Cal Poly at Huck Finn, which should push them into a four seed.
17. Cal Poly SLO
Clearly ahead of UConn.
18. Connecticut
UConn ever so slightly beat out Case Western in the final USAU rankings.
19. Case Western Reserve

Can you imagine what would have happened if the regional finish rule from last year was still on the books? Pitt as a pool five seed…
20. Utah
Shout out to the #48 team in the country making the dance.