Welcome to the midseason!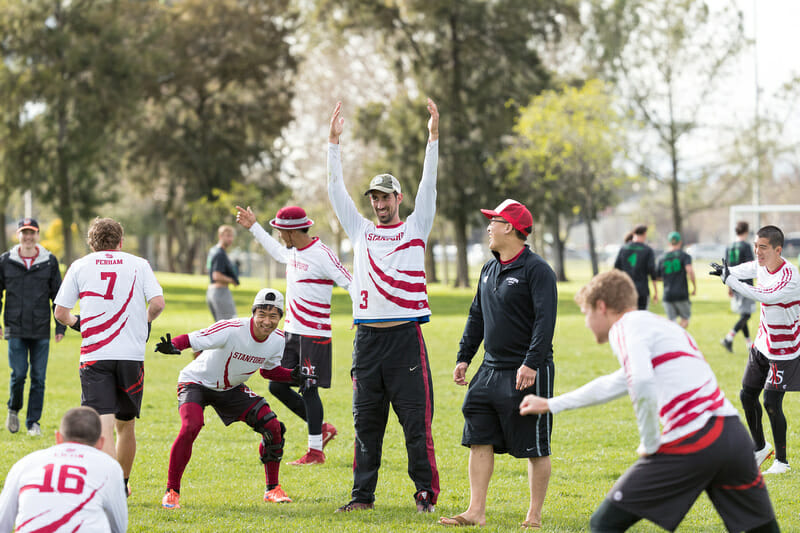 During the spring season, we will publish a bite-sized weekly recap of the action across the College Division. This will serve as a supplement to our standard tournament reporting and will offer a high-level look at the latest happenings and the biggest stories of the week.
Want your tournament listed here? Submit a recap of what happened right here.
Women's
Dartmouth Proves Title Chops With Stanford Victory
In what was by far the most competitive field this regular season, #4 Dartmouth Princess Layout came out on top and pushed themselves to the forefront of the division. They fought off #3 Texas Melee in the final, getting huge performances from stars Angela Zhu and Jaclyn Verzuh. For her part, no team could match Verzuh all weekend, as she carved through many of the division's other top bigs on Dartmouth's road to the Stanford Invite title. They dominated #1 Stanford Superfly in the semifinals 13-5, adding an exclamation point to their performance.
With so many elite teams, there's plenty more to talk about, and you surely should check out our other content from the weekend!
For more on the women's division at Stanford Invite, check out our tournament recap, final recap, Saturday Stock Picks, and scores.
Kansas Upset, Iowa State Wins Windy Midwest Throwdown
While #22 Kansas Betty entered the weekend as the big favorite to win Midwest Throwdown, but were stopped in semifinals by eventual champion Iowa State. Led by Linda Behrer's throwing prowess, Megan Halverson's playmaking, and Caitlin Durston's defense, Iowa State Woman Scorned got revenge on Colorado State in the final, winning 9-7 after CSU got the better of them in pool play.
For more coverage of Midwest Throwdown, check out our tournament recap and scores!
D-III Update: St. Olaf Earns Top Spot, Bates Wins Long Island Classic
Midwest Throwdown's field included six Top 25 teams, with #2 St. Olaf Vortex drawing into power pools with the tournament's most respected D-I teams. The results will make waves across the division, most notably. St. Olaf's 10-8 victory over #1 Truman State TSUnami in prequarters on Sunday. TSU had an otherwise strong weekend, going 4-2.
Meanwhile, #7 Carleton Eclipse had a wonderful weekend, going 5-1 and notching quality wins over D-I teams like Wash U and Nebraska. They may not have broken seed, but they have to feel good about their showing. The same can be said for #24 John Brown Savage Skies, who went 4-2 while getting victories over #13 Luther and D-I program Iowa. The young program's record improves to 15-4 on the season and they have to be considered a player on the national level.
The other D-III teams in action did not have the same standout performances. #17 Grinnell Stickies posted a middling 3-3 without any big Ws. Luther posted the same record. Unranked squads like St. Benedict, Drake, and North Park failed to make meaningful inroads, although St. Benedict did tally a 4-2 record.
Long Island Classic's 25 degrees and 25 mph winds did not perturb #10 Bates Cold Front this weekend. The New England team broke out of their fifth place seed to beat D-I UConn for first. #21 Wellesley was less successful struggling to adapt to the wide variety of zone defenses thrown in the wind and they finished seventh out of eight.
Elsewhere, Messiah Falcons hosted one-day Messiah Meltdown against local teams and won all three games.
Men's
Pittsburgh Outlasts Colorado In Final Clash at Stanford Invite
#2 Pittsburgh En Sabah Nur followed up a win at Florida Warm Up by adding a second win at Stanford Invite, defeating #4 Colorado Mamabird 15-14 in the final. As the No. 1 seed, Pitt was the favorite, and their depth and defense provided the toughness and grit necessary to survive some tight matchups with Cal Poly SLO, Stanford, and of course, Colorado.
With so many elite teams, there's plenty more to talk about, and you surely should check out our other content from the weekend!
For more on the men's division at Stanford Invite, check out our upcoming tournament recap, final recap, Saturday Stock Picks, and scores.
Purdue Stuns Northwestern in Midwest Throwdown Final
While #13 Northwestern NUT was the only ranked team at Midwest Throwdown, but they were no match for Purdue Undue in the final, who crushed them 15-4. Riding high off of a semifinal showing at Florida Warm Up, Northwestern couldn't stay up when faced with Purdue and the stiff winds.
Purdue has now been to the final in both tournaments they've attended, and is 13-1, with their lone loss by one goal. They were only challenged in one of their games, by St John's to start the tournament. Meanwhile, Northwestern's results were less than stellar and could call into question whether or not they can hold a strength bid for the Great Lakes.
D-III Update: Air Force Wins South Central Clash, Lewis & Clark Becomes Northwest Favorite
In a clash between top five teams, #2 Air Force Afterburn dominated #3 Colorado College Wasabi 13-6 in the final of their home tournament. Both teams were dominant throughout the weekend, and there was never any doubt that we'd end up with the final everyone wanted to see. While both teams held to start, Afterburn got the game's first two breaks to go up 3-1. Wasabi would only hold one more time in the first half before Air Force rattled off four straight breaks to take half 8-2, effectively ending the game. Along with #6 John Brown, these two teams form a clear top tier in the South Central, and we should see them match up again at regionals.
oming into this weekend, #22 Portland Uprise looked like the favorite in the Northwest region. However, perennial titleholders #23 Lewis & Clark Bacchus set the record straight by defeating Uprise 12-9 in the final of PLU BBQ. Both teams easily handled any college competition they faced all weekend; however, a loss to the Pacific Lutheran alumni team in pool play forced Portland to play an extra game on the weekend, giving Bacchus an upper hand that they were able to take advantage of in the final. The D-III team that finished highest at this tournament in the last three years went on to win the Northwest region; if history repeats itself, it looks like we'll see Lewis & Clark competing in Louisville this May.
In other results from around the weekend: #5 Franciscan Fatal easily defeated all challengers at DiscThrow Inferno 2k17, with their closest game being a 14-9 win in the final against Towson. #12 St. John's BAM finished with a 3-3 record against quality D-I competition at Midwest Throwdown, with perhaps their best performance coming in a 15-13 loss to eventual champions Purdue. Elon Big Fat Bomb struggled to a 2-5 record at Terminus, picking up close wins against D-III opponents Samford and Berry while losing handily to mid-level D-I competition, which has led to them dropping from our power rankings. Perennial NE contender Bates Orange Whip went 6-0 and defeated hosts Army West Point in a close 9-8 final in the 3rd Annual West Point Classic.
Quick Hits
The top two seeds at Boise Big Sky Brawl, Nevada-Reno Elevate and Montana State Rum Runners, won all of their games leading up to the final, setting up a climactic battle. Montana State edged the victory, 9-8.
The Air Force Invite looked like a chance for D-III #2 Air Force and #3 Colorado College to butt heads in the final, and that came to fruition. Air Force dominated, winning 13-6.
At PLU BBQ Open, the top two seeds, Lewis & Clark and Portland, matched up in the final, and the results were as predicted by seeding: D-III #23 Lewis & Clark won out over #22 Portland.
D-III #4 Franciscan Fatal faced little resistance on the way to an undefeated victory at DiscThrow Inferno.
Maryland and George Washington split two great games at Chesapeake Classic, but GW got the more important one, 12-10 in the final.
There were a lot of close games at Delaware Showdown, but No. 9 seed Lehigh surprised the field with a 12-8 victory over No. 1 seed Carnegie Mellon in the final.
While host Army broke seed to make it to the final, it was Bates who claimed the narrow victory at West Point Classic.
No. 2 seed Mississippi and South Carolina both went undefeated on the way to meeting in the final. Ole Miss finished the weekend unscathered, beating USC 12-10 in the final of Terminus.
Dickinson went 6-0 at Safari Games to win the two day round robin event.
Looking Ahead
Many top men's teams that didn't make it to Stanford Invite will be in action at College Centex (M), including #1 North Carolina and #3 Minnesota.
#9 UNC-Wilmington is a big favorite in the men's divison at Tally Classic (M/W), but with Florida's big three and a number of regional challengers all gunning for them, they'll have to work for it. #17 Florida is the favorite in the women's, but No. 1 seed Kennesaw State could sneak into the bid conversation with a big weekend.
Atlantic City (M/W) hosts 20 teams across both divisions, and Cornell is the top seed in the women's division and looks to continue a strong start to their season.
#24 Vermont is the headliner at Mash-Up (W), but upstart Liberty and the rest of the field is aiming for an upset.
Other Events: Silicon Valley Rally (M), Sun Dance (W), Rip Tide (M/W), Cool Down (M/W), Palouse Open (M), Boogienights (M)