Underdogs, an undefeated, and underwhelmers from Stanford Invite.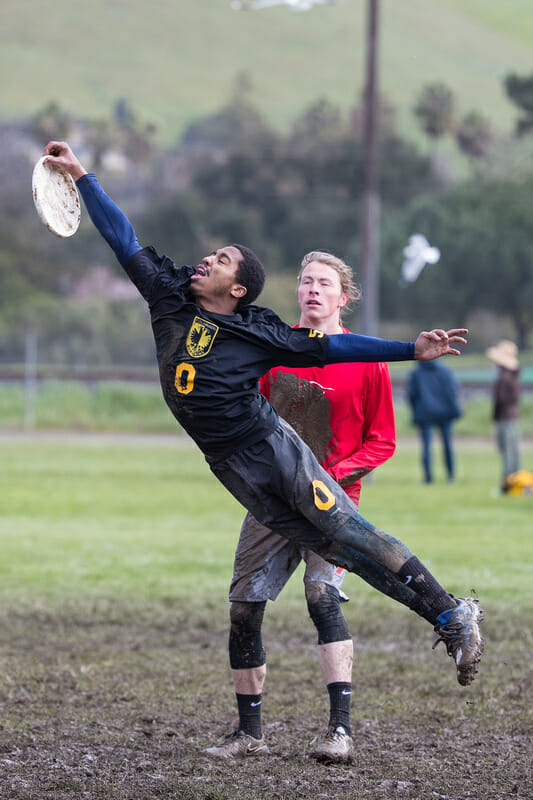 FREMONT, CA — Sun, wind, rain, hail, and mud. The weather put on its own show in the Bay Area this past weekend, while the college division competition raged on through (almost) all the conditions. #2 Pittsburgh En Sabah Nur walked away with the Stanford Invite 2017 title, but teams across the division made strides. Here are stories and notes from a highlight-filled weekend of the regular season.
What We Saw
Pitt's O-line Grows On Defense
This past weekend, Pittsburgh En Sabah won the Stanford Invite for the second time in three years. But it wasn't easy. Not in the slightest.
The final against Colorado Mamabird was littered with turnovers on both sides. Instead of two finesse offenses out-running and out-gunning each other with well-time pull plays, both O-lines took their shots and missed often. Pitt made their mark in earning the disc back.1 In particular, Thomas Edmonds turned an impressive defensive performance — truly what any coach would want from a handler opting for tough inside-out flicks that missed as often as they hit. Edmonds and the rest of the O-line heaped on the pressure and held on, getting blocks and forcing turns to manufacture grinding holds.
The trend went beyond just the final. As the offense searched for greater success at the expense of turns, they battled into holds to bring their experienced defense back onto the field and overcome deficits. Oregon had the lead at 13-12 in their semifinal matchup. Cal Poly-SLO took half 7-6 during pool play and held onto their advantage until Pitt broke for 9-8 and inched ahead.2
What's important is that the offense matured all weekend and, while they struggled to put a clean point together at weekend's end, they didn't flinch when it came to earning the disc back. "I thought our O-line played phenomenal," said coach David Hogan. "Their defense, especially, is just…haven't had O-line defense like that in a while. And that is very noticeable."
It's a result that makes sense. As good as Pittsburgh's D-line was at Warm Up, it was the first tournament for almost every team in attendance. Anyone not named Minnesota shouldn't have been expected to have the offensive polish necessary to survive the pressure from Pitt.
At Stanford, the defense handled the critical breaks, but the O-line gets the badge of honor for hanging on as they continue to grow into their roles. Pittsburgh's system is effective, and every player on the team knows how to defend. Pitt has Easterns next, where the field will be even tougher and opposing D-lines will be deadlier when gifted turns.
What's One Point In The Course Of A Season?
One point. That was the difference between a tournament title and runner up for #4 Colorado Mamabird this weekend. When Mamabird were packing up after the final, the mood was light. It was hard to tell that they'd lost the final of an elite tournament. It hardly seemed to bother them at all.
Colorado trailed just once in an entire weekend of games. Veteran thrower Erik Hotaling was just proud of his team and impressed with their final opponent. "There's a lot to build on, but super proud. It's hard to knock the fight that [Pittsburgh] brought and that we brought. It was a lot of fun. It's why we play," he said.
Mamabird had incredible veteran leadership all weekend long. Hotaling, Wes Chow, Mark Rauls, Jeremy Harker, and Marc Kaylor spirited the O-line along, keeping the line fast, loose, and having fun. That opened up opportunities for youngster Quinn Finer, who made some fantastic plays.
On defense, Isaac Chestler and Josh Crane held the reins, while Alex Tatum turned in a nice weekend as a relative newcomer. Even without Mathieu Agee, the D-line rookie who led the team in goals at Presidents' Day, the D-line fared well.
Colorado knows their system and themselves. The fundamentals are strong. It used to be that Harvard set the throwing standard — regardless of full-on talent level, everyone on Red Line can always throw an around backhand and run the vert. For Mamabird, almost everyone can throw a hard around fake to open up the inside cutting lane. It's a higher level of difficulty, but the throw is deadly. Rather than inside-out throws that zip horizontally in front of the stack on the goal line, Colorado uses the throw to gain yards in the midfield. It helps that, for a change of pace, Harker can put his southpaw to work and rip inside out backhand hucks.
Of course, strength of schedule always plays a role at tournaments. Colorado may not have conceded a lead outside the final, but they got a gassed Georgia who were not prepared for the mudpit of a showcase field in their semifinal while Pitt took on Oregon in top gear. Comparing routes through pool play gets a bit dicier.3 Was Pitt's schedule actually tougher, or is Colorado largely the better team who happened to give their final opponent one-too many looks at a break in crunchtime?
What's clear is that Colorado is stocked with talent and that they're getting better at every outset. Easterns is next up, and while the field is stacked, we haven't seen any teams outside of Pittsburgh and North Carolina offer up the same kind of formidable strength.
Oregon's Defensive Debut
What a difference a few weeks and a gutshot loss makes.
Leading into the weekend in Fremont, it would have been reasonable to assume that the first signs of #6 Oregon Ego's improvement would have been on the O-line. Steeped in returner talent and fast as all get out, that line paid the price for careless turnovers and miscues just a few short weeks ago. With their chemistry and visible competitive drive, one might expect those mistakes to be the first to disappear.
That was not the case in Fremont. Where Ego really made up ground this weekend was on defense.
It started during a quarterfinal matchup with Carleton. As a throw here or there slipped away from CUT, Ego began to lock in. At halftime, they had a 7-5 lead. As Carleton started to make mistakes, the Ego D-line started to capitalize. The lead ballooned to 10-6 with the first efficient break. Then, in a blink, it was 12-6. The game finished 13-7, and Oregon walked away with their first statement win over a top 10 team.
The intensity continued in their semifinal bout with Pittsburgh. With Leandro Marx and Tim McGinn leading the way, Jacob Lambert and Duncan Fitzgerald continued to hassle cutters on in-cuts. Colby Chuck looked to be improving his pressure in coverage and efficiency after the turn on every point. McGinn launched the kind of flick bomb into the endzone for a 7-6 halftime lead that would normally come from Colton Clark or Adam Rees.
Rees himself was a nightmare for Pittsburgh, putting on his best performance of the tournament with nearly half a dozen assists, blocks, and more to lead his team down the stretch of a well-fought game. Even as the veterans found their groove and the rookies adjusted to the pace of play, Rees stood out as the most composed, reliable, multi-talented player for Oregon this weekend.
Now headed to Easterns, sustaining this growth as team is the number one priority for Ego, but there are other notes. At a tournament where the competition will be even stiffer, the D-line will need to be able to adjust faster to in-game changes. They stuck to a loose backhand force on Wisconsin handlers during pool play throughout the second half, even though Hodag throwers repeatedly punished it with high release backhands to the break side. This team needs the confidence to make those adjustments late in the regular season, to be prepped for greater pressure during the postseason.
Look At Georgia's Wins Before You Look At Their Losses
#8 Georgia Jojah's weekend ended with a muddy, blowout loss to Colorado and an agreement not to play the third place game with Oregon. Down to just about a dozen healthy players, one more game wasn't a good idea.
The team started the weekend with a slim roster, took a tough loss to Carleton in pool play, and still managed a semis appearance via wins over Washington, UConn, Texas, and Wisconsin. Parker Bray, Nathan Haskell, John Langstaff, and a few others barely rested for the tournament's duration. But they got the job done. Bray was a revelation. The team played much better than average defense all weekend. And they expect better from themselves.
"It's hard for us to come out of a tournament where we've had two bad losses and really look at it as being successful. We got beat pretty bad by Carleton and we just got rocked by Colorado," said captain George Summers at weekend's end.
"It's easy for other people to look at this and say 'Georgia was better than we expected them to be, so that was a good weekend for them' but I don't think it's better than we expected us to be," said Summers. "Even though we had a lot of adversity coming into the weekend — we didn't have very many guys — I still think we thought that we could do better in this tournament."
Competitive college ultimate in the United States, at least for the moment, has shifted toward deep sidelines and process-focused system play, often favoring the high floor of many in place of the high ceiling of a few. With injuries cropping up constantly and unpredictably throughout the season, riding talent like the way Georgia did this weekend could draw criticism.
But fitness was hardly an issue for Bray, who put on an individual performance that went unmatched on the weekend. It went far beyond just savant throwing — he was instrumental downfield on offense, and played as a plus defender for the D-line. Even in game four of Saturday — a big 13-6 win over Texas in prequarters that pushed Georgia into the bracket on Sunday — Bray was still on, still running, still shooting.
As much as Georgia could've benefited from depth when mud and a long weekend started to slow them down, Summers wasn't concerned about their strategy to deploy Bray constantly.
"This kind of comes back to our philosophy last year at Nationals after Parker got hurt, we had Sam [Little] playing every point and he responded really well; I just think you have to have your best guys going. There's never a point where we are not more likely to score the disc with Parker on the field," said Summers.
Bray was backed up by competent defending that allowed him to lead the charge after the turn. Georgia used a force middle effectively to disrupt Washington in a tight game. Against Wisconsin in quarterfinals, Georgia jumped out to a commanding lead with efficient D-line offense.
Over-reliance on one player can fail when the right defender or team defensive strategy is in place, but Bray is good enough (especially when paired with Haskell) that most teams in the country won't be able to offer that. With him as the keystone, Georgia was stronger than most of the field in Fremont, and it'll stay that way down the stretch of the season.
"Overall, he does well and I don't think it's a big deal. I mean, it gives the people what they want," said Summers.
Still Buying On CUT
Before the tournament, we encouraged our readers to get on the #7 Carleton CUT bandwagon while there was still room. We noted a few questions about their defense and their offense's penchant for overconfidence in their throws but noted that with time these flaws should recede, leaving a big upside for CUT. Through the end of Saturday, things looked good. CUT went unchallenged in pool play (their closest game was 13-9 against Georgia) and the Pool D winner went into Sunday looking strong. Then, in the quarterfinals, after being down 7-5 to Oregon Ego at half, CUT collapsed and went on to lose 13-7, managing a meager two holds in the second half.
What happened? "That's a good question," said coach Phil Bowen. "A couple things. Our O-line didn't get any turns back. So something to work on going forward is making sure that we put a bigger emphasis on getting the disc back…..we've got good defenders on the O-line. So, that shouldn't happen. We should do a much better job of getting the disc back after we turn it."
CUT returned to form in the fifth place bracket, dominating Stanford and Wisconsin 13-3 and 13-4, respectively. Still, the second-half beating at the hands of Oregon leaves some doubts lingering. So has our outlook for CUT changed?
No, we're still bullish. The Ego game was more the exception than the rule; Carleton's defense elevated itself relative to their performance at Warm Up, earning a fair share of takeaway blocks in pool play. CUT also continued to show increased defensive sophistication, even throwing what appeared to be a box-and-one zone look against Georgia and Parker Bray. The development of the Carleton D-line is beginning to materialize.
However, there remains room for growth. The D-line clearly was unable to bring CUT back in the Oregon game, but Bowen noted that it was the first time on the weekend that the original defensive game plan had not succeeded, adding, "that we never really found ourselves in a hole yesterday where we had to adjust on the fly." Additionally, while the offensive discipline of the O-line seemed to regress this weekend (with a marked increase in poor-decision turnovers — particularly on deep looks) this also often coincided with improved O-line defense to earn the disc back.4
While CUT was far from perfect this weekend, they managed to show overall development in two of the areas that were considered their weaknesses: O-line defense and earning takeaway blocks. And, while the penchant for silly turnovers remains, one has to believe that with the amount of ultimate experience and throwing talent on the roster that Carleton will have things cleaned up come Spring (or earlier). Given their history, it would be foolish to bet against Carleton continuing their current developmental trajectory, and for that reason we're still buying on CUT.
Rollercoaster Weekend For Stanford
Much like the weather in Fremont for this year's Invite, the performance of #12 Stanford Bloodthirsty seemed to change by the hour. They opened the tournament with a strong win over a tough Tufts squad, only to follow it up by taking an upset loss to #25 Oregon State. They played tournament finalist Mamabird to 13-11 (after being down 4-0) and then failed to put away #19 Virginia Tech, squeaking out a 12-10 win. In the quarterfinals against eventual-champions Pitt, Bloodthirsty had the disc on the goal line to hold for 12-12 before eventually being broken to lose 13-11. Then they took a 13-3 thrashing from Carleton — talk about ups and down.
The basic explanation for the inconsistent results is a lack of fitness and depth. "I think it's pretty telling that our best games were the first of each day" said assistant coach Jordan Marcy. The top of Stanford's roster — Chartock, Walsh, Hernandez, Hirning, Perham, Ready-Campbell — can score and get blocks on anyone in one game. However, they struggle to sustain their high level of play, particularly on defense, as the day wears on. Bloodthirsty currently has neither the outstanding fitness from their top players nor the talent depth from their middle/lower tiers to produce a complete performance.
The embodiment of this trend is Stanford's star handler, Elliott Chartock. Stanford's side stack offense is incredibly efficient against man defense5 and can function without Chartock in those situations, but against any type of junk look, Stanford needs Chartock on in order to hold consistently. However, the D-line also requires Chartock in order to run a quality offense on the turn against strong competition. He can't play every point, and there's no comparable talent behind him for depth. That stretching of limited resources is how a team can go from a loss to Oregon State6 to a deadlock battle with Pitt.
Notes From The Field
#10 Wisconsin Hodagsx, considering their unfortunate practice constraints, have to feel like going .500 on the weekend isn't too shabby. They had the talent back in place with Erik Jorgensen, Nicholas Vogt, David Yu, and Avery Johnson to pick up nice wins against Oregon, newcomers to the Top 25 UBC, and Virginia Tech. But not practicing much can produce moments of confusion, mistakes, and lapses in consistency.7 Expect Wisconsin to continue to improve, just not at the rate they would hope to.
#16 British Columbia was led by the booming throws of Hugh Knapp, which combined nicely with the cutting speed of of Kyle Chen, Alan Greer, and the rest of the Thunderbirds. After a lackluster debut in Santa Barbara, British Columbia returned to competition in Fremont and took on one of the toughest schedules at the tournament.8 They picked up wins over Texas and SLO that buoyed them to second in the pool on Saturday and knocked UConn out of the bracket in prequarters. Then, Sunday morning, they forced an offensive shootout with Colorado in quarters, trading and staying within one of the eventual finalists until 12-11.9
Yikesville: #17 Washington and #22 Cal Poly SLO finished the weekend a combined 4-7, with all four wins coming in consolation play after both teams dropped precipitously out of bracket contention on Saturday. UW, perhaps too predictable at times with their vertical stack and not able to adjust well when defensive looks change, started the weekend with a close loss to Georgia and and a bummer re-injury for Khalif El-Salaam. Visions of last year's Stanford Invite, where the team also missed the bracket unexpectedly were on hand. SLO battled through three quarters of every game they played on Saturday, but couldn't close the door on Texas, Pittsburgh, or UBC. They also lost cutter Nate Pettyjohn to a wrist injury. They're still in range of a second bid for the Southwest, but they'll need to improve their resets and get healthy to put up a nice weekend at Easterns to hang on.
Joaquin Nagle contributed reporting. 
---