Your definitive guide to the 2018 college women's division.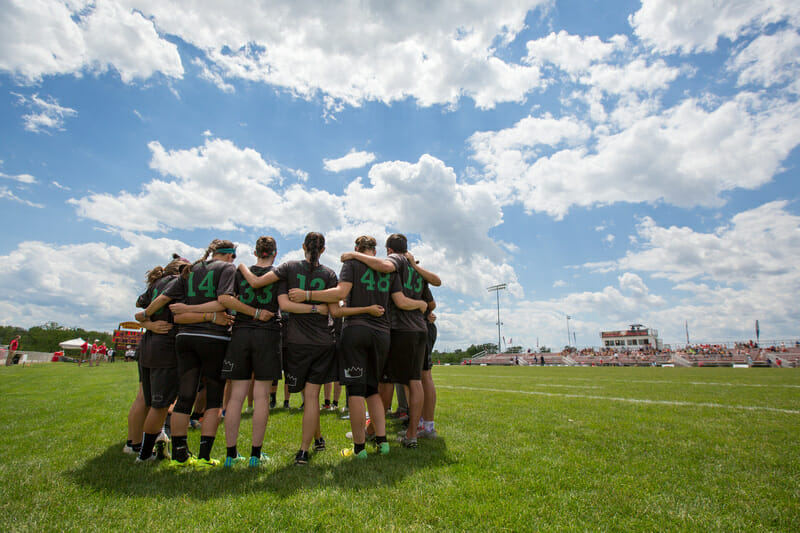 This article is presented by VC Ultimate as part of their season-long support of our women's coverage. All opinions are those of the author. Please support the brands that make Ultiworld possible and shop at VC Ultimate!
The first pull of the 2018 college season is up. With it comes a list of storylines, players to watch, and regional pictures long enough to sail out the back of the end zone. We've argued over top teams to watch, asked the questions that most bugged our reporting staff heading into the year, and sorted all of it into a one-stop shop. Is Dartmouth a heavy favorite to win the title? Will the Northwest pull in a record number of bids this year? How nervous should the rest of the East Coach be about West Chester?
Dig into our 2018 D-I College Women's Season Primer and find out.
Stories to Watch
Dartmouth Dynasty?
This is likely the storyline that will define the season: just how dominant will #1 Dartmouth Princess Layout be? The defending champs lose Callahan winner Angela Zhu, but bring back 2017 POTY Jaclyn Verzuh. They also still have Boston Brute Squad duo Julianna Werffeli and Caitlyn Lee (who both had impressive club seasons) and Piper Curtis in the mix. As if that weren't already unfair, Darmouth also adds top recruit Claire Trop. Hailing from Seattle's Lakeside School, Trop just tore it up for the USA U24 team in Perth and already possesses an extensive list of accolades.
Dartmouth has the most top loaded roster in the division. They are likely to miss Zhu, but they have enough talented throwers that they'll be able to spread the burden made of Zhu's absence. And having Verzuh as their main target will ease most growing pains in that regard. 
But is there anyone capable of stopping Dartmouth even if they do take a slight step back from a season ago? British Columbia has an enviable amount of depth at their disposable and seem to be the most likely wrench in Dartmouth's plans. But they had no answer for Verzuh a year ago and it's tough to see where they would find one for 2018.
This season is Dartmouth's to lose. If they stay healthy, it's difficult to see a realistic way in which that could happen. Their performance at Nationals last year was an emphatic snatching of the torch, and they don't look likely to give it back any time soon.
Now What, Northwest?
A long thesis about the ever-weakening Northwest region would be the low-hanging fruit narrative to tell here, when in reality this historically strong region again returns surprising depth across the top  five teams. The region won't storm back to six bids anytime soon, but they won't be a one-bid thriller either.
This season, the Northwest's axis shifts even further north. #2 British Columbia Thunderbirds were ranked fourth in the nation in 2017, and they return players accounting for 88% of recorded goals and 94% of assists, highest of all nationals teams.1 #7 Oregon Fugue isn't far behind at eighth in the country, and they're returning a lot of fifth year talent. But their talents alone aren't going to be enough to pull Oregon through tough games where they'll have to rely on the legs and skill of their underclassmen as well.
The Northwest can safely expect a third bid this season, and that's where you'll likely find #18 University of Washington Element and #14 Western Washington Chaos duking it out. Both teams missed Nationals last year. WWU had their season cut short by university sanctions, while University of Washington faltered at Regionals during a bumpy season.
And then there's #19 Whitman. The Whitman Sweets spent a lot of last season rebuilding their chemistry and fitting their new pieces together, but they found magic too late, failing to qualify for Nationals. They return a good percentage of that building roster, and they hope to hit the ground running this season. With them, this region could land anywhere from three to five bids.
Stanford Says Goodbye Gegg, Bonjour Butterfield
Some teams are just lucky. #3 Stanford Superfly lost Courtney Gegg for this season—despite Gegg having another two years of eligibility—but they managed to pick up another grad student who's already a household name: Julia Butterfield. Butterfield earned a spot on the 2017 Club All-America team while playing with Nemesis this last season, and her height and power will keep Stanford's endzone deep this season.
While Superfly didn't end last season as they'd hoped to, they have another great shot this year. Michelle McGhee, Hallie Dunham, Caitlin Go, and Shayla Harris are the banner names on this roster, but the team is deeper than its stars. Most of their rookies bring experience to this Superfly team, and they once again have a strong recruiting class. Junior Carly Eckstrom both took on a bigger role last year, and they'll be needed downfield this season. To top it, they'll remain one of the best coached squads in the field. Stanford has the chops to remain a contender this season, especially with Butterfield on the line.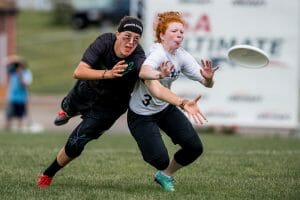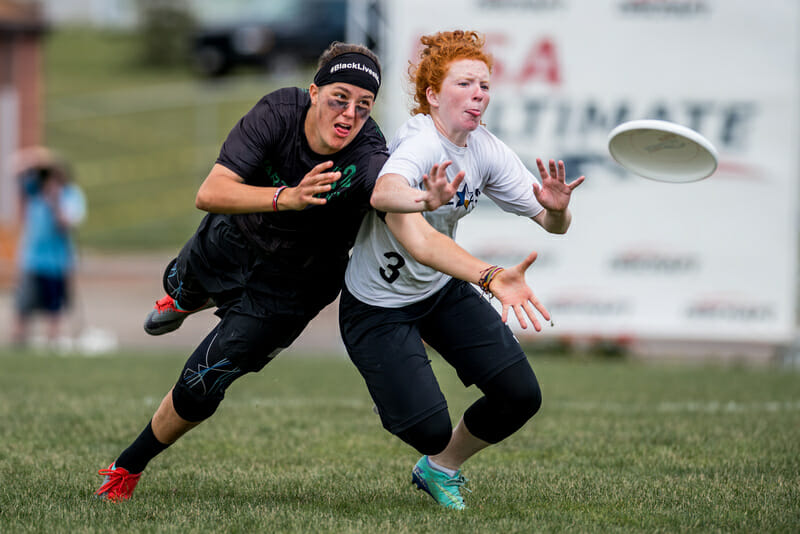 New Core Leading the Charge for Texas
#5 Texas Melee soared to new heights last year. The veteran-heavy squad went on a run to the national title game for the first time in program history last year. Andrea Esparza, Julia Schmaltz, and Shiru Liu were bonafide superstars, but are now all gone. So too is head coach Edith Teng, who moved away from the Austin area.
But it's not all doom and gloom for Melee. Laura Gerencser was one of the team's three key handlers a year ago and returns. So too do Marissa Land, Gabriella Cuina, and Domenica Sutherland, all important pieces of last year's team as well. Texas will need some underclassmen to step up into new, expanded roles, but they should still be a team capable of making the bracket at Nationals.
Fortunately for Texas, they did have a large crop of underclassmen last year. That group didn't contribute much on a tight offensive line, but they did see time on defense in big games, including as a rotational zone playing line in the championship game. There's height and athleticism in that group, and if a couple of them become more productive offensively, then Texas should have another solid season. They likely will not be contenders for a championship again, but they will certainly be formidable with their evolved core.
Is The Virginia Era Over?
#16 Virginia Hydra has been one of the best coached teams in either division for several years under the tutelage of David Allison. Allison, who has coached Hydra since 2011, introduced a new system that relied on depth instead of stars. This year, Allison isn't coaching.
All of Virginia's success cannot and should not be attributed to Allison and the team's returners still know his system. But his departure this season nevertheless marks the end of an era for Hydra, reminiscent of when Lou Burruss left Oregon Fugue.
Virginia will still be strong, but they will miss Allison's defensive creativity and his in-game plotting. They may have to rely more on individual efforts throughout this season, particularly from Laura Landis and Ellie Wood, despite graduating major contributors such as Keila Strick, Tess Warner, and Brogan Jones. Several seasons from now— as players form new habits and attempt new plays—Hydra may have to find a new structure to build around entirely.
Southwest Power Shift: Cal and UCSD on the Rise
2017 was a dominant year for the Southwest, with four Nationals bids earned from Stanford, UCLA, Cal-Berkeley, and USC. Despite boasting a strong senior class, USC eventually lost their spot to UCSD, in one of the few true regional upsets.
In 2018, #11 UC San Diego is flipping the narrative. Now they're the team boasting an incredibly tough and experienced senior class. This comes with higher expectations: where the Psychos were once plucky upstarts, now they need to show that they could become an institution. Watch for Dena Elimelech and Kelli Iwamoto to take charge of an aggressive offensive unit that isn't afraid to shoot their shot. The Psychos are ready to prove themselves as Best In The Southwest.
Before they can do that, they'll have to figure out a game plan to beat Stanford and Cal-Berkeley. While Stanford has lost many of their best players going into 2018, the#6 California Pie Queens look to be emerging as the front-runner with a strong roster whose top talent looks surprisingly similar to their 2017 team. Jackelyne 'Kobe' Nguyen and Anna Wysen will lead Cal into a year where Stanford's reign seems shakier than ever. A strong performance from the Pie Queens in 2018 could signal a major reshuffle in the Southwest. Cal is a notoriously athletic team and, despite their youth, they'll be looking to outlast and outplay opponents who are unprepared for their pace.
For both Cal and UCSD, their success will depend on role players accepting more responsibility and rising to the challenge on the field. If either program has their way, 2018 could see an equally strong Southwest, just one with the rankings completely reshuffled.
West Chest-Where?
It's not often that a new contender to make Nationals appears on the scene, seemingly out of nowhere. But #13 West Chester has done just that. With a stunning upset of Pittsburgh at the Pennsylvania Conference Championship and a double game point loss to Ohio State in the Ohio Valley Regional semifinal, West Chester put themselves on the map. They followed their 2017 series performance by dismantling three 2017 Nationals teams at Blue Ridge Finale back in November to prove they weren't a one month wonder.
They cemented their status as a team to watch at the 2018 Florida Winter Classic. Again they defeated three Nationals attendees from the year prior, and this time they won the tournament. West Chester is not a deep team, but they do have a talented top four players in Danielle Byers, Lindsay McKenna, Liz Hart, and Rachel Alfano, and they do have a few nice depth players beyond them. They aren't a team that has a chance at a national title, but they certainly have a chance at making Nationals for the first time and pulling off some upsets along the way, all while playing with one of the more exciting brands of offense in the country. They may seem to have come from nowhere2, but West Chester is a team to follow in 2018.
Regional Storylines
Atlantic Coast
Virginia won the Atlantic Coast last year, but is this the year #9 North Carolina Pleiades gets them. 
Is this the most tried and true storyline in the division? While there's a few different narratives in the workshop, this script is still in play. Virginia will try to defend their title, and their top competition is from Chapel Hill. However, UNC made it to Nationals last year, and returns a greater volume of top end talent and experience than UVA, pushing them into the favorite position.
Perhaps even more exciting is the potential for the region to repeat last year's three-bid near-miracle. A late score correction shifted the final bid count, tipping one bid from the Northwest to the Atlantic Coast. Unfortunately, Delaware, the team that carried that ticket to Nationals, will not be competing this spring due to a violation of school rules. But the region had a number of other teams that went into the last couple of weekends of the season with a shot at the third bid. UNC Wilmington got off a really solid start at Florida Winter Classic, Georgetown could repeat last season's success, or we could see a team move up the leaderboard3. There's plenty of regional competition, which should keep this story fresh for much of the season.
Great Lakes
While the names on the roster may change, the names on the Great Lakes leaderboard haven't changed in several years: for yet another season, count on #22 Notre Dame WOMB and #20 Michigan Flywheel to go toe to toe in this region. Last year Notre Dame narrowly bested Michigan at conferences and at Regionals. Both teams graduated their power players, yet both return solid crops of athletic cutters and able handlers.
This season, Michigan has the edge on Notre Dame. They picked up Laura Soter as a graduate student coming from Carleton College. And while they graduated Hannah Henkin and Tracey Lo, strong players like Brittany Wright and Mary Boyd are ready to step up.
Notre Dame, on the other hand, graduated more than half of their roster from last season. They still have Sarah Lipscomb downfield, and most importantly, they'll still have the irreverent, feisty Notre Dame attitude that helped them rise into the national consciousness over the past four years. But they've got some rebuilding to do.
Unfortunately, there isn't another contender close on the horizon in the Great Lakes this year. University of Chicago and University of Illinois trailed Notre Dame and Michigan by wide margins in the Regionals bracket, and they've got work to do to build the same talent foundations of a program like Michigan.
Metro East
The Metro East has exchanged hands yearly since 2013. Last season, the UConn Huskies edged past Cornell to qualify for the first time in their program's history. This season, the mantle is theirs to lose, and past qualifiers like the Ottawa Lady GeeGees are close on their heels.
UConn returns two thirds of the power trio that took them to Nationals last year. Marissa Aldieri and Ariel Virgulto both return for their senior year with the Huskies, and they're joined by a deep roster that the team has spent several years developing.
Ottawa will also return most of their firepower from last season, including several players who just played in Perth at the U24 World Championships like Corrine Giorgetti and Anne-Martine Doucet. While they ended second-to-last at the Canadian University Ultimate Championships (CUUC) this last October, they will be a contender come Spring in the Metro East.
Cornell lost in the final last year to UConn, but the loss of their star handler Kimberly Brown–along with nine other seniors–adds an early question mark to their prospects in 2018. They lost to Ottawa 13-11 at their November home tournament, setting them as the natural number three in a region that is used to only one bid every year.
New England
Sure, everyone has penciled in Dartmouth to win the region. With good reason. And we've covered most of them. But Dartmouth isn't the only team in the NE looking to get to Nationals after earning a spot last season.
#12 Tufts Ewo is back in the driver's seat for a second bid. It's an unusual spot to be in after losing your two star players, but it speaks to the strength of Tufts's depth last year and their skilled sophomore class. They won't overlook the regular season by any means – they simply aren't good enough to coast and really can't afford to be in a one bid NE – but their designs may be on a grander scale than simply getting back to Nationals
No team aside from Dartmouth or Tufts has won the region since the redraw, and that doesn't look likely to change. But there are teams that could fight into the bid conversation. Chief among those are Vermont and Northeastern. Vermont has risen to the outskirts of the division's top teams, having danced around the top 25, and could prove their building a program in the region. Meanwhile, Northeastern has taken steps back from their heights in 2013 and 2014, but they do have one of the best young players in the region, and maybe the country: Ari Nelson. The sophomore was electric in her rookie year and just spent the club season with Slow White. She'll be a tough matchup and Northeastern has enough year-to-year structure to develop around their potential young star.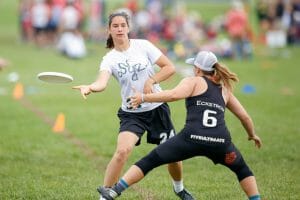 North Central
The North Central region tends to feature several strong teams every year, yet a strength bid has eluded them since 2013. Power has changed hands since then a few times—from Carleton, to Wisconsin, to Carleton again—but it's been a healthy bid drought. This season, #8 Carleton Syzygy and #23 Minnesota Ninjas are the top contenders in the great white north.
Carleton is the Midwestern mecca for talent youth ultimate players looking for that classic sub-zero liberal arts experience, and this year Syzygy enjoys a bounty of new talent, including three WJUC players and several other women who can hit the ground sprinting. They needed the boost since they graduated 10 seniors and most of their universe line. Nevertheless. Syzygy is once more the program to beat in the North Central.
The Minnesota Ninjas are well positioned to earn the region a second bid. Makella Daley (D-I All-Region North Central 2nd Team), Louise Beck, and Kayla Blanek (D-I All-Region North Central 1st Team) played Pop in the off-season, and this could finally be the season that their depth and their speed prove effective enough to bring another bid to the region for the first time since 2013. They also add a great rookie class
Behind these two, it's anyone's game. #24 Iowa State Woman Scorned, lead by the phenomenal Megan Halverson, and Wisconsin Bella Donna each played well at Missouri Loves Company, and each team showed their high ceilings last season.  
Northwest
Last season, the Northwest sent only two teams to Nationals (UBC and Oregon), leaving a swath of strong teams disappointed and stuck in the upper left. Heading into a new season, new questions are bouncing off the mountains: can the Northwest bounce back? Can the region produce a reliable third top team?
UBC and Oregon each return most of their power players along with already deep rosters. UBC gets at least one more year of Ellen Au-Yeung's speed, Naomi Morcilla's timing, Janelle Siwa's throws, and Victoria McCann's defense4. They're the deepest program in the region, and they welcome yet another crop of experienced freshmen who can contribute from day one.
Oregon also gets their best players for an encore run at retaking the Region: Callahan finalist Hayley Wahlroos, Gabrielle Aufderheide, and Sarafina Angstadt-Leto are back for 5th years, and Ella Hansen is a senior and more dominant than ever. This version of Fugue had all the right pieces last year, and they proved at Nationals that they could battle with the best.
Western Washington Chaos returns this year with a solid deck of talent, and they'll be hungry to prove themselves this season. The team has a healthy dose of local Seattle fuel, from handler Hue Tien, to Ruby Cassidy (WJUC 2016), and both captains Samiya Ismail and Maddie Gilbert. Gilbert is fresh off her first season with Seattle Riot, and she's the ideal target for Chaos' easy trigger.
While University of Washington has never received the same pipeline of talent as their regional counterparts, they have been steadily building their depth over the last two seasons. Three of their veteran players—Sophia Johansen, Nicole Cramer, and Kate Dusenbery—spent the Club season competing together for Seattle Underground, and they're joined by graduate student Maggie Meshnick from Brown University.
If Chaos and Element can notch good wins (and avoid bad losses) early enough in the season, they could make a play for a third and possibly fourth bid in the region.
The Whitman Sweets and the University of Victoria Vixens had shakier seasons last year, and they each face hard work this year to qualify in a still-strong region. The Soo sisters (BFG) will lead a young and promising Sweets team through the season. The Vixens showed a lot of grit and tenacity last season, but they're missing the Club experience that their Northwest counterparts enjoy. Lurking off the radar is also a steadily developing BYU Chi squad that is trending upward at an alarming rate. Don't be surprised if they put a scare into some good teams.
Ohio Valley
Once upon a time, the Ohio Valley was mired in the realm of one-bid, dominated year in and year out by Ohio State. The rise of Pittsburgh over the past season has shifted things in the region, and the two are the only teams to represent the Ohio Valley at Nationals. There's plenty of reasons to believe both with continue to top the Ohio Valley, not least of which is the return of their respective star handlers: Carolyn Normile for #10 Pittsburgh Danger and Sadie Jezierski for #15 Ohio State Fever.
In a change of fate, however, that's not the only story in the OV. West Chester burst onto the scene. They previewed what was to come last year, playing well against Pittsburgh and Ohio State in the postseason. But this year, the team has their sights locked in on heading to Milwaukee. And after winning Florida Winter Classic, beating Ohio State in the final5, it's hard to deny that they have the goods. We'll find out a lot more about West Chester this season, but they will be one of the most talked about teams in 2018 if they can break through to their first Nationals.
South Central
Texas and #4 Colorado Kali both lose some major pieces from their semifinals teams last year. But both programs also bring back a handful of stars and should be competitive at the top end of the division once again. Both teams will have new look coaching staffs as well, and that should add an extra little wrinkle into their national narratives.
But while Texas and Colorado provide plenty of interest on the national landscape, they don't offer much intrigue regionally. Both teams will still be the top two in the region, barring anything catastrophic. Both teams should go to Nationals, and the winner of the region will almost certainly be one of the two of them. But are there any other teams in the South Central that can claim a slice of the national discussion? Colorado College, Washington University, and Kansas will hope to be on the fringe of bid-earning territory come the end of the year. If one of them does manage to snag a third bid for the region, then the South Central could turn into the one of the more fun and intriguing regions in the country this year.
Southeast
Last year was a tough year for the Southeast. Going into the season it looked like a two horse race for regional supremacy between Florida and Georgia Tech. But a spate of injuries derailed Tech's season, and an even easier path to National opened up for Florida. They blitzed past everyone at Regionals thanks to their experience and depth, but went just 1-4 at Nationals. Now a lot of their experience is gone, and nearly all of their depth is, leaving the region even more open than it was a year ago.
But most of the rest of the region lost their most experienced players, too. For many of the teams in the Southeast, the regular season will be used to get the depths of their rosters up to speed so that they can make a run at Regionals. It would not be a surprise for no Southeast teams to finish in the top 20 this year.
#21 Florida Fuel is likely to remain in the mix thanks to players like Courtney Testa and Lucy Berman, both of whom were key members of last year's Nationals team. And so, too, should Kennesaw State, who have the best player in the region in Samantha Daugherty. #25 Georgia Athena looked to be a genuine threat to win the region with their performance at FWC, and Florida State, Georgia Tech, and perhaps even Central Florida could make a play if things go well for them in the series.
The Southeast should have one of the most competitive Regionals this year, and there's a solid chance that a team that hasn't made Nationals in the last few years will claim a spot this year. But it's also likely to be a tough regular season for the Southeast against out of region competition, at least until these teams are able to grow into what they will be at the end of the year.
Southwest
While UCSD and Cal-Berkeley have been generating most of the preseason buzz, it may be much ado about nothing. Stanford still boasts a talented roster of undergrad and postgrad recruits. Stalwarts like Caitlyn Go and Michelle McGhee return with the added firepower of Julia Butterfield, fresh off a dominant u24 campaign in Australia. Stanford's strength has always been their system, and that doesn't seem to have changed. They may no longer have the opportunity to rely on Courtney Gegg and Monisha White in pressure situations but Shayla Harris and Hallie Dunham will likely carry more of a load. Stanford still has an incredibly strong roster, aided by a continuous pipeline of athletes and a team culture and coaching staff that knows how to develop them.
Elsewhere in the division, Cal-Berkeley has likely smelt blood in the water and is simply waiting for the chance to show Stanford, and the rest of the country, what they can do. The Pie Queens will probably start off their season strong, as they return a healthy amount of their nationals-qualifying 2017 squad. Their caveat is that the rest of their roster is remarkably young. If they can develop their youth talent early, there's a high ceiling for this team. Cal has always seemed on the brink of greatness, 2018 may be the year they figure it all out.
Further down the coast, Cal Poly is hoping to gain more traction as a legitimate contender in the bid picture. The Swanson twins, Caroline and Diana, will lead a young but promising SLOmotion squad. Their chances of earning a bid are slim but not impossible. With the Southwest in a period of uncertainty, Cal Poly will likely hope on early season successes to propel them into contention.
They will likely be joined by #17 UCLA BLU and USC in their hopes to gain a bid for the Southwest. Both USC and UCLA lost a strong veteran class and are definitely rebuilding. Still, UCLA is coming off a year where they made quarters and a team coached by Alexander Korb should never be overlooked. USC showed some promise in the fall but will have to rely heavily on Alyssa Perez for playmaking and leadership with a young squad.
UCSD is only at the bottom of the Southwest geographically. For the college season, they are the most likely to match the two Bay Area powerhouse teams with bid chances. The Psychos favor a hucking game that pays dividends in the windless San Diego conditions but could be their downfall in windier cities. Their defense should make up the difference. UCSD made it to Nationals off an impressive defensive performance at Southwest Regionals in 2017. That defensive-minded squad will likely remain effective during this current season.
Players to Watch
Player of the Year Watchlist
If someone is going to unseat the returning Player of the Year, these women have the best shot. Check out more preseason coverage of the 2018 Player of the Year Award.
Julia Butterfield (Stanford)
Butterfield's impact within Stanford's system has yet to be seen, but count on this dominant star to make big plays regardless of who has possession on the field. Her ability to attack in the deep game, as either thrower or receiver, could be the driving force of their offense.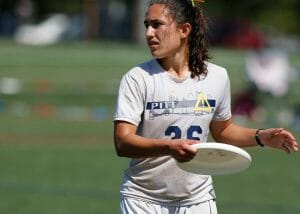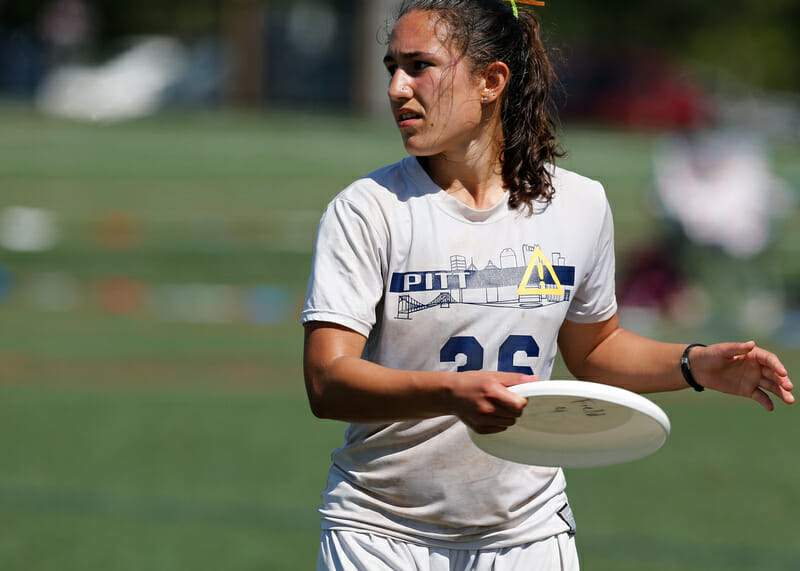 Carolyn Normile (Pittsburgh)
Normile is not a new name to this list, but we missed her in our Player of the Year Watchlist discussion when we didn't realize she'd be back, so she gets a well-deserved spot on this list. Normile has helmed the Pittsburgh ship for several years now, and her astonishing disc skills could help Danger rule the Ohio Valley for yet another season.
Jaclyn Verzuh (Dartmouth)
What else is there to say about Verzuh, the rising junior who already has captured one Player of the Year award. If she wins it again – good luck finding someone to bet against her – she will not only be the first, but well on her way to having the greatest college career in our short history.
Nhi Nguyen (Colorado)
Nguyen dominated on both sides of the disc during Colorado Kali's semifinal appearance last season, and she'll be a crucial tool in Colorado's journey back to that game this season. Nguyen makes the plays we all daydream about. She can get vertical to generate blocks, and she can outrun defenders to score, over and over.
Ellen Au-Yeung (British Columbia)
Few players are as fleet of foot as the nimble Au-Yeung, who can dance around defenders and thread needles through tight spaces with the best of them. But get your popcorn ready when she's on defense, because she's liable to put someone on a poster with a big block.
Julianna Werffeli (Dartmouth)
Werffeli has mostly been the reset handler for the National Champions, but has all the pluck, power, and poise to step in as one of the division's premier trigger-women. She will lead Dartmouth in touches and assists this season, but her grit and toughness as a defender perfectly complement her offensive skillset.
Ella Hansen (Oregon)
During the U24 livestreams, commentators could not stop gushing about Hansen's power as a thrower. They weren't kidding, but she's also got great hands and can grind of defense. After a turn as a 1st Team All-American last year, she's got the tools to be the division's best.
Keep Your Eye On:
Jenny (Qing) Wei (North Carolina)
Alyssa Perez (USC)
Maddie Gilbert (Western Washington)
Hallie Dunham (Stanford)
Sadie Jezierski (Ohio State)
Dena Elimelech (UC San Diego)
Hayley Wahlroos (Oregon)
Domenica Sutherland (Texas)
Rising Stars
You may not know them yet, but whether it's due to developing talent, a bigger role, or the potential for heightened team success, these are the players who could make a big splash this season.
Kate Dusenbury (Washington)

Makella Daley (Minnesota)

Claire Trop (Dartmouth)

Danielle Byers (West Chester)

Brittany Wright (Michigan)

Kaylie Caldwell (BYU)

Alex Fairley (Georgia)
Ari Nelson (Northeastern)
Julia Zhang (British Columbia)
Megan Halverson (Iowa State)
Samantha Daugherty (Kennesaw State)
Alyssa Perez (Southern California)
Top Recruiting Classes
College teams continue to pick up both experienced freshmen and graduate students looking to extend their college playing career. Here are the teams likely to benefit the most from their new additions:
1. Carleton
It seems like old times for Carleton as they assemble this year's consensus top recruiting class. Syzygy picks up top freshmen from around the country, including three WJUC participants: Paideia's Isabella Arevalo and Seattle Lakeside's Nariah Sims from the USA U20 team, as well as transfer Karen Ehrhardt (NC Warhawks) who played for Japan. They also add 3-time Wisconsin all-stater Margaret "Gracie" Little. In conjunction with last year's outstanding recruits, the youngsters are likely to have a major impact for a team that graduated a senior class that dominated Syzygy's 2017 stats.
2. Stanford
Stanford snags probably the top addition in the division as 2017 POTY candidate Julia Butterfield uses her 5th year of eligibility as a grad student at Stanford. Superfly picks up three more experienced grad students in Xinzhi Zou, who has played with Beijing's top mixed club team Big Brother, Cailin Hardell from University of Miami, and Emily Tucci, who has played a couple of years of club with Palo Alto Tempo. They also add freshman Sidney Stevens who was Virginia All-State in 2016 for Bethesda-Chevy Chase.
3. Pittsburgh
Pitt has another strong freshmen class featuring local twins Sophia and Miranda Kosowsky who played YCC with Moxie, and Philadelphia Forge's CJ Dawson. This marks a third straight strong rookie class for Pittsburgh, and may have more impact on their program's longevity than this year. But this team is in the thick of things and can use the extra firepower in the Ohio Valley arms race.
4. Texas State
Texas State has not broken into the top ranks before, but that may change as they pick up two freshmen who gained elite club experience this summer. Mindy Radike played with Madison Heist, while Tanika Graham played with Dallas Maeve. With the strong program at local Marcus High School, there may be more talented players coming down the line for Trainwreck.
5. Dartmouth
This year's top freshman recruit and immediate ROTY front-runner, Claire Trop, goes to 2017 national champion Dartmouth Princess Layout. Speedster Trop led the 2016 USA U20 team with 20 goals. Claire was picked up by Seattle Riot this summer, but was limited to practice squad as she has committed to playing soccer as well as ultimate at Dartmouth, following in the footsteps of teammate Piper Curtis. She was a standout with the USA U24 team in Perth.
6. British Columbia
2017 semifinalist UBC Thunderbirds also add a top player from the Canadian national teams. Brianne Wager played U20 for Canada in 2014 and TC U24 Mixed in 20156. Prior to this year, Wager has just run track (400 and 800m) for UBC, but she is on the 2018 ultimate roster. UBC further bolsters their impressive depth with Minnesota 2nd team All-State pick Melissa Bernstein, plus their usual batch of experienced Vancouver-area freshmen.
7. Minnesota
Another strong of year of recruiting for Minnesota speaks to how strong youth play in that area has become. They add Erin McCann, who was invited to U20 National Team tryouts, as part of their experienced rookie class. In addition, sophomore Lily Shapiro transferred to Minnesota from DePaul, and the former handler at Hopkins has already developed a throwing role in the fall.
8. Southern California
USC Hellions add a couple of players from NHSI runner-ups Northwest School in Lila Forde and Lauren Park, plus graduate student Annie Kean who brings Seattle and LA league experience. After heavy losses to graduation this past year, expect these talented rookies to get plenty of reps.
Tournaments of Note
Need to know what weekends will play host to the biggest games of the year? These tournaments are the touchstones of the season.
This section will be updated as new information becomes available.
Florida Winter Classic
January 13-14
Orlando, FL
Teams to Watch: Ohio State, Florida, Michigan, West Chester
Santa Barbara Invite
January 26-28
Santa Barbara, CA
Teams to Watch: Stanford, Cal, UC San Diego, Washington, UCLA, Southern California, Vermont, BYU
Queen City Tune-Up
February 3-4
Charlotte, NC
Teams to Watch: Dartmouth, Carleton, North Carolina, Tufts, Michigan, Pittsburgh, Florida, Ohio State, Virginia, West Chester, Notre Dame, Northeastern, Kennesaw State
Presidents' Day
February 17-19
San Diego, CA
Teams to Watch: Stanford, Cal, Oregon, Texas, Colorado, UCLA, WWU, Washington, Iowa State, Minnesota, UC San Diego, UC Davis, USC
Commonwealth Cup
February 24-25
Martinsville, VA
Teams to Watch: North Carolina, Virginia, Michigan, Tufts
Midwest Throwdown
March 3-4
St. Louis, MO
Teams to Watch: Iowa State, Minnesota, Wisconsin
Stanford Invite
March 3-4
San Francisco, CA
Teams to Watch: British Columbia, Stanford, Colorado, Oregon, Texas, Californa, Carleton, Pittsburgh, UC San Diego, Western Washington, Ohio State, Washington, Whitman, UCLA
Northwest Challenge
March 23-25
Seattle, WA
Teams to Watch: Stanford, Cal, North Carolina, UC San Diego, Dartmouth, Carleton, Michigan, Oregon, UBC, Washington, Western Washington, Whitman, BYU, Vermont, Colorado College, Southern California
Women's College Centex
March 24-25
Austin, TX
Teams to Watch: TBD
---