There were surprise finalists at all three big tournaments!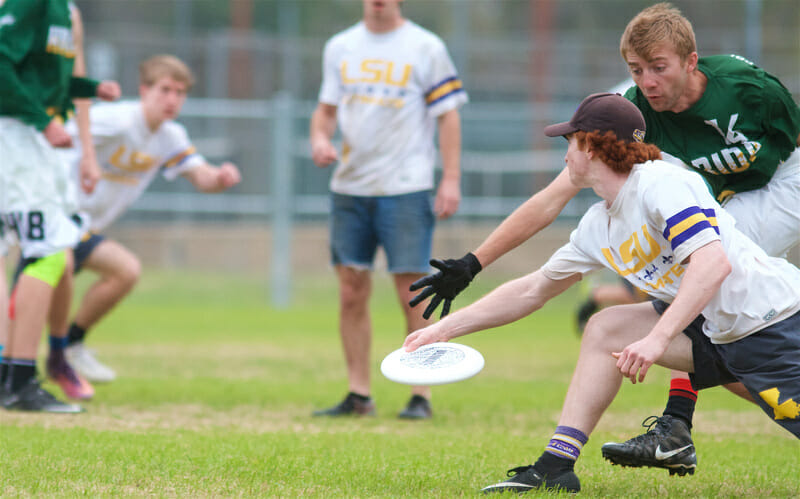 College Update is presented by VC & Spin Ultimate; all opinions are those of the author. Please support the brands that make Ultiworld possible and shop at VC Ultimate and Spin Ultimate!
During the spring season, we will publish a bite-sized weekly recap of the action across the College Division. This will serve as a supplement to our standard tournament reporting and will offer a high-level look at the latest happenings and the biggest stories of the week.
Want your tournament listed here? Submit a recap of what happened right here.
Women's
Favorite Vermont Takes Tally Classic
Maybe it isn't the most surprising result for the highest ranked team in the Ultiworld Power Rankings to win a tournament. But do consider the following: 1) a few months ago, this pick would have been significantly less obvious and 2) they were the no. 4 seed, so not everyone was in agreement that they were the favorite. In the end, it was #13 Vermont that went undefeated at Tally Classic. They did survive a couple of scares against Florida State in pool play, which required a late pair of breaks from the favorite, and in a close final against Auburn.
Auburn, no. 7 at the tournament, was pretty impressive in their first sanctioned competition of the season. After an 8-6 win over a solid Florida team to start their season, Ares added a couple more Ws to win Pool B and advance to quarterfinals. They pulled away from 9-9 against Harvard to win 15-11, and did it again in the semifinals against Georgia Tech, running from 8-8 to a 15-10 victory. Could they take advantage of the open appearance of the Southeast?
For more coverage of the women's division of Tally Classic, check out our Tournament Recap.
Quick Hits
Some unfortunate dropouts shrank the field at Mash-Up, but four teams still got in five games a piece. Massachusetts cleaned up the competition.
Two days of repeated pool play for developmental teams made up Spades Tournament. Vermont-B went 3-0 on day one, while Michigan-B did the same on Sunday. By record, Vermont went home with the best record at 5-1.
Siloam Showdown was even smaller, with three teams. D-III #7 John Brown went 4-0 to best the pairing of Arkansas and Oklahoma.
D-III #2 Bates and Bates-B hosted Wellesley and Brandeis for one day event, cleverly called Bates Make-Up Tournament. Bates went 3-0 to finish in 1st.
Add the Long Island Classic and Binghamton Open to the continuously growing list of canceled or postponed events.
D-III Update: Top Ranked Teams Strong at Small Events
Not many D-III Women's teams played this weekend, as many have started spring break, and likely didn't have to worry about managing the time change and getting to the fields on time for Sunday rounds.
For the few who did who did play, #7 John Brown Savage Skies saw the most success at Siloam Showdown: in the two round robins, John Brown beat Oklahoma and Arkansas each twice, for a total point differential of +26 over the four games. Their closest game of the series was a 13-10 win over Oklahoma.
On the East Coast, another sanctioned round robin ended with #2 Bates Cold Front sitting 3-0 over their B team and regional rivals Wellesley and Brandeis. In the head to head match up, Brandeis took the game over Wellsley by a tight score of 7-6.
Down in Virginia, Elon left Mash-Up with no wins and five losses to show for the weekend. Two of those losses came at the hands of Smith, a team bringing more wins back home to the high performing New England region against an out-of-region team.
Men's
UNC Wilmington Defeats Surprise Georgia in Tally Classic Final
What many thought would be a final between #5 UNC Wilmington and #10 Massachusetts was not to be, although UNCW's status as the favorite was reaffirmed with their 15-14 victory in the final over Georgia. UMass fell to no. 4 seed Georgia in their semifinal, a disappointing conclusion to their run; they spent the entire tournament living on edge and coming from behind. The final was well fought, if a bit sloppy, and a pair of late runs added some excitement, but the Seamen snatched away Georgia's upset bid. The 4th semifinalist was no. 5 Harvard, who proved a solid matchup for UNCW.
For more coverage of the men's division of Tally Classic, check out our Final Recap and Tournament Recap.
Minnesota Overtakes Florida in Windy Centex Final
#4 Minnesota Grey Duck went undefeated in their run through Men's College Centex. The no. 1 seed worked their way through pool play and the quarterfinals before getting tested by #19 Texas A&M. Bracket play was very windy, leading to a lot of close games, and Minnesota's 15-13 semifinal win was not excluded. A break to make it 8-6 was most of the difference. In the final, Grey Duck got back to back breaks, including after #14 Florida fumbled catching a pull, to take a 5-3 lead. The game was as close as 11-9 in the second half, but Minnesota ran off a 4-1 run to win 15-10.
It was a disappointing early exit for #13 Colorado State Hibida, who lost to #22 LSU in the quarterfinal round, 11-10. CSU gave up an early pair of breaks to go down 3-0, and even though they got a couple of breaks of their own before halftime, it was all trades in the second half.
Quick Hits
D-III Update: No Significant News
Looking Ahead
As we approach a quiet weekend in D-I, the spotlight shifts to D-III for some of the division's most important events.
D-III Midwestern Invite (M/W) is probably the most significant event of the weekend, particularly in the Men's division, where #1 Air Force and #4 Whitman are the top two seeds.
Bonanza (W) is the highlight of women's D-I play, where Anna Thompson and Penn are the no. 2 seed behind Penn State.
Oak Creek Invite (M) tops men's D-I action, featuring some teams with nationals aspirations, like no. 1 seed Connecticut and no. 2 seed Maryland. The 19-team field also features some solid D-III squads.
College Southerns (M/W) is another significant D-III event in the men's division, featuring Georgia College, Carleton GoP, and UNC Asheville, while D-I neighbors Florida State and Central Florida are the top two seeds in the women's division.