A massive weekend for all divisions! It's the penultimate weekend of the college regular season.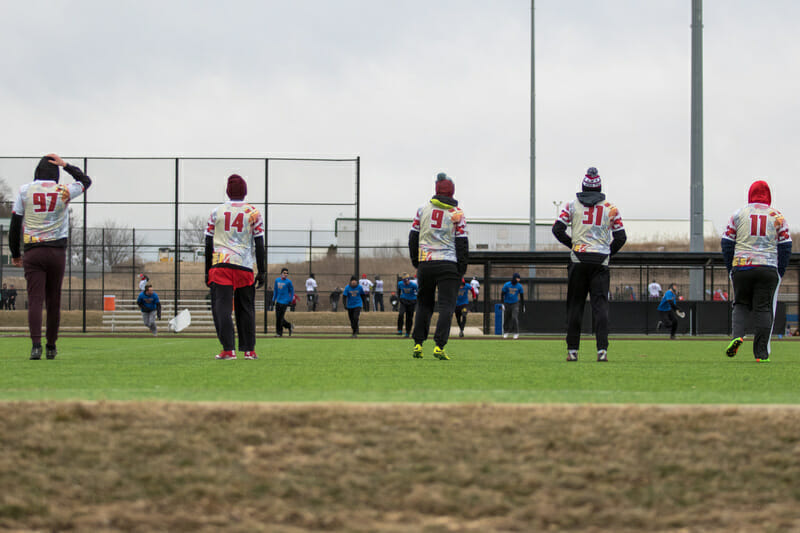 College Update is presented by VC & Spin Ultimate; all opinions are those of the author. Please support the brands that make Ultiworld possible and shop at VC Ultimate and Spin Ultimate!
During the spring season, we will publish a bite-sized weekly recap of the action across the College Division. This will serve as a supplement to our standard tournament reporting and will offer a high-level look at the latest happenings and the biggest stories of the week.
Want your tournament listed here? Submit a recap of what happened right here.
Women's
Dartmouth Dominance Marks NW Challenge
Going into the weekend, there were Dartmouth doubts. Would they be healthy? Would they be rusty? Would they be ready?
The reigning champions and season-long #1 answered any and all questions, ripping apart the strongest field in the division to win NW Challenge. Until their semifinal against #3 Stanford, nobody had put up more than seven on Dartmouth (in games to 15). That includes top 10 teams like #5 Oregon and #3 British Columbia.
Their showdown with Stanford, however, was an epic back and forth that sets the tone for Nationals and changes the conversation moving forward. Dartmouth broke to win, however, and went on to the final to face #2 UC San Diego. In the #1 vs. #2 title bout, Dartmouth pulled away with a second half run, winning by a comfortable 15-11 score.
For more coverage of the season's strongest women's tournament, check out our Friday & Saturday Recap and our Tournament Recap.
Texas Overcomes Ohio State In Centex Final
Centex looked like it would go as projected, with the top four seeds making it to the semifinals fairly comfortable. Florida threw a wrench into that plan with a 13-12 upset of #11 Colorado in the quarterfinals. While #8 Texas thrashed Florida in their next game, Melee had a real battle on their hands with #9 Ohio State. Texas proved why they were the top ranked team at the tournament with a gutty victory over OSU.
For more on that final game, check out our Final Recap. For additional tournament coverage, check out our Tournament Recap. You can also find seven full games on our YouTube Channel!
Quick Hits
At Trouble in Vegas, the teams that won the two pools–Arizona State and Northern Arizona–both lost in the semifinal round. San Diego State walloped UC-Irvine 9-3 in the final to win the event.
George Washington's 9-5 pool play win over West Virginia could not be replicated in the final of Country Roads Classic. WVU notched the tournament win with their 7-3 victory.
#22 Auburn dominated the other three teams at Starkville Showdown, with a +36 across four games.
Speaking of dominance, Brown crushed three teams at weather-impacted Huck Buddy. They went 5-0, only getting scored on in one of those games. Yes, you read that right.
D-III #2 Bates went undefeated at Live Free and Sky, winning the one day event with a a 4-0 record.
No. 6 DePaul got revenge against Knox in semifinals, beating the one team who beat them in pool play, at Meltdown. They added a 12-10 win over no. 1 North Park to earn the tournament win in a super upwind/downwind weekend.
Jersey Devil was won by D-III #5 Mount Holyoke, who bounced back from losing their first game of the weekend 12-4 to Carleton University to win six straight, including 10-5 over Ottawa in the final. It was their season opener, in the second to last weekend of the regular season.
Notre Dame rolled through the field at CWRUL, only getting a challenge in the final from host Case Western. They won that game 8-6.
I-85 Rodeo was snowed out Sunday, but #10 Pittsburgh went 3-0 in power pool play, including an emphatic win over Triangle Tourists.
The list of cancellations unfortunately continues to grow, so show respect for: Philly Open, along with Sunday play at I-85 Rodeo.
D-III Update: NW Challenge, Jersey Devil, and More
Another weekend, another set of tournaments canceled or moved for weather. Regardless, a good number of teams played games and made their mark on the bid considerations in the penultimate weekend of regular season ultimate.
The Northwest and Southwest regions went head to head again in the second tier of this West Coast tournament. #3 Puget Sound Clearcut took the tier two championship without dropping a game to any opponents, including Pacific Lutheran. Pacific Lutheran had a solid tournament, winning over #17 Claremont with a statement 15-6 as part of their weekend in the lead up to their final matchup with Clearcut. Claremont also tangled with Portland UPRoar, each taking one game over the other by a score of 10-7.
#5 Mount Holyoke made it clear to the New England Region and rest of the division that they are a team that can play through Sunday. Daisy Chain went 6-1 on the weekend, winning the championship in their first sanctioned tournament of the season. Also notable was a fourth place finish for #22 Lehigh, and a sixth place finish for Wellesley.
With the Sunday games canceled due to weather, some teams still made statements with their records. Middlebury went 4-0 in their pool, toppling Richmond (who went 3-1) and Davidson on their way to the top of the pool. #1 Williams ended third in their pool due to two (high quality) losses to the Triangle Tourists and Pittsburgh squads.
Spring Awakening
#11 Skidmore bounced back from their disappointing Bring the Huckus performance, winning games and their pool 3-0 on Saturday, before losing in quarters. SUNY-Oneonta similarly lost in quarters, while #24 Brandeis made it to the semifinals, losing 7-6 to Harvard.
Quick Hits
#2 Bates took four wins and no losses at Live Free and Sky, with their closest game coming in at 9-5 against New Hampshire. WPI and Bentley went 3-1 and 1-3 on the weekend, respectively.
The Ohio Valley teams of #18 Swarthmore and Allegheny played at Country Roads Class; Swarthmore stomped Allegheny 13-2 to take third at the tournament.
Oberlin had a winning weekend at CWRUL, going 2-1 in pool play and losing in the semifinal to Notre Dame. Xavier's championship bracket efforts ended in prequarters, and Wheaton ended up the tournament in the consolation bracket.
#19 North Park came in second at the very windy, largely upwind-downwind tournament that was Meltdown. Two of their three losses on the weekend came at the hands of DePaul. Knox and Drake finished third and fifth respectively, and #6 Valparaiso rounded out the D-III teams in attendance with a 9th place finish.
Hear more about the tournament and this past weekend in D-III ultimate on the newest episode of The 7500 Club.
Men's
After Loss to Rival Washington, Oregon Bounces Back to Win Northwest Challenge
Friday night, under the lights at NW Challenge, rivals #2 Oregon and #5 Washington faced off. While Washington earned the W in the 15-13 upset, it was Oregon who won the long game. While a showdown in the final seemed likely, Washington was eliminated in semifinals by #17 Stanford, an impressive 15-9 victory for the Southwest squad. Oregon waltzed in the final to the tune of 15-10 to win the tournament.
Bids were potentially won and lost in the experimental format, so you'll want to check out our Friday & Saturday Recap and Tournament Recap to catch up on the events of NW Challenge.
Quick Hits
In the spirit of March Madness, Trouble in Vegas was far from chalk. Just one of the eight pools was won by the top seeded team in it.1 That team, no. 2 Arizona State, was then eliminated from the championship bracket by their own B team.2 Who cares what else happened? UCLA beat Utah in the final, too.
Notre Dame had their way with the field at CWRUL. Their closest competition was host Case Western, who came within 5 goals. They topped UW-Milwaukee 15-9 in the final, dramatically improving their record to 11-9.
No. 1 seed Marquette and D-III #25 St. Olaf met in the Meltdown final, after St. Olaf knocked out no. 2 North Park in their semifinal. Marquette, however, was having none of it, and took the win off of St. Olaf, 13-8.
Magic City Invite had some upsets, but not of the top two seeds: Alabama and Mississippi State made it to the final unscathed. Alabama continued that trend with a 15-12 win over MSU to take the tournament.
No. 1 seed Tufts and no. 4 William & Mary (power pools) went toe to toe in both pool play and the final of Atlantic Coast Open. Tufts got the first matchup on double game point, but William & Mary flipped the script in the final, by the same margin. It's William & Mary's second straight tournament victory.
No. 3 Columbia took down no. 2 SUNY-Binghamton twice, by a total of three points, to win Jersey Devil. Their one point win in the final did the trick after Binghamton eliminated no. 1 seed MIT in semifinals.
Michigan State upset Indiana 11-9 in pool play and defeated Purdue 12-10 to win Indy Invite. MSU Arc improved to 9-5 on the season as they head into the Series.
Wentworth went 4-1 at Get Skyyd, taking a loss to Fairfield but twice beating Stonehill to emerge at the tournament winner.
New England Falls Round Robin went to D-III #7 Amherst on point differential after they exchanged losses with D-III #22 Brandeis and Bowdoin. All three teams went 3-1, but Amherst's +2 gave them the narrow edge.
Another shoutout to B teams! Baylor-B, the no. 10 seed, fought back through the only prequarter at Greatest Crusade and outscored previously undefeated no. 1 seed Stephen F. Austin in semifinals. However, no. 2 Texas State claimed the 15-9 victory to end their plucky run.
D-III Christopher Newport overcame host team JMU-B, by an 11-9 count, to win JMU Beenanza.
The list of cancellations unfortunately continues to grow, so show respect for: Layout Pigout, Spring Awakening, Huck Buddy, and Steakfest.
D-III Update: Rapid Fire Recap
This weekend's action saw a lot of teams spread across a lot of tournaments, with no tournament really serving as a hub for major matchups. To fit the weekend, we're going to go rapid fire for all of the action. Here we go:
#4 Middlebury finished tied for 9th at Atlantic Coast Open, going 5-1 and suffering a surprise loss to Duke in prequarters. The loss ends up not looking so bad, as Duke put together a strong weekend, but the Pranksters will be looking for a stronger finish against D-III competition this weekend at DIII EastUR.
Both #13 Shippensburg and Cedarville had good but not great showings at CWRUL, with the Scapegoats going 4-3 and Swarm going 5-2. Both teams scored wins against weaker opposition but failed to land a major upset; Shippensburg will have their chance for that upset this weekend at DIII EastUR, whereas Swarm will turn their focus to the series.
#25 St. Olaf and Knox had opposite experiences at Meltdown, with the Berzerkers going 5-1 en route to a second place finish while the River Rats limped a 2-5 weekend. St. Olaf will be on pins and needles watching the bid picture unfold this weekend; should the North Central land a second bid, the Berzerkers have to feel good about the momentum they have going into the series.
While the weird seeding and format led to the teams finishing 16 places apart from each other, both #17 Claremont and #15 Pacific Lutheran should be happy with their performances at Trouble in Vegas. The Braineaters finished in 9th with a 5-3 record, winning their five games by a point differential of +21, while Reign finished the weekend in 25th with a record of 5-2, losing both games on Saturday on double game point. Both teams showed the ability to score upwind in tough conditions, a skill that will prove valuable should they qualify for Nationals in windy Rockford.
The D-III teams from the Northwest represented the region well in the second tier of Northwest Challenge, with #16 Portland, Puget Sound, and Lewis & Clark all claiming spots in the semifinals. UPrise proved themselves to be firmly ahead of the pack, with a 10-7 win over Puget Sound capping off an undefeated 6-0 weekend. The Postmen notched two wins over L&C, but they're now 0-2 this year against Portland, who they could very possibly see in a game-to-go at Conferences. They'll need to figure out a different game plan if they hope to steal a bid to Nationals in what's looking like one of the strongest regions in the country.
Inclement weather in the Northeast last week resulted in many tournament cancellations, forcing several teams in the New England region to come together for a one-day round robin in order to get their ten games in. #7 Amherst, #22 Brandeis, Bowdoin, #23 Bates, and Bentley all came together in Amherst on Sunday, with the former three teams all finishing tied with 3-1 records. Amherst picked up big wins over Brandeis and Bates that look like they should be enough to solidify their ranking to earn a bid for the region, and Bowdoin's strong showing has put themselves in a position where a strong weekend at New England Open could put them in range for a strength bid.
Hear more about the tournament and this past weekend in D-III ultimate on the newest episode of The 7500 Club.
Looking Ahead
It's the final weekend of the regular season. With so many cancellations this season, there are teams scrambling to get to 10 games, as bids for Nationals and Regionals will be basically locked in this weekend.
Easterns (M/W) is the major event of the weekend.

The men's division features a large field full of Nationals hopefuls, including three of the top four ranked teams in the division and some teams near the edge of the bid cutoff.
The women's division is topped by #17 NC State, who is points away from earning a bid for the Atlantic Coast, but will need a strong weekend to do so.

Huck Finn (M) has become an annual battlground for bids. There's a bit less drama in this year's field, but it's not devoid of it, with Emory hoping to wrangle a bid for the Southeast.
DIII EastUR (M) consists of eight D-III men's teams, including #3 Mary Washington and #5 Middlebury. But perhaps most notably, Elon and Middlebury have a chance to make an impact of the bid picture.
New England Open (M/W) represents a last chance to team's to make regional bid impacts, prepare for the series, and get in the games they may have missed during the cancellations that have wracked this season. Some top ranked D-III teams are in play in both divisions.
---
It wasn't seeded purely by strength, but that don't let that ruin the fun. ↩

You can find some discussion of this on r/ultimate. ↩