In the season finale, three of the division's top four do battle in a deep field, with plenty of end of bid implications.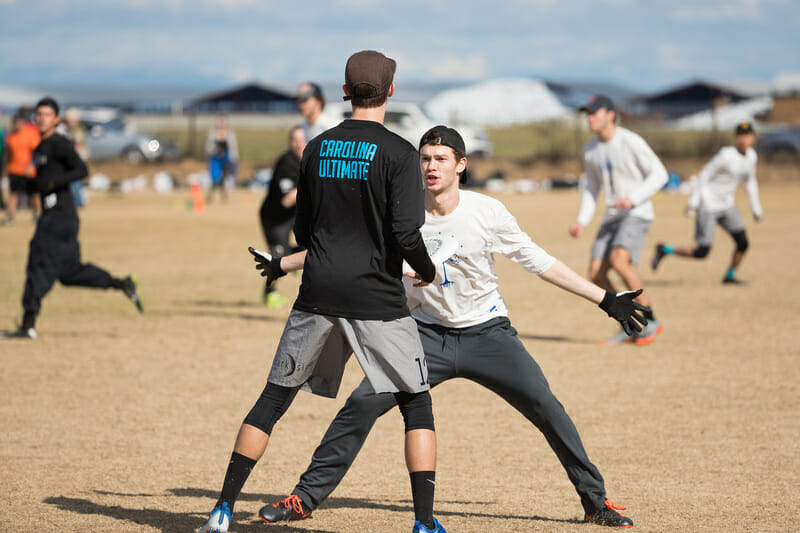 Coverage of the Men's Division at Easterns is presented by Spin Ultimate; all opinions are those of the authors. Please support the brands that make Ultiworld possible and shop at Spin Ultimate!
After a season's worth of buildup, the college series is almost here. But before the "survive and advance" chapter begins, we get one last look at some of the most successful programs of the season. For some, it will be a chance to hone their lines and approach the well-timed peak. For others, a last chance at earning that fateful bid for their region. It will all play out with a baker's dozen of top twenty teams battling it out in South Carolina.
With different prizes at stake for field of teams hoping to still be playing in late May, we've broken down the tournament's best teams into four tiers based on what their performance this season says about their prospects for the postseason.
Tournament Profile
Date: March 31-April 1
Location: Little River, SC
Weather: Partly cloudy in the 60s, with light wind
Top 25 teams: 13
Score Reporter
Livestreaming Schedule
Tier 1: UNC and CUT Gear Up for the Series
At the top of the field sit two heavyweights in #1 North Carolina and #2 Carleton. Easterns always feels like a Nationals preview, and this year we get the top two teams of the division; the presumed National final since last season ended.
These aren't two modern heavyweights. No, they're classic era Ali versus Frazier. They have history. A lot of the players on the two squads even grew up playing ultimate together in the triangle area of North Carolina. If all goes according to plan, they'll square off for the second time this year in the final on Sunday.
The first bout of 2018 between these two didn't go to plan, with Carolina drubbing Carleton in the final at the Stanford Invite, 13-8. In fact North Carolina has a spotless record this season. They've only allowed three opponents to reach double digits all year.
Carleton on the other hand has taken a couple knocks along the way. On top of the defeat they suffered in the Stanford Invite final, they also took a surprise loss to Brown in their opening game of the season. Still, they've reached the final in both tournaments they've attended this season, and it would be a surprise to not see them match that feat at Easterns.
Truly, it would be a surprise to see either team miss the final. The two have established a clear top tier in the division along with Oregon, who won't be in Myrtle Beach this weekend. Both teams have a depth of talent that puts them on par with any of the great ultimate teams in recent history. Searles-Bohs, Archer, Kwon, Long, Juengst, Gouchoe-Hanas, Matthews, Davis, and Marcus give plenty of options to Darkside. Olson, Yanuck, Padilla, Fisher, Schoch, Lanier, Taylor, Birdsong, Bloodworth, and White on the other side for CUT. It's an embarrassment of riches of embarrassing riches.
At Easterns these teams appear to be in a league of their own. Maybe another team in the field will announce themselves as belonging to that league this weekend. Or one of the two squads will look past a solid opponent, anticipating their matchup in the final with the other. But if all goes as expected, the pair will square off for round two of the Triangle Wars; and perhaps treat us to a preview of what feels like their inevitable meeting in the national title game.
Tier 2: Minnesota's Semifinalist Status
A few teams at Easterns are looking to break in to the top tier of UNC, Carleton, and Oregon (not in attendance). #4 Minnesota has by far the strongest case, with a big win at Centex under their belt, and a strong history of success. For the time being, they sit in a tier of their own.
Minnesota is in one of the best regions of the year, meaning this will not be their last big test before Nationals. Grey Duck should coast through pool play into the bracket. One of the best handler cores in the country has defenses stumped, and the three-man partnership between Wyatt Mekler, Sam Kaminsky, and Tristan Van de Moortele is about to reach peak form. Meanwhile, Codi Wood has inserted himself as another central cast member. But who will step up as their best downfield option?
The only red in Minnesota's ledger is a loss to Carleton in the semifinals of Warm Up. That 15-10 loss wasn't even as close as the score indicates. While it dampened the outlook for Grey Duck at the time, it was also in mid-February, when the team was solely running person defense with a hard force. Expect Minnesota to be a bit more complex this time around. They know that their path, to seed, runs right into Carleton again.
Tier 3: Teams With Something to Prove
#7 UNC-Wilmington remains the only other undefeated team in the Nationals picture, coming off of a tight win over Georgia at Tally Classic. Wilmington will be tested in pool play against Carleton, and the always-fun matchup against Pittsburgh. If they manage to upset the favored CUT, they'll be sitting pretty when it comes to Nationals seeding. While the Seamen have proven they can win close games, they haven't faced the level of competition that they will this weekend. Wins over Carnegie-Mellon, #14 Georgia, and Harvard are impressive, but a winning margin of only six takes some of the sparkle away. Look for one of their big pool play games to be a solid indicator of long-term success.
Out of the tier 3 programs, one has been relatively disappointing up to this point: #15 Massachusetts. Coming into the year, ZooDisc looked like a potential semifinalist, but time is running out for them to put the pieces together. It's worth noting that Brett Gramann's absence at Tally Classic attributed to a poor performance, but the team seems a little lost in how to get the disc to its downfield playmakers.
UMass is still looking for a prolific handler to replace the 2017 Player of the Year, Ben Sadok, and they've got a limited amount of time to find him. A loss to Georgia earlier this spring is cause for concern, but a relatively weak Easterns pool could give them a high profile matchup in the bracket.
#6 Wisconsin, #7 Brown, and #8 Virginia Tech have also thrown their hats into the ring as quarterfinals-worthy outfits with a shot at advancing. But each has their own pockmarks to smooth over this weekend.
The Hodags sent a skeleton crew to Florida Warm Up and paid the price, but with a more flush roster at Stanford Invite, looked more like the team they were projected to be in the preseason. Stalwarts David Yu, Chris Wilen, and Jeff Maskalunas are still outstanding defenders, and the team has benefited from a hot rookie campaign from Ted Schewe. A healthy Nick Vogt would do wonders for their offense. There aren't any layups in Pool A, and #13 Florida represents a tough test that has historically troubled Wisconsin.
Brown has perhaps spent this spring learning how to win. They burst out of the blocks with a win over Carleton and a run to the final at Warm Up. While they weren't as hot at Stanford, minus a flat performance against #5 Washington, they didn't take any bad losses. B-Mo's opponents have gotten a chance to look at some film, including the Virginia Tech team they topped in their Warm Up semifinal. Now we'll see if Brown has evolved in the ways necessary to go from early season darling to postseason contender.
Finally, Virginia Tech has been rock solid all year. They are consistent and efficient, mostly avoiding close games that expose them to risk, but also struggling to get traction against the division's best teams. Burn is still searching for that extra gear, and they've had month and a half since they played a sanctioned game to find it. Their team size and length makes them a matchup problem for teams that can't handle Virginia Tech's ability to make plays in the air.
Tier 4: Still Building the Resume
Perhaps the most controversial tier placement is #10 Pittsburgh, who began the season with a pair of losses to Maryland and UMass. They certainly looked better at Stanford Invite, where they were able to compete in nearly every contest thanks to a fiery D-line, and earned some nice notches on their belt with wins over Cal Poly and Colorado. Pitt is well versed in taking the long view, and continued improvement at Easterns would put them on track to move up a tier.
The other team with a claim to move up is #13 Florida, who has a case as one of the season's biggest surprises. While centerpiece Billy O'Bryan was a known commodity, he has even surpassed expectations. But the key has been that his supporting cast has grown significantly in strength. Chris Dixon, Hayden Wachob, and rookie Josh Layton have helped push Florida to a strong position in the Southeast. Their matchup with Wisconsin should be one of the highlights of pool play.
NC State and Cal Poly SLO are also in this arena, but they may be more focused on their bid situations than anything else.
A Few Teams Looking to Climb Into the Picture
The final weekend of the season perennially brings bid drama, and 2018 is no exception.
Though a handful of the Top 25 are idle this weekend having closed their seasons at NW Challenge and Centex, the majority are active at Easterns & Huck Finn. That means there is still plenty of uncertainty to go around. Most of the top 15 is probably safe barring colossal collapse, but the bubble offers plenty of drama– especially given that Emory and Texas are gunning to jump in to the top 181 by running the table at Huck Finn. Here's the outlook for bubble teams at Easterns, including their USAU Ranking:
SLOCORE has a nominal pole position but sit just 20 rating points above first-out BYU, while the Wolfpack's lead is less than 10. Their high game counts give them a little more staying power, but they'll need to bring their best games this weekend. Three wins in pool play should keep the pace, but they'll be looking for more to stave off possible surges from the other contenders.
#18 Colorado & #19 BYU (by extension)
The two teams on either side of the line are separated by a meager 4 rating points, so second-order effects could be a deciding factor. Many of BYU's opponents are active this weekend so their performance will be key. However, Colorado has two games against Cal Poly on their record that comprise 9% of their ranking– so a 40 point slide for SLO could pull Mamabird below CHI.
#25 LSU
Haze is all but out of contention unless they win Easterns. They need to average over 2100 for the weekend to get to the line, and that essentially means running the table. LSU can maybe take a DGP loss to a top seed but certainly cannot sustain an upset.
---
the Great Lakes and Metro East auto bids are going to teams outside the top 20 ↩