Not many seeding conundrums this year.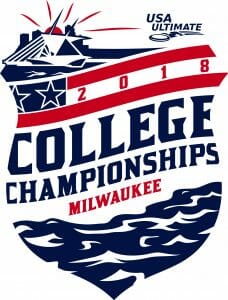 After two exciting weekends of Regionals, we now have the full field of teams and the latest rankings update from USA Ultimate. It's time to start thinking about what the seeding and pools might look like for Nationals.
This is the third year that Regionals finish does not bind seeding at Nationals. Please note that we do our best to follow USA Ultimate's guidelines for seeding: USAU's post-Regionals rankings are very heavily weighted, head-to-head wins matter at the margin, and historic success is considered. We do not explicitly try to avoid regional matchups.
Let's kick things off right away with the pools generated by my predicted seeding.
| POOL A | POOL B | POOL C | POOL D |
| --- | --- | --- | --- |
| Dartmouth (1) | UNC (2) | UCSD (3) | Stanford (4) |
| Tufts (8) | Texas (7) | Oregon (6) | UBC (5) |
| Colorado (12) | Carleton (11) | Pittsburgh (10) | Ohio State (9) |
| West Chester (13) | Western Washington (14) | Whitman (15) | NC State (16) |
| UCSB (17) | Michigan (18) | Florida (19) | Cornell (20) |
1. Dartmouth
Lock it in. The defending National champions are over 100 points clear of #2 ranked UNC. The road to a title runs through Dartmouth.
2. North Carolina
Wait, what? UNC? Look, the rankings are the rankings. UNC is ahead of both UCSD (by a bit) and Stanford (by a lot), despite having a 13-9 loss to Stanford on their resume. But Pleaides only has that single loss this season1, along with wins over UBC, Tufts, and a handful of other Nationals qualifiers. While it wouldn't come as a total shock for them to get the #4 seed behind UCSD and Stanford, that would entirely go against USA Ultimate's approach to seeding.
3. UC San Diego
With a win over Stanford at Southwest Regionals, UCSD locked up the #3 seed.
4. Stanford
Wherever UCSD goes, Stanford will be right behind them in the seeding.
5. British Columbia
Despite losing to Oregon at Regionals, UBC finished 2-1 v. Oregon on the season and is ranked ahead of Fugue. I think that's enough to keep them at #5 with Oregon just behind them.
6. Oregon
It would not be a shock for USAU to reward the Regionals win, but the rankings should keep UBC higher.
7. Texas
Texas is ranked ahead of Tufts and has the head-to-head win. Texas also has a H2H win over Oregon, but they're over 100 points beneath them. You won't see them leapfrog Fugue.
8. Tufts
Ranked #8 with a head to head win over Pittsburgh.
9. Ohio State
This is the only spot in the entire seedings that I think USA Ultimate will go against the rankings. Pitt is 25 points higher than OSU, but Fever is 2-0 v. Danger this season. That's too much evidence in favor of Ohio State and I think they'll get the #9 seed.
10. Pittsburgh
Clearly tethered to Ohio State, either ahead or behind.
11. Carleton
Carleton does have a head-to-head win over Ohio State, so it wouldn't be crazy to give them the #9 seed and bump down OSU and Pitt. But it's very rare for a team to leapfrog two others in the rankings.
12. Colorado
Pretty straightforward. Colorado ranked #12.
13. West Chester
Ranked #13.
14. Western Washington
Ranked #14. Defeated Whitman at Regionals.
15. Whitman
Ranked #15.
16. NC State
Ranked #16.
17. UC Santa Barbara
About 30 points behind NC State in the rankings.
18. Michigan
Ranked #19.
19. Florida
Ranked #24.
20. Cornell
The Metro East champion is ranked #74 and will round out the pools.
---