A countdown of the top brands in the college division.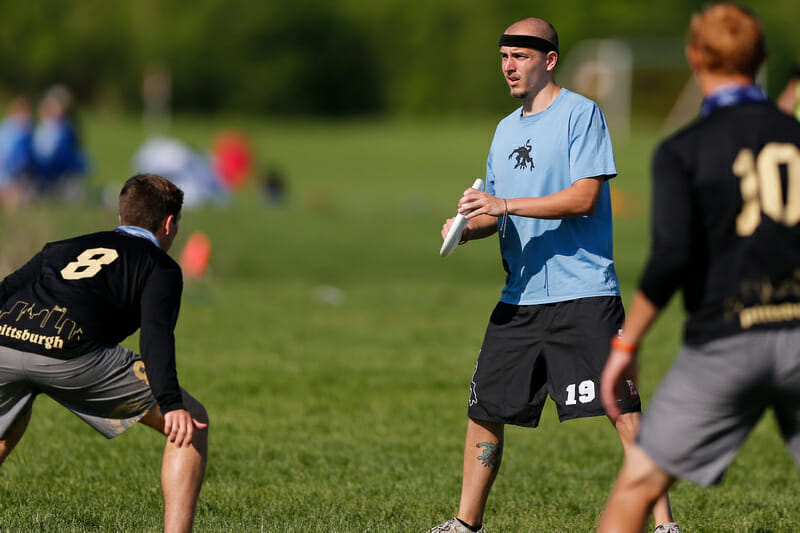 Ultiworld's 12 Days of College Ultimate are presented by Spin Ultimate; all opinions are those of the authors. Please support the brands that make Ultiworld possible and shop at Spin Ultimate!
It's time to unwrap some presents as we introduce the 12 Days of College Ultimate. Through December 21st, we will be releasing one gift per day, though don't count on getting any partridges in pear trees: it's all college ultimate. From highlight videos to player chatter to a giant bracket, we've got a little something for everyone.
Branding is everything in 2018, and college ultimate is no different. With more and more top high school recruits coming on to the scene, visibility and forward-facing identity matter in a way that they didn't even a few years ago. Importantly, it's also become much easier to learn about a team's vibe through social media, media-media, and all the game footage available. Even if you're not a prospective college student, becoming a fan of a team is more reasonable in this modern era. You now have the tools to suss out much more about who you should support and whose failure to revel in.
But which teams have the best brands? There isn't a golden formula, but it's some combination of success, aesthetics, personality, history, and that ineffable qwan which separates the protagonists in life from the also-rans. Looking ahead to 2019, for day 11, these are the 11 best brands in college ultimate.1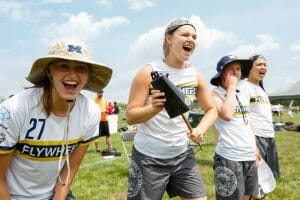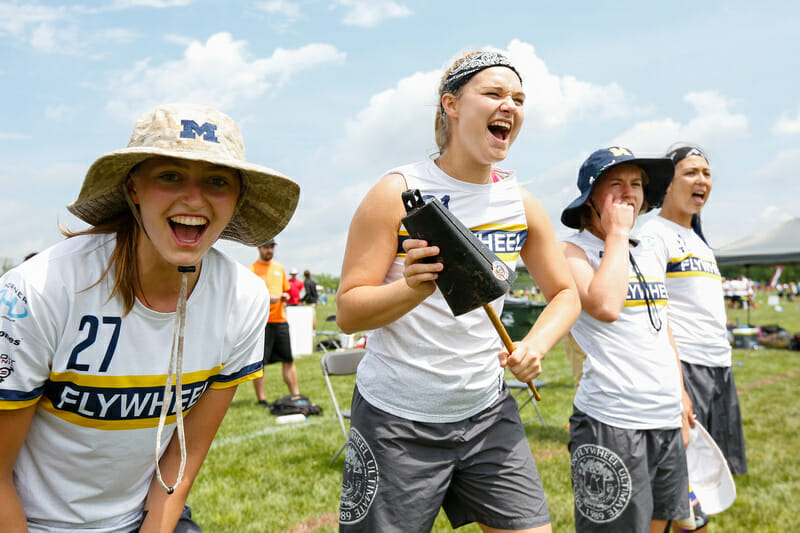 11. Michigan Flywheel
Flywheel has never won a national title, and they haven't been all that close in the last few seasons, yet they still feel like one of the premier programs in the country. That's brand strength if I've ever seen it. They still make Nationals just about every year and consistently produce elite players. They also have cheers about a pizza parlor where you can get a tattoo, and an affinity for a little bit of cowbell. The eponymous "Fly-what? Flywheel!" cheer is one of the most recognizable at any field site. They get extra points for having a regionally meaningful team name, assuming the name is an homage to the Detroit Red Wings logo, anyway. Flywheel can be easily identified from fields away and that, combined with their program cache, warrants their spot on this list.
A newer team on the scene, SLO has built a perfect brand for the video age. Creative Callahan videos and some genuinely sick highlight reels overcome meh scores for jersey and logo aesthetics. Also, and this is crucial, by virtue of their position in the Southwest they get to exist in opposition to Stanford. While most of the guys on SLO are actually a bunch of rocket scientist nerds, they come off as lovable hooligans next to a roster full of Sean Parker-esque, venture capitalist, "I'm not an evil corporation because I came to work on a skateboard" bros. It's pretty easy to look tough when you're standing next to this: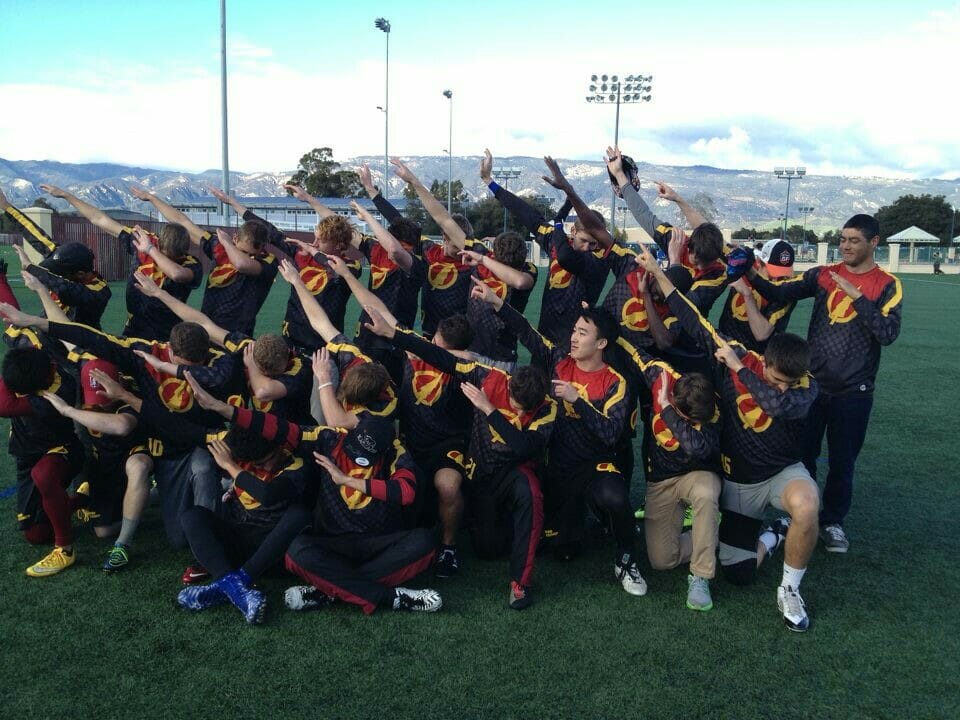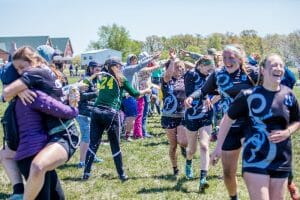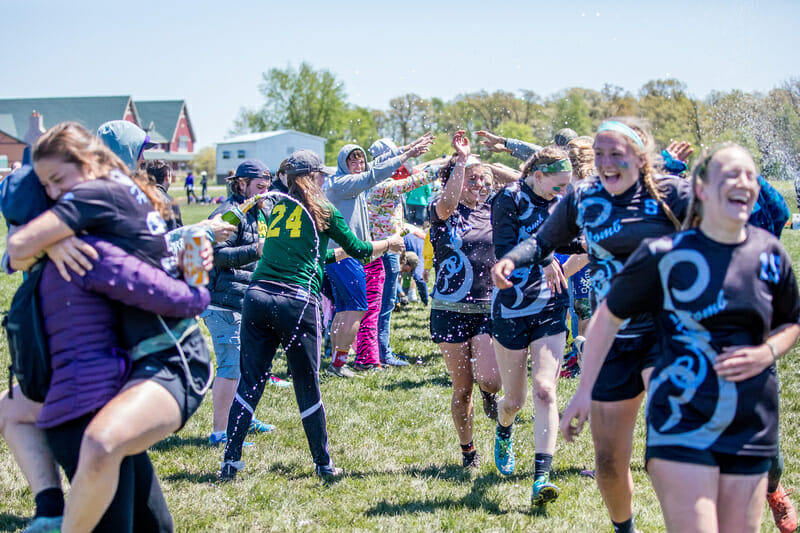 9. Notre Dame Ultimate
Notre Dame's ultimate family is arguably the best out there. It's difficult to think of a school that has more closely knit men's and women's teams. They attend tournaments together and one team will make as raucous a sideline as you'll see anywhere for the other at every chance they get. They even share a Twitter account! It's all very wholesome. The camaraderie between the two, as well as their full embrace of the absurdity of the sport, make them a true delight that even the most cynical of ultimate fans can appreciate. Their success has definitely been carried by the ladies, with their two Nationals trips in the last four seasons, but it's the strength of the whole school's brand that lands them here.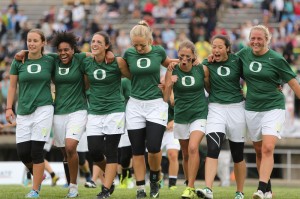 8. Oregon Fugue
The Fugue brand doesn't hold the same clout as when they were winning championships every season and claiming the clown tent philosophy, but they're still one of the most identifiable programs in the country. They've had some of the most exciting stars in the game over the last five years: Shofner, Wahlroos, Hansen. Most importantly, they let their ballers ball. That's made for some of the most iconic Callahan videos in recent years, a signature style of play, and some of the most memorable college ultimate highlights of the ESPN era. They also have a dope logo, and that's an all too rare thing in the college game. A few years ago, they probably would have been number one on this list, but they're still one of the best brands in the game today.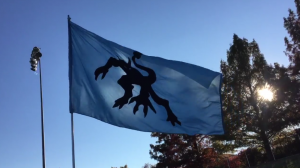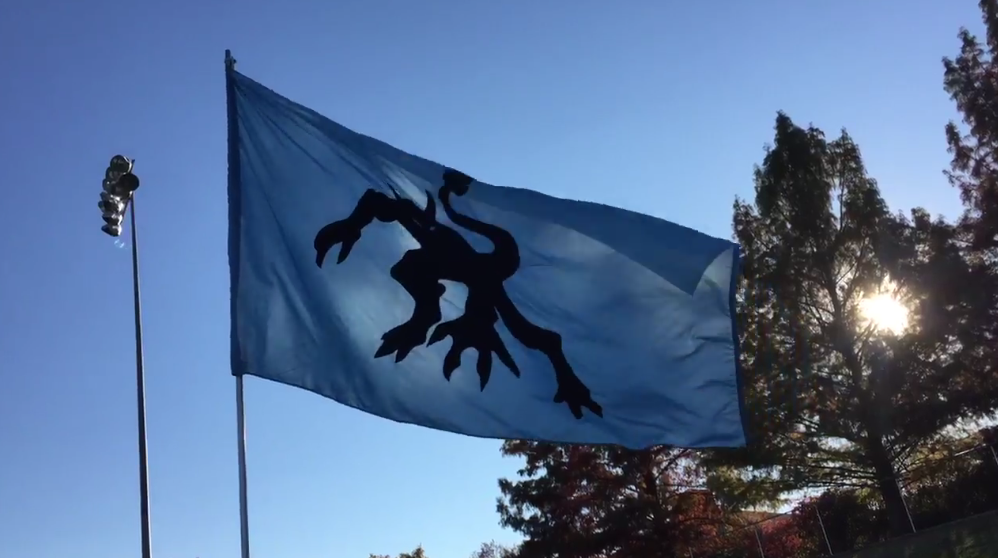 7. Wisconsin Hodags 
Though the Hodags are still the standard for self-seriousness, what was annoying about the team in the past has now become winsome. Despite instantly recognizable status, that iconic powder blue of Wisconsin (and the fabulous Hodag logo and regionally relevant team name) hasn't been seen in the semifinals since 2012. Like the British clinging onto the last vestiges of empire, there is a certain endearing nobility to Wisconsin's polishing of the crown in the face of creeping oblivion. In a universe tilting headlong towards chaos, the Hodags will always be there, and there is a quiet comfort in the thought that some things withstand the test of time.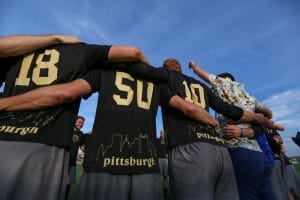 6. Pittsburgh En Sabah Nur 
Look, Pitt are definitely lame. They will be living this clownshow down for a long time. Even just a few years ago, they would not have been on this list. Their quenchlessly thirsty pursuit of a "brand" that could stand alongside the old powers of the sport tarnished their actual brand, like a starving old Greek saddled with an ironic punishment whose every step toward food got him further and further away. But recently "the brotherhood" has become something else. They've finally managed to toe the line between being self-centered to the point of solipsism and confident enough in their own vibe to not worry about what other people think. Mostly, though, having Hafeez Shams and BIG CAT goes a long way.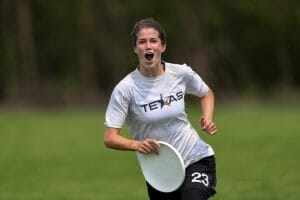 5. Texas Melee
Melee are basically exactly what you would expect from a bunch of college ultimate players who live in Texas. That is, they're mostly like the rest of us: pretty weird,2 but they wear cowboy boots. They do play a very Texasy brand of ultimate, though, and that will always makes them a fun team to watch. They have great sideline parents, a strong Twitter personality, and have found great success over the last few seasons on the field, too. The pièce de résistance of the Melee brand, though, is Centex. It's always a great tournament, sure, but the barbecue dinner and dance off on Saturday night make up one of the best traditions in college ultimate. The state of Texas catches a bad rap, but Melee has done a nice job of absorbing just the right amount of Texasness into their program identity and have made a truly great and unique brand with it.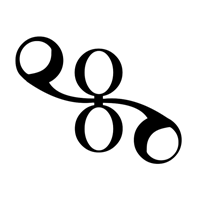 4. Oregon Ego 
Oregon has done a good job of building their brand around "we're just a bunch of boys out here playing some frisbee together" without as much of the toxic tribalism that has been a part of the program in the past. Ego play electrifying offense–which helps a lot here–and they produce superstars that get a lot of shine. It's not just the team's success that brings high schoolers from all over the country to Eugene; it's the brand. The program breeds superstars but has been just good enough to continually lose in heartbreaking fashion over the past decade. This allows everyone to get on board without having to feel like a frontrunner.  And the team name seems well-aligned with the team's devil may care flare and brashness. Add a top tier logo on all of that, and you get a very high brand ranking.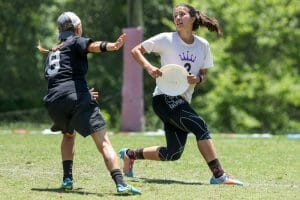 3. Cal Pie Queens
Want to win a Callahan? Play for the Pie Queens. They seem to have cracked the algorithm for winning the award and have pulled off two shocking Callahan wins in the last three years. Marisa Rafter and Jackelyne "Kobe" Nguyen each had a fire nomination video — Rafter's, in particular, will go down as one of the best of all time — but there definitely seems to be some sort of inexplicable magic with Cal and the Callahan. Who wouldn't want a piece of that? They also have a consistently fun team culture. As a program, they take their dance moves very seriously, and their famous Pie Quest competition has been a special addition to the the festive atmosphere at Nationals. Cal has a solid YouTube presence, and get bonus points for being one of the few California teams that doesn't participate in the overwhelming nickname culture that has saturated the region.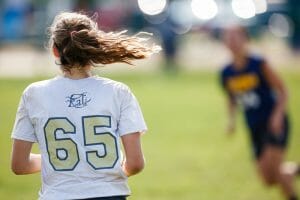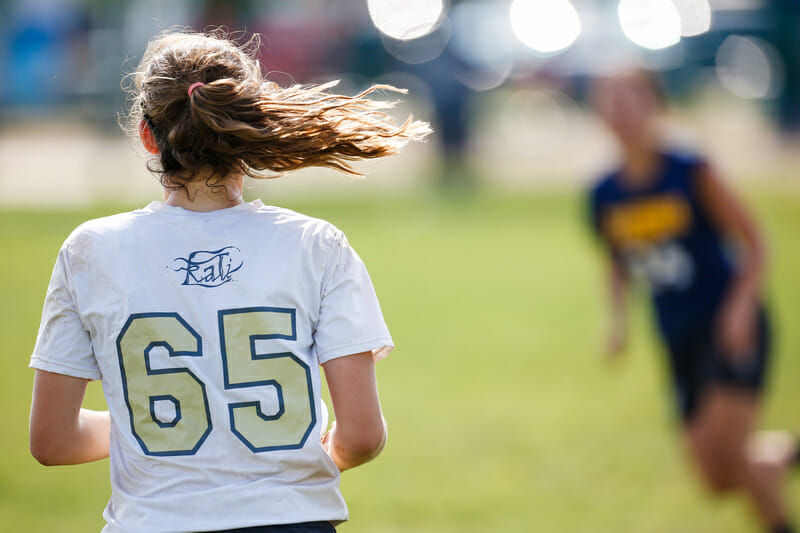 2. Colorado Kali
Colorado has a term for their club's defining characteristic: Kali Weird. Kelsey Bennett credited it with helping the team make their surprise run to the National final last season. Basically, it's an ethos that encourages players to let their freak flags fly, and Kali fly their freak flags higher and freakier than most. Bizarre cheers that would be categorized as disturbing rituals if they weren't done on an ultimate field are common. A chief example would be their "Juju Juice" cheer, in which everyone changes while one player goes up and down a line of players squirting a Koolaid Burst into their mouths. Even their parents get in on the weirdness act. In a time where so many teams can take ultimate a little too seriously, Kali keeps on fighting the good fight by going in the opposite direction. Their recent successes — semis in 2017, the final in 2018 — certainly don't hurt the brand, either.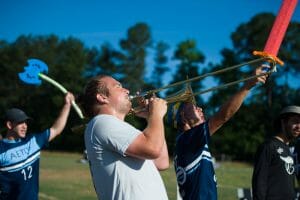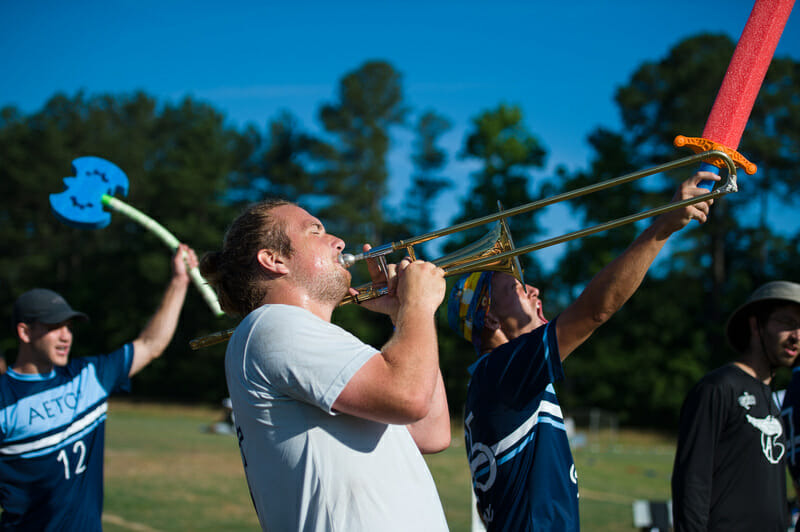 1. Auburn Aetos 
The storybook underdog finds themselves on top of the pile. Rising to national prominence on the back of the still-mind-boggling-years-later Tulane eligibility scandal, they turned what could have been a flash in the pan season into the best brand in the men's division. It's like USA Ultimate invented Auburn in a lab to be the perfect brand ambassadors for the sport. All the goofy frisbee wackiness at the core of the team seems to have a demonstrative positive impact on field. Despite the scarcity of top recruits in an "ultimate desert," they've fueled four straight Nationals runs with a mixture of belief, Hank Womble, and a team full of misfits banding together to become something greater than themselves. What's a better look than that?
---
Most other years, Carleton CUT would be on here, but the camo with orange look they sported at last year's Nationals was truly heinous and actions have consequences. It should also be pointed out that it is OUTRAGEOUSLY obnoxious that they won't nominate their players for the Callahan, but I guess that's just their Seattle showing. How about a compromise? You don't have to sully yourself rubbing shoulders with the rest of us plebs by actually nominating players for the award, but you do need to put out a Joe White highlight reel after his senior year. Deal? ↩

This dance was to Let The Bodies Hit the Floor by Drowning Pool ↩