Your guide to the 2019 college D-I women's season.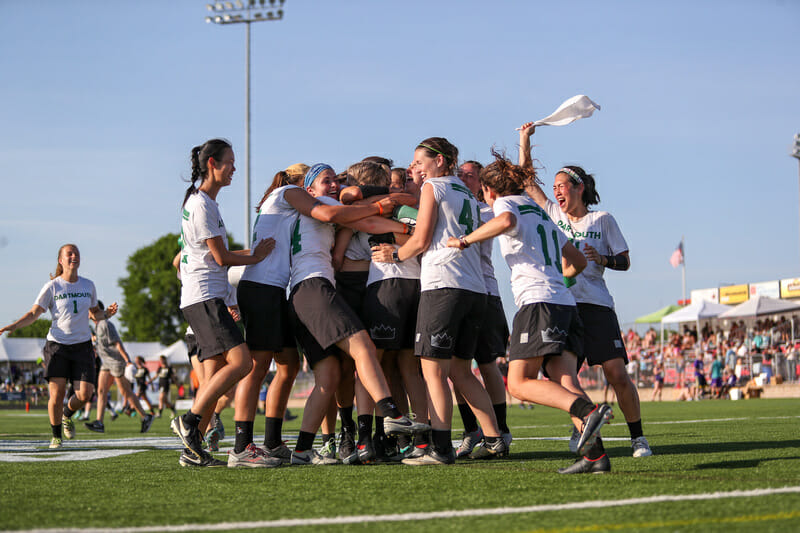 Ultiworld's 2019 college coverage is presented by Spin Ultimate; all opinions are those of the authors. Please support the brands that make Ultiworld possible and shop at Spin Ultimate!
While turf fields may still have some morning frost at some early season tournaments, the women's college season is already heating up. The preseason power rankings look different than last year, with only Dartmouth returning to the predicted top five. Teams that have been building depth and talent could finally get their chance in the semis this year, and with Dartmouth still poised to be a powerhouse, none of that building could matter come Sunday at Nationals.
But there's a long season ahead before that fateful day. There will be upsets, wonky weather, jaw-dropping plays, and plenty to follow in the college division before we reach the potentially frightening heat of Texas in May. Here's what you should know to follow the division in 2019:
Storylines to Watch
Defining the Dartmouth Legacy
#1 Dartmouth is already poised to win their third title in three years, a feat not accomplished since 2007 when Stanford completed their second three-peat in a 10 year span. Because of that dominance, Stanford is still considered an institution in the women's division, even in rebuilding years. Oregon's program carries a similar pedigree after three title wins in five years under former coach Lou Burruss.
Few teams in recent memory have played with the talent that Dartmouth has put on showcase in the last four years. But how will they be remembered in five years' time? A three-peat would cement them among the pantheon of all time teams, and if their current players maintain their trajectory, they may not even need that.
-Katie Raynolds
Syzygy Ascension Could Be Just the Beginning
The 2018 #4 Carleton season was simply the intro; 2019 is the beat drop. And this one's a banger. If the beginning of the crescendo was missing the bracket at Nationals on tiebreakers, imagine what it will be at its height.
The roster is rife with young talent and solid veterans. With just three players graduating from last season, second year Syzygy players Isabel Arevalo, Karen Ehrhardt, and Nariah Sims are poised to seize even more sizable roles. Maya Powell and Anika Thomas-Toth will also continue to build on productive careers.
Equally important to their returners are their additions. Freshmen Carly Campana and Kate Lanier were recently selected to the U24 U.S. National Team, already setting expectations to be some of the best players in the entire division. They are joined by U20 teammate Lauren Carothers-Liske, part of a talented and deep recruiting class powered by the Seattle pipeline. So the question is not whether or not Carleton will be one of the best teams in the division; it's how long will they be title contenders.
-Keith Raynor
New Contenders For Nationals
Every year there are a few teams for which the stars align perfectly and they scrape, scratch, and bully their way into Nationals. Last year, despite starting low and outside the bid picture, UCSB and West Chester took 2018 by storm and earned their regions strength bids. And while it's notoriously difficult to predict the ascension of these teams, there are a few that have all the pieces to make a deep run this year.
#17 Northeastern stands at the top of this list. They aren't a dynasty program or renowned for their recruiting classes but 2019 seems different. Ari Nelson impressed at U24 tryouts and now has a spot on the women's team going to Germany. She's joined by Juli Kloza and a strong crop of transfers including Sophie Shen and Emma Palacio. This influx of talent should help a team that impressed last postseason. Northeastern placed third in New England, just outside of bid reach. Unfortunately, if they're looking to make Nationals, they'll have to earn a bid themselves. The top two teams in their region are Dartmouth and Tufts, neither of which seem to be losing steam in 2019.
#22 Cal Poly SLO is another team that could make waves as the regular season gets under way. The SLO Motion women had a respectable 2018 but struggled to earn any notable wins outside of their region. Nevertheless, they were one point away from making Nationals last year after an incredible battle against UCSB on their home fields. In 2019, the team has been bolstered by a strong recruiting class including YCC winners Vanessa Beeler and Kelly Dickinson. SLO has been known as a team with a "shoot first" mentality and it lost them a few tight games last year. If they've tempered that edge, it could give them that extra layer they needed to earn some quality wins. With teams like Cal and UCLA seemingly taking a step back, Cal Poly is clearly eager to step into their spot and claim another bid for the Southwest.
#21 Wisconsin had a respectable, if unremarkable, 2018 due to Carleton dominating the North Central. The odds are high that Carleton will once again reign atop the North Central standings this year, but Wisconsin could earn their way to Nationals on the back of a powerful returning class. The All-Region trio of Sabrina Hoffman, Caitlin Murphy, and Brittney Kokinos are all impressive enough on their own, on a line together, they're downright intimidating. Even without those three, Wisconsin returns a host of veteran players. With the level of talent and experience that the team has heading into 2019, they can quickly make a statement with a few wins over less developed teams. Last season Wisconsin's losses were almost exclusively at the hands of Nationals qualifying teams. If they can turn some of those Ls into Ws this year, it'll set them up for a deep postseason run.
-Graham Gerhart
The Takeover 2019 Rookie Class
2019 will be the year of the rookie. This year's crop of incoming freshmen is the strongest in recent and memory, and probably the strongest of all time. We've already touched on the Carleton rookies, Campana, Lanier, and Carothers-Liske, but fearsome froshes will play big roles on elite teams all over the country.
Caroline Tornquist should help replace Dartmouth's big losses from last year's team and will play a big part in their quest for a third straight championship. Ella Juengst and Dawn Culton could make UNC even stronger than they were last year, despite the loss of Jenny Wei. Stephanie Phillips, PX Rong, and Ikky Elmi could help lead a resurgent Washington back into the national fold.
There's honestly too many noteworthy freshmen to mention (though we'll give it a shot later in this Primer). But there are a ton of them in position to play substantial parts in the biggest stories of the season. The women's division is becoming deeper and more talented than it ever has before, and this year's rookie class is going to ratchet both of those trends up a couple of notches.
The race for Rookie of the Year may actually be the most fascinating of any of the awards races this season. Which of these young superstars will emerge as the new faces of the division? This year, the answer to that question could determine which teams make Nationals, or even which teams win a national championship.
-Daniel Prentice
What's Happening with the Callahan?
To say that last year's Callahan award was surprising is an understatement. There's no need to rehash it, but the winner, Jackelyne Nguyen, was not seen as the frontrunner despite the goodwill she had accumulated during her college career. Many thought the honor would go to one of her competitors on the shortlist, which included Ella Hansen, Ellen Au-Yeung, and Caroline Normile.
This year, everything should settle back down to normal, right? Jack Verzuh is currently a senior and is widely regarded as one of the best players college ultimate has ever seen. If anyone is a lock to win the award, it's Verzuh, right?
Not exactly. The award has a history of rewarding players who're well-known for their likability as much as their on-field talent. Verzuh, by virtue of being on Dartmouth –college ultimate's overlord– already has their team's dominance working against them. On top of that, there has been a history of frustration from teams when foul calls are commonly upheld in favor of Verzuh. We've already seen players like Brodie Smith, Kurt Gibson, and Jesse Shofner get shut out by their peers. In those instances, it seemed as if the voting public favored players who could compete at a high level without coming across as too intense.
To add another wrinkle, Verzuh might not even be nominated this year. Caitlyn Lee is also a senior at Dartmouth and has been praised for her talent and camaraderie since her freshman year. There's even an argument to be made that Lee had a greater impact for Dartmouth this past season. Verzuh's the most recognizable player in the division and has a wealth of accolades, so it's not impossible that Princess Layout nominates Lee in 2019.
It's likely that one of Dartmouth's stars will receive a lot of buzz heading into Callahan season, but there are other of plenty deserving candidates, too. Ella Hansen is back for Oregon and was one of the strongest candidates last year. Without Hayley Wahlroos in 2019, she'll almost definitely be taking on a larger load, too. Hansen is joined by Ellen Au-Yeung or Naomi Morcilla, depending on which one UBC nominates. Both players have stunning pedigrees and could steal some of the spotlight. Beyond them, Dena Elimelech is returning, Sadie Jezierski will be angling for the award, and Julia Kwasnick may even stand a chance after a monster 2019. Of course, if 2018 has told us anything, it's that trying to predict the Callahan award is all but impossible. For now, we can just appreciate the returning talent and hope that it leads to some fantastic Callahan videos.
Graham Gerhart
Regional Storylines
The 2018 set of regional championships provided drama and surprises. Who will be starring in this season's regional tales?
Atlantic Coast
After under performing at the 2018 National Championships, #3 North Carolina is back and ready for redemption. Although graduating Jenny Wei is a tough loss, they are still clearly top of the region with a strong incoming class from the NC youth pipeline and a deep, and increasingly veteran, roster.1 With 2018 Coach of the Year, Jessi Jones back, Pleiades looks primed to make a deep run in Texas this year.
Just down the road, #18 NC State Jaga found success last year, making a run to Nationals, but in 2019, with the loss of stalwart handler Ashley Powell, it's tough to say whether they will secure a bid. They still have talent and experience, however, in the likes of Becky Widmayer, Carmen Tormey, and Rowan Jaynes that could continue to make Jaga competitive.
Virginia had a down year in 2018, but have come back with a large rookie class and a relatively strong fall season. If they continue this trend, they may take steps toward their former glory, if not quite topping the region. Regardless, up and coming cutter Blaise Sevier2 and captains Ellie Wood and Julia Harris are setting their team up for future success.
These teams will attend Queen City Tune up, along with Clemson of the AC, and many other Nationals caliber teams. This will be an early test that could either demonstrate the strength of the region, or identify weak links.
Delaware is an interesting wildcard in the region. It was unfortunate that Sideshow missed the 2018 spring season. Their large and formidable senior class promised to make make waves and prove the height of their ceiling. It's hard to say what they will bring this year, but it's easy to predict Natalie Bova to be one of the best players in the region. They have a quiet fall season under their belt, but could surprise the competition as they did in 2017. Perhaps a chip on their shoulder from missing last season will be enough to propel them through the regional competition.
Elsewhere, Clemson finished third in the region in 2018, but had an erratic fall season. However, their signature and omnipresent zone has been known to rattle teams. They could potentially see success with the help of some unpredictable spring weather. Duke, UNC Wilmington, and James Madison all have scattered athleticism and and talent, but haven't been able to put all of the pieces together yet.
-Lindsay Soo
Great Lakes
Only three teams have won the Great Lakes in the redraw era: Michigan (five times), Northwestern, and Notre Dame (twice). Given the regional picture, it's unlikely for that to change this year. In fact, all signs point to a rematch of last year's final: Michigan vs. Northwestern.
Michigan has been the class of the Great Lakes, and pridefully so. They impressed at Nationals last year with a win over Carleton that earned them a spot in the prequarterfinals. But many of their top players graduated: Brittany Wright, Amy Stoddard, Nina Janjic, Grace Denney, Hannah Gannon, and Mary Boyd are all gone. That means Phoebe Hopp and Laura Soter are going to have to shoulder a considerable portion of their offensive production, while Megan Gordon, Nicole Kleinsorge, and Tia Esposito will be asked to contribute more. Depth was a strength of the team in 2018, but it's unclear if Flywheel still has enough across the board to maintain the same style of play.
The challenge they could face from Northwestern is not to be ignored. Sarah Kim could be the region's top player, and fellow First Team All-Region pick Hindeke Tewodros is also back for Gung Ho. It's unnerving that the team struggled at MLC, and they'll be a team to eye in the regular season to see if their progression matches Michigan's.
Meanwhile, Notre Dame, and Chicago are other potential challengers, but each had some notable seniors graduate that could shift the region's landscape.
-Keith Raynor
Metro East
There's a long history of parity in the Metro East, with teams unable to really establish themselves for long periods of time. Seven different schools have appeared in the regional final in the redraw era, and since Ottawa's threepeat to start that period, no team has won the region in consecutive seasons. In fact, since 2013, only two teams have managed to make it to the final two years in a row! The ME remains mercurial and unpredictable.
The reigning champion Cornell Wild Roses have consistently been one of the region's top contenders. The presence of Dena Behar, one of the region's potential top players, and 2018 second team All-Region selections Raina Kamrat and Sami Smalling, should help keep them there. But repeating as champions without Lilly Mendoza and Mei Zhang could prove difficult. Cornell had a deep team in 2018, however, and that could be a key advantage, particularly come Regionals. They should remain the favorite.
A run to the 2018 final from Columbia Pandemic may portend a strong year for them. Yuge Xiao immediately became the region's top player to watch, following a season with Philadelphia AMP and her selection to the U24 squad. Regional FOTY Marisa Schwartz rejoins Xiao for the 2019 campaign, but there are questions about Columbia's current depth.
The rest of the region is still hoping to set their respective tones for the season. Usual suspects Ottawa and Connecticut are both looking young this year, but their cores could develop to make them threats. Ottawa has just six returners, though four of them played with Stella this club season. UConn returns Steph Sommers and Maura Beggin, but is replacing Marisa Aldieri and an accomplished senior class. Meanwhile, Sarah Thomann will be one of the toughest matchups in the region for SUNY Albany's opponents, Yale returns a deep and experienced team that missed the cut for Regionals last year, and Rutgers has a gaggle of All-Freshmen back, but loses Janina Hlavaty. The region remains as difficult to predict as ever.
-Keith Raynor
New England
Hunkered down in an impenetrable fortress overlooking the rest of the region, #1 Dartmouth stands poised to reign again. A fifth straight New England crown, to add to a run a four straight during which they've more than doubled up their opponent's score in the final, is probable. The rest of the region features numerous clans hoping to find their way to the fertile lands of Nationals.
The most likely is once again #13 Tufts Ewo. They lose their leading scorer, Hannah Crowley, and their top throwers, Megan Wilson, Valerie Willocq, and Hannah Wells, who is spending the spring abroad. But their continued depth and development makes them a top program. Meredith Bernstein is back to join Margo Urheim, Claire Dunn, and April Weintraub as the team's critical offensive pieces. Their recruiting class brings in some experienced and potentially impactful rookies. They stand a solid chance of earning a bid for the region.
After that, it's tough to predict the region's fortunes. #17 Northeastern, led by Ari Nelson, might have the depth to be the best squad they've had since their back to back Nationals appearances in 2013 and 2014. Rookie Clara Stewart joins Juli Kloza and company. Vermont has been building piece by piece, establishing themselves as one of the top programs in the region. Harvard's Sarah Judd swaps Mia Bladin for former Michigan standout Amy Stoddard, and Quasar remains a well-coached and dangerous squad.
-Keith Raynor
North Central
With another crop of talented freshman entering the Syzygy program, #4 Carleton is sitting pretty in the North Central with the season barely underway. Their freshman and sophomore players have more cumulative ultimate experience than some local club teams I've played on, and they only graduated three seniors. They missed the bracket last year after tough pool play losses, but the North remembers. This young, deep squad will hit the regular season hard.
Long-time #21 Wisconsin Bella Donna coach Robyn Fennig is stepping back this season, but fellow Heist veterans Amelia Cuarenta, Emily Langland, along with returning coach Glenn Poole will step into her coaching role for a fairly seamless transition. Bella Donna also returns staples of their offense in Caitlin Murphy, Sabrina Hoffman, and Brittney Kokinos (2019 U24 Team). Bella Donna hasn't been to Nationals since 2016, but they're hoping to make a bigger splash early in the season by attending Santa Barbara Invite rather than QCTU. If early wins get the North Central a strength bid, then Wisconsin is well-placed to take it.
#19 Minnesota Ninja rounds out the notable trio of northern teams. They've been just out of reach of Carleton and Wisconsin in recent memory, even as their roster has welcomed notable individual players like Makella Daley and Kayla Blanek. But individual talent can only outlast discipline for a few points at a time. If Minnesota can buckle down on defense this season, they could shake up the North Central status quo.
-Katie Raynolds
Northwest
The Northwest is not the Evil Empire it once was, yet the region's depth is still remarkable: there are five NW teams in the Top 25 preseason power rankings, and the region could easily grab three strength bids this season without flexing too many muscles. Teams like Oregon and UBC have strong coaching and even stronger youth pipelines, so they can absorb the impact of graduating big players like Hayley Wahlroos (Oregon) or Brianne Wager (UBC).
#6 Oregon Fugue gets the grace and touch throws of Ella Hansen for one more year, and they've developed a strong bank of quick cutters who can run down her hucks. They also return Kaiyana Petrus, Morgan Caldwell, Maddie Boyle and Emily Fagan, all of whom know how to work in the unique Oregon system. With another experienced rookie class under these returners' duck wings, Fugue is well-poised to win the region again this season.
UBC and Oregon are like the left side and right side of a Twix bar. They should be so similar, with teams molded from local Northwest talent, yet their play styles and team cultures are very different. These teams know each other well, and their matchup this weekend at the Bellingham Invite will be yet another chapter in this long standing rivalry.
#7 British Columbia Thunderbirds return their powerful trio of Ellen Au-Yeung, Janelle Siwa, and Julia Zhang. These women have been the hinge of UBC's offense for three years now, and they can command a line alongside the Thunderbirds' regular injections of Canadian youth talent. This year, they're getting Ada Chang, Julie Lee, and Catie Akune, all of whom competed for the Canadian U20 team.3 If UBC can channel their discipline and field IQ into shutdown defense this season, they have a chance to reach the semifinals once more in 2019.
2019 may also be the year that #12 Western Washington Chaos harvests their bounty from years of roster development. Their strong sophomore class last year will be a veteran junior class this season, and players like Ruby Cassidy, Nellie Joselyn, and Eleanor Heberlein will step into even bigger roles. Riot teammates Samiya Ismail and Maddie Gilbert have another year together at Chaos as well, and their elite experience should help Chaos convert the break opportunities that Chaos generates often. Chaos struggled at last year's Nationals, but their young roster now has big show experience. Expect to see Chaos in Texas, too.
The past few years have been tough for #16 Washington Element. After winning the National title in 2012, Element has become a regional contender instead of a bracket regular. This year, however, is a new leaf for this Seattle squad. They're getting a strong rookie class, a new coaching staff, and they have a strong core of returners who can control the disc. With fresh faces and fresh perspectives powering this year's Element, they have a strong chance to return to Nationals again, their first appearance since 2016.
The #25 Whitman Sweets are also facing a new era for their program: they graduated 12 seniors from their 2018 squad, including the Soo twins who could touch the disc every other pass in tight games for the Sweets. The Sweets returned to Nationals last season after a gritty late season performance, and many of their role players last season will step in to lead on the field this year. Hannah Filley, Akane Kleinkopf, and Liv Amorosi are all skilled players who will get more touches this season. Freshman Kaia Roast (Ingraham) is not only skilled, but will also keep the team's average height higher than the rest of the Northwest. The Sweets face more turnover than their Northwest brethren, but they'll keep the strength bid battles competitive in this stacked region.
#15 Brigham Young CHI delivered a strong fall season performance at K-Fall with a 4-0 record, and they'll return a strong squad in 2019 despite graduating Kaylie Caldwell and Jemi Ong. This year, however, nobody will underestimate this team. BYU has more than proved their mettle on Saturdays. They've proven something else, too: they're a program, not a regional flash in the pan.
-Katie Raynolds
Ohio Valley
#5 Ohio State reclaimed the Ohio Valley title last season, and then crashed out of pool play at Nationals on goal differential and watched Pitt go on a run to double game point of semifinals. West Chester joined them in Milwaukee, marking the first time the region sent three teams to Nationals. Those three teams should dominate the conversation around the region once again, but with some decidedly different narratives to follow this time around.
Ohio State enters the season as the favorite to win the region, and a dark horse contender to be national semifinalists. Sadie Jezierski, U24 national teamer Cara Sieber, Emily Barrett, and Annelise Peters lead a highly experienced and talented group, that should expect to not only top the region once again, but avenge their premature 2018 Nationals exit as well.
#10 Pittsburgh reached new heights in 2018, thanks in large part to Carolyn Normile's Player of the Year campaign. Normile is gone, as is Sarah Russek, but bring back more than enough talent from last year's team to remain in the national conversation. And a lot has been made of the chip of Jezierski's shoulder for not making the U24 squad, but a few of those Pitt returners will be playing with similar prove-them-wrong attitudes this season. Pitt should earn a bid without much trouble, and go toe to toe with Ohio State in the regional title game.
Ahead of last season, #20 West Chester's potential run to Nationals was one of the bigger stories to keep an eye on. Thanks to star performances from a few individuals, and a wisely structured regular season schedule, West Chester earned a bid, upset Pitt to take second in the region, and made their first ever trip to Nationals. It will be tough for them to make the return trip this season after the departures of Danielle Byers and Liz Hart. They were already so dependent on a small group of players last season and the losses of those two will hurt, Byers in particular. Lindsay McKenna returns, though, and if some of the team's depth has improved since last season, she could throw WCU back into the strength bid mix in 2019.
-Daniel Prentice
South Central
You know the drill by now. The South Central is but an amphitheater for the greatest rivalry in the sport. Texas versus Colorado is the obvious headliner and the two will probably seven different times this year, with the games somehow decided by a total of five points.
On paper, #8 Texas does seem to have a serious leg up on their more northern rivals, thanks to a much greater portion of their 2018 roster coming back for another go. Melee loses second team All-American Laura Gerencser and veteran cutter Marissa Land, but otherwise bring back nearly all of their key contributors from a season ago. Defensive Player of the Year Domenica Sutherland, Breakout Player of the Year runner up Ivy Harrison, Emma Berrigan, and Caroline O'Connell are all still in Austin, and they should get a nice boost from their annual additions They should once again be contenders for a run in the bracket at Nationals.
#11 Colorado, on the other hand, suffers heavy attrition from last year's magical national finalist team. Second team All-American Kelsey Bennett, Nhi Nguyen, Jean Russell, and Jessie Chesnut are all gone and those players leave behind some serious holes, particularly in the backfield. Don't expect Colorado to fall off the map, completely, though. There's still talent there, they're still well coached, and they'll still probably play Texas in the regional final and go to Nationals. A run back to the national title game, though, would be an even bigger surprise than it was last year.
Beyond the region's defining duo, can anyone else make some noise, or disrupt the long time balance of power? Washington University came so, so close to knocking off Colorado last year at Regionals, but they lose their top two handlers in Stephanie Wang and Mary Herrmann. #24 Colorado College, Colorado State, and Kansas have been on the fringes of the Top 25 in recent years and help to make up the second tier in the region with Wash U, but it's tough to see them unseating the two at the top or earning a third bid for the region.
-Daniel Prentice
Southeast
First, let's address the elephant in the room. In nine years since the regional redraw, the Southeast has only earned one strength bid to Nationals. "It's the absolute worst," says Kennesaw State coach Samantha Stovall. The region is large, many of the programs are young, and traveling to good out-of-region tournaments has been out of the question for most teams most seasons. That leaves everybody feeling left out. "The Southeast has great women's teams in it, and great competition – we just have no way to prove ourselves against the other regions that are more established and dominant than ours."
So, can the Southeast finally take its place this year in the upper echelon of the division and send more than one squad to Austin? There are some ifs. If a couple of them show well at Florida Winter Classic; if Sunday at Queen City Tune-Up doesn't get cancelled; if the match-ups shake out the right way at Centex. I'm saying there's a chance.
Florida Fuel are the two-time defending champions, and they aren't going anywhere. The continuity of their offensive system — which looked structured even in November at Classic City Classic — and the recent tradition of winning are a huge head-start over their rivals. With regional stars Gabrielle Krajniak and Janina Freystaetter (formerly the anchor of Central Florida's zone) leading the charge, Fuel are the favorites.
But just a few hours north, Georgia Tech Wreck and Georgia Athena appear poised to take a step forward. It would not be surprising for either team to take the top spot in April. Athena, who gave Fuel their toughest Regionals game in two years in a 2018 semifinal, clearly has a huge amount of talent on the roster. Returners Josie Veal, Alex Fairley, Courtnie Vickery, Gayeon Ko, and Amy Strozinsky each looked like top-end players for large portions of the 2018 season. On top of that, they add freshman Marie Perivier, who just finished playing her second club season with Atlanta Ozone.4 "I can assure you that she lives up to the hype," says Ko. "It's really humbling to witness her work ethic, talent, and confidence on the field." The pieces are all there.
You have to wonder whether the team will put it together, though, considering the seniors are on their third coaching staff in four years and — in a one-bid region — it only takes one off game on Sunday of Regionals to end the season.
Georgia Tech's got real talent, too. Alli Wong is a matchup nightmare, and Chupzi Lema, who had a breakout season in 2018, seems to be following in her footsteps. Sam Loop and Ollie Peterson have proven to be very good; either or both of them could be great in 2019. And Jenny Choi has turned into a fabulous player, impressing in the club mixed division with Atlanta Bucket and turning heads at the U24 tryout last year with her low-release break throws, high-IQ play, and determination. If last year is any indication, Wreck understands the fine art of how to coalesce into a unit, and that will make their talent even more formidable. The question mark here, aside from the very real prospect of yet another lose-and-go-home Regionals bracket, is depth. Will Georgia Tech be able to muster enough top-to-bottom talent to go up against a full line of Florida's or Georgia's when it matters most?
In a one-bid scenario, those are the contenders. If the region does manage to earn a strength bid? There are a few other teams who could catch one of them napping and steal a trip to Austin. Kennesaw State Strix and Auburn Ares both graduated multiple excellent players,5 but don't expect either of them to drop too far off the mark. In particular, KSU's handler duo of sophomore Milly Negron and former UCF Siren (yes, another one) Mia Griner should be a dangerous look. The other team generating some preseason buzz is Vanderbilt. Sophomore Jacq Wood and freshman Ellen Yu are players to keep an eye on.
-Ed Stephens
Southwest
2019 signals a major power change for the Southwest. For the first time in recent memory, Stanford is not the highest ranked team in the division. This time around, the honor goes to #2 UC San Diego, who lost exactly zero players from last season. Along with returning a full roster, UCSD also brought in a strong class of freshmen to round out the team. They'll be lead by Kelli Iwamoto and Dena Elimelech, two rising stars in women's ultimate and now teammates on Team USA's U24 squad. UCSD's ceiling is nothing short of a national championship. That doesn't mean their path will be easy, though. The region as a whole has grown stronger and the Psychos have a giant target on their back now.
The next team to have a real shot at claiming the region is the one who's controlled it for the past decade. We're expecting #9 Stanford to take a large step back this year but it's entirely possible that they'll prove us wrong. Despite graduating a strong class of seniors like Michelle McGhee and Shayla Harris, Stanford's system has been their driving force all these years and it cannot be ignored. They still have arguably the best coaching staff in the nation which should prepare them for much closer games than they've had in the past. Stanford is down, but definitely not out.
Nipping at their heels are the women from #14 UC Santa Barbara Burning Skirts. After becoming the Cinderella story of 2018, the Burning Skirts will be out to prove last season was no fluke. They may have lost captain Nicky Sun and Hani Pajela, but they return Julia Kwasnick, who impressed in the club season and is joining Team USA's U24 squad this July. She'll be there to reel in any monster huck that Kaitlyn Weaver wants to send her way. For UCSB to show that they're a legitimate contender this season, they'll have to show that they aren't just a huck-happy team and have a system that can survive losing two of their stars.
The other two teams that have a shot at making headlines this season are #22 Cal Poly SLO and California. SLO has a host of strong contributors that are ready to make their mark on the season, including Thalia Ward, Sherita Li, and the Swanson Sisters. They also have brought together a strong recruiting class including Vanessa Beeler and Kelly Dickinson. It's easy to forget that Cal Poly was one point away from making Nationals last season. That's motivation enough for any team to rally behind.
#23 Cal is a little trickier to predict this year. They've notably lost Manisha Daryani as their coach and recent Callahan winner Jackelyne Nguyen. In fact, Cal's full roster remains somewhat of a mystery, as they've been taking their time to finalize their roster, especially compared to other teams in the Southwest. Nevertheless, while the team is in flux, their pedigree is too much to ignore. They may have lost some respect from their region –including a surprising President's Day snub– but they have the pieces to make a run, especially if the entire team can buy into the 'nobody believes in us' mentality.
-Graham Gerhart
Players to Watch
Jack Verzuh (Dartmouth)
There was outrage from some when Verzuh didn't win Player of the Year last year. But Verzuh took on a role with last year's Dartmouth team that required less statistical dominance from the 2017 award winner. They won't have that luxury this season after the players they lost from a year ago. No, Verzuh is going to do an awful lot for Dartmouth in 2019, and they feel like one of the most prohibitive favorites for the Player of the Year honor6 in recent memory. Verzuh has already had a remarkable college career, but this, their senior season, feels like it's going to be the one that fully cements their legacy as one of the greatest college ultimate players ever.
Ellen Au-Yeung (British Columbia)
Like Verzuh, Ellen Au-Yeung has delivered consistent excellence for her team for the last four years. Her speed and versatility are the linchpin of UBC's game as well as the team's calling card. Au-Yeung gets recognized on early season lists, but she hasn't earned an individual award since she won Rookie of the Year in 2015. With a strong team alongside her, this could be Au-Yeung's year to make a much bigger splash.
Ella Hansen (Oregon)
College ultimate is simply better when Ella 'One Throw' Hansen is playing. After missing the club season and taking a well-needed rest, she's back for her final year at Oregon to remind everyone what an elite hucker can do. Her keen eye on offense and ever-expanding range of throws may very well be the different in the games that matter this season. That doesn't mean Hansen's impact will be limited to her on-field talents, though. Oregon needs her experience and leadership just as much as they need her firepower. After graduating a set of very experienced players in 2018, Hansen will have to guide Oregon's younger stars in their march towards to the postseason. Much like how Jesse Shofner embodied the culture of Fugue ultimate during her time with the program, this has been the Hansen's team for the past few years. This season in particular could define her entire college legacy.
Sadie Jezierski (Ohio State)
There is no person on this list with more to prove than Sadie Jezierski. She's been the sparkplug of OSU's offense for the past few years and helped take her club team to a surprising Nationals berth. Her omission from the initial U24 tryout list was one of the most shocking headlines of 2018 and was recently compounded by missing a spot on the team itself. That has only served as fuel for the fire with Jezierski, and she seems ready to go on the warpath in 2019. As one of college ultimate's most creative throwers, there's a million ways Jezierski can carve up a defense. It's only a matter of time before the highlights start rolling in.
Dena Elimelech (UC San Diego)
Few players had a higher usage rate than Elimelech in 2018. As UCSD's do-it-all downfield threat and impenetrable defender, Elimelech proved to be an imposing figure last season. There's no reason that should change this year. Elimelech has only improved since then and is a true athletic marvel. There are only a few players in college that can match her height, let alone her speed and endurance. Defenders be warned and throwers be wary, Elimelech is the type of talent that has to be respected. If UCSD's opponents want to have a hope of winning their games, they'll have to game plan for Elimelech, and even that might not be enough.
Rising Stars
The players you might not know yet, but who could be defining players of the 2019 college landscape.
Thalia Ward (Cal Poly SLO)
Cara Sieber (Ohio State)
Leanne Go (UC San Diego)
Livia Amorosi (Whitman)
Maya Powell (Carleton)
Josie Veal (Georgia)
Carmen Tormey (NC State)
Bridget Connor (Stanford)
Jessie Sun (Pittsburgh)
Shae Davis (Oregon)
Top Recruiting Classes
If you skipped right to this part of the primer, we'll say it again for you: this is one of the best recruiting classes in the division's history. Not only is the top end ready to emerge as stars in the division, but the class goes very deep. These players are likely to define the division for years to come.
Carleton's 2019 recruiting rivals Dartmouth's 2016 class with Verzuh and Lee. And it comes on the heels of the best class in the division last year. U24 selections Kate Lanier and Carly Campana offer tons of throwing talent, though Campana could use her athleticism and physicality downfield instead. Ada Wright, Lauren Carothers-Liske, Allegra McKee, and Kennadi Hairston would be the best freshman on some other teams and maybe even in whole other regions.
Not far behind Carleton are the classes of Washington and North Carolina. Washington's Stephanie Phillips is exactly the kind of pre-packaged handler the team could use given their roster changes, and how they deploy the likes of PX Rong, Yenni Lee, Maia Nguyen, Penny Nguyen, and Ikky Elmi will be worth watching. Meanwhile, what UNC's class lacks in size, it makes up for in talent. Ella Juengst and Dawn Culton have starpower even as teens and Sydney Rehder will fit right in with UNC's deep squad.
Colorado's 2019 class is headlined by Bailey Shigley, a talented playmaker in her own right. They also have a commitment from U24 selection Stacy Gaskill, although she is taking a gap year to pursue competitive snowboarding with the U.S. Snowboard team. Her size and athleticism earned her good run with Molly Brown already. Not even considering Gaskill, Colorado also picks up Mei Hecht and Allison Liu to fill out a strong class to help replace their extensive losses to graduation.
No strangers to this section, British Columbia again claimed a lot of Team Canada's U20 talent. Catie Akune, Ada Chang, and Julie Lee all represented their country at WJUC, as many Thunderbirds have before them.
Beyond these, here's a selection of top prospects appearing at other schools:
Caroline Tornquist (Dartmouth)
Clara Stewart (Northeastern)
Kaia Roast and Mira Anderberg (Whitman)
Vanessa Beeler (Cal Poly SLO)
Summer Wilson (Texas)
Tess Johnson (Massachusetts)
Beth Manturuk (Pittsburgh)
Justinne Guarin (Tufts)
Athena Lynch and Anna Reed (UCLA)
-Scott Dunham & Keith Raynor
---