The hottest regular season tournament features 11 teams from the Top 25.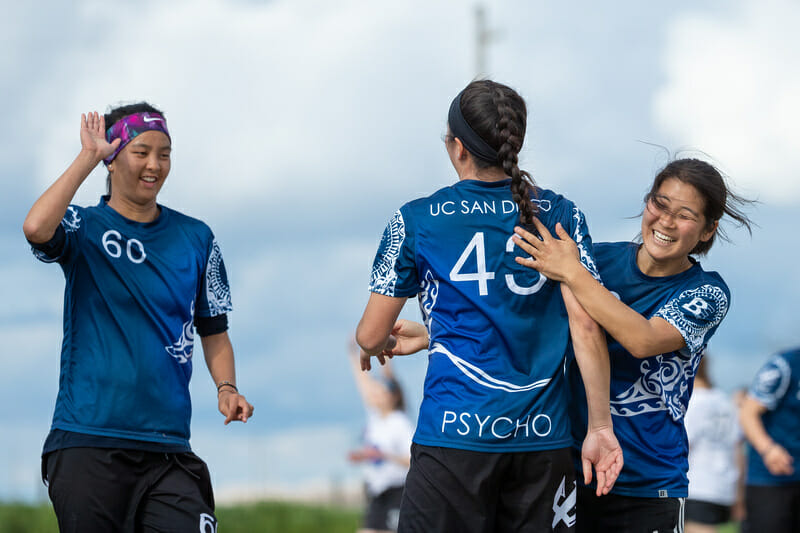 Ultiworld's 2019 college coverage is presented by Spin Ultimate; all opinions are those of the authors. Please support the brands that make Ultiworld possible and shop at Spin Ultimate!
SEATTLE, WA—Call me biased, call me a homer, or just a resident of the Seattle bubble, but the evidence is overwhelming already: Northwest Challenge is the best regular season tournament of the year. The 2019 season is only a few pages away from finishing this chapter, and all of the country's best teams1 are converging for one last swing at each other.
Eleven of the thirteen Tier I teams are in Ultiworld's Power Rankings this week, and the top five teams will all be in Seattle this weekend. This is the most talent in one place before Nationals. The tournament is smaller this year in order to use better fields in Seattle after several seasons of snow, wind, and rain on bigger grass fields an hour north of the city in Burlington.
One notable absence this weekend is UC Santa Barbara, who wasn't invited since nobody but UCSB2 predicted they would be as good as they have been this season. They'll get another chance at their Southwest neighbors again in a few weeks.
Tournament Profile
Date: March 29-31
Location: Seattle, WA
Weather: Low 60s, partly sunny with chance of rain on Sunday
Top 25 teams: 11
Note on the Format
The 13 Tier I teams play in a big round robin on Friday and Saturday, and the top four teams then advance into the semifinals of a 1st place bracket while the remaining teams slot into a 5th – 8th place bracket and a 9th – 12th place bracket. BYU will not be playing in Sunday's brackets, regardless of where they finish in the round robin.
It's so hard to make predictions or find storylines with so much talent set to play this weekend. So instead, here are seven far-ranging takes — five hot and two more lukewarm — about what could go down this weekend:
1. Stanford will beat North Carolina in a 2018 Nationals rematch.
Sure, #18 Stanford Superfly lost some of its flashiest talent last season, and sure they're 9-12 in the 2019 regular season. They could still beat #4 North Carolina Pleiades on Friday in pool play because Superfly has zones for days. It wouldn't surprise me if coach Robin Knowler Davis had bunkers of new defenses for Stanford, from which she pulls a bizarre new zone every three years. Last year, Superfly dismantled North Carolina in the College Championship quarterfinals with stifling zones that forced Pleiades out of their game. At Stanford Invite, they proved their defense could still wreak havoc without Julia Butterfield or Shayla Harris earning blocks.
This North Carolina team remembers that Nationals game too and they've had a stellar 2019 — so far only one loss on their record. Pleiades is a deep team with playmakers in every class, from veteran Elisabeth Parker to rookie Ella Juengst, and it'll take more than a big cup zone to fluster this year's roster. They'll get their first crack at top teams like UC San Diego and Dartmouth this weekend, but if I were a betting woman, my money would be on Stanford as their biggest threat for being upset.
2. UCSD will win their Dartmouth NW Challenge rematch.
The #1 UC San Diego Psychos are pitching a perfect game this season. They're untouchable. They haven't even sniffed the wrong side of a game, and that worries their coaches as they plan for Round Rock. Like fans of the sport, the UCSD Psychos are anxiously awaiting their matchup(s?) against Dartmouth this weekend, especially if they get a rematch in the tournament final.
The UCSD coaches would be thrilled to see their players to get trounced in their pool play matchup, and maybe that happens. But I think either way, the Psychos would take a potential rematch in the final this season. Their roster has more experience behind them, and they carry less fear than they did last year when they watched Dartmouth polish off their Southwest rival Stanford in the semifinal. The Psychos have the defensive talent to dampen the impact of the Trop-Verzuh-Lee triad, even if they can't take them out of points entirely.
#2 Dartmouth Princess Layout's 2019 ledger of results looks just as green as UC San Diego's, but they've played fewer (and much rainier) games and against less elite teams. But hasn't that been the case for the last three years, and Dartmouth still spanked everyone when they decided to try harder? Indeed it has. This season's roster doesn't have the ludicrous firepower they had two years ago; they'll have to work through a heavy serving of talented opposition on Friday and Saturday. They'll play 100% more Top 25 teams in pool play than they've seen all season so far. For contrast, UC San Diego has already beaten nearly half the Northwest Challenge field this spring.
The UCSD coaches want their team to lose a game this weekend to build their mental toughness, but I suspect they'll have to wait a little longer.
3. Ohio State's streakiness will come back to bite them.
#3 Ohio State Fever comes into Northwest Challenge ranked third in the nation after a final appearance at Florida Winter Classic and a Commonwealth Cup title which Dartmouth forfeited to them. Fever has spent a lot of time deep in brackets this season, but this weekend will be the biggest challenge to their offense's composure. Sadie Jezierski has molded the shape of their offense to her own play style, which means Fever likes to shoot big and shoot often. In fair weather and against lesser competition, big shots mean quick wins. But this approach also let North Carolina overcome a 6-1 deficit to tie the game 8-8 at the very messy and rainy Commonwealth.
They'll face a full slate of west coast competition on Friday and Saturday, and Ohio State can't afford to give teams like UC San Diego or Stanford the disc during their offensive possessions.
4. Zero Northwest teams will make the first-place bracket.
It's been a rough season for the Northwest. The five Pacific Northwest mainstays—#21 British Columbia, #22 Oregon, #20 Washington, #9 Western Washington, and Whitman—have traveled up and down the West Coast, only to enter their hometown tournament with a mixed 20-23 record.
Despite a disappointing Stanford Invite performance, the British Columbia Thunderbirds are the strongest Northwest contender to crack the top four, but even their chances are slim against UC San Diego, Dartmouth, and Carleton in pool play.
In 2016, 80% of Northwest Challenge attendees competed in the College Championships and half of those teams were from the Northwest. This year, we're on track to see 80% of attendees cleat up in Round Rock… but only one or two Northwest teams. We're officially in a new era, folks.
5. …And the Northwest will leave their home tournament with only one strength bid.
UBC — currently the last team inside the bid cutoff — and Western Washington will both have nearly 60% of their ranking determined this weekend. Oregon also hovers just above the strength bid breakpoint, and their Stanford Invite performance doesn't foreshadow a dominant weekend in Seattle. If any of Washington, Whitman, or BYU upset Oregon, UBC, or Western, the region could easily lose a bid.
While Stanford is also close to the bid cutoff, their Stanford Invite games indicate they'll play up this weekend and give higher-ranked teams tough games. If they do drop, UCLA is next in the door to keep that Southwest bid anyway.
UBC should deliver a better weekend against elite competition, but they can't afford to play close with anyone ranked below them. Their game against BYU on Friday poses the biggest risk for the Thunderbirds, since BYU's fast-paced, big play offense and gritty defense allows them to steal points off deeper teams.
Oregon is in the most danger; they've already lost to Western and Whitman this season, and their rivals Washington Element will be hungry to take points from Fugue, regardless of the bid implications. Oregon has to play conservative yet dominant offense this weekend if they want to hold onto their strength bid. That order may be too tall for the Ducks.
6. Rookies will rule this tournament — and the rest of college ultimate.
The youth in this sport are our new overlords. They're faster, stronger, smarter, and more skilled than older generations of ultimate players. Their talent will be showcased this weekend in all its glory. Here are just a few names to look out for:
Carly Campana (Carleton)
Kate Lanier (Carleton)
Dawn Culton (UNC)
Ella Juengst (UNC)
Steph Philips (UW)
Kaia Roast (Whitman)
Ava Hanna (UCSD)
Lauren Hanna (UCSD)
7. The UNC vs. UCSD game will be the best game of the weekend.
This is far from a hot take, since this game is part of the showcase slate at Memorial Stadium, played in the shadow of the Space Needle. But these teams haven't played each other in more than half a decade (if ever—the Score Reporter archives are a fickle place). Now they're both on top of the division and we get to see them throw down under the Friday night lights.
---
Except UCSB. ↩

And Graham Gerhart. ↩