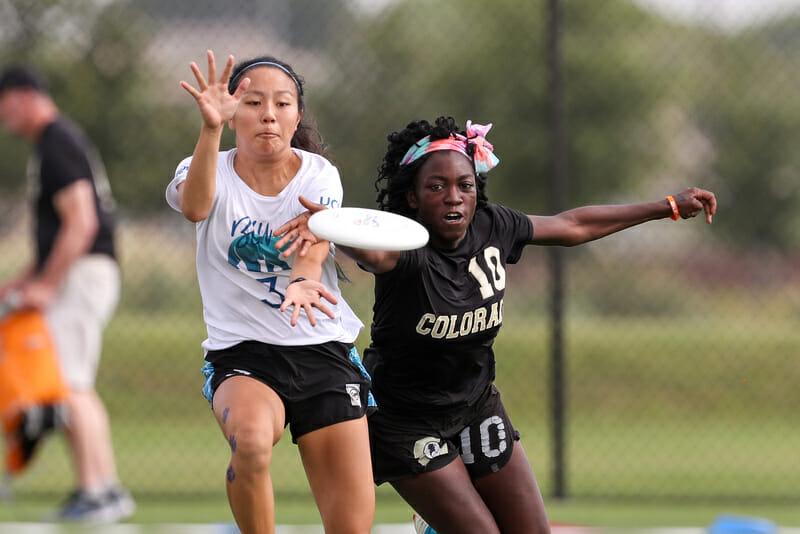 Ultiworld's 2019 coverage of D-I Women's Division is presented in by VC Ultimate, the official gear provider of the Premier Ultimate League. All opinions are those of the author. Please support the brands that make Ultiworld possible and shop at VC Ultimate!
The live blog has been cooking the past two days (Day 1, Day 2), but here's a full rundown of all the games we recapped from pool play in Round Rock.
Pool A
Colorado Kali 11 – 6 UCLA BLU
In a blustery game that saw both teams struggle to string together consecutive passes, the consensus winner of Colorado's game against UCLA was the wind. Neither team could conquer the weather, although it was Kali that won the war of attrition and ended the game ahead.
The game started out promising, with teams trading downwind holds and generally looking very confident throwing in the wind. UCLA's offense spread wide and used the full width of the field to let cutters be open enough to adjust when a disc started tailing off. Kali's strategy was far simpler. A basic horizontal offense with players who were willing to grit it out on defense after the turn.
That strategy really started paying off for them midway through the first half. After trading to 4-4, UCLA's captain and star cutter, Malia Smith, left the field with an ankle injury, and BLU's offense soon deteriorated. Colorado found the strength to get an upwind break, thanks to hard work from Becky Nevin and Saioa Lostra.
That break proved to be the game clincher, as Colorado multiplied it exponentially, going from 4s to taking an 8-4 lead into half.
The second half was a lot more even, but with time winding down, UCLA had no chance to get back in the game, and couldn't if they wanted to. Their upwind offense had fled them, leaving a once confident offensive system and turning it into a reset-heavy non-threat.
One can't help but imagine it would have been a better game if there was no wind, but there's no crying in ultimate. Colorado scored a precious win, and will need as many of those as they can get in a tough pool.
– Graham Gerhart
North Carolina Pleiades 11 – 2 Pittsburgh Danger
Danger opened the first game of Friday on offense with a point that would in some ways represent their day in miniature. There were a combined 33 turnovers over the span of 30 minutes before North Carolina mercifully punched in a downwind goal. Once the Pleiades notched their first break, however, it was difficult for Pittsburgh to slow a rolling Pleiades D-Line who ripped off four consecutive points to open their 2019 Nationals appearance.
While Pittsburgh's used 3-person cup zone look briefly to stifle some throwing options for UNC's offense, the primary limitation to offensive flow for both teams in the first five points were consistent throwing errors and drops. Pittsburgh created multiple opportunities to score, but continued to struggle with shot selection and overthrowing receivers downfield.
They never recovered and UNC ran away with a massive first round victory.
– Alix Robbins
North Carolina Pleiades 15 – 5 UCLA BLU
The seven sisters continue to roll pool opponents. As of this writing, UNC has given up a combined 10 goals in three games of pool play. Not only has North Carolina looked polished through the turmoil of broken seeds in Pool A, the Pleiades have seen offensive contributions from 20 different players on their roster.
UNC will face the only remaining undefeated team and original pool four seed Colorado Kali Saturday afternoon to defend their lead of the pool.
– Alix Robbins
Oregon Fugue 12 – 9 Pittsburgh Danger
While Oregon started the game strong, leaping out to a 8-4 lead at half, Pittsburgh battled back late to close the Fugue lead to a single point. Making the late game push nearly paid off for Danger, but after stringing together a few breaks, they could not complete the comeback.
Fugue's early utilization of a zone lane poach encouraged the Danger handlers to take multiple shots on the endzone, and often the cutters were overthrown downwind resulting in frequent turns that Oregon was eager to convert for a strong lead.
Pittsburgh began to chip away late, capitalizing on strong downfield defensive pressure and gaining momentum from a large and noisy sideline of parents. Unfortunately for Danger, the breaks came a little too late as soft cap limited their ability to continue building. Fugue put away a critical point as Ella Hansen played a quick give-and-go handler motion up the line and continued to Shae Davis for the game-ending score.
– Alix Robbins
UCLA BLU 12 – 9 Pittsburgh Danger
Pittsburgh drops their second straight game with a score of 12-9, and will drop out of contention for the 2019 College Championship. With this loss, Pittsburgh finish winless in their pool and move into consolation play.
UCLA locks up a 2-2 record on the pool. Depending on the result of the Oregon and Colorado game, UCLA could potentially be involved in a three-way tie for a trip to pre-quarters.
– Alix Robbins
North Carolina Pleiades 13 – 5 Colorado Kali
Pleiades completes their dominance of Pool A and will secure the bye into quarters. With this loss, Kali will look to recover for their next round game, a crucial match up against Oregon that will determine how straightforward advancement will be in Pool A.
– Alix Robbins
Pool B
UC Santa Barbara Burning Skirts 15 – 8 Minnesota Ninjas
Minnesota struggled offensively, both with their throws in the wind and in getting separation from UCSB's defenders downfield. A 6-1 run from UCSB to end the first half put them ahead for good and they were able to coast in the second half as Minnesota went the entire game without earning a break.
Lauren Bedard led the way with six goals for UCSB, including four of their last five. Audrey Brown had a game high four assists.
– Daniel Prentice
Ohio State Fever 13 — 8 Washington Element
Ohio State bested Washington 13-8 to win their first pool play game of the day, outscoring Washington in the second half 5-2. Early, the game looked like it would be a blowout: Ohio State broke twice to open the game, and their 4-1 lead seemed like a death knell for Washington, who was struggling with windy drops.
Washington stacked an upwind point with Stephanie Phillips and Peixian Rong to hold, and then Element went on an impressive four-break run to fight back into the game. Washington's zone effectively slowed Ohio State's handler resets, particularly with Kate Dusenbury setting a wide mark. When Washington wasn't in zone, Dusenbury also took the Sadie Jezierski matchup wherever she went on the field.
Ohio State held upwind to stop the run with Cara Sieber hitting Anneliese Peters to score, and they'd grab two breaks of their own to take half 8-6. Sieber, Peters, Emily Barrett, and of course Jezierski looked dominant in the wind, catching windy passes and throwing with confidence.
The second half belonged to Fever. They rattled off three no-turn holds out of half to take an 11-8 lead, with Peters and Barrett connecting again and again. An upwind break for 12-8 in soft cap would seal Washington's fate; Ohio State broke again to win 13-8 on another Barrett goal.
When Ohio State buckled down, their offense was crushing, without stars like Jezierski or Barrett having to do too much work. They'll face UCSB at 12PM in the third round.
Washington's defense helped them recover from an early stumble against the pool's top seed; if they can set similar defenses on the rest of the pool in this wind, they could nab an upset in pool play.
– Katie Raynolds
Minnesota Ninjas 13 – 5 Northeastern Valkyries
Minnesota was superb in their game against Northeastern and were able to consistently work the disc upwind against a variety of defensive looks, posting a big win, 13-5. Minnesota came out absolutely on fire, playing tight person defense when Northeastern went downwind and throwing an opportunistic zone when Northeastern went upwind.
The Ninjas started the game with four breaks in a row, and after a lone hold for Northeastern, Minnesota held and then broke three more times to take half 8-1. In the second half, Minnesota still looked comfortable, but Northeastern found some footing after switching Ari Nelson to play upwind points and Clara Stewart on the downwind (mostly O) points. Northeastern broke to start the second half, and then the teams mostly traded to a 13-5 final score.
Minnesota was led by Jessica Halverson, who was responsible for helping them move the disc upwind almost every possession in the first half with dozens of perfectly angled flicks. She notched 3 assists, but that total is not entirely representative of her contributions around the disc.
Northeastern was led by Clara Stewart, who looked the most comfortable in the wind and was part of helping Northeastern find their legs.
– Ben Murphy
Northeastern Valkyries 11 — 4 Washington Element
In a complete reversal from their first game, Northeastern better survived the wind in the first half against Washington, rolling to an 8-1 halftime lead. Ari Nelson and Clara Stewart's throwing capabilities were the difference, as Washington's throwers simply could not get anything going. When the wind picked up even more in the second half, the game became entirely downwind holds, with each side taking three apiece, but Washington was never able to get back in the game.
Nelson finished the game with just three assists, but all three of those came in the first half, when the game was still reasonably close. Stewart finished with a game high four assists and a goal, and Julianne Kloza posted a game high five goals.
The win for Northeastern earned them a 1-1 mark on day one, while Washington fell to 0-2.
– Daniel Prentice
Ohio State Fever 15 — 7 Minnesota Ninjas
Ohio State got a couple of early breaks, and the wind was too much for Minnesota to get them back. Both teams opened up lines a bit in the second half as they realized the game was out of hand and there was nothing left for Minnesota to play for. Ohio State outscored Minnesota 7-1 in the second half as a result. With the win, Ohio State locked up the Pool B win and Minnesota fell to 2-2, taking third in the pool.
Emily Barrett had a big game for Ohio State, as Minnesota struggled to matchup with the star cutter downfield. She ended up with two assists and five goals. Madison Fleming had an even bigger statistical showing, with five assists and three goals of her own.
– Daniel Prentice
Pool C
Western Washington Chaos 14 – 9 Tufts Ewo
In the second round on Friday, Western Washington Chaos looked comfortable in the wind and were able to secure a victory over Tufts by taking a commanding lead in the first half and never looking back. Chaos notched four breaks in a row early in the first half to go up 7-2.
Chaos picked up three more breaks early in the second half, leading 11-5, and the game felt like it was all but over at that point. Tufts got a couple of those breaks back, but it wasn't enough.
For most of the game, Western Washington looked much more comfortable working upwind, both in terms of their throws and their offensive spacing. Chaos did an excellent job of adjusting their offensive structure to fit the conditions as part of both break runs, and their throwers found easier options as a result.
Chaos was led on the stat sheet by grad student Maddie Gilbert, notching 5 goals, 1 assist, and 2 blocks. The team's D-line's offense was led by excellent throws from Samiya Ismail, helping open up the deep space even when going upwind.
Ewo was led by junior Margo Urheim, who scored a goal, notched 3 assists, and racked up 4 blocks. Tufts also benefited from strong play by Claire Dunn, who caught a couple goals and was a helpful part of their offense the whole game.
– Ben Murphy
Georgia Athena 12 – 11 Northwestern Gungho
Georgia beat Northwestern on double game point 12-11 after a long, windy battle to open the tournament. Georgia took an early 4-1 lead through fast breaks between Josie Veal, Alex Fairley, and Marie Perivier. Northwestern fought hard to earn the disc, with players jumping for blocks, running through passes, and laying out on cuts, but on the turn Northwestern couldn't find a rhythm, especially upwind.
Lead by the composed handling of Fairley, Perivier, and Veal, Georgia reached the doorstep of half at 7-4. Northwestern held up the open side, and then Sarah Kim and Sara Gnolek carefully worked the disc upwind to break. Their 2-3-2 zone, and a big layout block from Grace Young, would give them more opportunities to break downfield and tie the game.
While Northwestern would break once more out of half to tie the game 8-8, the rest of the match was a game of holds. Perivier was phenomenal for Georgia, using quick footwork and big throws to keep the offense moving. Northwestern's Sarah Kim matched her quick footwork and challenged many of her resets, but Perivier was still the most dangerous player on the field. In addition to Kim, Northwestern's Young, Rachel Anderson, Hindeke Tewodros, and Anna Scarbrough played hero's defense throughout the game, getting blocks no matter the field position, the score, or the length of the point.
Georgia held easily downwind to close out a long, tough game, with Veal finding Katharine Suarez for the final point.
– Katie Raynolds
Georgia Athena 14 — 12 Tufts Ewo
It was close almost the whole way, but Georgia won the game with a couple of early breaks. Going up 4-1 proved to be an insurmountable lead for Tufts, as they were unable to ever get the upwind break they needed to climb all the way back.
Ewo did break for 7-7, but couldn't get the game back on serve before half, and with the wind picking up for the second half, both teams traded downwind holds for the rest of the game. Margo Urheim had a ton of blocks in the deep space for Tufts, but the team's offensive strategy once she got them was to have her blindly huck into the wind as soon as she got it and hope for the best.
Josie Veal had a big game for Georgia, putting up five assists and two goals. Teammate Marie Perivier wasn't far behind in terms of production, also putting up five assists to go with one goal, but Perivier also had a big impact defensively. Urheim was unsurprisingly the box score star for Tufts with four goals and three assists for a game-high seven point.
The win for Georgia improves their record on the weekend to 2-0, while Tufts drops to 0-2 with the loss.
– Daniel Prentice
UC San Diego Psychos 14 – 9 Western Washington Chaos
In the windy fourth round of pool play, UCSD Psychos surged past Western Washington with big throws and a crushing zone defense, winning 14-9. The UCSD Psychos took a 5-0 lead before Western could find their footing. After a particularly long point at 2-0, which included 25 turnovers, the heat showed in Western players' faces, and in their throws.
When Western did hit the endzone, they nearly always found Maddie Gilbert. Gilbert scored six of Western's nine total points, and most of the goals were on high deep shots from Western's midfield.
Avery Jones played a great game for UCSD, collecting five assists, two goals, and a block for the Psychos. Her assist to Leanne Go would take UCSD into half 8-3. Out of half, Western held and managed to string together an upwind break after an Iwamoto turn. Western's D-line set a zone and immediately got a handblock near the goal line, and another break to close their deficit to 8-6.
UCSD had more breaks in them, too, however, and a two-break run late in the game would seal Western's fate. The points weren't always pretty in the blowing wind, but UCSD's poise with the disc and their zone kept them in control.
– Katie Raynolds
UC San Diego Psychos 14 – 10 Georgia Athena
As the wind began to ramp up in intensity, UCSD and Georgia faced off in a game that came down to which team was able to break upwind. A late pull-away from UCSD should not diminish Georgia's performance this game. If things had played out slightly differently, Georgia could have pulled off an amazing upset.
Georgia's best chance at winning the game was in the first half. In fact, Athena looked like the better team for much of the first half. While UCSD indignantly fought against the wind, Athena used it to their advantage, and looked comfortable moving around UCSD's defense. One too many rushed passes came back to haunt them when they were attempting to break upwind, but they had the momentum early on.
UCSD's fault was their stubborn insistence on trying to play the same system they'd use in calm weather. Fast passes, low throws, and off-balance hucks all were shut down by the powerful gusts. It was only when UCSD changed tacks that things swung their way.
Much like they had on Day 1, UCSD reverted to a 'huck-and-play-defense' style going downwind. They always shot for the endzone, disregarding the swarming Georgia defenders. When the turn inevitably happened, UCSD simply stuck to their defensive guns and forced Georgia into early turns. With a much shorter field, UCSD punched it in consistently.
Still, upwind breaks were few and far between. It was only at the very end of the game that UCSD clicked going upwind, and steadied themselves enough to punch in a few coveted upwind breaks.
Georgia played with grit, and was almost rewarded with the upset of the tournament. If they can maintain that same energy and intensity against opponents on UCSD's level, the upset will come eventually. Homage should be paid to Marie Perivier, who has been dominant all tournament.
– Graham Gerhart
Western Washington Chaos 15 – 6 Northwestern Gungho
Western Washington took care of their pool's bottom seed in commanding fashion, coming out hot on Day 2 with focused defense and strong upwind throws. They closed out a tired Northwestern team 15-6.
Western came into the game with fresh, rested legs while Northwestern had mere breaths between this second game and their gritty loss to Tufts in the first round of the day. Western went up 6-1 quickly, turning Northwestern mistakes into goals faster than you can say "barbeque." Northwestern managed to add two more goals to their tally before Western took half 8-3.
Tired legs aren't the only cause for Northwestern's struggles. Offensive momentum was a challenge in their first round, and downfield movement only worsened as the field's temperature rose and points got long. Northwestern handlers favored deep shots for position instead of risking windy swing passes, which made long points even longer.
Western had some gusty shots and fumbles of their own, but overall they looked much sharper and more in control than in their UCSD game on Friday. Samiya Ismail and Riley Tauer dedicated a lot of minutes and mileage behind the disc to muscle their offense upwind and downwind. Together they threw eight of Western's 15 goals.
Northwestern fought hard through the final points, earning big blocks late in the game, but they couldn't advance the disc upwind, and downwind they shot often when faced with limited options. They grabbed three points in the second half, but it wasn't enough in a long game. They'd hold to end the game, but Western would take it.
– Katie Raynolds
Western Washington Chaos 15 – 5 Georgia Athena
In a somehow even windier final game, pool two seed Western Washington closed out pool three seed Georgia Athena, winning 15-5. Western has looked better and better in each successive windy game, and their disc skills and zone defense kept them in control of this game from the first point.
Western broke upwind to open the game as cutter Vail Dark emphatically grabbed the score, thrown by Ruby Cassidy. Western took the downwind break quickly after a Georgia drop, and then they broke again upwind, this time through a bidding Nellie Joselyn to land an Ismail pass. Western's comfort with the disc – throwing catchable discs into the wind, reeling in high, windy throws – put Georgia's struggles in sharper relief. Many of Georgia's turns came from drops in the midfield or the backfield. Freshman Marie Perivier was one of the few players who looked confident throwing upfield, but beyond her movements, Georgia looked unsteady.
Western's 2-3-2 kept pressure on Georgia's handler resets while also putting defenders in the open lanes. Ismail and Tauer guarded the deep space, ready for deep punts. On a turn, both looked excellent handling upwind with Cassidy, giving their throws nice shape to cut through the wind.
Western would take half 8-3, and their dominance would continue in the second half, as they outscored Georgia 7-2, for a 15-5 finish in the blowing crosswind.
– Katie Raynolds
Pool D
Dartmouth Womxn's Ultimate 15 – 7 Wisconsin Bella Donna
With the wind escalating just beyond any thrower's comfort, Dartmouth's stars and disciplined zone defense were the difference-maker in their game against Wisconsin.
The game started out with the teams seemingly on equal footing. A steady wind allowed both offenses to run downfield without much hindrance from the defense. Within the first two points, it was clear that whichever team could break upwind was going to come out on top.
Initially, Wisconsin seemed poised for the first break. They had two early chances with Dartmouth taking a while to adjust to the wind. It was not to be. Dartmouth's defense was smothering, especially when Claire Trop, Jack Verzuh, and Caitlyn Lee shared the field. No matter the traction Wisconsin would gain on offense, it was quickly winked out by one of Dartmouth's stars.
To Dartmouth's credit, they staggered their Big Three well. Lee and Verzuh stayed mostly on offense, while Trop would switch lines as needed. This allowed them to get the rest they needed, and also set them up for their first break. At 3-2, Verzuh crossed over to the defensive line and impeded Wisconsin's offense enough that a turn followed soon after. Dartmouth was quick to capitalize, with Trop firing a huck to Verzuh, who barely had to leave the ground when skying two Wisconsin players. This break put Dartmouth up 4-2, but their break train wasn't slowing down in the slightest.
For the next four points, Dartmouth cleaved through the Bella Donna offense, leaving a trail of stunned Madison women in their wake. Where Wisconsin was rushing on offense, Dartmouth was collected and disciplined. That's not to say Dartmouth played a perfect game – the wind ensured that was not a possibility — but with every turn, they dedicated themselves to getting the disc back, and it paid off.
It was really Dartmouth's defense that kept them ahead. The Bella Donna offense simply could not figure out how to get past Dartmouth's cup; they were aggressive when they should have been patient, and hesitant when they should have been fierce. Timing was a defining issue for Wisconsin, as they took shots through gaps that closed a stall or two before.
After half, Wisconsin looked to be steadying themselves, but couldn't maintain it. The two teams traded for the first 6 points before Dartmouth went on another tear to close out the game 15-7. The game truly belonged to Trop, who had four goals, four assists, and countless blocks.
With Dartmouth only fielding 15 players for this weekend, these are the types of wins they'll need to make it out of pool play.
– Graham Gerhart
Texas Melee 15 – 10 Cornell Wild Roses
Texas Melee looked like a team playing any other home game. They were comfortable in the wind and ready for the moment. Cornell fought hard for the first half, and nearly kept it on serve to half time, but Texas took half 8-5 thanks to grabbing the game's first upwind break. There was at least one contentious travel call in the first half that brought back what would have been an upwind goal for Cornell, and caused some controversy as a result.
Texas pulled away a bit in the second half with three breaks in a row, going up 12-7. The teams traded out the game to a 15-10 final.
Cornell was led by senior Raina Kamrat, who scored or assisted seven of their ten goals and notched a couple blocks as well. Texas was led by senior Amberly Malone, throwing their first four goals of the game, and catching and throwing one each in the second half.
– Ben Murphy
Wisconsin Bella Donna 12 – 11 Texas Melee
In one of the wildest games of the tournament so far, Wisconsin pulled off the impossible. Four straight goals including two upwind breaks against a higher seed to win. Despite having all the odds stacked against them Wisconsin came up huge in the last few minutes, which could have major implications on the pool at large.
The first few points of the game were a microcosm of the full match. A handful of downfield holds from both teams showed how balanced they were, and neither side held much of an advantage.
Texas' strength was with their plucky cutters. Ivy Harrison, Sierra Jensen, and Shannon Ray went to work against Bella Donna, and kept beating the Madison women deep at every opportunity. Texas' style of ultimate isn't what would be considered a 'beautiful game', but it worked in the wind. Lots of hucks and gritty defense wore down on Wisconsin, until they eventually were depleted enough for Texas to strike.
At 4-3, an execution error from Wisconsin on the endzone gave Texas the disc, and they never looked back. A few fast throws got Caroline O'Connell the disc at half-field and she immediately launched the disc deep to Sutherland for the upwind break.
That opened the floodgates for Texas, and they went up 6-3. A mean zone that featured three players in the cup over 5'9″ made Wisconsin's life hell. It seemed the game had firmly swung in Melee's favor.
But Wisconsin had a few tricks of their own, and locked in just in time. Suddenly it was Texas that was being broken twice in a row to tie the game at 6-6. Much of Wisconsin's success came from their handlers. Margaret Walker, Sabrina Hoffman, and Tessa Berry all had moments of brilliance, as did Brittney Kokinos with some tough handler defense against Sutherland and O'Connell.
Texas would right the ship, and take half 8-7, but that was just a taste of the rollercoaster that was this game.
The second half could be layered over the first without much distinction. A few choice holds at the beginning of the half, followed by a momentum-swinging string of breaks by Texas, putting Melee up 11-8. This time it truly seemed over for Wisconsin, as cap went off with Melee leading 10-8. Wisconsin not only needed to break back, they needed to sweep the last four points if they wanted to win.
Somehow, that happened. A wild run that featured multiple turns but even more incredible grabs let Wisconsin right back into the game, tying it at 11s.
The final point was truly emblematic of both teams, and it was really the first time Texas' huck-happy offense let them down. Melee was going downwind, and had every opportunity to win the game, in part thanks to two blocks from Jensen. Still, they turned it back each and every time, too eager to score quickly. Wisconsin, on the other hand, played with ice in their veins. They worked it upwind patiently and eventually were rewarded with the goal that the needed to cap the game, 12-11.
– Graham Gerhart
Dartmouth Womxn's Ultimate 15 – 5 Carleton Syzygy
It may not have been their cleanest win, but Dartmouth made a statement as they rolled past Carleton, the first seed in their pool. After beating Carleton by 10, all the questions around their season and their ability to contend for their threepeat are completely gone.
It didn't appear that was going to be the case. Initially, Carleton confidently worked it past Dartmouth's defenders, and were striking with ease. That all changed when Dartmouth shifted to zone defense. Suddenly, Carleton was forced to be patient and careful with their passes, they no longer could attack their defenders to beat them to the open side – —here was no open side.
Every point, Dartmouth dared Carleton to throw it deep. Syzygy rarely took them up on the offer. Instead, Carleton tried to work it through the zone, leading to multiple turns and a steep decline in their confidence.
It wasn't all internal for Carleton. Jack Verzuh was playing at their absolute best. There was not a single player that could keep up with Dartmouth's star, especially after Sims went down with an injury. Verzuh tore through Carleton's downfield defense at every opportunity, and was the best thrower on the field, too. The game was everything we've come to expect from Verzuh. They never let up, either. Even after taking a confident lead at half, Verzuh stayed just as locked in, denying Carleton at every turn.
The game ended 15-5, but in reality it ended much sooner than that. If anyone needs a reminder, Dartmouth just beat the consensus fourth best team in the nation by ten points. The entire division is on notice.
– Graham Gerhart
Carleton Syzygy 15 – 8 Texas Melee
After losing their game against Dartmouth in dramatic fashion Friday, Carleton's pedigree and tournament potential suddenly wasn't such a sure thing. Now, after their game against Texas, it's safe to say yesterday's loss was an anomaly, not a sign.
Coming into the game, Texas knew what was at stake. After losing on double game point to Wisconsin, Texas needed to beat Carleton if they wanted a shot at making prequarters. With little wind and an overcast sky, everything was set for them to get their chance.
Texas had their chances early on. Sierra Jensen and Domenica Sutherland were extremely disruptive to Carleton's offense, and were causing trouble from the offset. Carleton didn't have a clean hold until their third time on offense. Texas wasn't perfect either, but there game has always been about bringing teams down to their level and duking it out.
Unfortunately for Texas, their defensive prowess fled them as Carleton began to establish a rhythm. Kate Lanier and Maya Powell focused in and drove Carleton past Texas in the first half. That's not to say that it was only Syzygy's handlers that carried them, though, it was a full team effort. Every player on their roster was making great bids and maintaining possession. Texas didn't have many chances to show their crushing fast-break offense because Carleton hardly ever made a mistake with the disc in hand.
By half, Carleton was up 8-4, all but having ended the game with their offense. Texas tried to hang on late in the game but never applied enough pressure to make anything happen. Credit should be given to Sierra Jensen, who played her heart out for Melee, but there were too many Carleton players who stepped up when the situation demanded.
The game ended 15-8, and Carleton definitely played like a premier ultimate institution in that game.
It has to be disappointing for this Melee squad. Barring a miracle, it'll be the first time this program has not made the bracket since 2014.
– Graham Gerhart