Wisconsin came out ahead in a dramatic and gritty contest.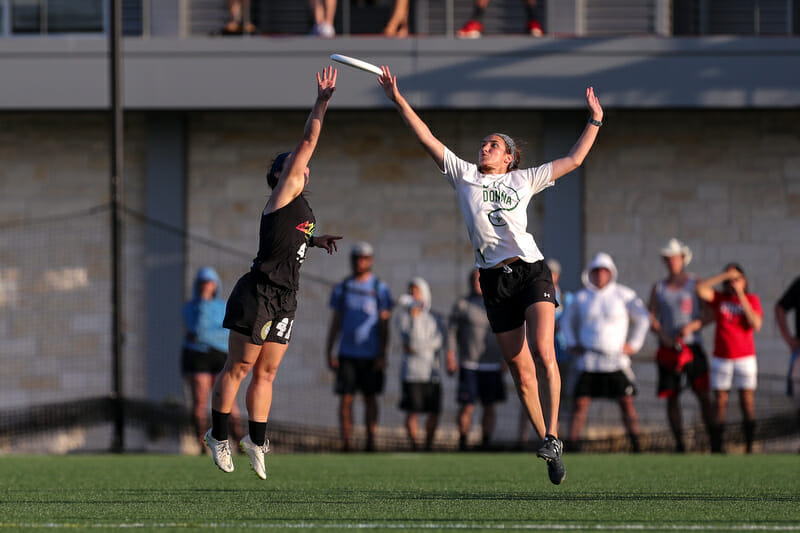 Ultiworld's 2019 coverage of D-I Women's Division is presented in by VC Ultimate, the official gear provider of the Premier Ultimate League. All opinions are those of the author. Please support the brands that make Ultiworld possible and shop at VC Ultimate!
No. 16 seed Wisconsin Bella Donna, the tournament Cinderellas, beat Colorado 12-11 in a gritty prequarter battle to advance to quarterfinals, the furthest this team has gone since 2010.
Wisconsin enjoyed a long break between their final pool play 12:00 PM game against Carleton on Saturday and the 5:15 prequarter game. Colorado Kali, on the other hand, entered the prequarter shortly after after slogging through a long 11-9 battle with Oregon to secure their spot in the bracket. Bella Donna set the tone of the first half immediately with two no-turn downwind holds. Sophomore Margaret Walker managed the offense with ease as cutters created space for each other.
On their downwind chances, Colorado opted to huck deep and trust their feisty defense to recover the disc, a strategy they employed to great success on Friday. This worked more than once throughout the game as Kali players got block after block, but it also meant they gave Wisconsin plenty of chances to work the disc upwind. At 2-1, D-line handler Sabrina Hoffman was a blur in the backfield, helping Bella Donna advance up the field, and Wisconsin earned the first upwind break of the game. They made the upwind goal count by breaking downwind as well, to build their lead to 4-1. It was a lead they would not relinquish.
Neither team broke upwind again until the final points of the game, but both often got agonizingly close. Meg Henderson and freshman Bailey Shigley took on heavy jobs in Colorado's backfield, and Shigley threw some of Colorado's prettier hucks in the game. Together the pair collected six of Colorado's 11 goals, along with five assists. Downfield, this prequarter was Rachel Wilmoth's game: Wilmoth had one assist, one goal, and enough blocks in the game that we lost count.
"Rachel shows up in big games," said Colorado coach Christina Mickle. "She has so much heart for this team, and she thrives on competition, so when we give her those matchups she takes it personally, and she does everything she can to get the disc back for the team."
A combination of intense person defense and some position hucking meant neither Wisconsin nor Colorado earned their points easily. Wisconsin took half 8-5, but you could feel Colorado's defensive energy in the game, nipping at Wisconsin's heels on every cut and every reset. No matter where play was on the field or how long the point had gone, Kali players never stopped trying their absolute hardest. They got within striking distance of the upwind end zone again and again throughout the game, but every mistake they made was punished by a 40 to 50 yard huck downwind from Walker. Colorado flattened their marks on Walker and set an additional defender in her throwing lane — often literally jumping, arms waving — but Walker still got the hucks off.
Walker's teammates Sarah Mondschein, Mila Flowerman, and Kaitlynne Roling spent long points working the cutting lanes under this intense pressure. Wisconsin star Brittney Kokinos played very limited minutes due to an injury earlier in pool play, leaving space for cutters like Karen Hill and Lilly Iverson to step into moments of glory on the field.
Colorado's defensive pressure continued to build as the second half advanced. Finally, after an 11-9 hold, the dam broke. Colorado urged their offense up the open side as they had done so many times before, and Lostra shot to rookie grad student Ali Swafford, who cradled the disc desperately in the upwind end zone for Colorado's break, moments before the hard cap horn blew. As Colorado rushed Swafford to celebrate, Wisconsin's Flowerman crawled off the field with an injury.
Hard cap was on. If Colorado could break downwind, they could force a double game point. In a long, intense penultimate point, Colorado pushed their offense again and again toward the end zone. The throws weren't always pretty; in fact, the throws looked like Colorado's defense — occasionally hard-edged, gritty, and brimming with sheer willpower.
"A lot of it was the sheer will to win, the will to grind out really long points, and to take shots when we needed to," Colorado coach Claire Chastain reflected of their late comeback, "and it sort of worked out for us in terms of being able to play to the clock… and grind out really long points when there was no time."
In a long point, Wisconsin made enough errors to give Colorado chance after chance to convert in the red zone. Finally, Henderson hit Wilmoth for the break goal. Double game point was on.
Much like the already-legendary Ohio State vs. UC Santa Barbara double game point on Friday, this double game point had its share of madness and mind-bending individual performances. Wisconsin's Walker threw dime after dime to push Bella Donna closer to the end zone. Emma Capra, Wilmoth, and Henderson put their bodies on the line to get just one more chance to score. Under the burning Texas sun, 23 points in, players didn't have strategy or plans or worries. The fourteen women on the field were fourteen exposed nerves, radiating effort toward the goal and toward each other.
On their seventh or seventieth — who could keep track in such breathless moments? — hold opportunity, Mondschein called a timeout in the red zone. Out of the timeout, Mondschein quickly reset to Walker before making a few hard turns in the end zone to score, to win, and to send Wisconsin into the quarterfinal round.
"The whole sideline had so much faith in those seven that were on the line," said Wisconsin captain Michelle Zaber. "We just wanted to give that energy to them, because we knew at the bottom of our hearts they would do it, they would pull it off for the whole team. I never had a doubt; I knew those seven would do it."
It can be hard to identify heart and separate it from skill, athleticism, or strategy in a tough game. From the vocal sidelines to the players pushing out under cuts in the final agonizing point, this prequarter game was all heart.