Rounding out our college awards for 2019.
Ultiworld's 2019 Men's College Awards are presented in part by VC Ultimate, outfitting the world's best players since 1998. They are also presented in part by the National Ultimate Training Camp, who can help prepare you to be an All-Star. All opinions are those of the authors. Thanks for supporting the brands that make Ultiworld possible!
Ultiworld is pleased to announced our sixth annual D-I All-America teams. These players were selected for their overall performance in the 2019 college season, looking at both the regular season and the full college Series, including Nationals. Please join us in honoring the best college players of this season
Links to all of the 2019 D-I Men's Division awards will be added as awards are announced:
Player of the Year Award
Offensive Player of the Year Award
Defensive Player of the Year Award
Breakout Player of the Year Award
Rookie of the Year Award
Coach of the Year Award
All American 1st Team
All American 2nd Team
D-I Men's 2019 2nd Team All Americans
Nick Vogt (Wisconsin)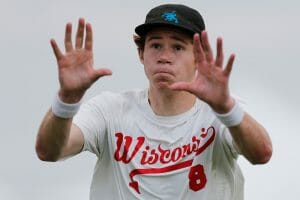 Whether bodying his defender out of position on a 50/50 ball, winning the race to the cone in the endzone set, or arguing a call until he's (Hodag) blue in the face, Wisconsin's Vogt made his priorities on the field crystal-clear: he wanted every tiny victory just a little bit more than the other guy. As it turns out, all of those moments add up. Through the quarterfinal round at Nationals, when Wisconsin ran headlong into the UNC buzzsaw, Vogt's 16 goals were tied for third-most (with John Randolph, just behind Leandro Marx and Jeffrey Gao) at the tournament. Vogt has been the emotional and on-field leader for Wisconsin over the past couple years; now he's an All American.
Jordan Kerr (Brigham Young)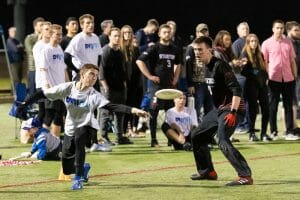 Kerr was the best player on a team that finished the season ranked third in our end of season Power Rankings. It's a shame that BYU was unable to qualify for Nationals, because Kerr surely would have been one of the biggest stars in Round Rock. He always stood out on the BYU stat sheets, putting up monster assists and goal scoring numbers, with limited turnovers. Kerr made big plays in every game he played, whether it was a devastating sky, or a pinpoint huck, or a pinpoint huck after a devastating sky. He was one of the most impressive athletes of the season, and if he'd been able to compete at Nationals, it's possible he could have ended the year on the first team.
Ian Sweeney (Cal Poly SLO)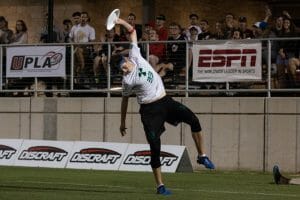 Sweeney's 6'3″ frame hides a surprisingly nimble and calculating defensive talent. It's rare to see someone his size as a handler defender, and yet he's one of the most suffocating marks in the division. If you don't respect Sweeney's wingspan as a thrower, his first handblock or layout poach will bring your attention right around. He's no slouch on offense, either. After generating a turn, His natural left-handed throws can carve through a recovering defense, sliding break throws past his mark or launching a full-field huck with ease. Sweeney may not have received the same attention as many of Cal Poly's offensive stars over the course of his career, but he's been the bedrock of a D-line that proved itself to be one of the best units in the nation this year.
Solomon Rueschemeyer-Bailey (Brown)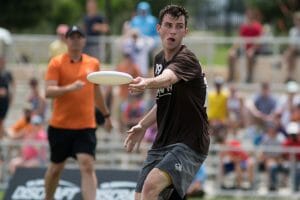 The junior BPOTY winner earns a spot on the second team after stepping up into a key role for national champions Brown Brownian Motion. Lefty handler Rueschemeyer-Bailey joked after the win that his role was to "possess the disc and throw only backhands," but his steady presence in the backfield, especially alongside Ned Dick and Dylan Villeneuve on the D-line, gave Brown the agility and break throws they needed to consistently score upwind breaks at Nationals. He also crossed over onto the O-line when necessary, replacing injured teammate Ken Noh, to provide a reliable outlet for first-teamers Hecht and Randolph. Expect Rueschemeyer-Bailey to shoulder a high percentage of Hecht's responsibilities for Brown next season.
Dillon Lanier (Carleton)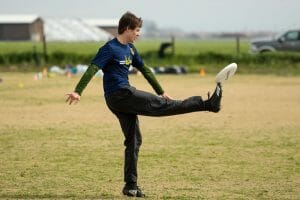 In a year where CUT was decimated by injuries, Lanier was a beacon of light on a foggy Northfield day. Although he missed a little time at Easterns, Lanier was the most consistent and offensively dynamic player CUT had, day in and day out. At NC Regionals, while his teammates were dropping like flies and/or dropping the disc, Lanier remained unflappable, equally able to initiate downfield or give-and-go defenders to death in the handler set. While we sadly didn't see him at Nationals, he and the rest of CUT's uber-talented rising senior class have one more shot next spring. Should they rise to their potential, it will be Lanier leading the charge.
Gabe Hernandez (Johns Hopkins)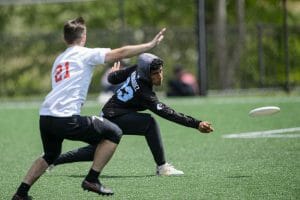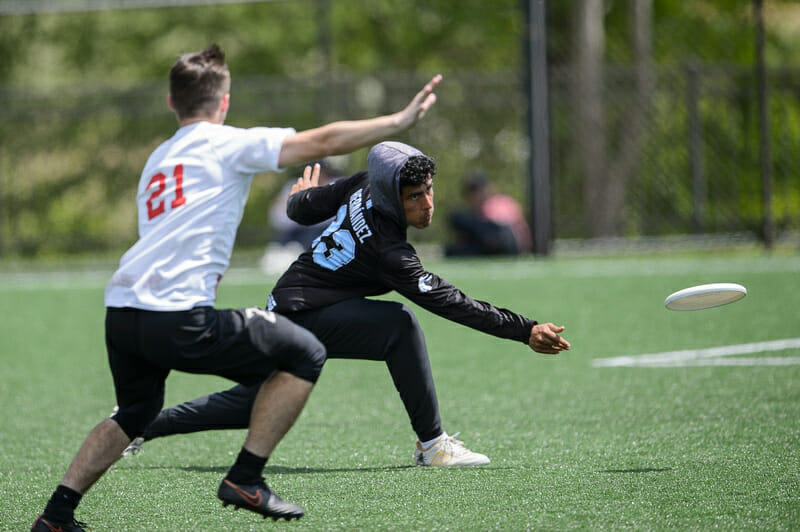 It's rare — unheard of, really — for a commuting student to have such an outsized impact on a team, but 2018 Callahan-winner Gabe Hernandez is no ordinary player. Cleating up this season for Johns Hopkins as a graduate student less than a year after suffering a season-ending injury in his senior year at Stanford, Hernandez did not miss a beat. At every tournament he attended, Danger Zone exceeded expectations, never finishing outside an event's top three during the regular season. He was the terror of the Atlantic Coast Regionals bracket, playing nearly every point and collecting nearly every other pass on offense during elimination play as Hopkins upended a gauntlet of contenders to finish at an impressive fourth place.
Elijah Long (North Carolina)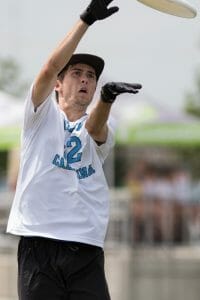 Despite a disappointing finish to the season, Elijah Long was rock-solid all year for a Darkside unit that was unquestionably the best team in the country for most of 2019. Originally a shutdown handler defender, it speaks volumes to the faith placed in him by the UNC leadership that they traded Long's role with Callahan winner Matt Gouchoe-Hanas midway through the season to make Long the center of the offense. A true all-around skill player with elite agility and speed, Long registered six goals and 11 assists for Darkside at Nationals, including some masterful throws to help defeat Cal Poly SLO in their semifinal game. He joins a growing group of UNC players to have reached the final four in every year of their time with the program.