QCTU, Stanford Open, and more!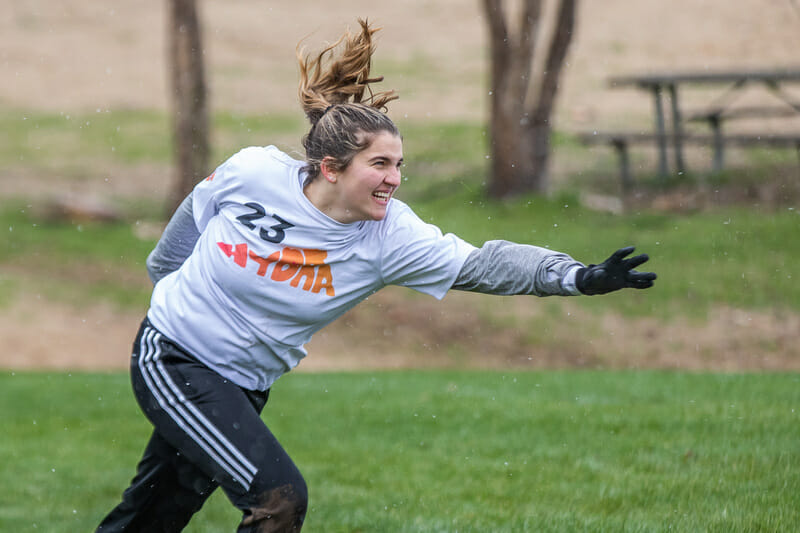 College Update is presented by Spin Ultimate. Please support the brands that make Ultiworld possible and shop at Spin Ultimate!
Throughout the spring season, we will publish a bite-sized weekly recap of all the action across the college division. This will serve as a supplement to our standard tournament reporting and will offer a high-level look at the latest happenings and the biggest stories of the week.
Want your tournament listed here? Submit a recap of what happened right here.
D-I Men's
North Carolina Remains Undefeated at Queen City Despite Format Chaos
#3 North Carolina moved to 11-0 this spring with a 5-0 run through local Queen City Tune Up. UNC topped #12 Georgia in the final 13-7 and won all of their games by three or more goals. It's the fourth straight season that Darkside has gone undefeated in January and February; the last time they lost at QCTU was the 2016 tournament final. While they have yet to travel out of state this spring, Carolina have had another impressive launch to their season.
The tournament was thrown into a bit of chaos as late-week storms forced field closures. The tournament organizers fell back to a string of alternative options, managing to secure enough fields to get both divisions reasonable competition, albeit on a vastly different schedule, with some teams playing past 9 PM. Consolation play was also minimized and the format left pool winner UNC Wilmington out of the bracket on point differential.
For more on Queen City Tune Up, check out this week's Tournament Talk and the Tournament Recap.
Around The Division
Disturbing Sunday wind tore through Stanford Open, leading to a lot of close scores. Among them was UC Santa Cruz's 8-7 win over Western Washington in the final, a contest of downwind holds. No. 1 seed and D-III #3 Carleton GoP was eliminated in quarterfinals by Nevada-Reno, helping enable the no. 5, no. 7, no. 8, and no. 9 seeds to reach the semifinals.
D-III #18 Davidson defeated North Carolina B in the final of BatCH Bash for the win. Check out the D-III Men's section for more.
Despite pool play losses, no. 1 Alabama-Huntsville and no. 2 Kentucky still managed to meet in the final of Chattanooga Classic. UAH claimed the 13-8 win, moving to 10-3 on the season. They're building a solid resume as a regional club in the Southeast just a few years removed from their jump up to D-I.
D-I Women's
Carleton and North Carolina Confirm Favorite Status at QCTU
#1 Carleton and #2 North Carolina have been ordained to meet for a title in 2020, with Queen City Tune Up offering a potential first round in what could be a season-long series. With the injury of UNC's Anne Worth, there was concern UNC would not be able to hold up their end in Charlotte, with powerful opponents like #3 Ohio State or #6 Tufts looking to interrupt the top two's date. But Carleton landed the opening blows with a 12-9 win over UNC, who defeated Ohio State by a similar 13-9 score in the semifinals. A talented Tufts team was the final semifinalist, falling to Syzygy 11-10.
Elsewhere at the tournament, two Southeast teams continued to build the region's intriguing storylines. No. 15 seed Georgia Tech went 3-1 in pool play and closed the event tied for fifth place. Meanwhile, regional favorites #16 Georgia continued their rocky regular season, with a 3-2 weekend that dropped them from the no. 4 seed to a tied for ninth place finish.
For more on Queen City Tune Up, check out this week's Tournament Talk and the Tournament Recap.
Around The Division
Wind dominated the Stanford Open, but a spot in the Invite was still the winner's prize. UC Santa Cruz upset #22 UC Davis 7-6 in the final, a battle between the clear two strongest teams in the field. It's UCSC Sol's first tournament win of the season, earned on their third consecutive weekend of competition!
No. 4 seed Texas A&M Stacked ran the table at Antifreeze, upsetting top seed and D-III #18 Trinity in pool play and doubling up by beating them again in the final. A&M's only close contest was their 11-10 semifinal victory over Rice.
Towsontown Throwdown lived up to the name, as no. 2 Towson went 7-1 in round-robin play to make sure everyone knew whose town it is. But did they really win? They lost to Richmond 9-8, and Richmond only lost one game themselves. George Mason defeated Richmond, but lost handily to Towson. So yes, Towson is still the winner! Mostly.
D-III Men's
Carleton GoP Upset In Stanford Open Winds
At Stanford Open, #3 Carleton GoP entered the weekend as the top seed. And through Saturday, they looked the part, throttling their competition and backing up their reputation. But then the bracket was bowled over by intense gusts that led to infrequent upwind scoring opportunities and low goal totals. GoP lost all three games in that environment, including 6-5 to Nevada-Reno in quarterfinals.
Three other West Coast D-III players were in the field, including #15 Claremont, who reached the quarterfinal round as well. But perhaps more importantly, the Braineaters played all three D-III opponents and beat each of them. Puget Sound went 5-2, including beating the Reno squad that overcame GoP, for a respectable showing of their own. Lewis & Clark brought up the rear with a 2-5 performance, albeit against some of the tournament's strongest competition like Arizona and victor UC Santa Cruz.
Around The Division
After a nice start to the season at Clutch Classic, #20 North Georgia Summit could not build on that success at Chattanooga Classic. They dropped their first four games — mostly by sizable margins — before earning an end-of-weekend 11-10 win over Alabama-Birmingham. Don't count your chickens in the Southeast region just yet.
#18 Davidson conquered BatCH Bash's field of mostly B teams fairly comfortably, going 7-0, with all of their wins coming by four or more goals. They defeated a respectable North Carolina B 14-10 in the final.
D-III Women's
Portland Powers Through at Stanford Open
This past weekend hosted lots of D-III Women's division action, most noticeably with Stanford Open, bringing together Southwest, Northwest, and a few traveling squads to battle it out in the Bay Area's windy Sunday conditions.
The biggest success of the weekend belonged to #13 Portland UPRoar, going 7-1 on the weekend and making it to the semifinals of the Sunday bracket. Their path included a 13-3 defeat of fellow D-III squad Air Force Kiwi in pool play. #2 Puget Sound Clearcut also notched a successful tournament, wrapping with a record of 4-2, their two losses by margins of three or fewer points. Clearcut played and won games over D-III teams Claremont Greenshirts (13-2 win in pool play), Pacific Lutheran Reign (6-3 win in bracket play) and #11 Lewis and Clark Artemis (4-1 win in bracket play) over the course of the weekend.
Elsewhere, Pacific Lutheran and #9 Carleton Eclipse each took home a win against a D-III opponent — Pacific Lutheran over Claremont by a margin of 6-0 on Sunday, Carleton over Pacific Lutheran by a score of 13-2 on Saturday — while Lewis & Clark, Air Force, and Claremont went home winless against their divisional competition in the first major tournament of the season.
Around The Division
At Antifreeze, #18 Trinity Altitude almost repeated their 2019 success with a 4-2 weekend, losing to Texas A&M in pool play and the final. Rice Torque also attended, although pools and sides of the bracket didn't align for the two D-III teams to play each other. Rice ended the weekend 4-2, with losses to Tulane and Texas A&M.
Over on the East Coast, the Towsontown Throwdown round robin1 gave the Richmond Redhots and Christopher Newport Airbenders a chance to flex against their Atlantic Coast competitors. Richmond performed well, ending the weekend with a record of 6-1, their single loss to George Mason by a score of 10-9. Christopher Newport ended the weekend with a record of 2-5; unfortunately, schedules did not align to allow the two D-III teams to play one another in the event.
Looking Ahead
This is the unofficial closing weekend of the early season, capped off by Presidents' Day Invite and Florida Warm Up. We'll have reporters and footage from both.
---
Say that three times fast! ↩

Pittsburgh does not have a prescheduled match against Carleton. ↩