Washington looks for West Coast three-peat, plus rematches and revenge.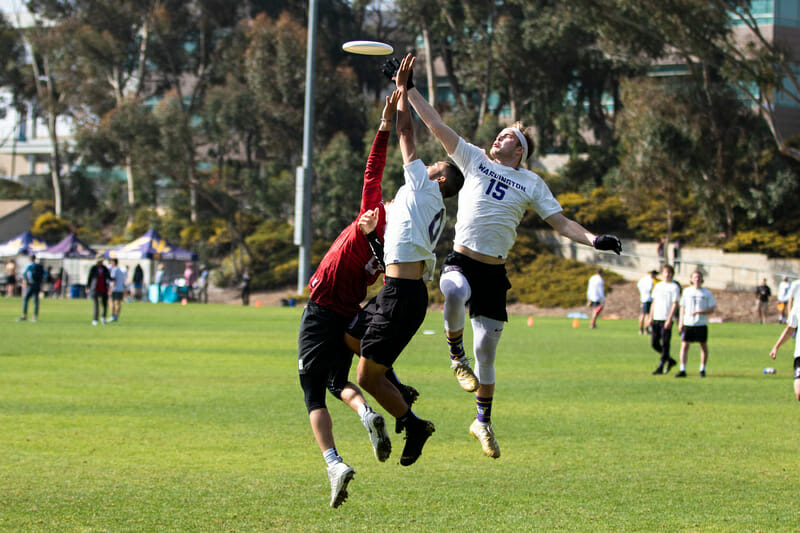 Ultiworld's 2020 college coverage is presented by Spin Ultimate; all opinions are those of the authors. Please support the brands that make Ultiworld possible and shop at Spin Ultimate!
As the third leg of the West Coast circuit, Stanford Invite is one of the last big tournaments for teams on that side of the country to make an impact on the final rankings before the postseason. Historically, it has paved the way for national-title hopefuls to fine-tune whatever identities or strategies they've been cultivating against elite competition. While this season may not have the same depth of talent as previous iterations, the event will once again play host to many big-name and up-and-coming programs.
With #1 Brigham Young absent, there is a clear alpha out West competing this weekend — Washington — but that's not to say there aren't credible challengers headed to Stevinson. With a handful of bubble teams looking to make a stand and a bunch of Southwest teams on the cusp, there is plenty on the line this weekend.
Tournament Details
Date: March 7-8
Location: Stevinson, CA
Weather Forecast: 50s, high likelihood of showers on Saturday
Top 25 Teams: 8
Stanford Invite 2019 Men's Highlights
Filming Schedule
Ultiworld is livestreaming four men's division games this weekend! You can follow our free live coverage on Ultiworld.com/live. Game archives will be available to Ultiworld Full and Plus subscribers and for teams with a Team Pack!
All times Pacific.
Saturday, March 7
10:30 AM – #22 UCLA vs. #19 Tufts
3:00 PM – Prequarter
Sunday, March 8
10:30 AM – Semifinal
12:00 PM PM – Final
Major Storylines
Can Anyone Stop Washington?
The #3 Washington Sundodgers will look to become the first1 college men's team to sweep all three of the big West Coast tourneys in the same season. In case you need a recap, they took down Cal Poly SLO-Core 13-11 at Santa Barbara Invite and clobbered regional rival Oregon Ego 15-7 at Pres Day. It's a tough task to journey through a season undefeated, but, so far, Washington has done rounds on whoever crossed their path. Of course, you could look at this year's card as weaker than usual. The Stanford Invite field is notably missing BYU as well as every meaningful national powerhouse from the East Coast that generally makes the trip but is attending the new Smoky Mountain Invite instead this year. But hey, don't hate the players, hate the structure.
To those lucky enough to watch this team play this weekend, good luck keeping up with the sheer speed blazing around the turf. The Sundodgers play a fast, liberal, and interchangeable style of offense where cutters move into handler positions, handlers cut upline to be gone in an instant, and a point can end in both a blink of an eye or after tens of throws without anything difficult happening. They play a truly balanced game that is probably the closest thing resembling a club-style of play for a college team out west.
If you've seen this team already, you know who to look out for: Lucas Chen will be a demon around the end zone, Manny Eckert will quarterback the offense, Sam Cook will glide deep, and Jake Steen will win aerial matchups. On defense, Derek Mourad and Tony Venneri lead fastbreaks with an every-other style of play, and Jack Brown is making a simultaneous case for Rookie and Defensive Player of the Year. Don't be surprised if there are contested body fouls and possibly even some blue cards — this team gets up in your grill and plays an unrelenting style of defense that forces undisciplined teams to throw it away.
The clear favorite, Washington has comfortably handled the other top teams at the tournament already this spring. If they play like they have all year, they should continue their march towards an undefeated season.
Who Can Challenge Washington?
Oregon is undefeated this season, save for a loss to Washington in the President's Day Invite final; SLO has beaten every team except Washington, BYU, and Oregon, and Colorado has only lost to Washington, Oregon, and SLO. While those results suggest a clear pecking order entering this weekend, any of these teams appear capable of knocking off the favorites by playing their best game at the right time.
The top-end talent on #8 Oregon can match any team in the nation. Will Lohre and Xander Cuizon Tice are both world championships caliber players, and they still can take the field in the college division. Ted Sither is a rock-steady handler. But beyond their top-tier players, there is not a ton of depth. Oregon knows it will need to get over the Washington hump to win the region — if their short rotation can keep its energy up and hit some shots, they have a fighting chance. Don't expect them to lose 15-7 to Washington again.
#9 Cal Poly SLO also features a high level of top-end talent in Jake Thorne, Calvin Brown, and KJ Koo, all sophomores with a national semifinal appearance already to their names. While they're certainly not as deep as a season ago, SLO can hang with the best of them and is set up to improve over the course of the season as players get more accustomed to their new roles. Could they land a season-defining win in Stevinson that raises the ceiling on their potential?
#10 Colorado enters this tournament after a disappointing Pres Day Invite. Like SLO, Colorado is coming off a national semifinal appearance in 2019 and is integrating new pieces into the mix this year. Could a few extra weeks of practice be enough to turn their fortunes around and score an upset win? With the talent on their roster — Quinn Finer, Conor Tabor, and Daniel Landesman are the names to look out for — it is certainly possible.
Rematches and Revenge
When you saw the list of teams attending the Stevenson Invite, you might have sighed at the sight of similar teams from the last two West Coast tourneys. You might have thought, "dang, I've gotta play that same dude with the handsy handler D and chirpy sidelines, yuck." You may have even thought, "I just wanna play teams from other regions!" And we hear you: it's hard getting up for the same teams in your region who you know, and who know you. But I'm zagging here. Sign me up for rematches and revenge games.
This tournament could see Colorado looking to flip their 12-11 loss to Ego, UCLA to Colorado, Oregon State to Ego, Cal to Colorado State, UCSB to Stanford, or literally ANYONE against Washington.
In college ultimate, it is commonplace to encounter your regional rivals throughout the year, and this does two things: build familiarity with your opponent and bring the intensity of micro matchups way up. The games are important now, but another storyline to look out for is the lead-up to a do-or-die game at Regionals that could be remembered for years.
Semis or Bust
#19 Tufts E-Men will enter this tournament as the lone East Coast team looking to make a splash and flex some muscle for their region. They played solidly at Warm Up, carding wins over #14 Texas, #18 Georgia Tech, and #20 Northeastern. The big question will be whether or not they can take down one of the West's big four and make a run to semis. At their best at Warm Up, led by Jac Carreiro and a methodical system, the E-Men looked sharp. But they also laid some eggs, like in an ugly 14-7 loss to Georgia Tech in quarters.
Entering this weekend, Tufts will know they stand to serve as one of the key connectors between the East and West in a year where few teams are traveling coast-to-coast. A big weekend from the E-Men could deliver major bid rewards back to the Atlantic Coast; conversely, all the Western teams have especially good incentives to play their hardest against them.
Despite losing significant talent from last season, #23 Cal UGMO acquitted themselves nicely in their only tournament appearance of the year so far. At Santa Barbara Invite, they went undefeated until losing consecutive bracket games to Cal Poly SLO in the semifinal and #22 UCLA in the third-place game. Cal has had a month of practice to further refine their systems and remind the region that they earned their way to Nationals last season; they could clearly do it again. Their game against #24 Oregon State in pool play will be a litmus test for both teams.
Duos to Watch
There's nothing like a good offensive duo in college. Whether it's a pair of synced up handlers, a big/tall foil, or two shifty isolation players, most teams can throw two of their best players together to muster up a point when they need one. Here is a look at some of the top duos to watch this weekend.
Ted Sither & Will Lohre (Oregon)
Consider these two a pair of F-150s that run on electricity. Both boast good size for the division, athleticism, and dynamic throws that can run, gun, and wear down an opponent. Sither was a standout at Prez Day with his pinpoint throws and smooth deliveries while Lohre plays a crushing game that is still yet to be fully realized this season as he gets back to 100% after his ACL tear last year. When these two get cooking, they'll be tough to match.
Riley Kirkman-Davis & Luca Spycher (UCLA)
These two freshmen play a fun, yet mature style of play. Though they're plenty capable of playing catch with each other, they're equally able to make a big play or throw when their team needs it. Kirkman-Davis stood out as a versatile playmaker during their quarters loss to Colorado at Pres Day, but I'd look for both to lean on each other even more as they continue to grow.
Calvin Brown & Connor Schofield (Cal Poly SLO)
Perhaps not the first pair you'd think of on this team, but these two connected plenty during their first two tournaments this season. With Brown's range of throws and Schofield's quick-footed speed, they mesh perfectly. Look for this handler to cutter connection — whether deep, under, or break side — to be the primary look for the SLO offense.
Quinn Finer & Alex Atkins (Colorado)
These two often look like they are having the most fun on the field. Whether winning or losing, Finer and Atkins play with an assuredness that sets a confident tone for the Mamabird roster. Similar to John Randolph and Mac Hecht last year, their joy playing together boosts the energy of a Colorado team that is fun to watch when fully rolling.
Tommy Lin & Munis Tahir (California)
We haven't seen Cal play since January, but at SBI, this duo led UGMO's offense to a pool victory and a semifinal appearance. Lin is the engine that keeps the Cal offense humming along, equally adept at launching hucks or attacking in the reset space. Tahir is a valuable athlete downfield who can make jaw-dropping plays and matches up well with the defenders he'll be tasked with beating.
Last Chance for Relevance
Will any middling team step up? Every year, throngs of teams in the vast middle-tier seek to earn a bid or score an upset at one of the prized tournaments on the tour. And year after year, most fail. Will this year be any different?
The last time a low seed made semis at this tournament was 2016's Harvard, who entered as a no.12 seed only to make a run in the bracket, foreshadowing their finals appearance at Nationals later that year. In 2014, a no.14 seed UC Davis made semis only to fall short at Regionals. It's a tough mountain to climb, but history shows that it is possible. So which teams have a shot at it?
Utah stands out as a team that has earned some quality victories this season and is gearing up for an interesting Northwest Regionals where multiple teams will be fighting for lots of bids. Colorado State played well last time we saw them at Santa Barbara Invite; they will need to score some wins in order to get into the bid picture. Finally, Oregon State surprised with a strong finish at the President's Day Invite and as since found themselves join the Power Rankings.
---
We think. ↩